The river freezes over, but it isn't frozen solid. My roommate and I gestured at it through the window of our Uber, wondering aloud if water flowed beneath the sparkling ice.
It does, but I didn't find that out until days later, when the sky finally cleared, and the sun shone down, melting just a patch of ice. I could see the water rush and tumble from my dorm.
Good thing, that, because we can't leave the dorms, save for one hour every day. I take the whole hour and spend it complaining about how very cold it is outside. Two shirts and a hoodie were overkill every other place I've been, but now the cold bites at my shoulderblades and needles down my throat. The path I run is full of stoplights, conveniently placed at exactly the distance it takes for your body to warm up, so that you have to stop and lose that heat and start all over.
But then, when I set my alarm for seven am yesterday and stumbled up to snooze it until eight, I saw someone running outside in a t-shirt. She looked rather miserable. I salute her.
We're still in Q-week, which means we're supposed to stay inside our dorms except to eat, use the bathroom, and exercise alone outside for up to one hour. It feels like being in limbo — everything should be exciting, since we're finally on campus, but the good parts of campus aren't here yet. Meeting one another, in masks and from a distance, that will come. Everything is just a few days away.
Until then, here are some of the little things that I'm pumped about, in no particular order:
I've come to recognize my podmates by their eyes and foreheads, despite having seen them only through zoom. We say hi when we pass each other in the hall, and after Monday⁠01

I believe Q-week is from Sunday 2/14 to Monday 2/22

we can meet.
Our room is a strange triangle shape, and one side is longer than the other. My roommate gets the longer side, with the secluded bed; I get the window that faces the river. We didn't discuss this choice but it fits us perfectly, since she psets on her bed sometimes, and I spend most of my time at my desk by the window.
The first time we dragged our suitcases to our room in Next, the building seemed too far away, the hallway too damn long. Never mind that we're on the fourth floor. But now, after going down for dining thrice per day, the distance doesn't bother us. (Mind you, I'm still going to complain every time I have to walk to lab.)
The dining hall serves a surprising amount of ancient grains — barley, farro, quinoa, amaranth, etc etc. This entertains me because in the first month of quarantine, I went through a phase of eating ancient grains — or I tried to, but they take time to boil,⁠02

the Real Adults are laughing, 'you didn't have time to <em>boil things </em>during <em>quarantine?'</em>

and I wasn't sure what to do with them. Just serve them with oil?

Apparently yes, that is what you do. And now I can consume them without effort.

Dining hall food is not my thing, but on the advice of a fourth year in my French Revolution class, I acquired a bottle of sriracha, and I think this will make everything taste better.
The white tiles of my dorm resemble a cafeteria floor, but the carpet in the halls is nice.
The showerheads are strong! It doesn't take seven years to wash conditioner out of my hair.
I am excited about classes, though I'm very frustrated with the bureaucracy for refusing to let me take one over a minor technicality. Hoping this will change.
Over zoom, I met the researchers in the lab where I'll be UROPing. They were friendly and unpretentious, and spoke with lovely big words. One grad student gave a presentation on microbial methanogenesis⁠03

ie, how microbes produce methane. Most of the research in this lab is focused on methane, a greenhouse gas.

which I did not understand entirely,⁠04

or should I phrase this 'which I entirely did not understand'

but I did notice redox reactions and anode and cathode chambers, just as we learned about in 5.112 (intro chem).
Recruiting emails are taking my inbox by storm: frat rush and sorority rush, clubs and events, and so many a cappella groups. Last semester I reasoned that since my zoom tolerance was already somewhat lower than the number of hours I had to be in class, online clubs wouldn't suit my needs. This semester I'm trying out a few, jumping on mailing lists and pretending I'll have time to make the meetings. MIT Cocktail Club, here I come!⁠05

not to make any cocktails, ofc, ofc, I am as yet too young.

I signed up for two history classes knowing I'd have to drop one.  I expected I would prefer Enlightenment & French Revolution, and drop History of Rome. But. The Roman history prof is very cool. The French Revolution prof is also very cool, and that class has only seven people and all of them are upperclassmen, which would make this the first seminar class I've taken… unless I take Roman history, which has synchronous lectures and looks like it would contain great inspiration for stories. And I must choose only one, or drop 5.12,⁠06

organic chemistry, which my roommate likes but everyone else from my granddad to my friend says is a special circle of hell

which would be an absolute tragedy.

I think that line was sarcasm, but I actually don't want to drop 5.12. I feel like I need to make sure I like chem before making a major of it, and dropping chem classes is not the best method for that.
Still, choosing two of three very good things is not the worst problem to have. I just want them all.

I fvcking love this window.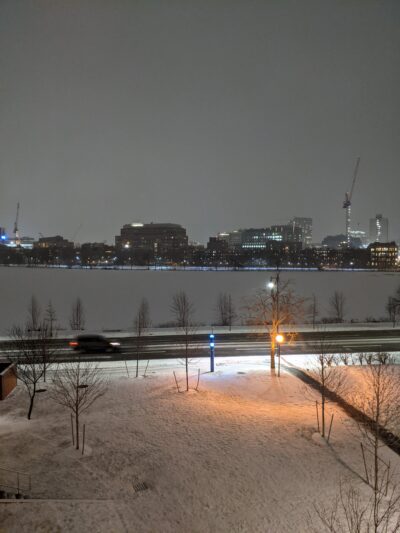 When I was little, I lived in a house at the end of a road, and the back yard dropped off into a dry wash. Across the wash was a highway, where the cars looked like toys, and you could make out the occasional logo on a semi-truck. Now my dorm room window looks across the river, and on the other side there is either a large street or a small highway. It's in the city, so no trucks, and the cars don't go too fast. You can't make out colors at night, just the front and rear headlights: a spot of white, a spot of red. I watch until they slip out of view.