I am aware that it is no longer IAP, but I figure it's better late than never, right?
6. Work as an EMT
As you may (or may not) know, last IAP I took the MIT EMS class to become a certified emergency medical technician and joined the MIT student volunteer service. There are quite a few members in the service so during the semester, it can be difficult to get shifts during times that you are available. Since I have classes all morning and tennis practice from 5-7pm, I usually end up taking the overnight shifts from 11pm-8am. Thankfully, there is a nifty little bunkroom underneath Stata where the three-person crew stays while on shift, equipped with squishy sofas and bunk beds for sleeping.
My plan for the last two weeks of IAP was to take as many shifts as I could while a lot of people were away, otherwise occupied with other IAP-y things. Looking back at the calendar, I managed to claim 37 hours of shifts over two weeks, working mostly on the 8am-12pm and 12pm-5pm shifts.
Being an EMT is one of those things where reading the material and knowing the facts can only get you so far. Actually being on scene with a living, breathing person is very different from running through checklists in your head or verbalizing protocols for a state exam. It took me almost a year of watching others, attempting things on my own, doing drills, and talking over countless patient encounters before I really felt comfortable and confident. There is a steep learning curve at first, facilitated by a creeping shadow of pseudo-imposter syndrome that doesn't seem to go away until you realize that you're only going to be as good as you believe you can be.
I've been spending a lot of time in the bunk room this IAP, trying my best to be a sponge (in the best metaphorical sense possible), but during that time, I've also had the chance to have some rather interesting conversations with some amazing people. If you want to have really random conversations, I'd suggest getting started before 8am. Your body is, for all intents and purposes, awake, but your mind is still grumpily mumbling about going back to sleep and therefore more likely to spew out random word vomit.
7. Scavenge for food
That one time we weren't on meal plan
There is one glorious thing about IAP that is often overlooked amidst all the excitement about travel, learning, and an overall broadening of the student body's horizons. That's right: no mandatory meal plan over IAP. During the semester, Maseeh requires that all freshmen enroll in the full 19 meals per week plan and all sophomores have a minimum plan of 12 meals a week, but during IAP, all dining is optional.
That one time I fed myself for two weeks
I fed myself in a couple of different ways this IAP. For one, I would sometimes go to Trader Joe's to pick up some oatmeal, fruit, or other sandwich materials (as well as a few free samples) that would last me about a week. Additionally, every time I was on shift in the morning or afternoon, I had the added bonus of being able to eat with the crew, which covered quite a few breakfasts and lunches. The remaining meals were filled in with jaunts to Kendall Square, the student center, or random food-adventures.
I love cooking (even though at times I have no idea what I'm doing in the kitchen) so sometimes living in Maseeh and its lack of a proper kitchen space breaks my heart. But I moved in knowingly, making compromises for some of its other positive qualities.
That one time I ate sardines for a whole day
Right before Juno hit, I went to Star Market to stock up on food in case I couldn't get out during the blizzard. I hear starving is really bad for you. As I perused the store, I noted the numerous other grocery-shoppers milling about the aisles, the baskets piled high with non-perishable and dried goods, and the eerily barren shelves, à la let's-prepare-for-the-zombie-apocalypse.
Following some sage advice I had received earlier that week, I decided to purchase two tins of sardines as well as a can of green beans that I bought on a whim. With my non-perishable sustenance in hand, I returned to Maseeh, confident in my preparation for the following day.
As predicted, there was an ample amount of soft, white snow that coated the ground in a layer of pristine powder, disturbed only by oblong imprints left behind by trail-blazing students. With public transportation out of service and myself in no mood to venture outside, I settled down and heated myself a bowl of scrumptious microwave oatmeal.
I mean, it probably would have been scrumptious if I hadn't decided to mix in a whole tin of sardines, half a can of green beans, and a splash of soy sauce. Yeah, not my finest moment. The sludgy mixture smelled oddly fishy and had a silvery gleam from the parts where slivers of sardine skin caught the glittering beams of lamplight, oh so perfectly. In an effort to save the disastrous experiment, I added more soy sauce and some sesame oil for good measure. It was barely palatable. Not one to waste any food though, I scarfed it down and then proceeded to rinse the taste from my mouth with copious amounts of water.
The day passed otherwise uneventfully. The GRTs on each floor had thoughtfully put out a few loaves of bread, peanut butter, jelly, and other assorted snacks in case some students hadn't prepared themselves adequately for the weather and its accompanying inconveniences. When dinner came around, I was confronted with a frightful little tin on my desk, mockingly labelled "SARDINES". I needed a new approach. Sardine oatmeal was just not going to cut it.
Ever resourceful, I scavenged a slice of bread from the lounge and smeared a layer of creamy peanut butter onto it. Back in my room, I popped open the tin of sardines and carefully removed each tiny, beheaded fish body by its tail before laying them carefully in a neat row on top of the bread.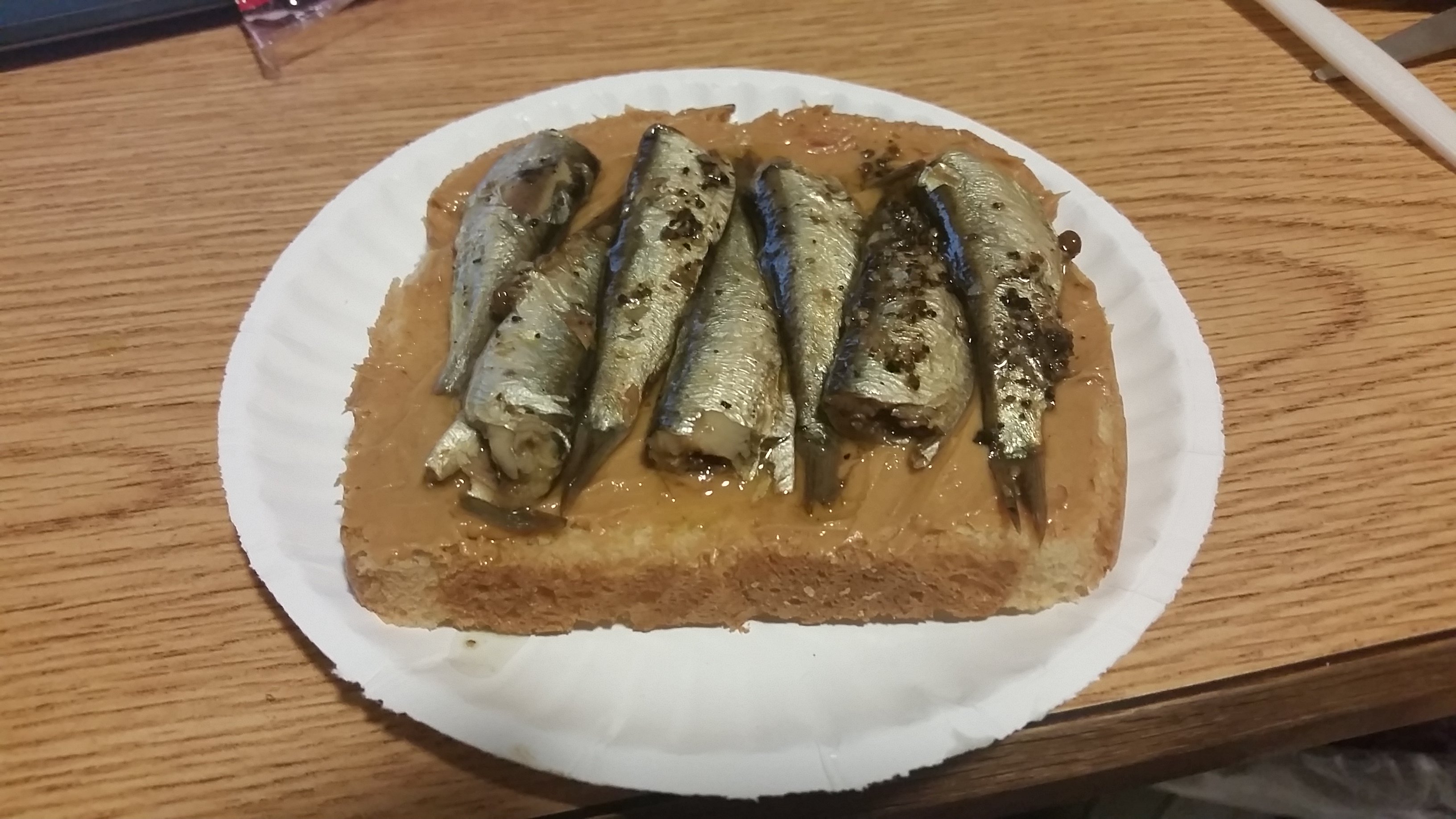 Look at this masterpiece. 
The open-faced sandwich was strangely satisfying and I devoured the soft, peppery creation in minutes. The sardine experiment ended up being a success and I survived the snowmageddon.
The canned green beans experiment, however, was a great failure. Do not attempt.
8. Go on adventures
With more free time on the weekends thanks to a lack of homework or test preparation, I had more time to go out and about. Most of my adventures involve going somewhere to eat, so I took advantage of my meal plan freedom to try new places around Cambridge and Boston:
http://www.yelp.com/biz/lucy-ethiopian-cafe-boston-2?osq=ethiopian+food
http://www.yelp.com/biz/wheelhouse-boston-3
http://www.yelp.com/biz/shabu-and-mein-cambridge-3
Last year, as I was perusing the internet for interesting things to do during IAP in Cambridge, I stumbled upon the event heading: The Legendary 4th Annual Chocolate Festival in Harvard Square (this year obviously being the 5th annual festival). Free chocolate samples from well-known vendors like JP Licks or Wagamama? Count me in.
We trekked through the snow to Café Luna for brunch before taking the 1 bus all the way down to Harvard Square around noon. Since there was still an hour or more before the event officially began, and because of the damp falling snow, we took shelter in the Harvard Coop Bookstore where we ambled through the winding bookshelves aimlessly.
Finally, the time came for us to stuff our faces with chocolate: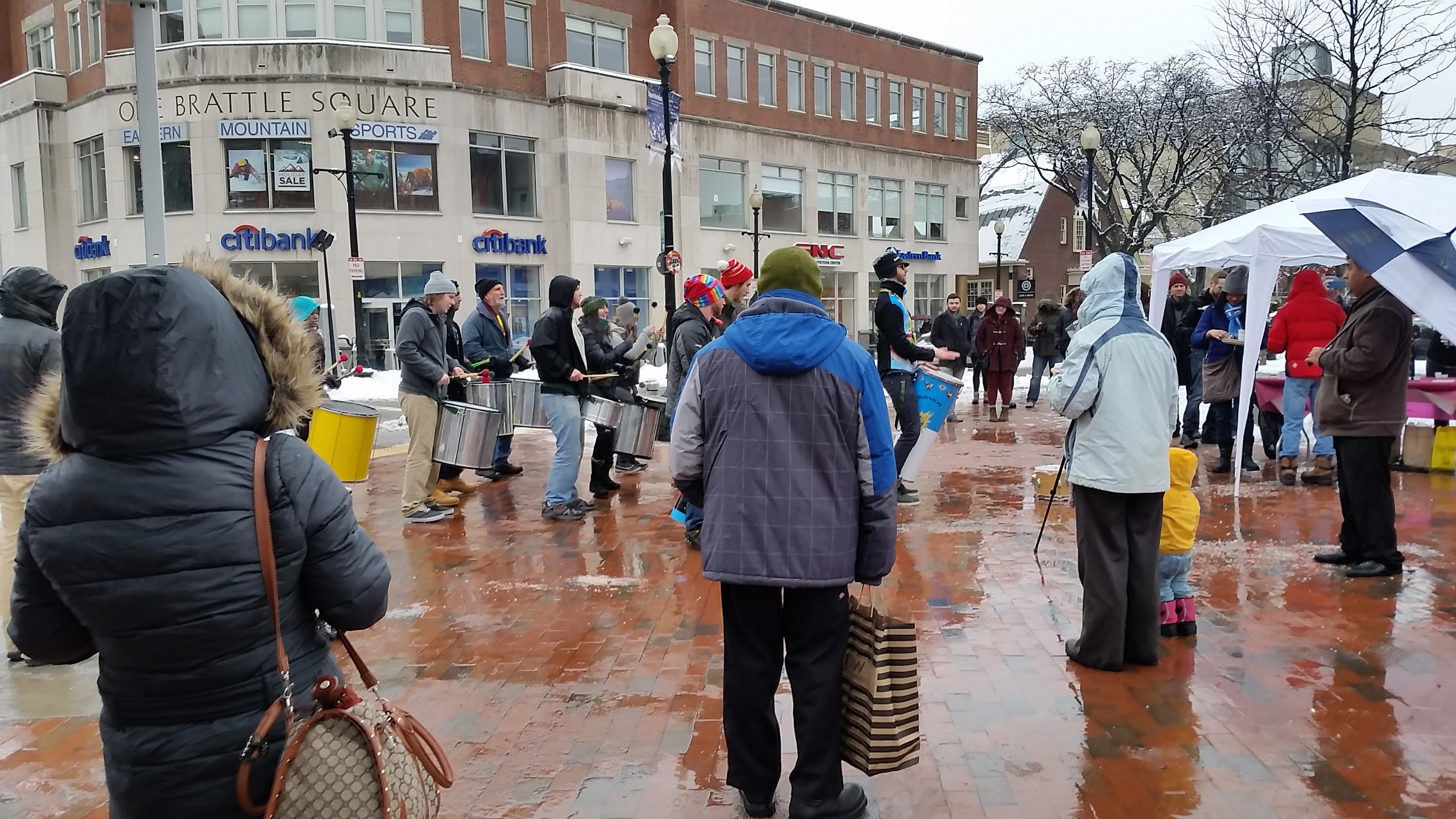 There was a neat little drum performance in the middle of the square during the chocolate festival.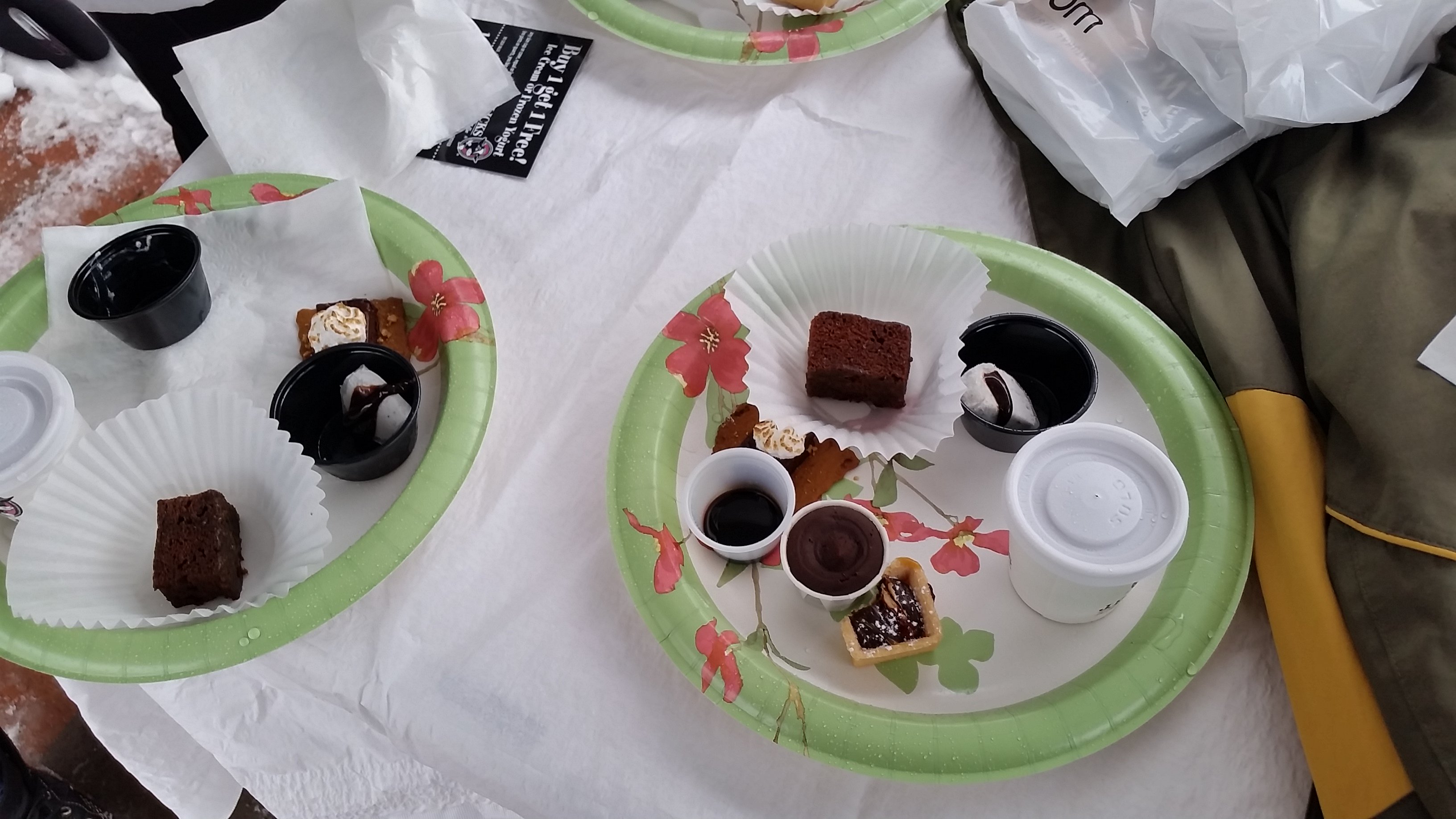 Yum. There was also deliciously steamy hot chocolate.
9. Frolic in the snow and survive a snowmageddon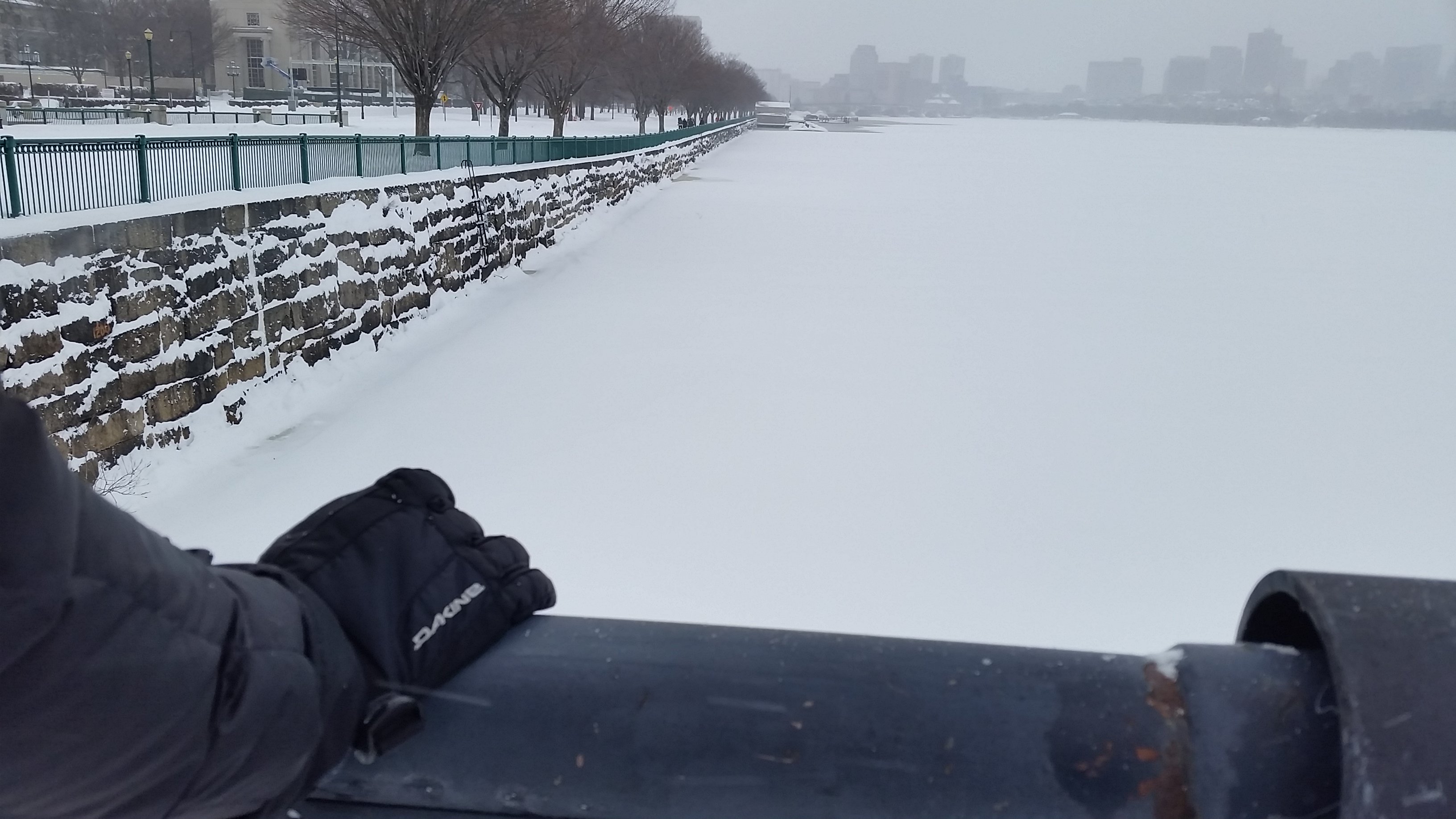 The Charles blanketed with snow. Also the gloved hand of Ava '16.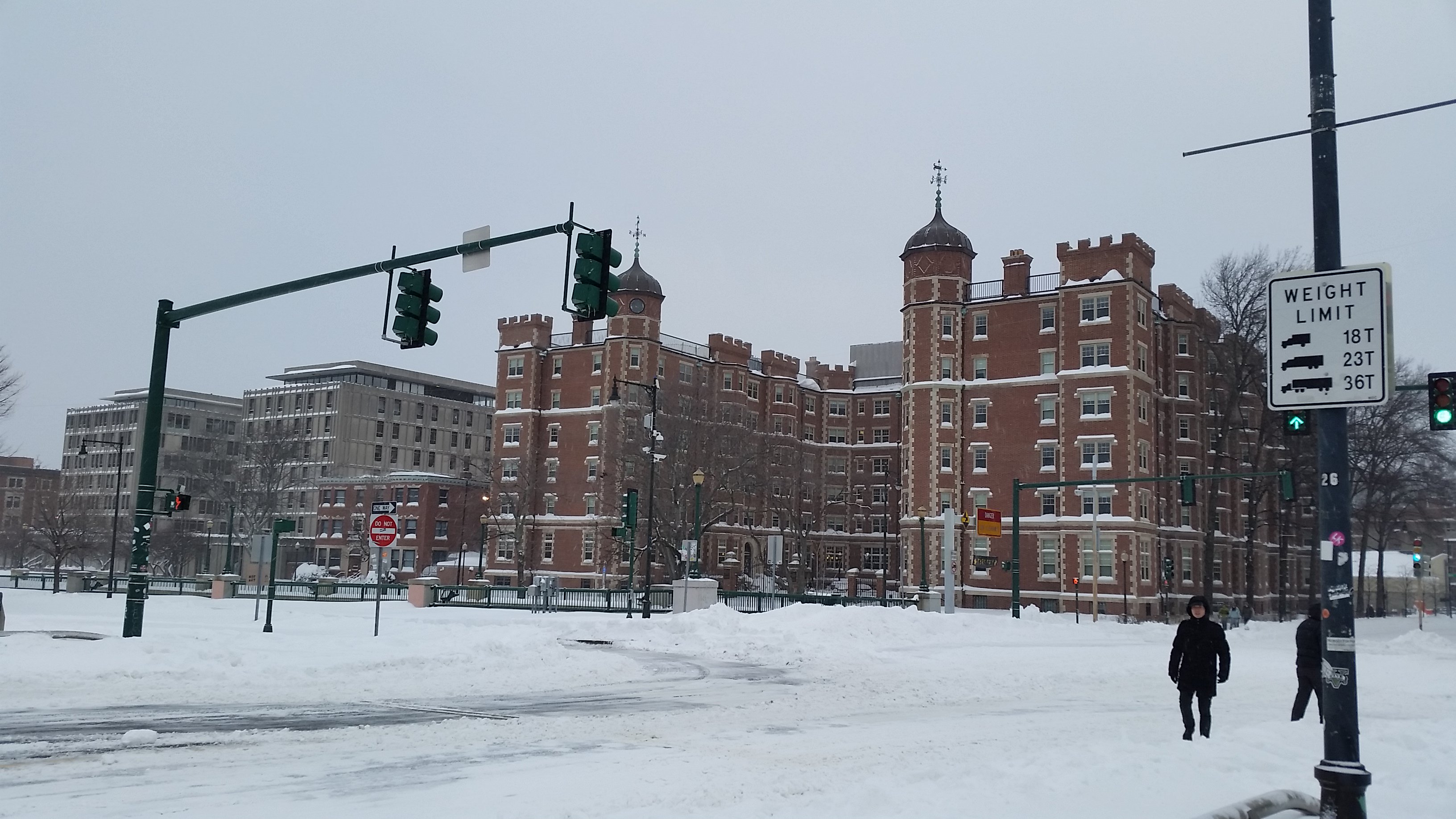 Maseeh in the snow.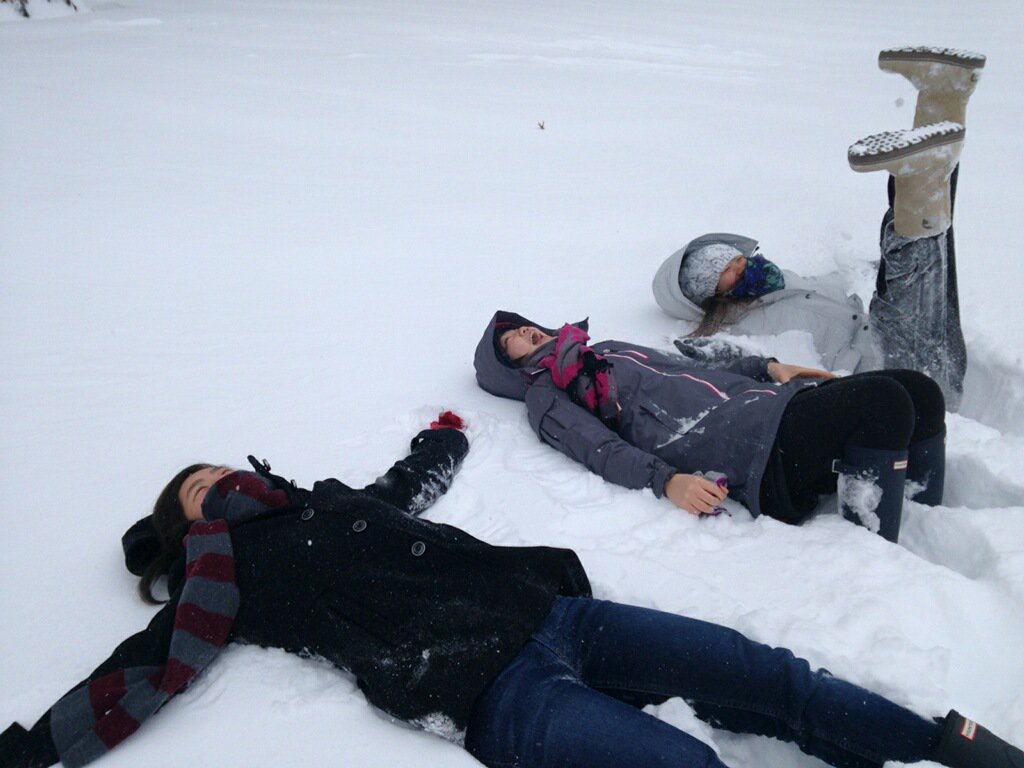 Lying in the snow by Killian Court with Joy '18 and Dora '18.
Let's just say that I really need to invest in some proper snow frolicking gear.
10. Investigate volunteer opportunities
I've always wanted to volunteer at a hospital so I could not only learn more about how hospitals function on a day-to-day level, but also to interact with and help out patients. Luckily, one of the best hospitals in the country, Massachusetts General Hospital, is a short one-stop T-ride across the river.
I took advantage of my free time over IAP to sign-up for a mandatory orientation meeting. During the school year, what with exam dates, psets, and other miscellaneous activities it was hard for me to attend the meetings which were usually scheduled for the middle of the afternoon.
Now, the only thing left is my follow-up interview next Tuesday and hopefully I'll be able to start as soon as possible!
11. Career planning via GECD
GECD stands for Global Education & Career Development and though I'd heard about it before, I never knew exactly what it was. I'd gotten emails from them about different events but never really paid any attention.
Some internet snooping revealed this statement on their webpage:
"GECD seeks to empower MIT students and alumni to achieve lifelong success through seamless access to transformative global experiences, comprehensive and holistic career services, and mutually beneficial connections with employers and with graduate and professional schools."
Over IAP, I received an email from the GECD office concerning IAP site visits. Curious, I opened it up and found out that they had coordinated with some Boston and Cambridge area companies such as CDK Global and Google to have a group of around 30 students, both undergraduate and graduate, come in for a visit.
Since I also have an interest in research, I've been looking into summer internships at pharmaceutical and biotechnology companies. One of the sites was to Vertex Pharmaceuticals: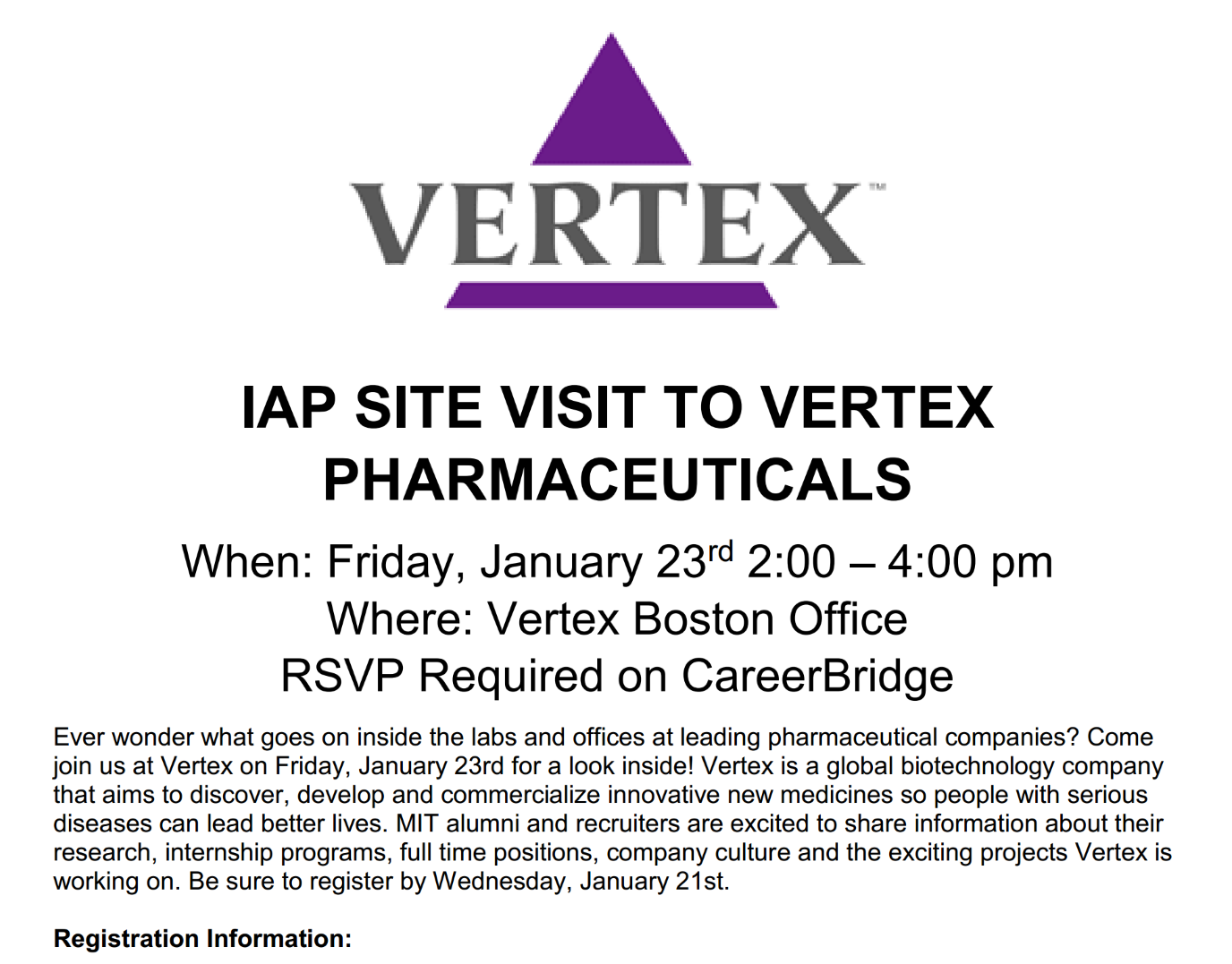 I signed up and when Friday the 23rd arrived, I put on some sharp business attire and took the long T ride and stroll through downtown Boston and into Seaport.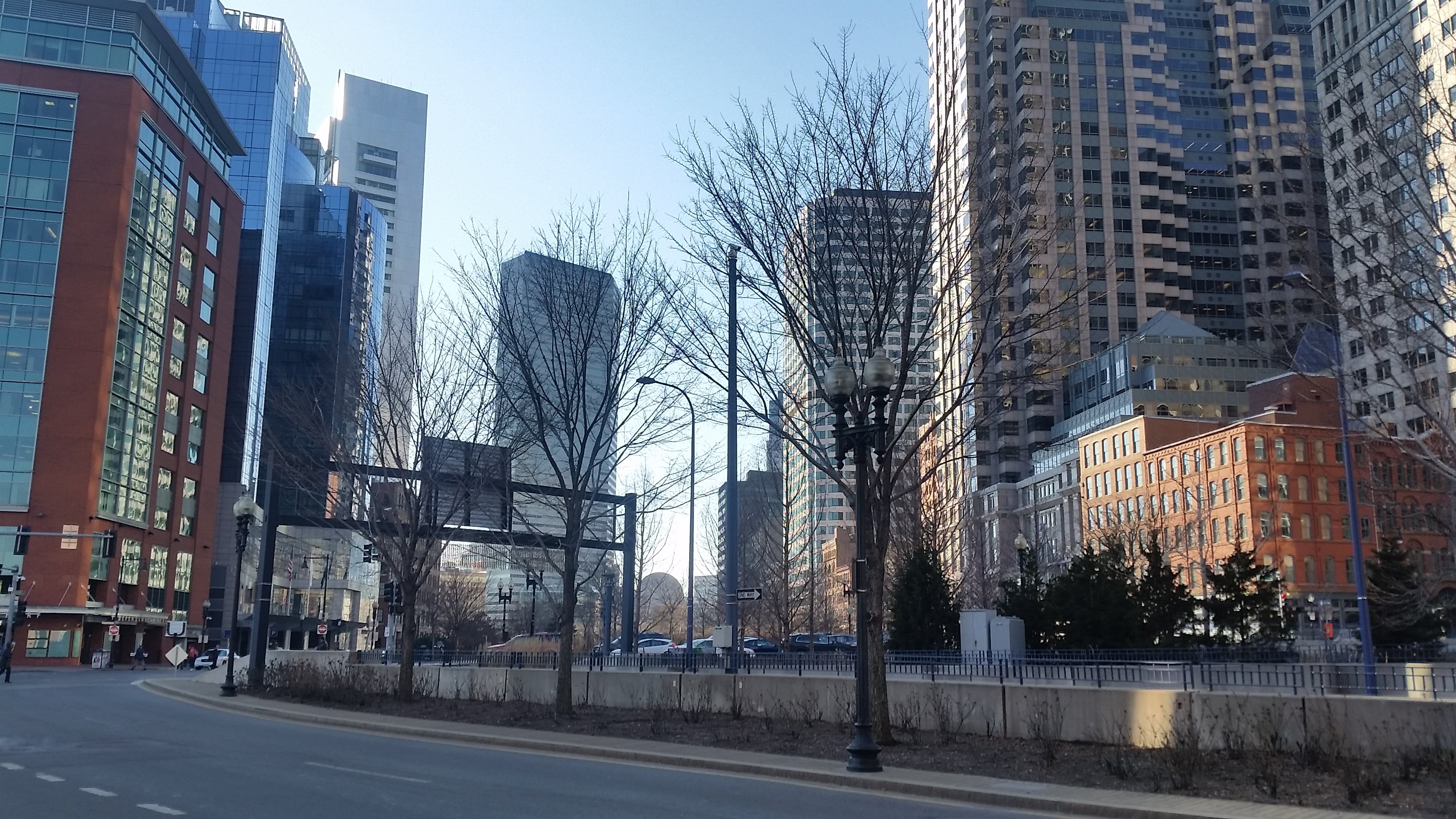 Downtown Boston looking beautiful in the crisp winter cold. 
During the visit, we got to hear from a human resources representative about career opportunities, the culture at Vertex, and general information about the actual laboratory space. Next, a panel of MIT alumni came out and fielded general questions, being sure to specifically address how their MIT background made a difference in their career trajectories. A tour of the facilities concluded the visit and I left, not only better acquainted with Vertex, but also with some of the ways in which GECD provides services to students.
12. Learn new things
Sometimes I imagine that I could spend all of my days lying on the floor and staring at the ceiling. But when it comes down to it, I get fidgety and I start looking for ways to spend my time.
I've been working at Tufts Medical Center since this summer on a clinical research project. We are currently in the data analysis phase so I decided that I was going to start learning how to use the SAS data analysis suite. It's a fairly common statistical analytics software and since I had just taken 6.0001, I figured I could handle learning a new language. I've been watching training videos and tinkering around with pretend excel sheets for the last month or so and I'm slowly getting the hang of it.
While I'm no course 6, I think I'm starting to appreciate how powerful coding can be.
13. Register for classes
Remember how I was so indecisive about classes at the beginning of the semester? Well, with registration day sneaking up out of nowhere on February 2, I made some final decisions:
7.05 General Biochemistry
20.310 Molecular, Cellular, and Tissue Biomechanics
20.109 Laboratory Fundamentals of Biological Engineering
21F.704 Spanish IV
The first three courses are all major requirements and the fourth, Spanish IV, will most likely be categorized under my HASS concentration, which as of now is Spanish, but I haven't made any permanent decisions yet. 20.109 is my first lab class and while I've heard it's a lot of work (it's also 1-5pm on Wednesdays and Fridays), I'm really excited for some of the future modules, namely the last one in which we get to build solar cells with the help of viral phages.
I ultimately decided to take one less class so that I could leave room for my new UROP. I'm super excited to be working in a tissue engineering lab this semester and although I'm just now learning a lot of new protocols and methodologies, I'm optimistic about this project and the new research direction that I'm taking this year.