Raymond and I recently moved out of our Honolulu airbnb (blogpost coming soon) into a new one in the heart of Boston.
Unbeknownst to us, though, this airbnb wasn't quite what we were expecting. Firstly, we didn't realize there was no kitchen at all, just a sink, a microwave, and some mediocre cooking supplies, which was slightly disappointing seeing as the listing said it had a kitchen.
Secondly, we knew the bathrooms were shared which we were originally okay with because it was just like dorm living to us. What we (or mainly I) weren't okay with was the fact that there's no warm water in the sink or any hooks to hang and dry your towels or any towels to dry the floor. And also the shower door is dismantled and leaning against the shower so as you're cleansing yourself there's this giant glass door with a nonzero possibility of falling on you and shattering all over your vulnerable, naked skin.
So me, being the dramatic that I am, was honestly freaking out about our living situation and desperately wanted to move. I had spent some time researching apartments to live in for the month of August, but wasn't sure if it was worth the move seeing as the money spent on the airbnb was nonrefundable at this time.
Raymond, being the optimist that he is, came up with some solutions for our home and to make it a big more comfortable.
Problem: Nowhere to cook
Solution: Just make your own kitchen?
I woke up to the noise of Raymond's phone blaring some YouTube lady telling me how to cook some complex meal that was somehow simplified by a magical device known as a pressure cooker. Raymond then held the phone up to my face and said "This is the solution."
Perhaps there were cheaper and better alternatives to our lack of kitchen space than, well, buying a $200 pressure cooker and air fryer in one, but I think it wouldn't have been as fun. (And to sound less like a spoiled child with money to throw around, I think it's a worthwhile investment. We justified our impulse decision by saying we could utilize this many years into the future, even years out of college).
Once readied up for the day, we took a quick run to Target and bought all our kitchen needs: garlic, soy sauce, fruits, knives, cutting boards, measuring cups, the like.
But most importantly of all:
Our pressure cooker!!! It is a pressure cooker and air fryer in one and it is fantastic. We then got to working on the rest of the house (see: room) to make our mini kitchen of our dreams.
I was telling Raymond how our home felt a lot like those tiny house living shows you find on YouTube or HGTV. In the words of my friend Emma, "it's an adventure."
And it certainly is. It feels like it's massaging Raymond and my's engineering/PM minds to try and figure out how to fit as many features of a normal kitchen into this tiny space.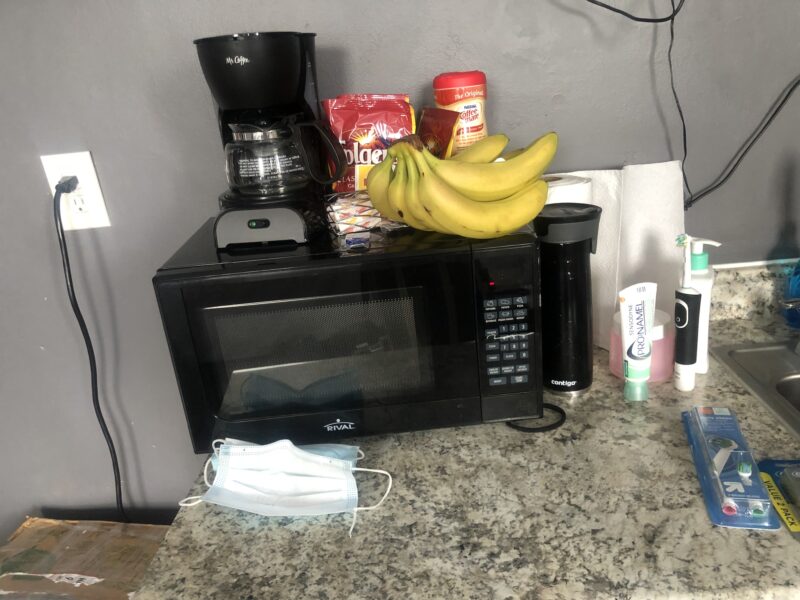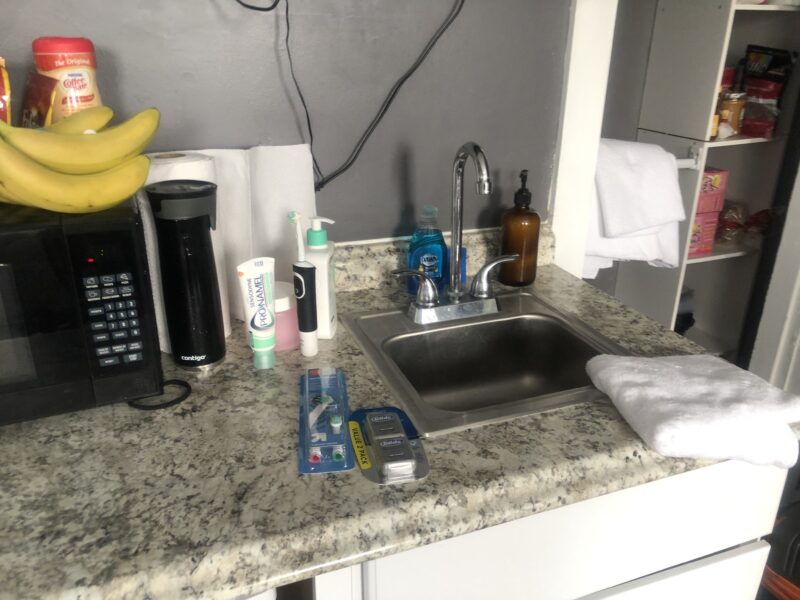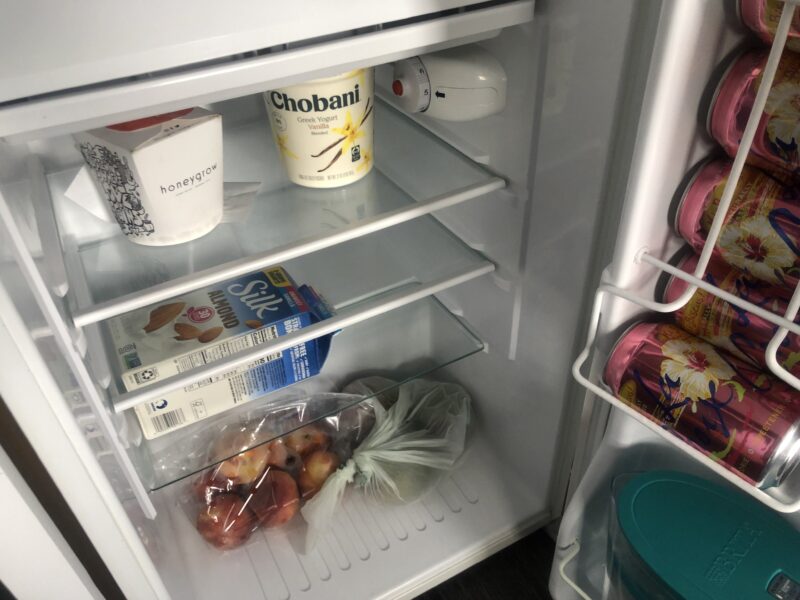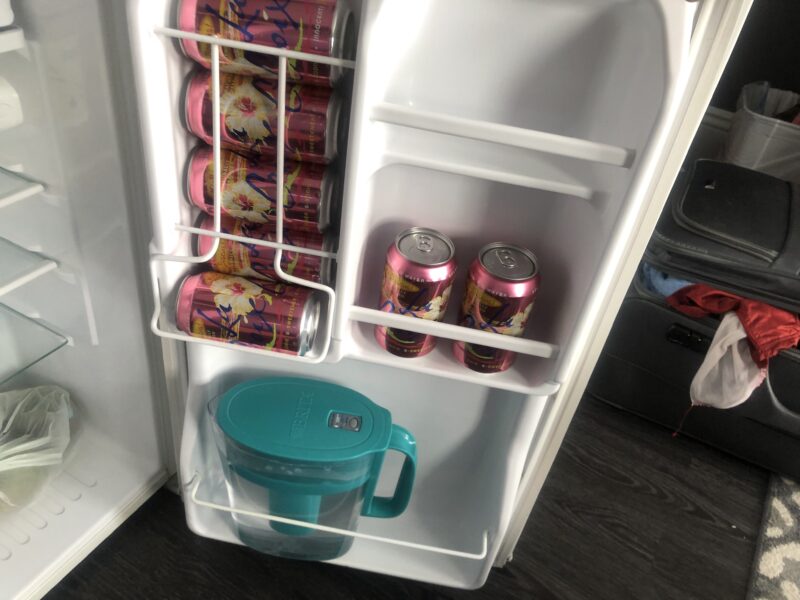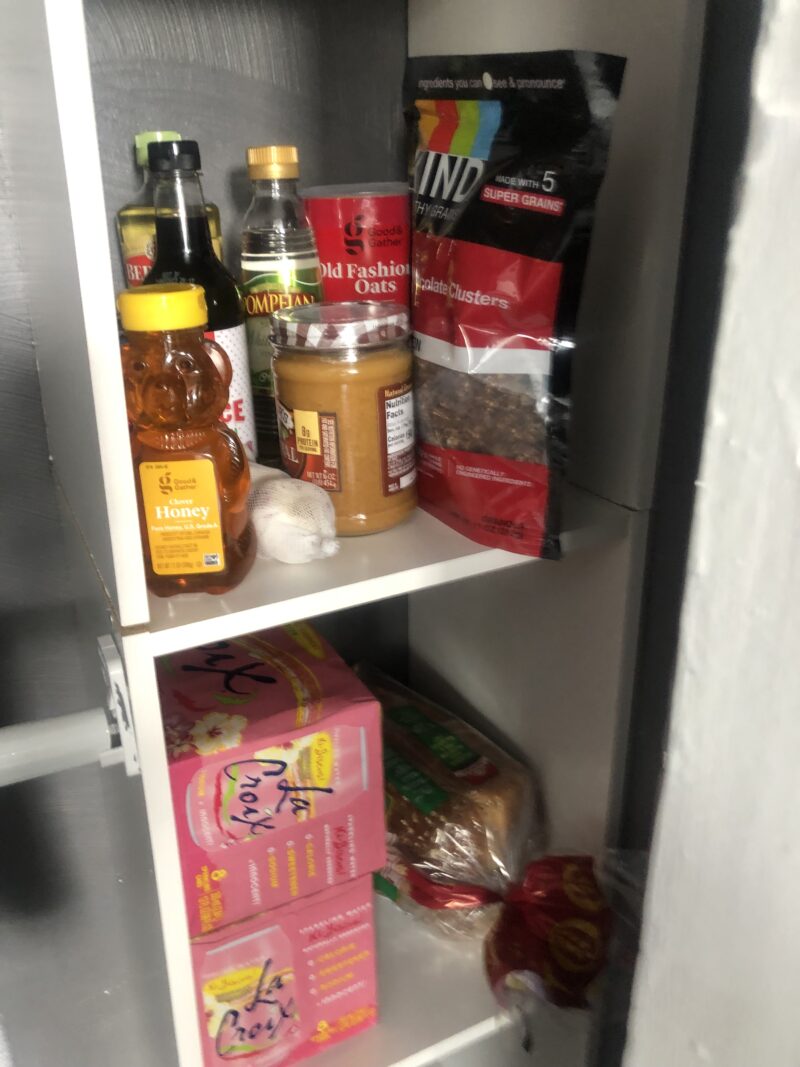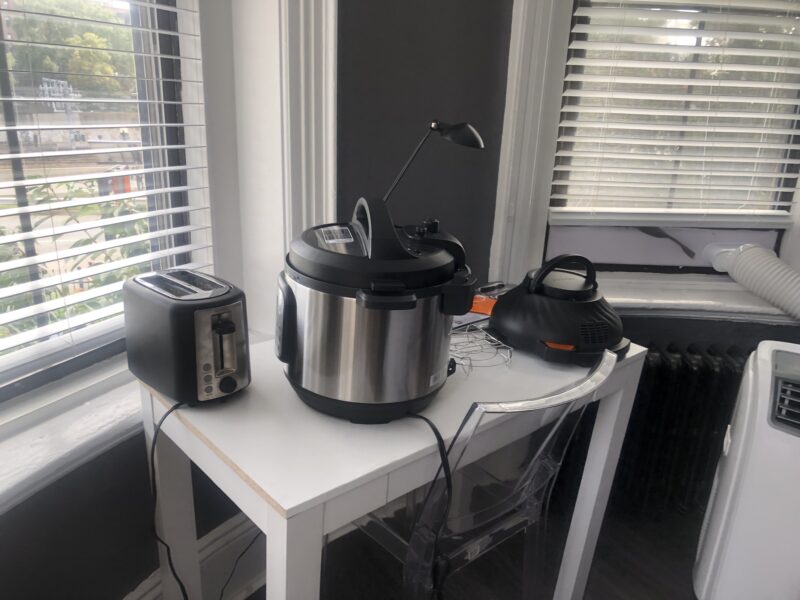 And tadaaaaa here's the result. You can see our countertop that also doubles as a place where I do my skincare routine and whatnot. There's also a microwave, as well as a coffee maker that will remain unused since Ray and I never drink coffee.
There's also our cute little fridge filled with everything you could ask for, mainly talking about the LaCroix. I recently "got into" sparkling water this past summer, after watching NorthernLion's sparkling water tier list and deciding I should give it a shot. It's delicious. My favorite flavor is Hibiscus (if you couldn't tell).
And you can also see our closet-space-turned-pantry that now houses all our necessities like soy sauce, salt and pepper, garlic, etc.
Most importantly of all, you can see our work desk that has been converted into another countertop, housing our baby Cupcake and toaster.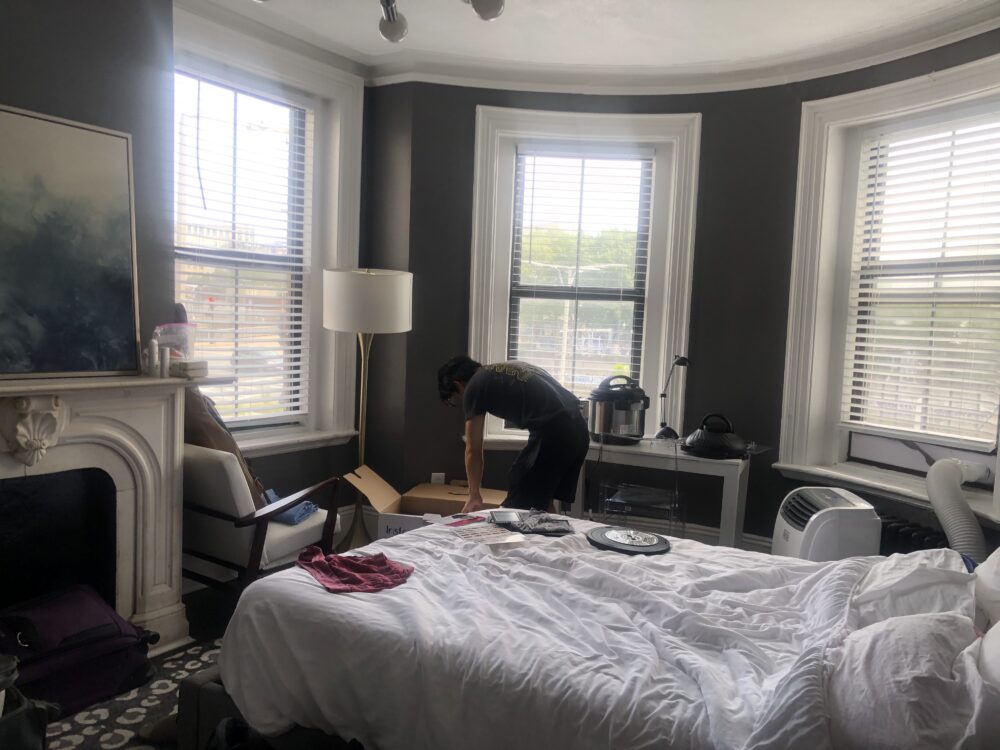 And here is a shot of the whole room, mind the mess. It honestly isn't that bad of a house. It's got such gorgeous lighting, came with its own AC, and is pretty clean for the most part.
Problem: less than ideal bathroom
Solution: Simply do not use that bathroom.
We're planning on mainly using MIT Z (the gym) showers for this one. Perhaps not…the best? solution? But it's a great way to stay motivated to actually go to the gym every day and wash up. We'll still most likely use the bathroom to shower if we really need to, but right now I'll probably wait until they move the door.
Problem: how do two software engineers working demanding internships be productive in such a small space?
Solution: Find space!
We have basically agreed that this place is merely a home in the sense that we eat and sleep in it. Nothing else. All of our work will be done in various cafes around the area or even in open classrooms around MIT! I think it'll be a great way to get our steps in and find new areas and places to work throughout the semester, so I'm really excited. Additionally, our airbnb is a super great location close to a lot of great restaurants and cafes so it's definitely very doable.
So here is my tiny update on my new tiny home :) More summer updates coming soon, life has been a lot busy.
Feel free to keep up with me on my various socials. Only 20 more days until I move into my sorority and then get this semester started. I am so, so excited (and intimidated) by the prospect of the fall, but I know it's going to be a great semester.