When people ask me what I do, the easy answer is that I'm an admissions officer. If they ask me what an admissions officer actually does, though, it can be a harder question to answer. Our profession requires no special tools beyond reading, writing, and making decisions, i.e. basic literacy and cognition. Fundamentally, a good admissions officer is not defined by their mastery of rare tools, but by their mastery of common tools. Yet since rarity of skill and rarity of tools are so often and easily conflated, it's hard to translate our professional skills to make them legible to a lay audience. I don't operate heavy machinery or conduct biological tests or throw a ball really fast. I just make decisions about stuff.
This is why, if and when people ask me precisely what it is that I do, I sometimes say that I judge people for a living. While I had no formal background or training in judging people, I have been judging people for some time now, and it is the task for which I am paid; I am basically a professional Mean Girl, and I have come to be at peace with that. I have been able to transfer my experience judging people in admissions to judging people in other contexts, including LMC's Battle of the Bands, the Blueprint Hackathon, and, last Friday night, Trashion 2014.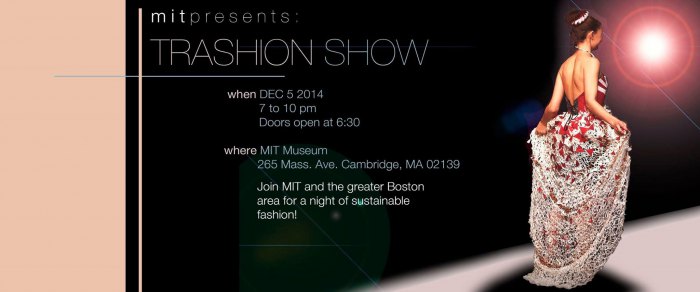 Trashion is an event where MIT students design and model unconventional outfits to raise awareness about environmental sustainability.
Founded in Next House in 2011
, Trashion is now produced by the MIT
Undergraduate Association Committee on Sustainability
. A few weeks ago, I received an email from Yanisa T. '18, who asked me to join a judging panel featuring
Peter Dourmashkin
, a beloved physics instructor, and
Shubhra
, a local eco-friendly fashion designer. It was hosted at the MIT Museum, catered (with zero waste, of course) by several restaurant sponsors, and featured several MIT student performers and speakers.
There were ~25 student pieces modeled at the show. After all the pieces were modeled, Peter, Shubhra, and I convened to allocate six awards: 1st, 2nd, and 3rd place, as well as awards for Most Avante-Garde, Most Sustainable, and Best Craftsmanship. I figured I would feature the outfits, designers, and models who won awards in this post. If you want to see more, Chris Welch, a graduate student and photographer, has posted hundreds of photos from the entire event (and you should go click that, since I had to compress these so much for the blogs). I'm also using his photos (and some by Landon Carter) for the award-winners below, along with text from the Trashion program.
1st Place: Alissa B. '16
Alissa is a junior studying Chemical-Biological Engineering. Her main source of inspiration comes from the highly dependent but tenuous relationship between man and nature. She weaved together man-made forms of organic materials to represent this connection and the possible consequences for our species as we continue to exploit our environment. Modeled by Kara P. '16.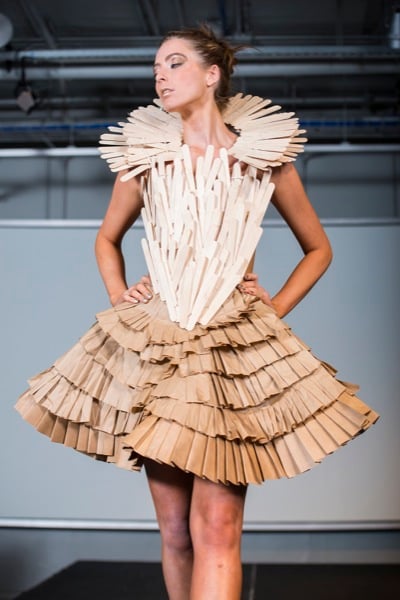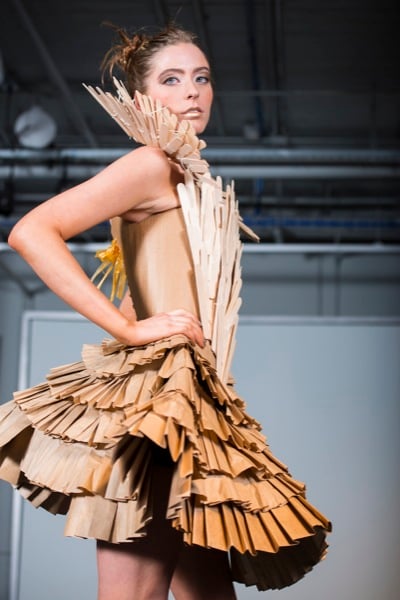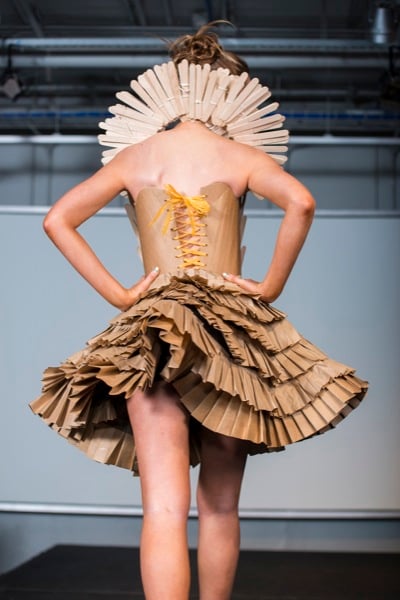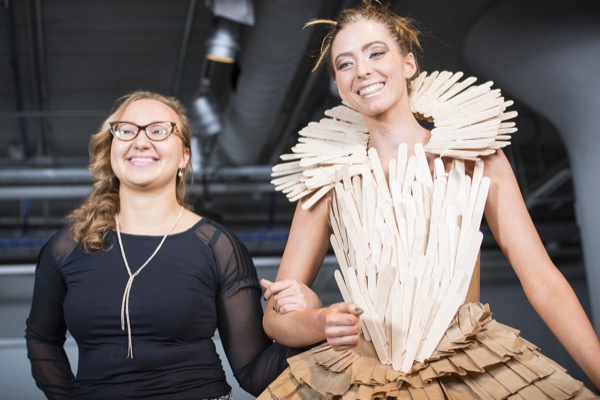 2nd Place: Kristen W. '16
Course 4 Architecture student at MIT. The design for my first piece A[R]MOUR, modeled by Divya S. '17, is inspired by the armor of ancient China, and incites discussion on China as a growing industrial powerhouse that mass manufactures products such as cheap jewelry, and the true value of these products when recreated as art. All the components of the piece are made from unwanted jewelry collected across campus. My second piece ZENSATION, modeled by Bria W. '16, is a project that explores the modern fad in personal meditation in a futuristic scenario when people seek peace by creating their personal little world of zen.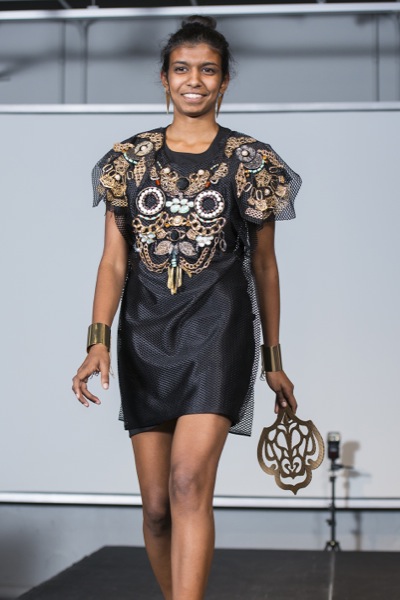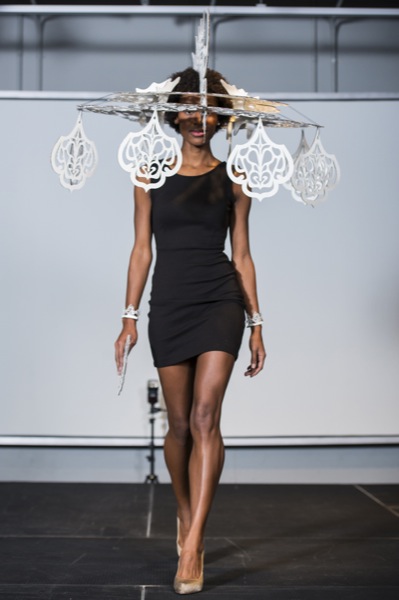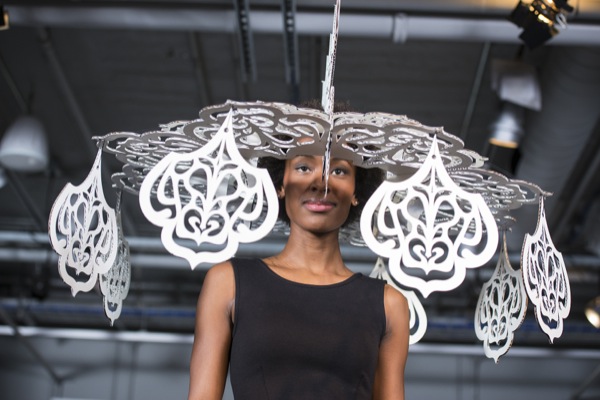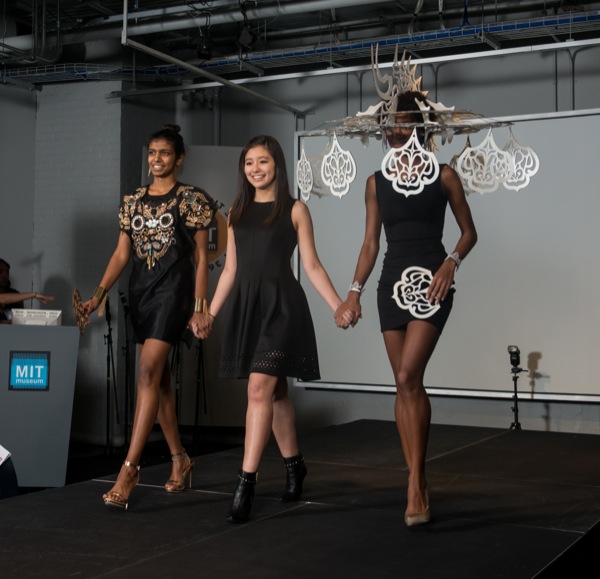 3rd Place: Josefin B. '16
Coming from Sweden, Josefin grew up in a very sustinability-oriented environment, which eventually led her to choose Environmental Engineering as her major. She cares a lot about recycling and reusing, which is reflected in her design. Modeled by Veronica T. '16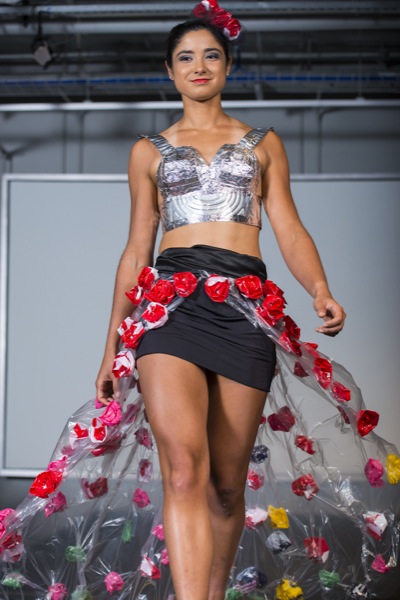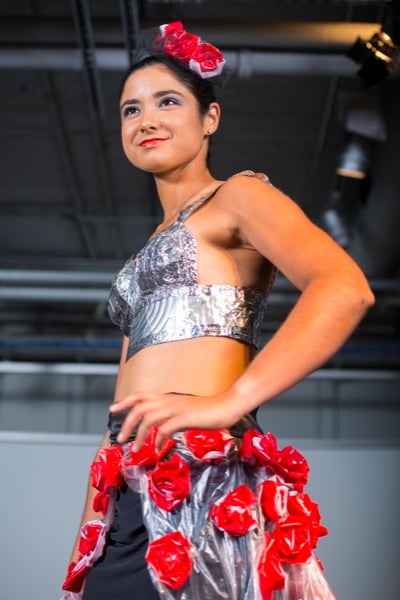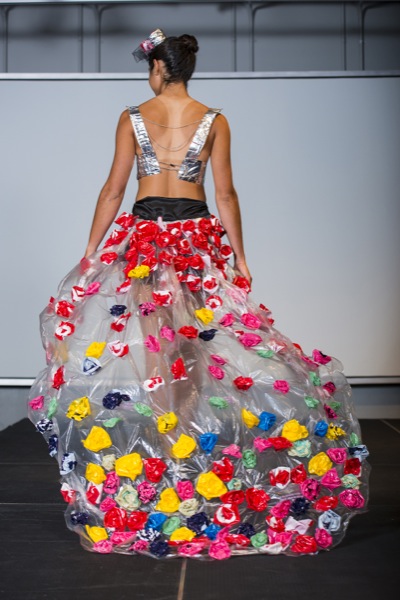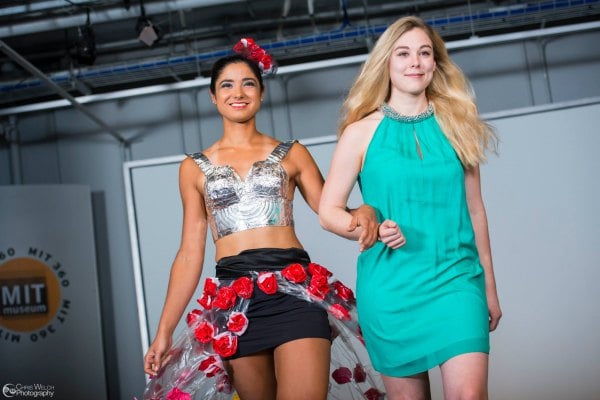 Most Avant-Garde: Tara L. '17 and Rachel W. '16
We are floormates on Maseeh 1 who wanted to create a dress with circular shapes and unconventional objects like ping pong balls and cups. We hope you enjoy it! Modeled by Alexandra S. '17.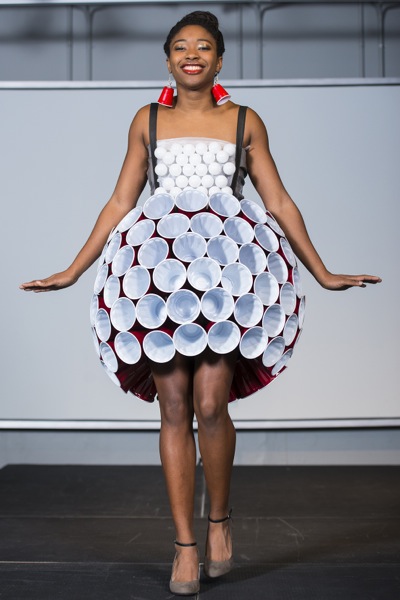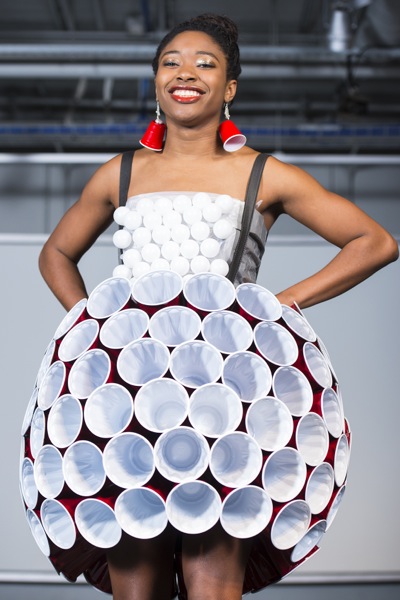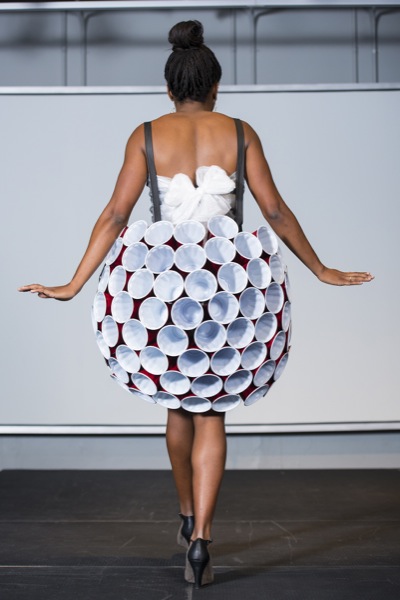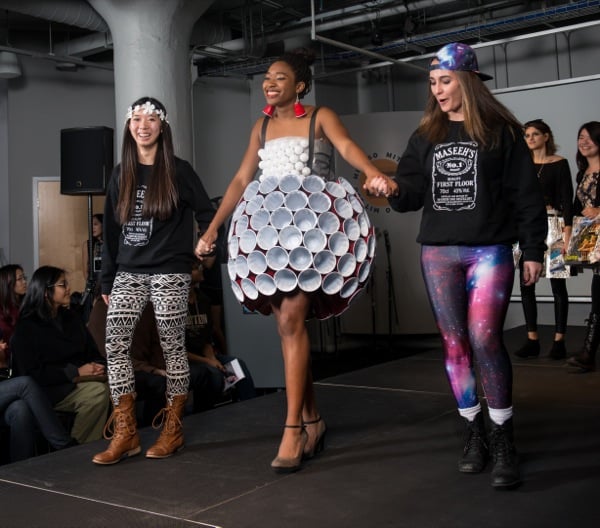 Most Sustainable: Emily T., G.
Emily is a doctoral candidate in Course 2. These designs makeuse of Emily's recently accumulated waste. Emily is wearing leftover medical supplies. Maggie is wearing packing peanuts.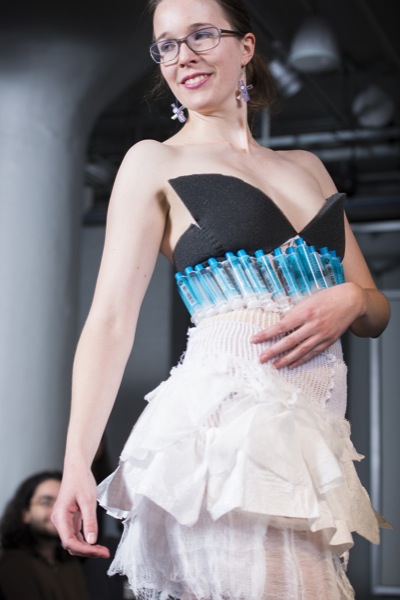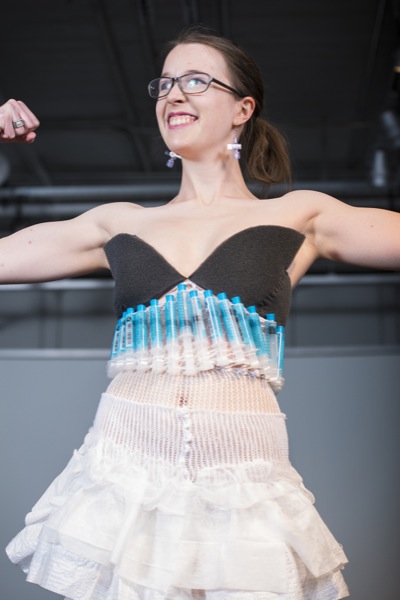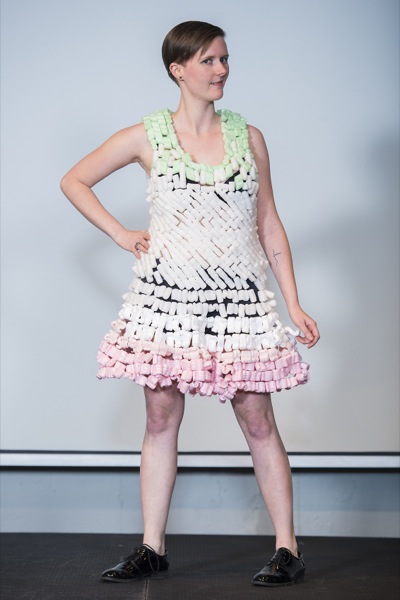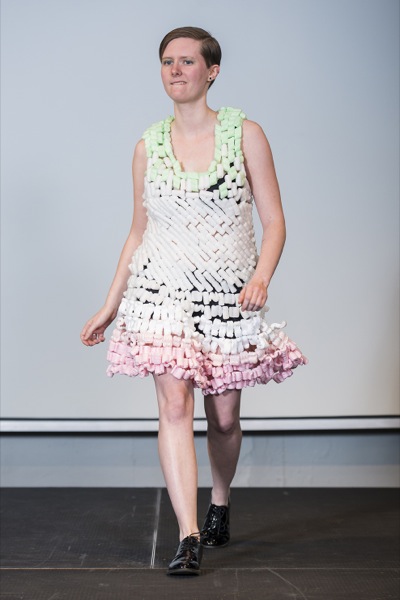 Best Craftsmanship: Mikael K. '18
Mikael was born and raised in Los Angeles, and has been designing fashion for eight years. This look is a romantic fusion of the late Alexander McQueen's Fall 2009 and Spring 2013 shows, and Lady Gaga's living art. Here I present a powerful woman to be feared and loved. Halfway between fantasy and reality, we could belong together. Modeled by Ellena P. '17.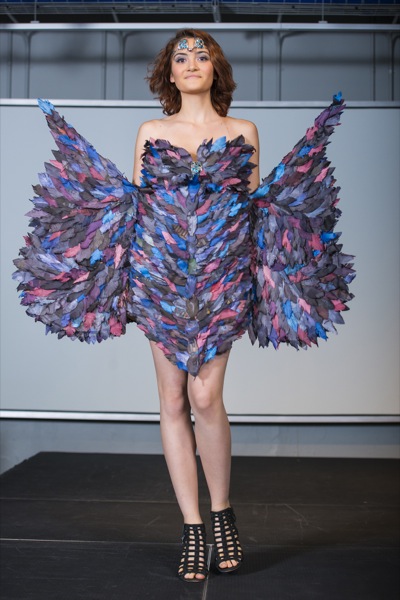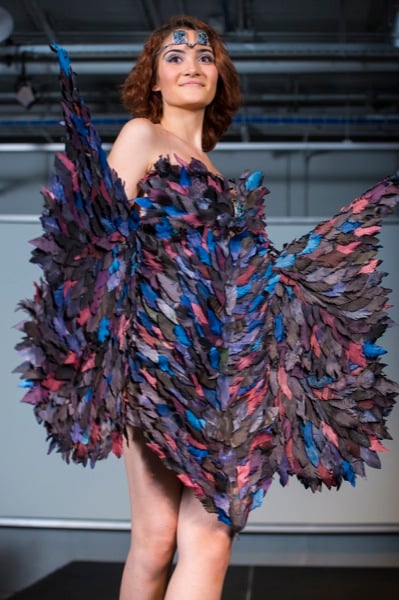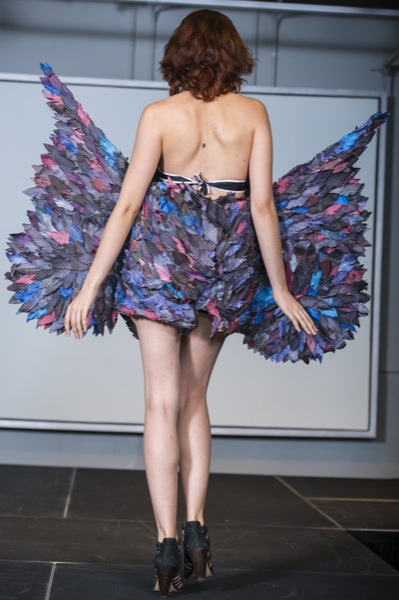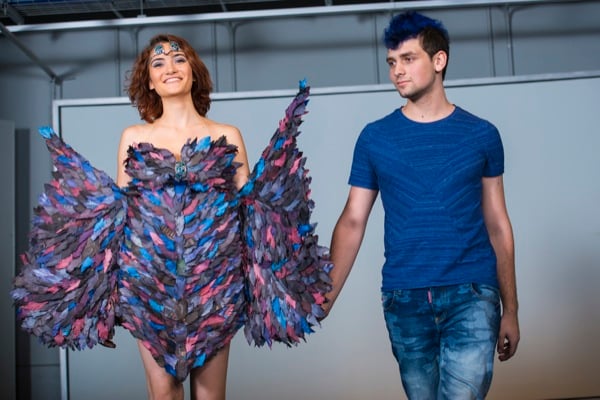 I was super impressed by Trashion! Judging was difficult, but rewarding, especially given excited all the winners were afterward.
It was also fun spending time with the students who helped put it all together. Perhaps even a bit too fun: when our MC Ayomide F. '18 introduced me on stage, and we realized we knew each other from the blogs and Facebook group, we high-fived so hard that my glasses flew right off my face.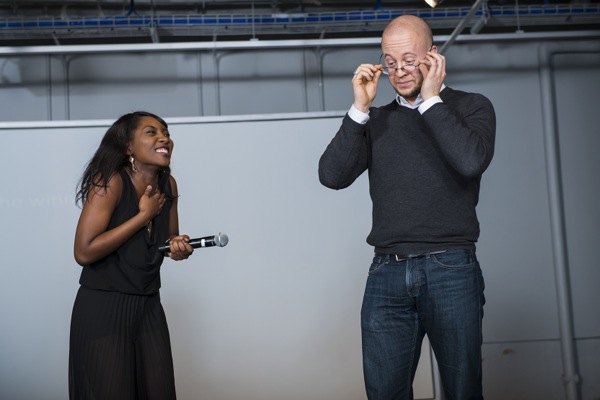 Thanks to Helen N. '17, Hannah C. '17, Amber G. '18, Jenny L. '18, Kathy C. '18, Kelly W. '15, Margaret T. '18, Maggie P. '18, Mary T. '18, Candice F., Yanisa T. '18, Ayomide F. '18, and everyone else who helped make Trashion possible!