Some lessons, we learn by virtue of way of life. They're the kind of lessons that unfold not from pulpits or pedestals, but emerge from the simplicity of daily routine, implicit enough to be anything but noteworthy.
Grades seven to twelve of my education in Nigeria were spent in a boarding school in the country's capital. Mirroring Nigeria's religious demographic, we were roughly equal proportions Christian and Muslim. Each day, the Muslim students and staff would gather under the roof of a building opposite our hostels and classes for prayer. And each Sunday, the Christian students would turn one of the classrooms into a makeshift church, often headed by our religious studies teacher.
For these six years in a cozy but fenced-off location, our lives were defined by boarding school routine. Early morning wakeups led to grumbling sounds and shuffling feet; a reluctant shower was followed by breakfast (the opinion of the quality of our dining hall varied, depending on who you asked from "not fit for pigs" to "kinda gourmet"), which was followed by assembly and then classes and then nap time and then study time and then lights out. This routine promised to be stifling, but we found a way to rely on one another for consistently interesting times.
At the same time I was in school, Boko Haram, a local terrorist group was wreaking havoc, bombing schools and churches, attacking infrastructure and recruiting new members. They would stoke the flames of divide, politiical dissatisfaction and religious unease, often leading to cycles of retaliations: a group of Christians would burn down mosques in return, provoking an equivalent assault on churches. The actions of the retaliators were highly perceived and nontrivial, reflecting an ideology where religion was being equated to terror, but many of us in Nigeria, most of us I'd like to think, were insulated from this kind of thinking.
For six years I attended a school where the nature of interactions with my classmates was built around highly specific traits. Our head boy, Musa Alim, was tall and charismatic and smooth-talking, and as such, made easy friends with everyone. As one of the school's unofficial nerds, my popularity seemed to surge during periods of exams or difficult homework, and wane right after. We nicknamed Lukman cutter because he was built like a tree, and looked liable to split your lips if you said the wrong thing to him, even though his gruff exterior often belied teddy-bear-levels of softness and likability. Daniel Atakpa liked J. Cole, and thought I was crazy for liking Taylor Swift. Babani was the mischief-maker, always finding an ingenious way to get himself, and often times his friends, in trouble. We were variations of a theme, identifiable to one another by the traits of our personalities. Religion was background material. Sometimes, tensions would bubble to the surface, and an argument about the nature of Jesus Christ would get out of control (think heated demeanors and hurled insults). But for the most part, it didn't matter.
Crucially, it didn't matter even in the era of Boko Haram, when Daily Trust, the newspaper delivered to our school, bore increasingly frequent mentions of Radical Islamic Terrorists and Burned Mosques. We were united in our horror, and our familiarity with each other, built over the years by shared routine, made it exceptionally clear the kind of people we were, so much so that there was never a point we would conflate Islam and Terror. Boko Haram was a group of terrorists self-proclaimed to be Muslims, but their version of Islam was alien to us, one that bore no intersection with the version of Islam our classmates, by action, presented to us. And thus we learned a simple lesson: the notion of Islam itself was not one of terror. And this lesson, crystallized into an axiom by years of interaction, was one so blatant it was never worth mentioning, not within the walls of the boarding school anyway.
This was a lesson I didn't have, or need, to think about until recently.
**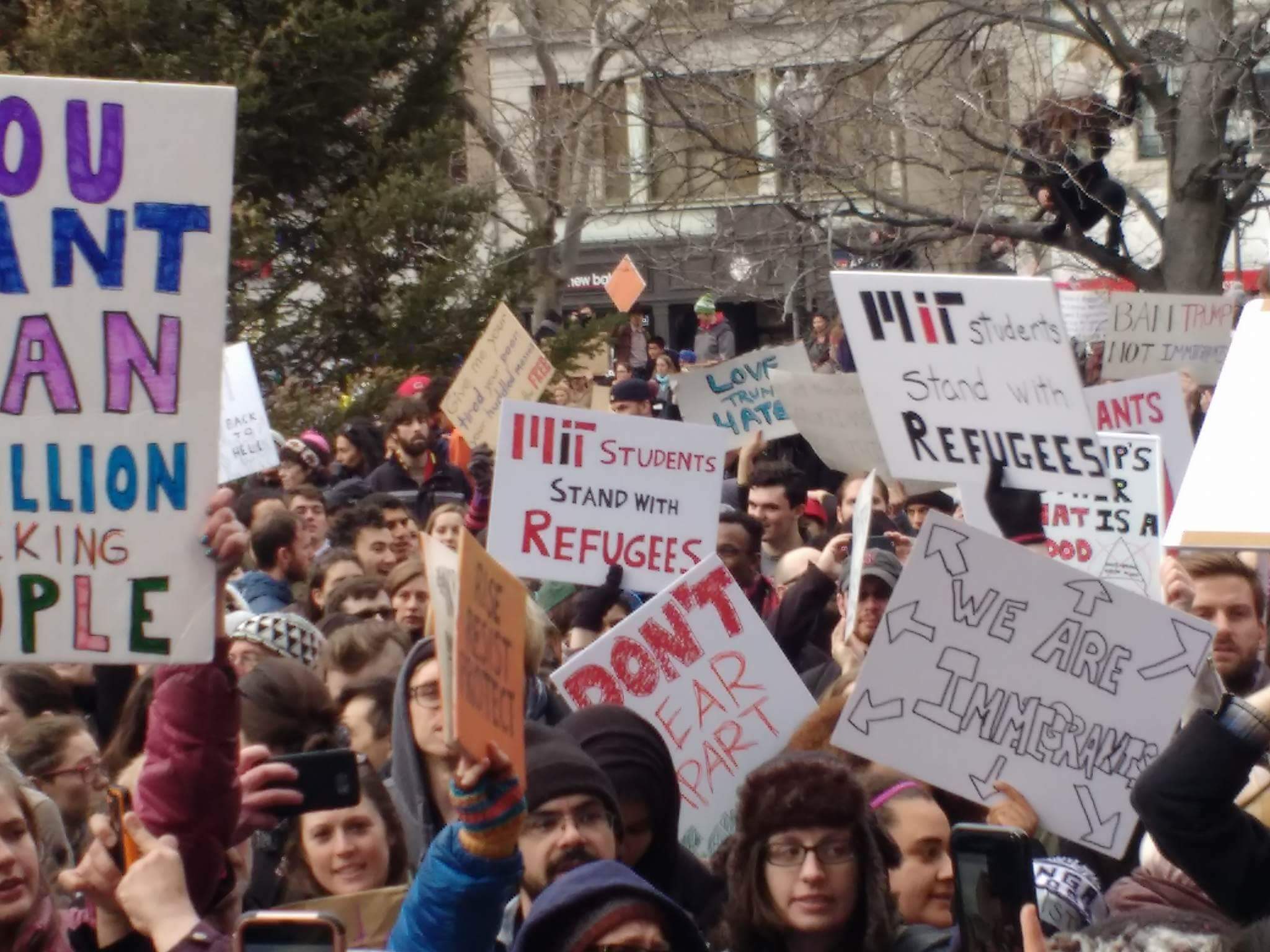 Today, protest rallies were held in Copley Square, Boston, in resistance of the recent immigration ban, which Allan covered quite nicely. I joined dozens of MIT students, blending into a massive crowd of faces and signs until we were just large swaths of people, united in our chants, and in the acknowledgement of lessons and truths I wished were axioms instead.
**
And they're lessons that become less necessary the more united we are. Someone on Reddit made an interesting observation that a lot of the protests took place prominently in places where Muslims and Non-Muslims interacted on a daily basis, interactions that provide a humanization that shouldn't be so difficult to achieve. The language of the prohibition takes the stance of, "We recognize that only a tiny subset of refugees in these countries are problematic, but we can't be sure which subset for now, so we'll ban them all", but this promotes a corollary stance, that we should look at each of them and, somewhere in the back of our minds, for every single refugee, (who already undergo intense vetting processes) we should think, "What if they're…bad. Sure, it's a slight chance, but what if they're bad." It's a fear-based reaction that substitutes a recognition of our shared humanity for something quite like paranoia. Think about this: a tiny subset of the human race consists of serial killers, but do you go regarding each new person you meet with some degree of nervousness, thinking, "What if they're serial killers?"
**
On campus, our interactions consistently strive to recognize this unity, a unity that lets us look out for one another regardless of race or nationality or sexual orientation or religion, preventing these inherent demarcations from becoming psychological ones. In my second blogpost on MIT Admissions, I talked about a grad student Peter, who saw a young black foreigner struggling with four luggage bags and looking lost. Peter reached out to help me with my bags and locate my dorm, making me feel welcome in an uncertain, formative period of time. Recently, I reached out to parts of the MIT Community via e-mail, and asked them to share snippets of similar stories, stories of unity and community, stories that let us know we're not quite where we want to be when they become worth highlighting. As more responses come in, I'll be sure to update this post.
**
I had a fallout with some of my closest friends in freshmen year, which led to me losing them. I was not the best at starting conversations so making new friends was very difficult. I started though by talking to people in Safety Third (my wing in Next House) and they've made me feel included for the past three years despite the difference in race :).
**
I come from a diverse hometown, but MIT has given me the opportunity to meet students who come directly from other nations. Because I come from an understanding town, it was often hard for me to understand that there are people who aren't as welcoming. Meeting international students has widened my horizons further. I have also met people who didn't have the experience I did while growing up. I'm grateful for all of the friends I've made here at MIT for letting me experience even more culture than before. I had thought I knew many other kinds of people, but I've learned that there are even more than I knew. People are people, and I remain hopeful that there are others out there that know boxes and labels are insufficient data points.
**
I am an international student. Even though I'm not from an Islamic country, I come from a pretty retrograde third world country. I just wanted to say that I felt, and I still feel, unsafe in my own country. Even though I know that people may have good intentions in everything they do, I know that they will not be acceptant of the fact that my sexual orientation is the same as theirs. I remember that during Orientation one of the events that was held, sorry I don't remember the name, was about standing up if you felt identified with what the speaker was talking about, but only if you were fine doing it, you didn't need to stand up if you felt that it would make you uncomfortable. I stood up, it was the first time ever that I stood up in a crowded room letting everyone know that I was, in fact, not straight. When I came back to my room, I cried for straight three hours. I cried of joy. I had never felt so strong, so empowered, so happy. I told my best friend back home about how I finally found the place where I can be myself, where I can find happiness.
**
I am from the Northern part of my country,specifically , the Upper West Region of Ghana. Northern Ghana is predominantly Muslim , hence I was born a Muslim , but was later converted to Christianity. I can testify that Muslims are not bad or dangerous people , actually in Ghana , I could say the kindest people are Muslims.Everybody awaits that Eid Mubarak cow that will be killed and shared by their Muslim friends annually. They never disappoint. My best friend , throughout basic to some part of high school , was a Muslim.
I feel that even if you decide to neglect humanitarianism and just look at the business aspect , there might be a lot to lose by pushing some of the smartest people you might have at your beck and call away.
**
Once I was feeling so down that I found it hard to even reach my friends. But they noticed that I don't contact them for a longer time and they proposed to do some things that I truly enjoyed. All of them were a different race, color or religion than mine.
**
My postdoc for my summer UROP is Muslim; I am Christian. When the time for his midday prayer came, we almost always walked together to W11 to pray, often talking about robots on the way. He'd pray upstairs, I'd pray downstairs. It was just, well, a happy blessing in an otherwise challenging summer.
**
I'm an international student. When I started my first year here, people I had not expected to notice me, director from Concert Band, or professor Mike Artin from 18.701 (and more), surprised me with their warm greetings in the hallway, remembering my name. I constantly felt so welcomed and cared from the little fact that seemingly remote people remembered my name and showed that they do care about me, and the same with every other students here.
**
I am an international student and I don't generally get to go home for shorter breaks such as thanksgiving. One of my best friends at MIT invited me to come to her house last year to spend thanksgiving with her family. My friend and her family are Muslim and her parents are originally from Bangladesh. Back home, my High School wasn't very diverse, so before coming to MIT, I had never met anyone from Bangladesh or India and didn't know very much about my friend's culture. But her family shared their culture with me and told me stories, played Bengali music and made delicious traditionally Bengali meals. But most importantly, all of her family was so incredibly kind and welcoming to me. Her parents treated me as if I was their second daughter. They even invited me to join them on a short holiday to Cape Cod. I am very fortunate to have found a friend like her and to have gotten the chance to learn something about a culture that was previously foreign to me.