Back in November, after our adventure visiting every stop on the MBTA, CJ and I promised that we would write a post full of wonderful facts and obscure lore about the history of the T. This is not that post. However, in the process of doing research for it, I read a book titled Boston in Motion which included a large quantity of historical pictures with accompanying passages about the history of Boston's public transit systems. In it, I found this photo of Harvard Bridge from 1929: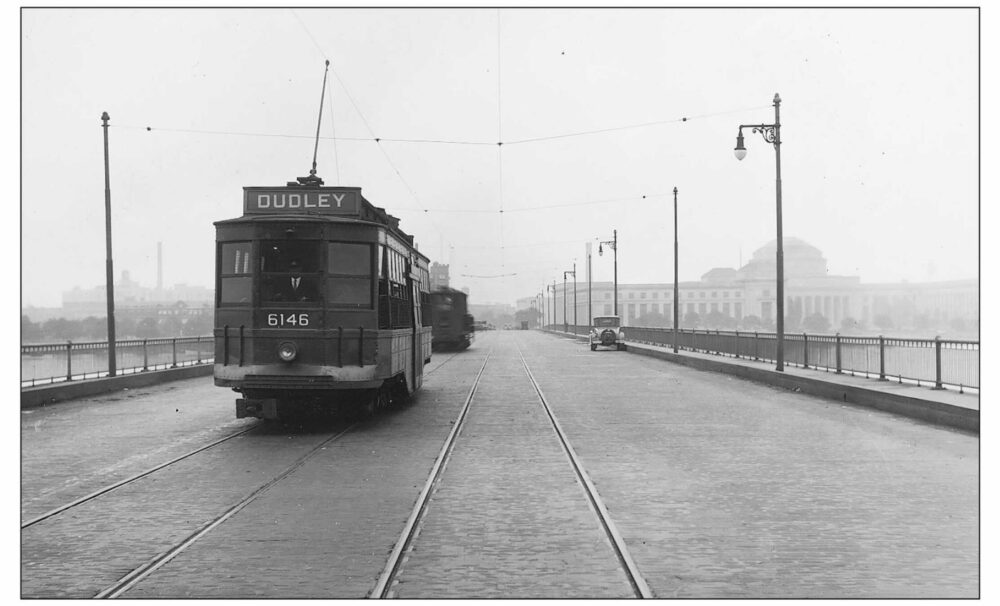 This photo is super interesting and contains a lot of historical elements, which I've labelled in the image below.
To the right, we can see MIT's iconic Great Dome. In the center, as we all know from CJ's ridiculously long blog about history, Lobby 7 has not yet been built, so Building 5 is still the main entrance to MIT. We also see the corner of Riverbank Court Hotel, which was acquired MIT just before the 1940s as Graduate House.⁠01 which later becomes Ashdown, and is now the undergraduate dorm known as Maseeh In the center-left, we see a streetcar going to Dudley Square⁠02 now Nubian Square from Harvard, a route now served by the MBTA's 1 bus.⁠03 this bus is commonly used by MIT students to get to Harvard Just to the left of the streetcar, we see a building. Wait, what is that building?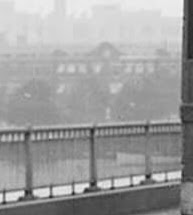 Answering this question, it turns out, is more difficult than one might initially expect. The astute reader will have already noticed that the answer is, in fact, the title of the post. Getting from this scan of an already low-resolution picture to "318 Memorial Drive", however, takes a lot of effort. We start with some clues: MIT provides access to a few different services which have historical maps of Cambridge, and there are only so many buildings which have ever been constructed on Memorial Drive. ProQuest's collection of Sanborn fire insurance maps gives us a few candidates, summarized here by a graphic from a 2003 MIT master's thesis.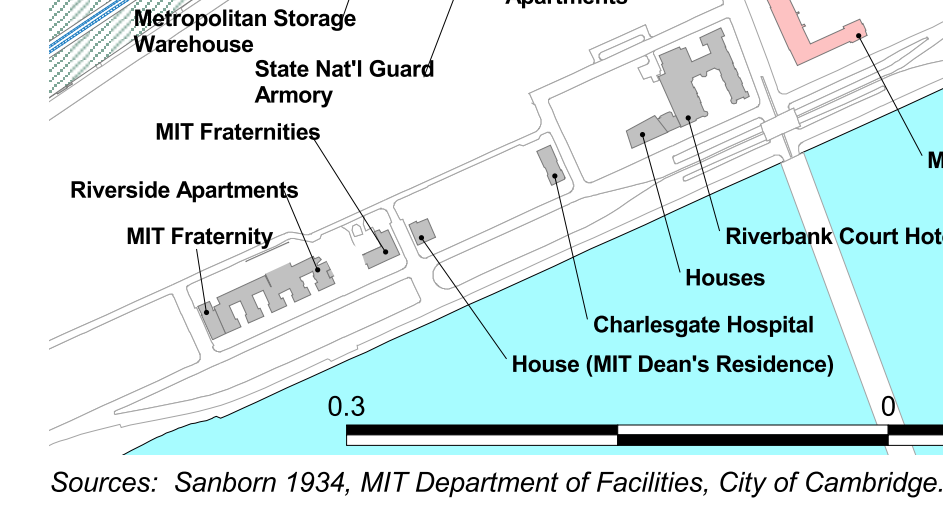 Fortunately, most of these buildings still exist, so we can just look at them. Charlesgate Hospital, for example, becomes Sancta Maria Hospital,⁠04 as can <a href="https://www.loc.gov/resource/g3764cm.g03701195001/?sp=83">also be seen on this 1950 Sanborn map from the Library of Congress</a> which is later bought by MIT, where it is now Green Hall. Here's what Green Hall looks like now: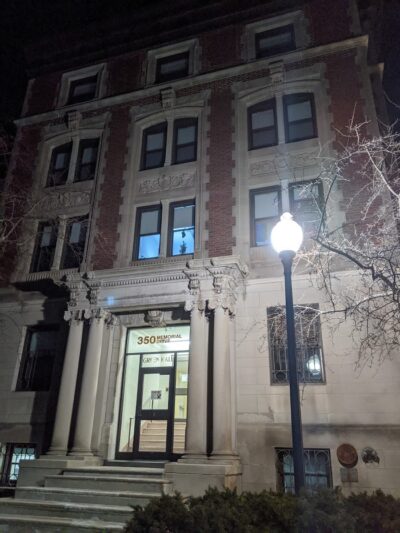 In the picture we have, the building appears to protrude quite a bit and also has more windows across it, so it is clearly not Green Hall. We can repeat this as we go down Dorm Row: the MIT Dean's Residence, located at 372 Memorial Drive, is now Theta Delta Chi, and has never been demolished or modified, as confirmed by their website and the 1950 Sanborn map.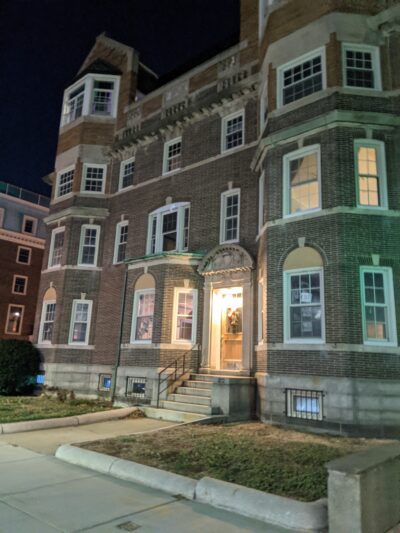 This building, too, is clearly not the one in the picture, for a variety of reasons. First, the building in the photo clearly does not possess a similar balcony; second, there should be another building to the left of this one, which is labelled "MIT Fraternities"; and, besides, at this point, we're likely out of the frame of the picture. We could verify this by trying to get a picture from the same vantage point as the original photo, but unfortunately, the Google Street View for this area is taken from the wrong side of the road, and also distorted by the fisheye lens. Because I am not quite dumb enough⁠05 dubious, discuss to stand in the middle of Mass Ave, here is an attempted reconstruction from the side of the road.
The image seems to suggest that we could probably see a good portion of McCormick, but we might also expect to see Green Hall. Due to the difference in perspective, the data are inconclusive, but 372 Memorial Drive and beyond are probably not worth considering in our search. We're left, therefore, with the buildings labelled on this diagram as "houses". The Bromley Atlas of Cambridge from 1916, as provided by the Harvard Library, tells us the addresses and who lived there:
We know a few things—311 Memorial Drive is still listed as the location of building W2 on MIT's interactive campus map, which is now the McCormick Annex, a set of rooms connected to McCormick via hallway. W2 was once the home of MIT's religious center, before it was moved to W11 as W2 turned into housing. 318 Memorial Drive must have been demolished at some point in the 1960s with the construction of McCormick Hall, since it sits on that parcel of land.
Here's what we don't have: 1) visual proof that 318 Memorial Drive is the building we're looking at; 2) an actual history of what happened to 318 Memorial Drive. Did MIT ever actually use that building? For an answer to 1, we can consult the modern annex, which looks like it has a similar structure to the building in the picture, but is missing key aspects: in particular, it's missing the arch in the middle. Not totally satisfactory.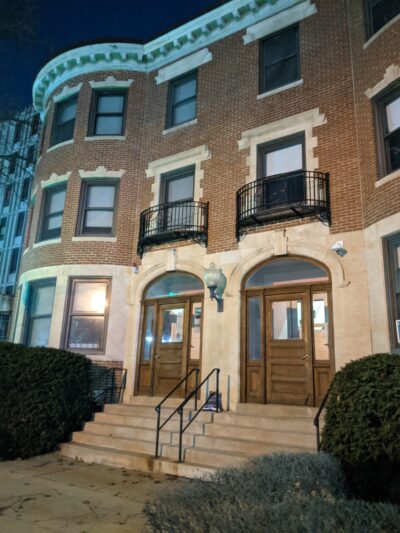 I got stuck on this step for a while. Having spent multiple hours on this rabbit hole, I had to get back to real work, so I made a little Twitter thread about my quest and called it a day.
Flashforward to a few days ago. I'm copyediting CJ's post, which gets me thinking about maps. Surely, there are maps of campus somewhere, right? CJ links me to the collection of student catalogs—no luck. From this, however, I eventually stumble into the collection of student handbooks, and I find a map in the 1959 version. Bingo!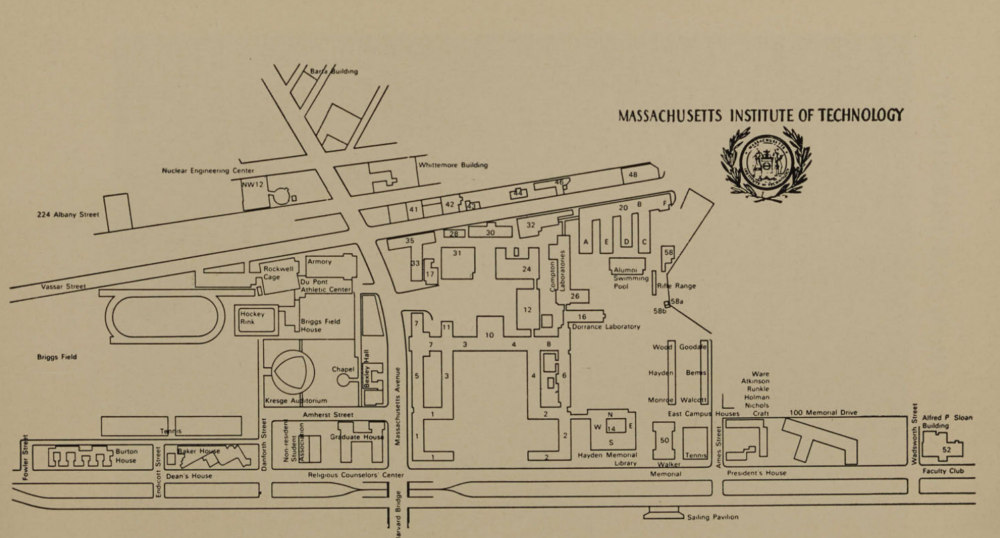 Of course, there are a lot of interesting things about this campus map—we see old buildings 12 and 20, a distinct lack of buildings 9, 56, and 66, so on and so forth. However, if you look at the bottom, near the center-left, next to "Graduate House", you find "Non-Residents Student Association" (NRSA). Fortunately, MIT's student newspaper, has scanned archives going back to the 1880s, and with a quick search, we find two news articles: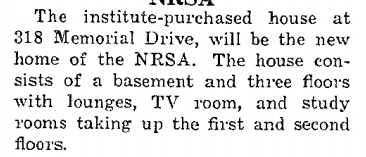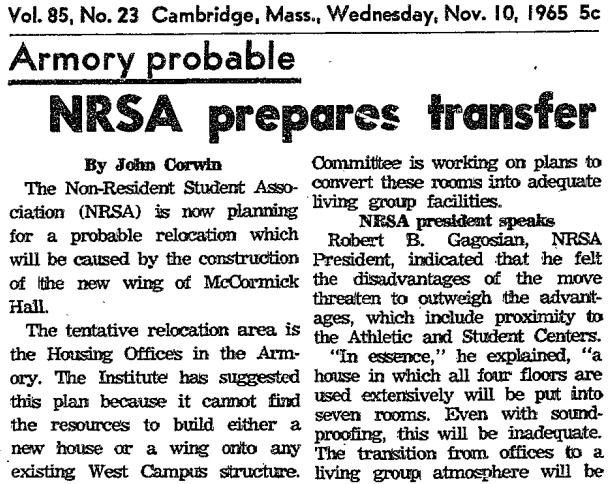 The first article, from May 8th, 1959, describes the recent purchase of 318 Memorial Drive. The second article, from November 10th, 1965, describes its likely demolition for the construction of McCormick Hall's East Tower.⁠06 McCormick Hall's West Tower <a href="https://mccormick.mit.edu/about/mccormick-history">had been completed in 1963</a>. the East Tower was completed in 1967. An Alumni Association blog confirms this story: in fact, the NRSA moves to 311 Memorial Drive after the demolition.
This answers the question of "what happened to 318 Memorial Drive?" It does not, however, give us visual evidence. How do we acquire that?
Here again we are saved by luck. On the Theta Delta Chi website linked earlier,⁠07 notably, this is not the fraternity's current website; instead, it is an older version saved by google we're told that the fraternity used to reside at 314 Memorial Drive. Right next to this historical description, we're provided a picture of the old house: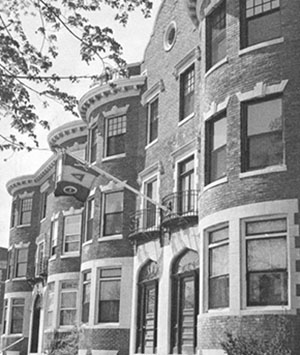 and there it is! The building we've been looking for, replete with arch and all. Notably, TDC's description of their history disagrees slightly with the narrative described above:
On December 1957, a deal brokered between Lyndsay Russel and MIT granted Theta Delta Chi the land title to the Dean's Mansion on 372, in exchange for the title to our mansion on 314 (present day McCormick West Wing). In 1966 the first Theta Delta Chi pledge class was initiated in the Theta Deuteron Mansion.
There are a few other The Tech articles which make some suggestions—for example, during the construction of the modern-day Student Center in 1962,⁠08 frustratingly, this article includes the sentence: 'Eventually the basement levels of the Center and Building Seven may be connected by a tunnel under Mass. Ave.' this has still not happened. it is suggested that the chaplaincy move into 317 Memorial Drive. A somewhat vulgar article from 1943 informs us that TDC is already present in 314 Memorial Drive at that time. My best guess is that TDC exchanged the land titles in 1957, resulting in the move-in of the NRSA and the chaplaincy, but did not actually fully move until after the 1965 closure. That, however, is still just a guess.
So there we are. A mostly complete history of 318 Memorial Drive, a building that no longer exists, but whose memory lives on in The Tech, the still-extant McCormick Annex, and this obscure 1929 photo of a streetcar crossing Harvard Bridge.