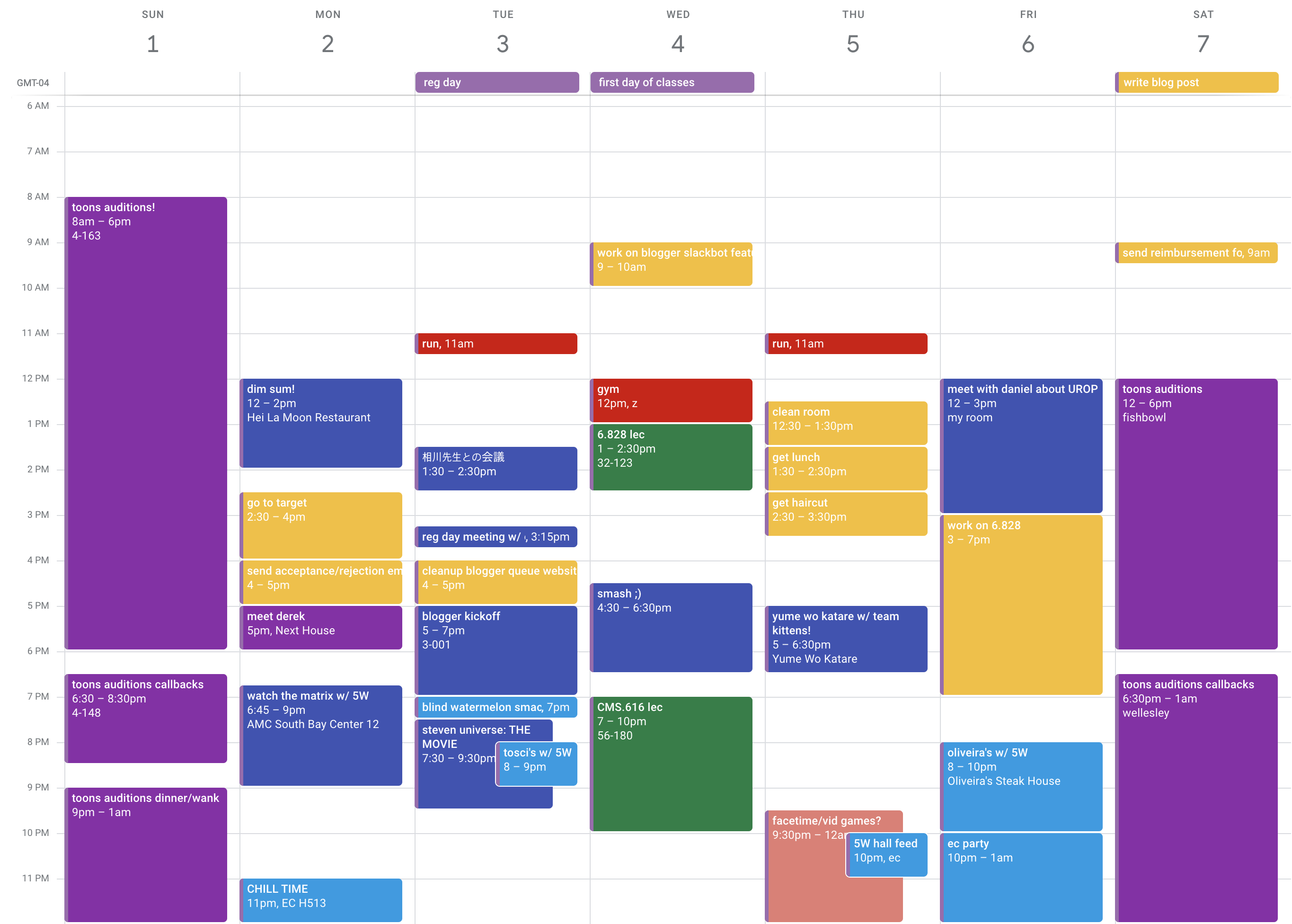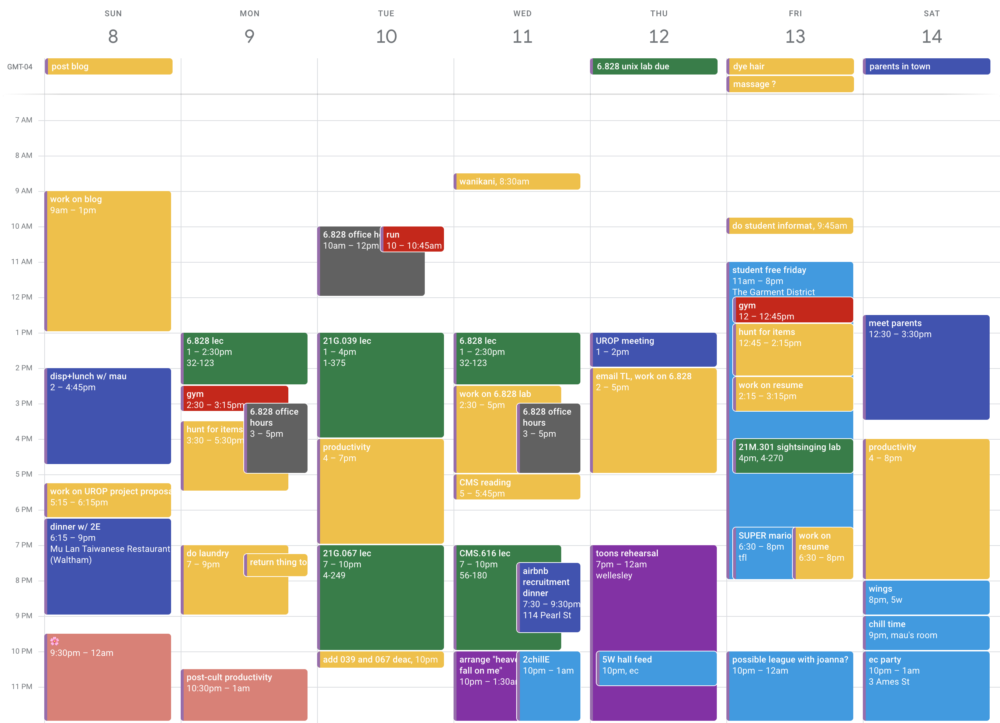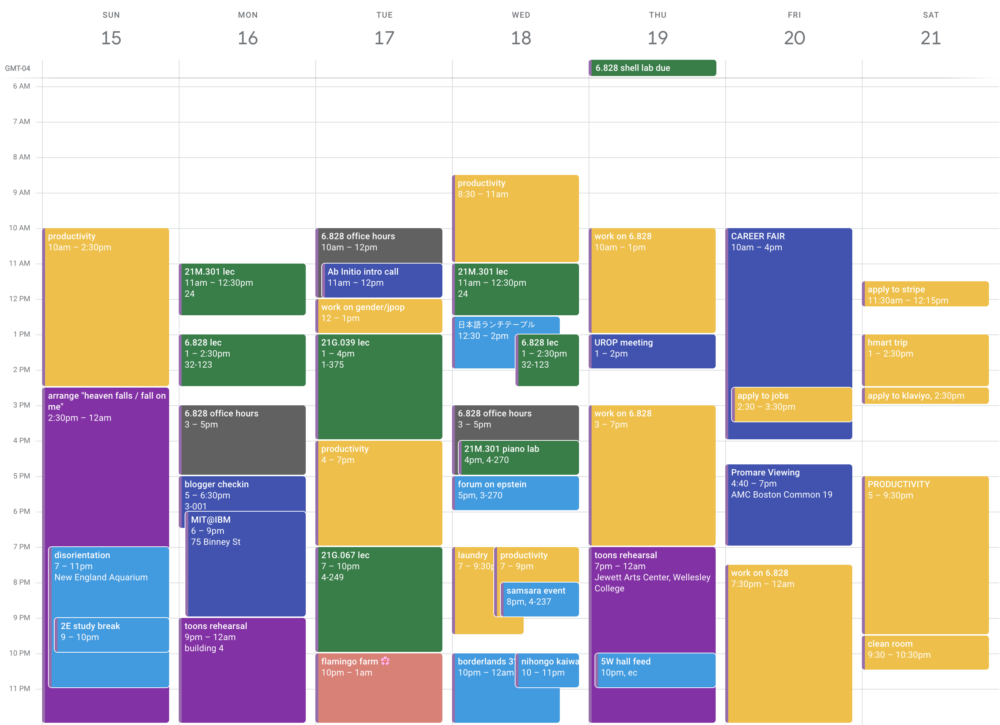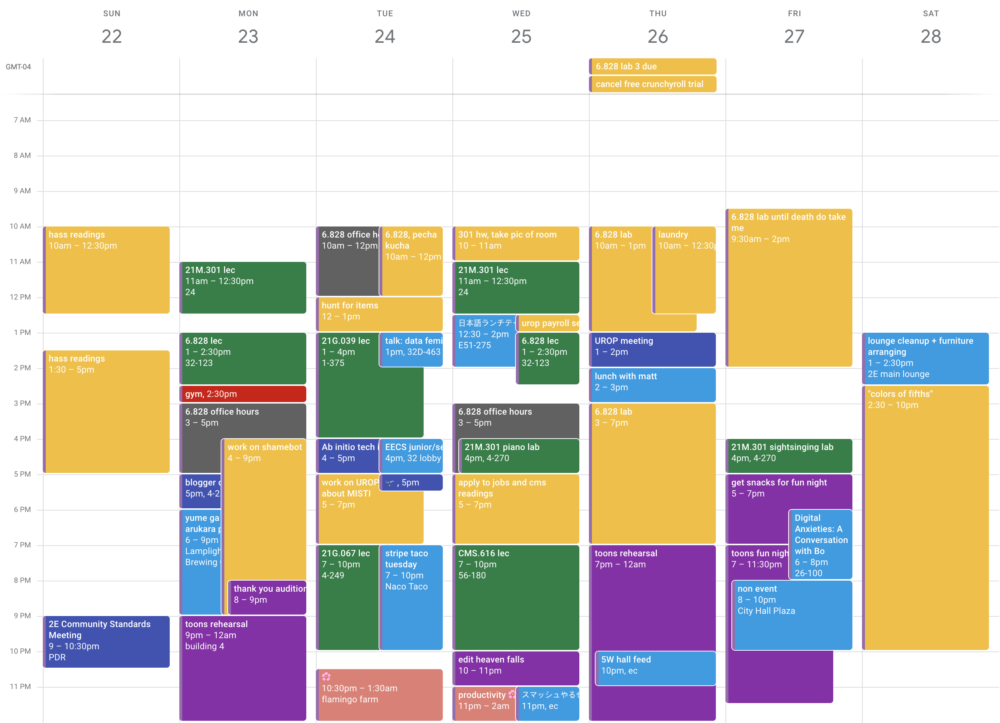 ---
i have a general color coding scheme:

green

are classes. they're pretty much the only things i've been putting on my calendar for the past three years.
light blue are things that are interesting, but not mandatory. i may or may not go to them based on various things like how hosed i am, scheduling conflicts, or randomly changing my mind.
blue are mandatory, or important events that i'm committing to (i.e. not planning on flaking, in contrast with light blue).
yellow are action items for myself, or retroactive descriptions for what i did for a block of time (more on retroaction in a bit).
red are physical things like going to the gym or running. as you can see… i need to work on adding more of these…

i use gcal constantly, in stark contrast to the last three years where i really only used it to record classes. i frequently check it, because i know that i'm the type to forget events or things i have to do. i use it both proactively and reactively: i'll add events to gcal as soon as i become aware of them, and i'll also make action items for me to do in the future. this has helped me go to more interesting events this semester (and not forget them), and has made me more productive in general.
using gcal is processual. events always get shuffled around or moved back, especially when it comes to action items (yellow events). moving yellow events back isn't necessarily a bad thing: every time i push it back, i'm aware of it through the physical action of clicking and dragging it forwards in time, whereas previously i would have just shrugged and told myself, "oh well," or not even noticed it at all.
events get filled out as the day goes on — i don't plan too far ahead in the future. for example, here's a screenshot of this week, which is relatively empty: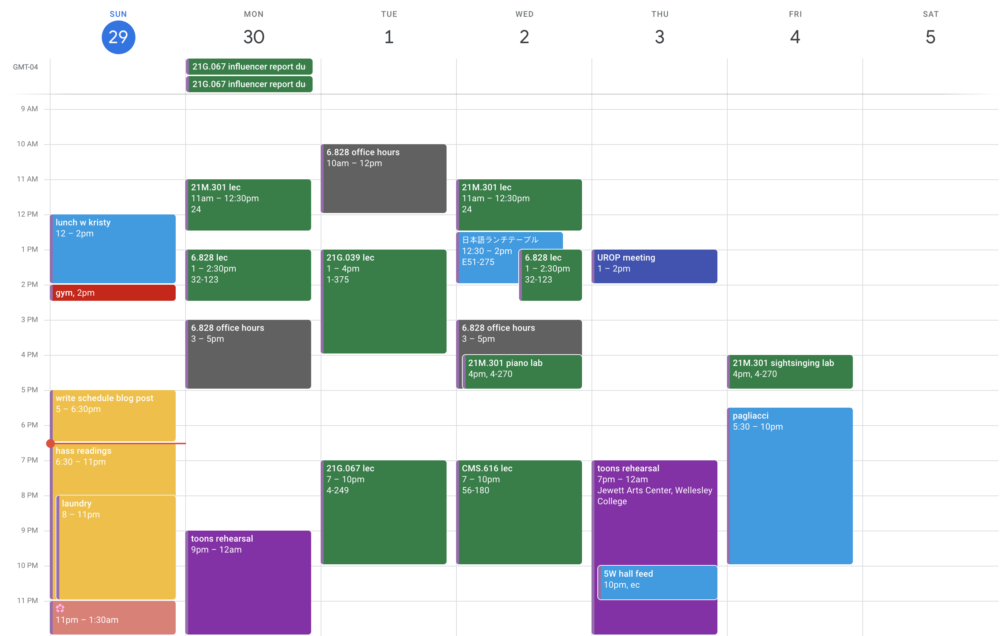 i also will retroactively edit the past to more accurately reflect things that i did (because things never go exactly the way you want to). in this way, the gcal becomes a more accurate life log of what i did at a particular point in time and when, as opposed to a list of mandatory events.
i am so, so very hosed. school stress is very real. job stress is very real. 01

but, fortunately, my mental health has been pretty good, through a combination of taking better care of myself and feeling like i have actual <em>structure </em>in my life for getting things done now.
---
bonus: a playlist of september
but, fortunately, my mental health has been pretty good, through a combination of taking better care of myself and feeling like i have actual structure in my life for getting things done now.⁠

back to text

↑