In the midst of a whirlwind-like semester I promise to eventually blog about, I had the chance to connect to Vaishnavi at one of the Burchard Scholars dinners and we got to talking about INSPIRE, a cool project that might interest several high school students. The details follow below.
***
Q: Tell me a little about yourself.
A: I'm Vaishnavi, a junior in Course 9 – Brain and Cognitive Sciences. Outside of classes and UROPs (that's MIT-speak for "undergraduate research"), I work with a team of awesome undergraduates to organize the annual MIT INSPIRE high school research competition in the humanities, arts and social sciences.
Q: What is MIT INSPIRE?
A: INSPIRE is the first and only national high school competition that focuses entirely on original research in the arts, humanities, and social sciences. It's completely undergraduate-run, but produced with support from faculty, staff and alumni in the MIT School of Humanities, Arts, and Social Sciences and other MIT departments. High school participants submit original research in one of 13 broad categories – including philosophy, literature, econ, poli sci and others– for consideration and the top 100 finalists are invited to MIT's campus in April 2016 to meet expert judges and compete for some serious national recognition and prizes. In our first year (2015), we awarded over $48,000 in prizes.
Q: So if a student is interested in INSPIRE, how should they proceed?
A: To start, all you really need is a little curiosity and enthusiasm for a topic. This could be anything from a song you heard on the radio to a national issue raised during the Republican or Democratic primaries, a neat culture you heard about in your history class, or even a book you recently read. Come up with a new question that you want to explore or develop a new way to approach a question that's already been posed before. The sky's the limit. Find a mentor to bounce off ideas and formulate a method to approach your question. Once you've gotten started, submit your Intent to Participate by December 30, 2015 and get ready to submit your final research abstract, report, and other forms in January.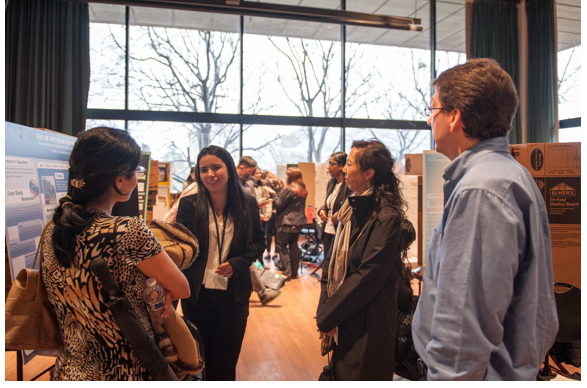 INSPIRE judging round. Photo credit: K. Toy
Q: What do you like most about MIT?
A: One of the things I really love about MIT is our creative and innovative culture. Here, we "think big" about new ideas and possibilities, and are able to actualize them thanks to the many different resources available for undergraduates.
Another aspect I like is one of MIT's hidden gems – a stellar humanities, arts and social sciences program. It was recently named among the top 3 universities worldwide in these areas.
Q: What advice do you have for applicants to MIT?
A: As cliché as it sounds, follow your passions and seek opportunities in areas that interest you. But at the same time, don't forget to try out new things and demonstrate that you are well rounded. Try looking at things from another perspective: the policy side of that science topic you're investigating, or the societal effects of a technology you're immersed in. It will broaden your thinking and give you something unique to talk about in your application and interviews. And who knows, it could lead to an award-winning INSPIRE project, if you'd like to earn some recognition on the side!