It's been roughly a little under 2 months since I moved onto campus. Instead of having an actual intro, I'll cut to the exciting stuff. So, here, much later than anticipated, is a blog detailing life since that fateful day. Let's look back at February 13th and move on from there.
Moving to MIT, I took a train, which was a rather nice mode of transportation. Smooth and calm. It was roughly 5 hours to get from NYC to Boston, much of which I spent sleeping or looking out the window. The train took a long route, but it did stop through some major cities like New Haven and Providence. It was a bit hectic once I got to Boston because of all my luggage, but I somehow managed to make it alive. Mainly because there were people who helped me carry my luggage at some points on campus, which I am still incredibly grateful for.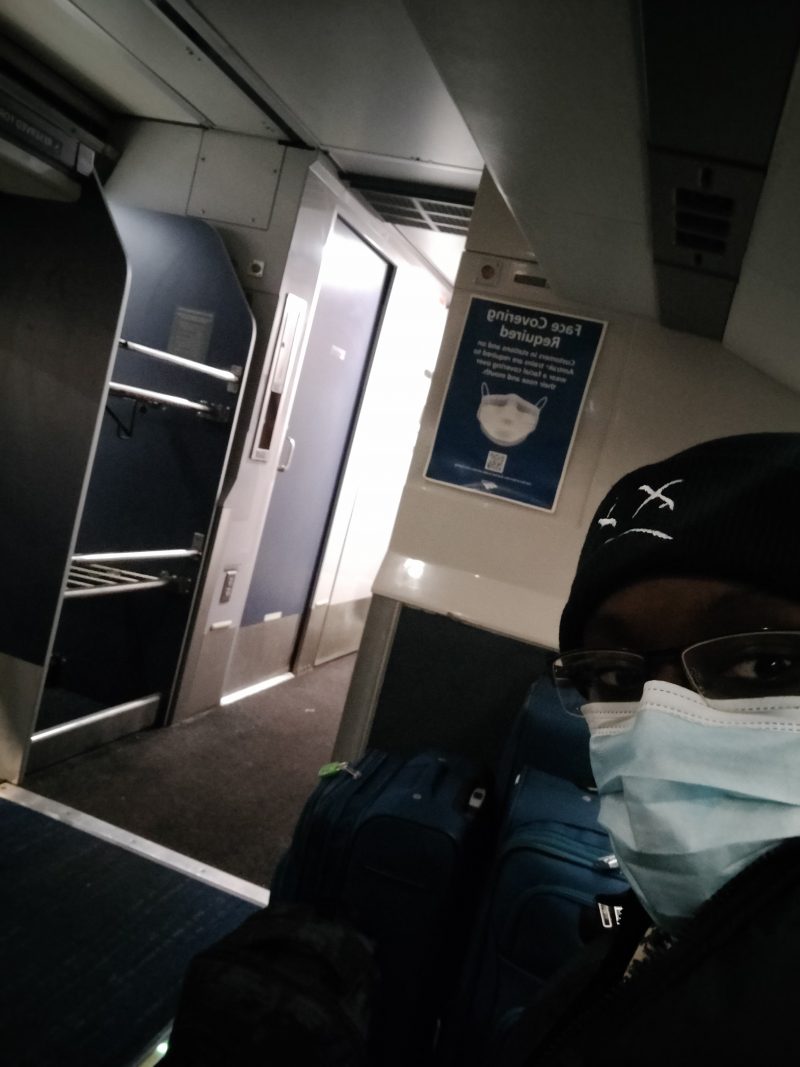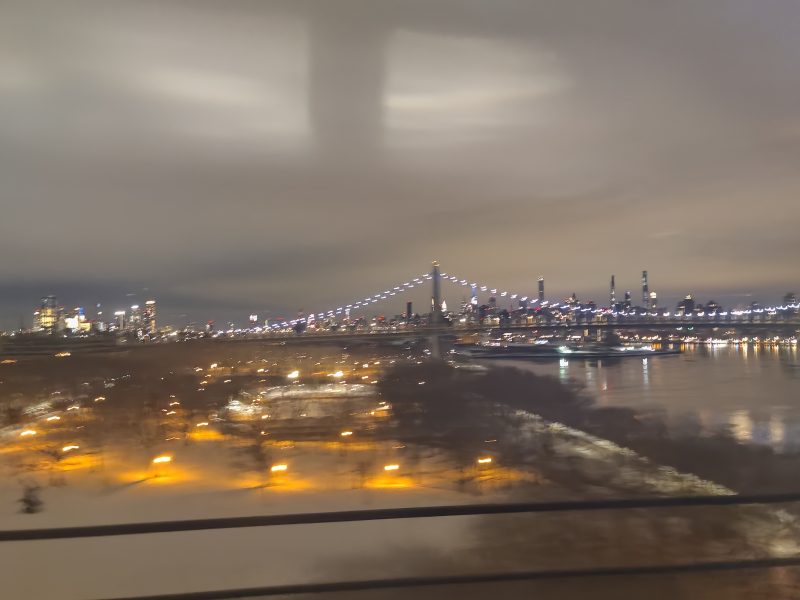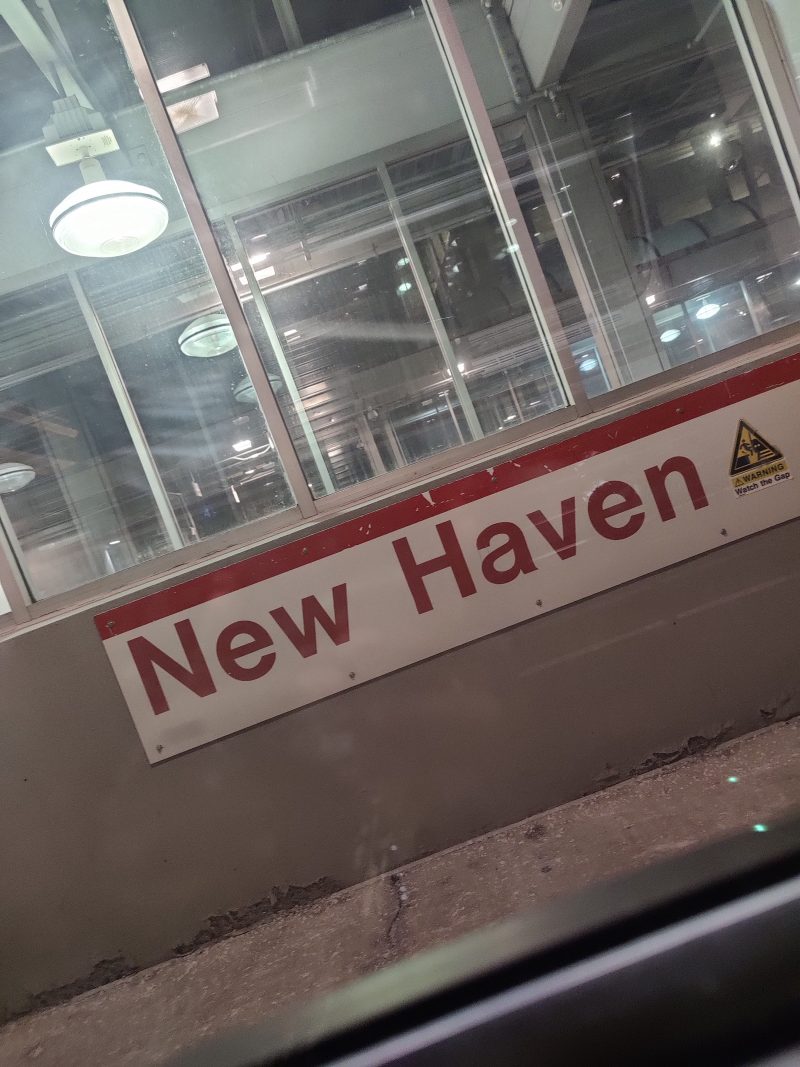 There was a check-in process for first-year students, Covid Testing, and shuttling to dorms. I'll skip over most of that, but here are some pictures if you are interested.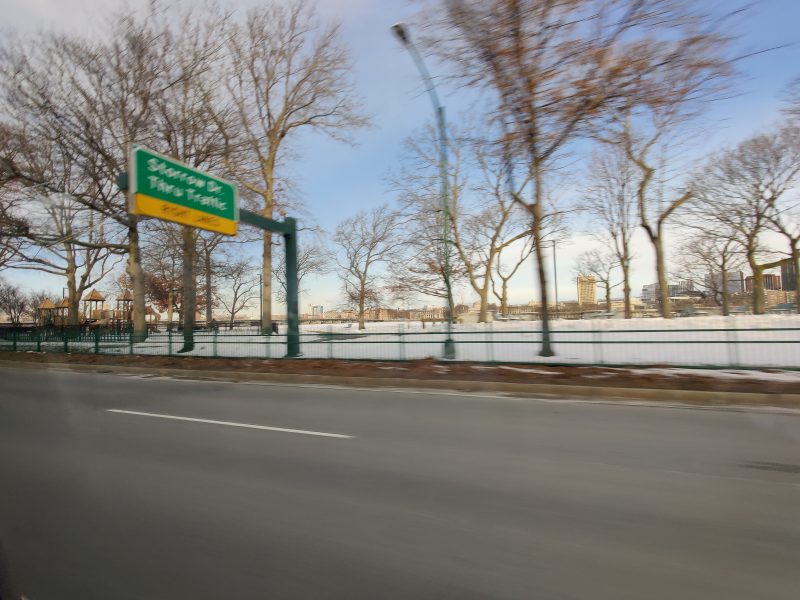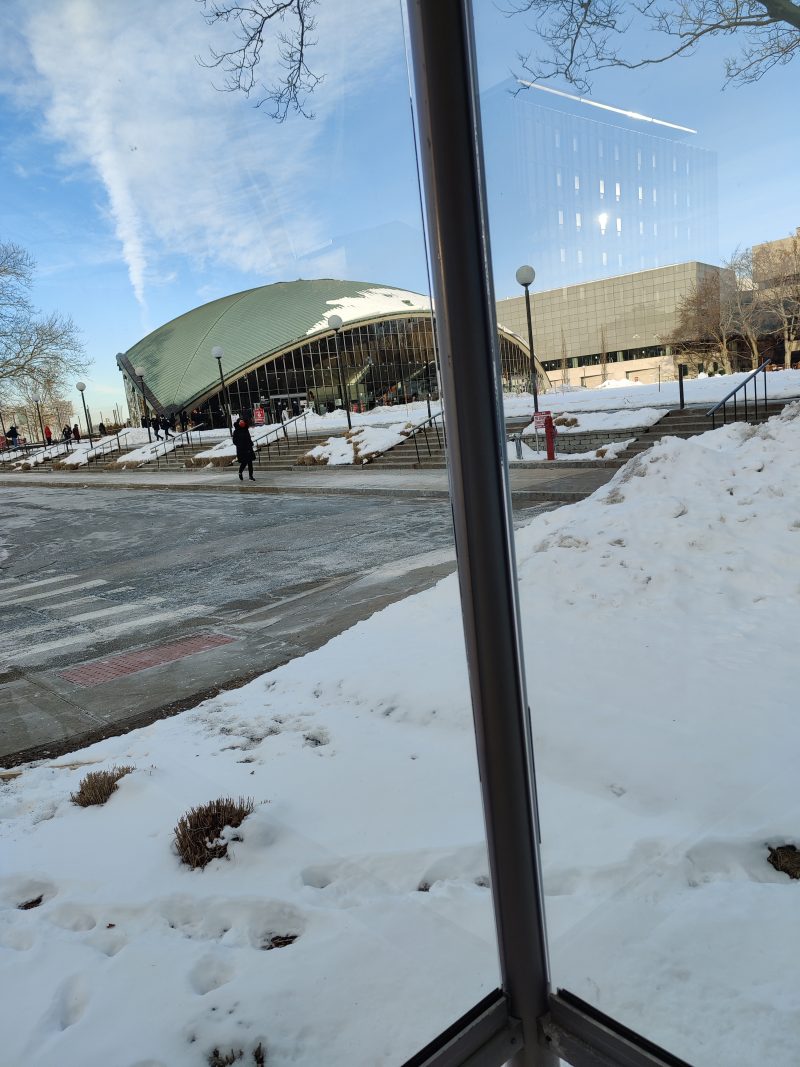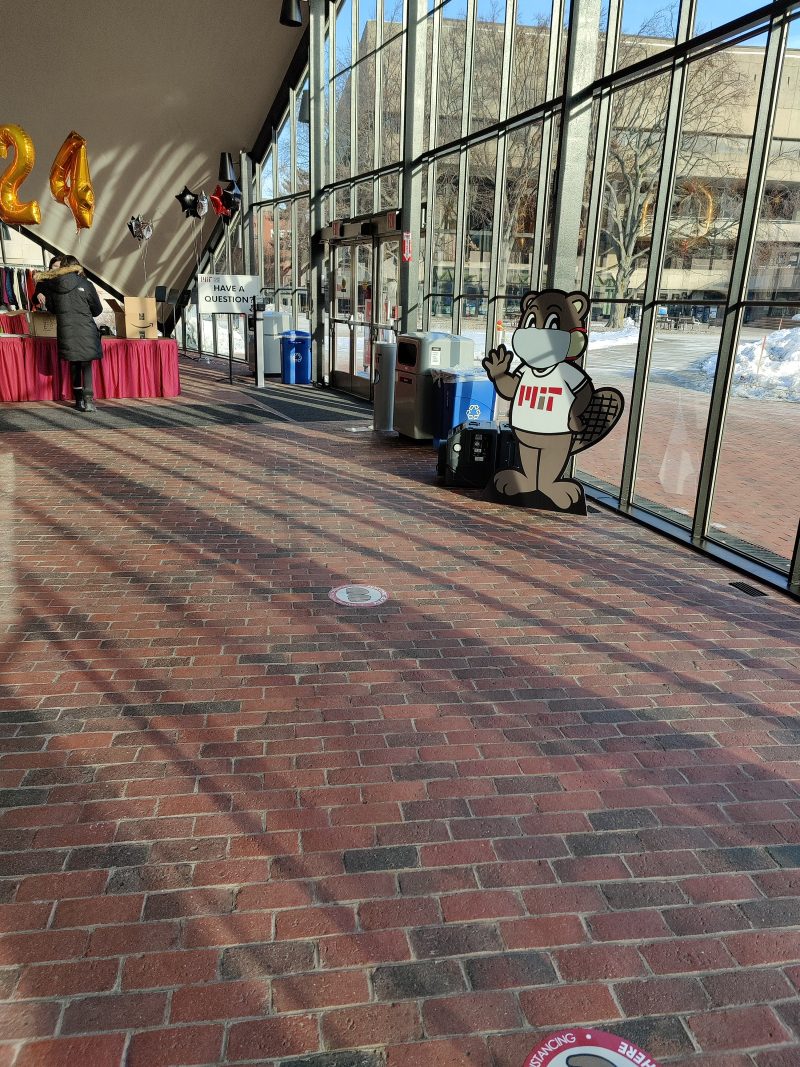 Moving into Macgregor, my first impression was, "Wow, there are a lot of stairs." I live on the 4th floor of the low-rise (F entry), so there is no elevator. For info, Macgregor has a high-rise and low-rise component. The high-rise folks have an elevator, and the low-rise plebs must take the stairs. Lugging 50-pound bricks up was not fun, but luckily MIT movers existed, so I made sure I took just my lighter luggage pieces up the stairs since I have the strength of a peanut.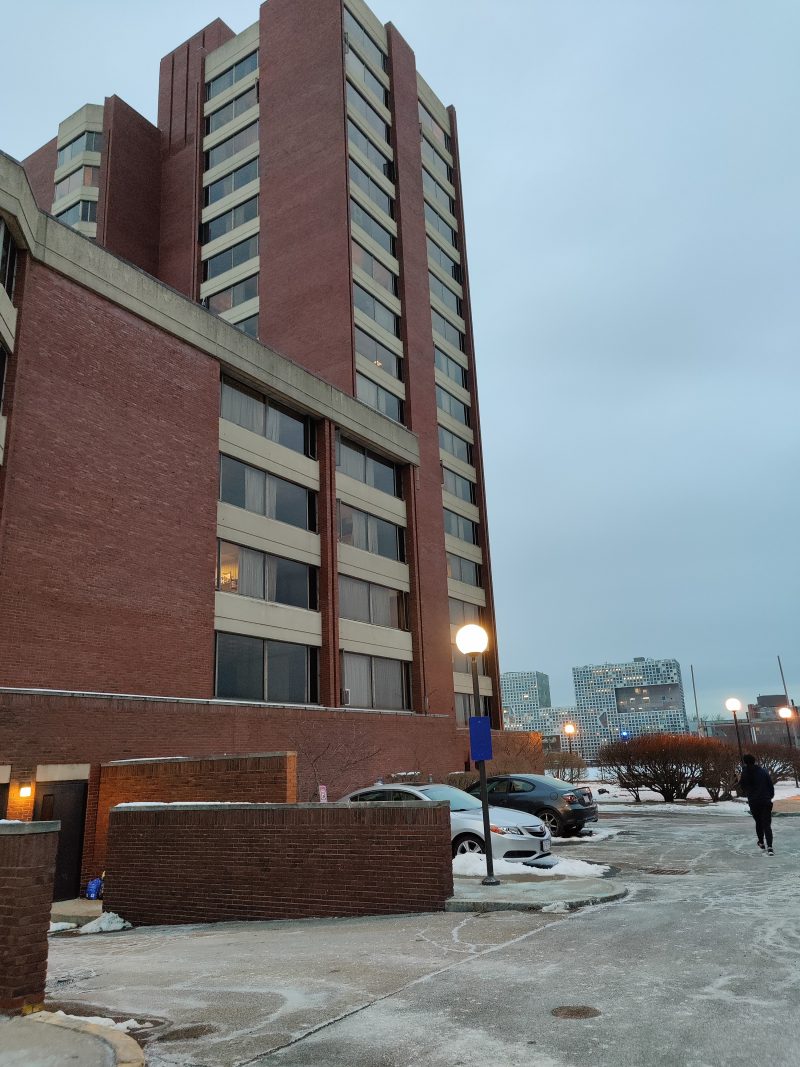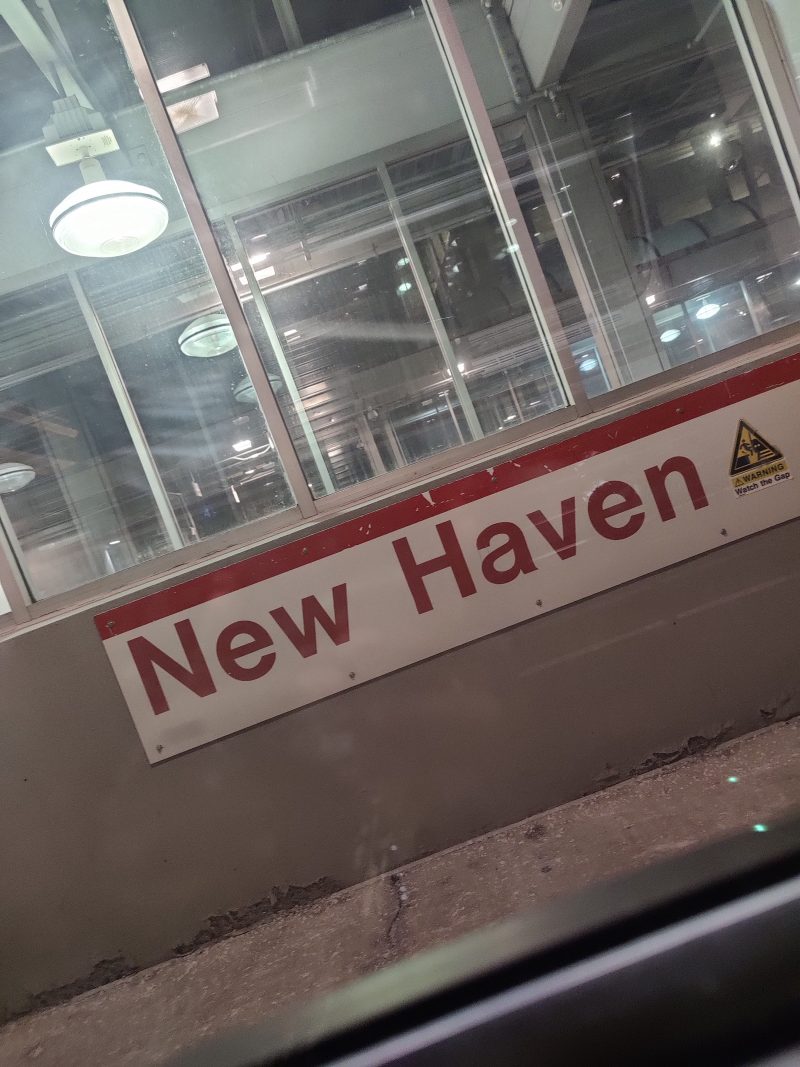 I was the first person in my suite to arrive on campus (I arrived at 8am), so I took some quick time to film and explore the lounge. Macgregor isn't the hallway-style type of college dorm. Each group of 6-8 people has a suite with a mini kitchen, microwave, fridge, bathroom, and group room. I was nicely pleased with how much space we had just for our pod in the lounge. The lounge's previous owners seemed to have painted on the walls, which I liked quite a bit. Since we can't use the vast majority of dorm spaces all the time due to Covid, having this constant space for my pod and me to goof around was appreciated. I also, for some reason, took pictures of the bathroom, so since I am spamming photos in this post anyways, I included them here.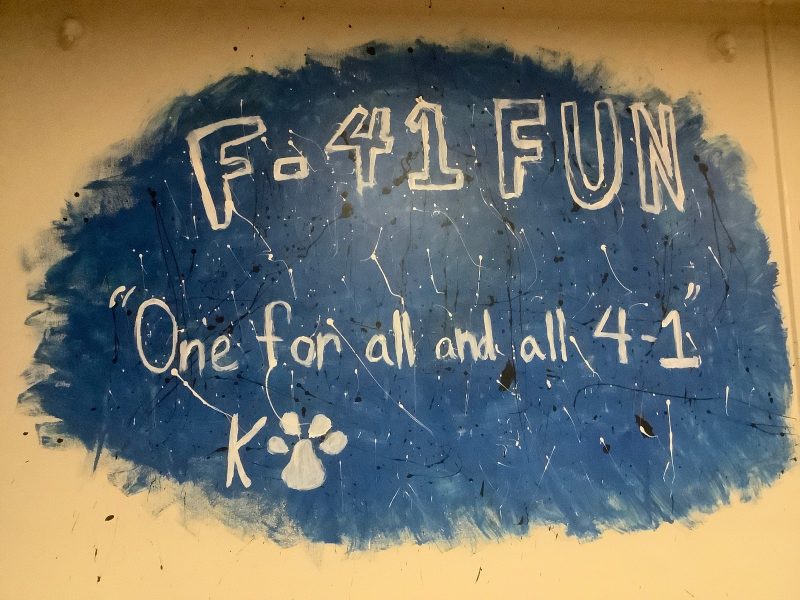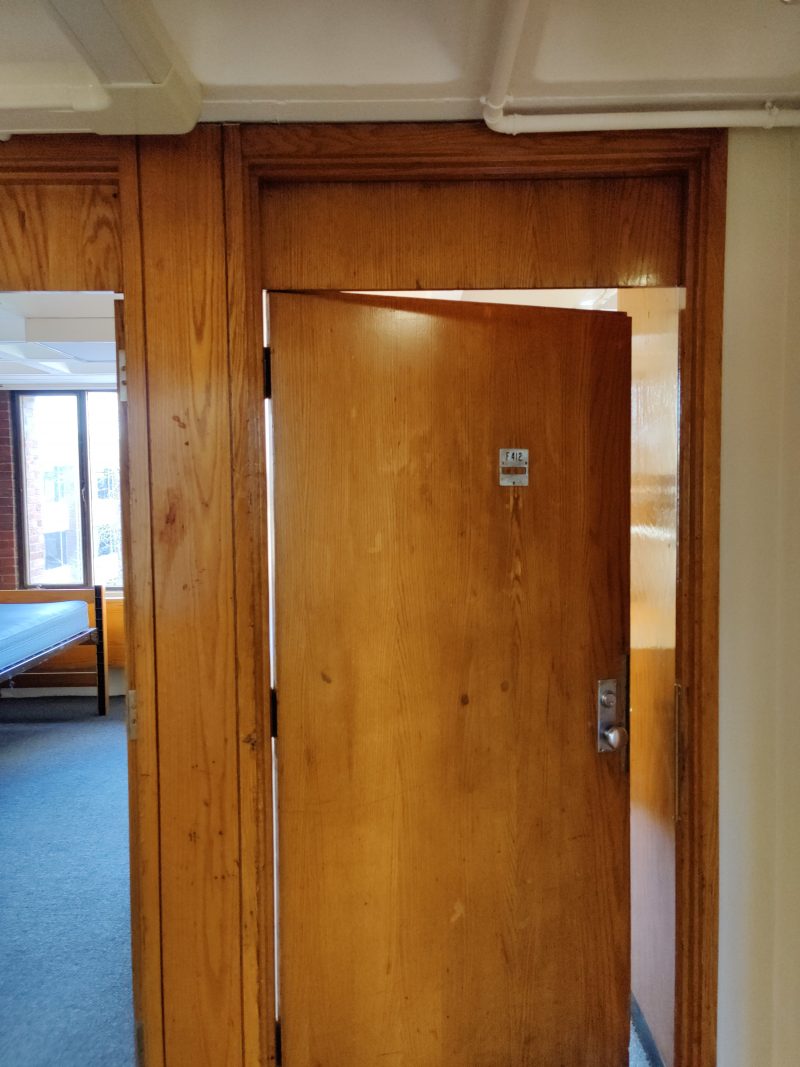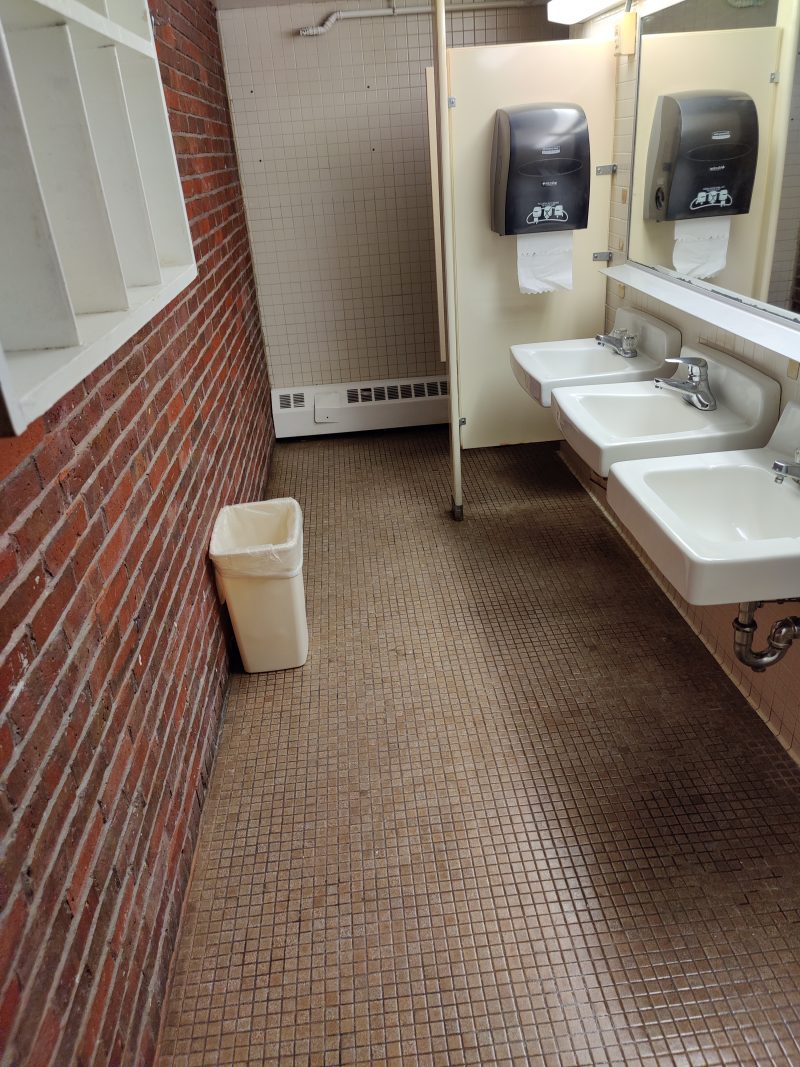 After that, I opened my room for the first time, and before I noticed anything, I was hit by how hot it was. The air was arid as well.⁠01 a humidifier is a must in macg Macgregor is called a brick oven for a reason, apparently. The first thing I did was remove my shoes⁠02 I find it sacrilegious to walk around a place with outside shoes and spend 30 minutes finding out how to turn off the heater and open the window. It turns out, Macgregor just conveniently puts the heaters at max when students are moving in, or at least that was what happened with my room. After cooling down for a bit, I took a picture of my room before putting anything or organizing anything, as you can see below.
I would describe Macgregor as a building on the older side, but rather nice. I loved that the room was a single⁠03 roughly 112sqft, Macgregor is 99% singles (which I knew beforehand, but it was great to see it in person). The brick walls IMO add a cool aesthetic to the place, but it's definitely not for everyone. The same goes for the waffle ceilings. What I was worried I wouldn't like the most was carpeting, but it seems ok other than the occasional stain from god knows what.
I contemplated taking a long nap after this. Instead, I decided to unpack everything and set up my whole room the day of move-in because I felt I would get too lazy to ever set it up afterward. It took lots of time and effort, but my room was mostly done and organized by the evening. Felt pretty satisfying to finish, so good vibes were in the air that day.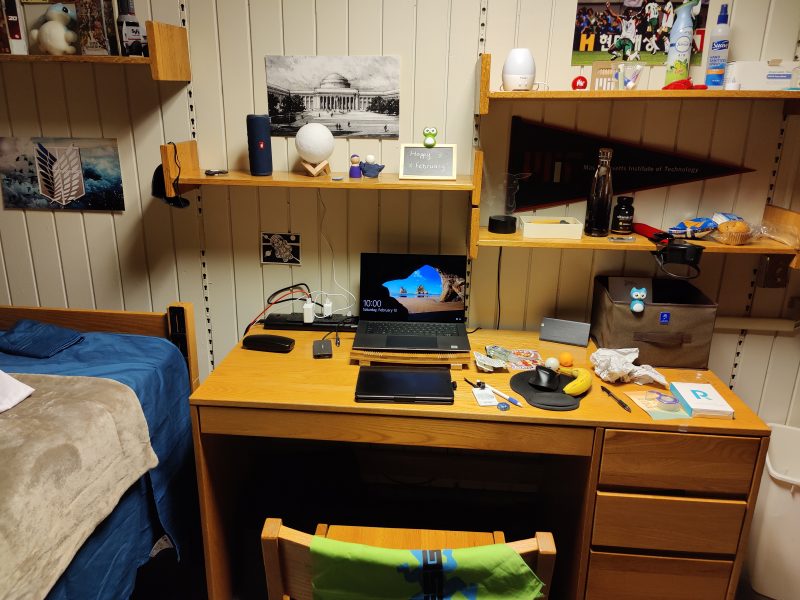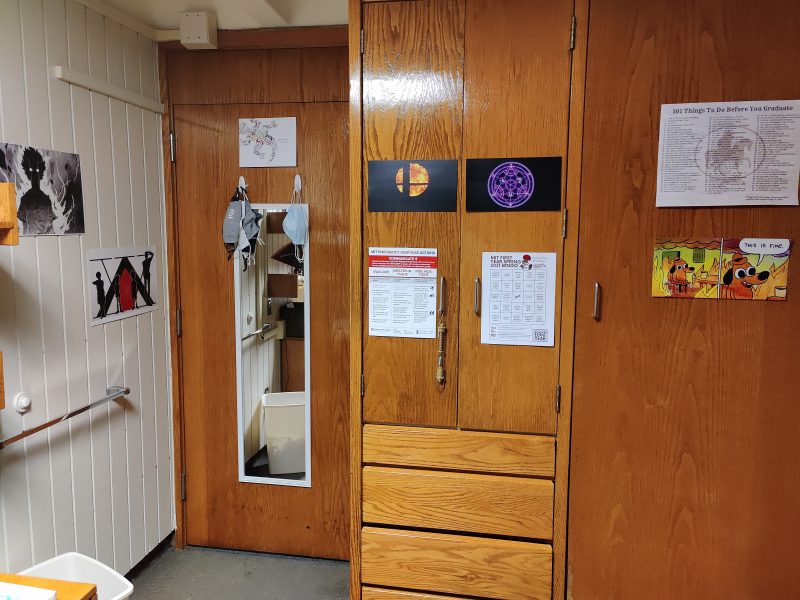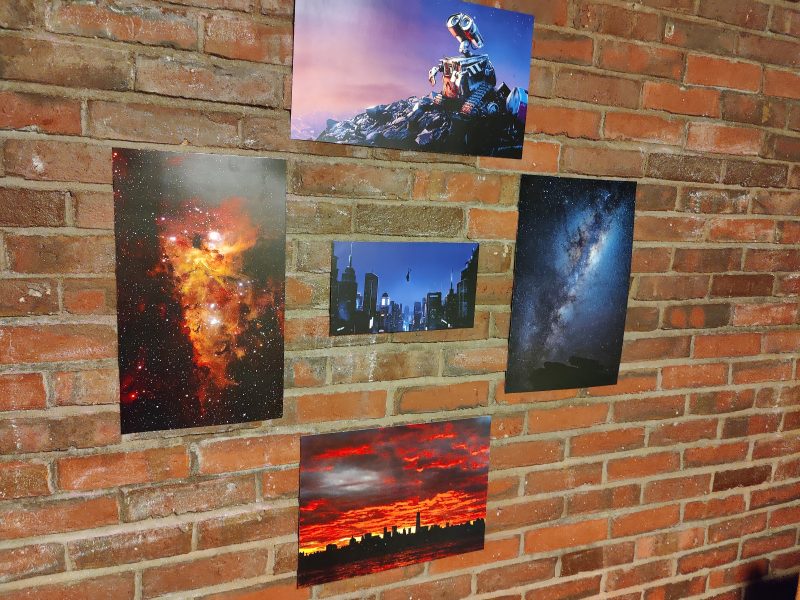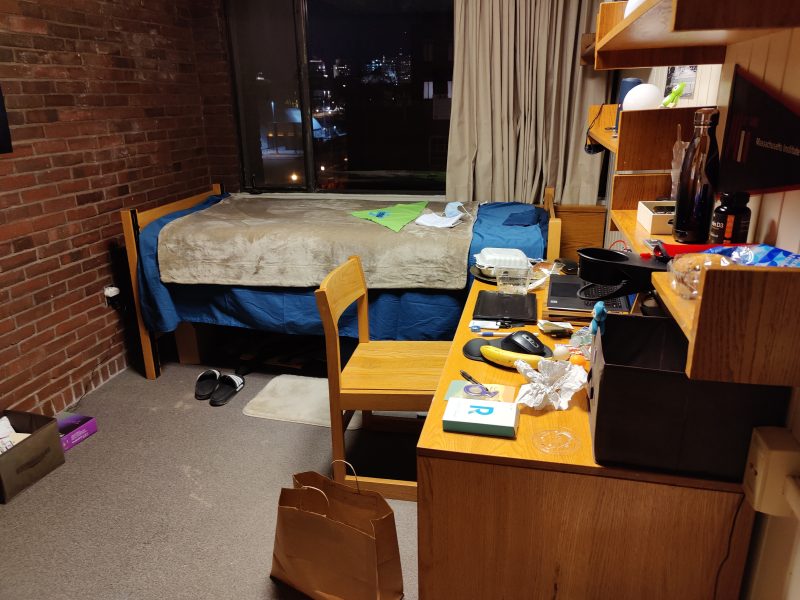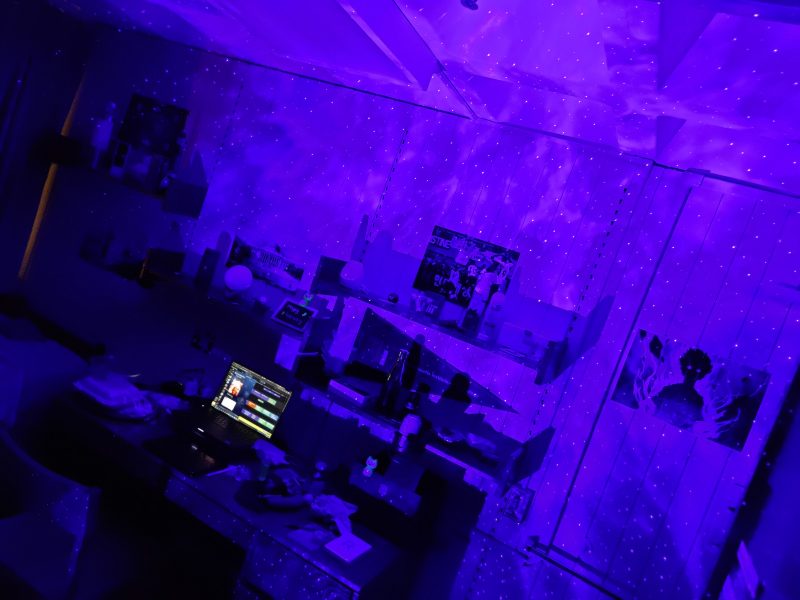 Usually, Macgregor is cook for yourself, but corona has turned stuff upside down, so we get all our food downstairs. Moving to campus, I was very concerned about whether the food would be spiced since too many damn places count paprika as a spice. It turned out to be pretty decent, and I overall enjoyed it and have been enjoying it. That was until I was no longer able to eat Macgregor food for a reason I will explain later.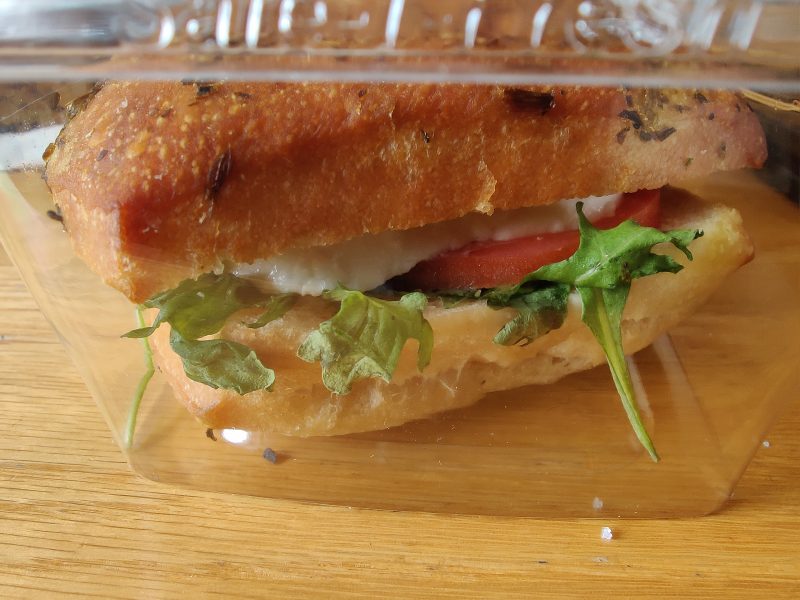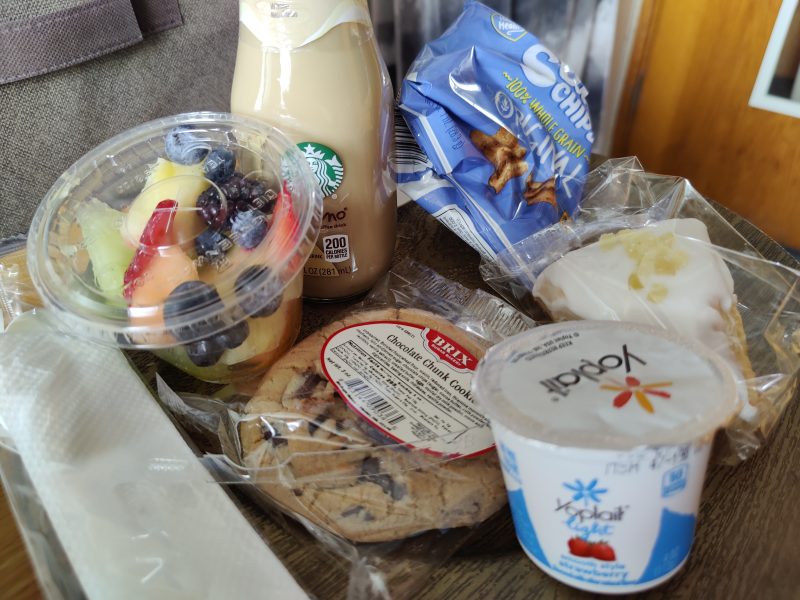 Since Move-in day on February 13th and before classes started on the 16th, a good amount of cool events and chaotic shit has happened, so here is a very appended rundown of the happenings on campus for me.
— Fire alarm —
Usually, East Campus is the dorm known as the firesetters at MIT. However, it seems this year, Macgregor and West Garage⁠04 Often misspelled as New Vassar are desiring to take the prize. On day 2 of being on campus, we got evacuated from our rooms in the low-rise. I first thought it was a fire drill, but it would make 0 sense to have a fire drill during a mandated quarantine week. It seems someone burned popcorn in a microwave, so rip popcorn (2021-2021).
— Bosco —
One of the first things my pod did after moving was buying a giant bear. Why, you may ask? For absolutely no reason other than thinking it would be cool. The bear shipped in a really tiny package (it was vacuumed sealed), but it ended up being the expected size. We didn't initially have a name for the bear, but one day we were calling another pod we can see out of our entry window, and they asked us what the name of the bear was. I somewhat spontaneously said Bosco,⁠05 If you get the reference, nice and that is what has stuck. We've been having a pleasant time with Bosco, as you can probably see in the pictures below.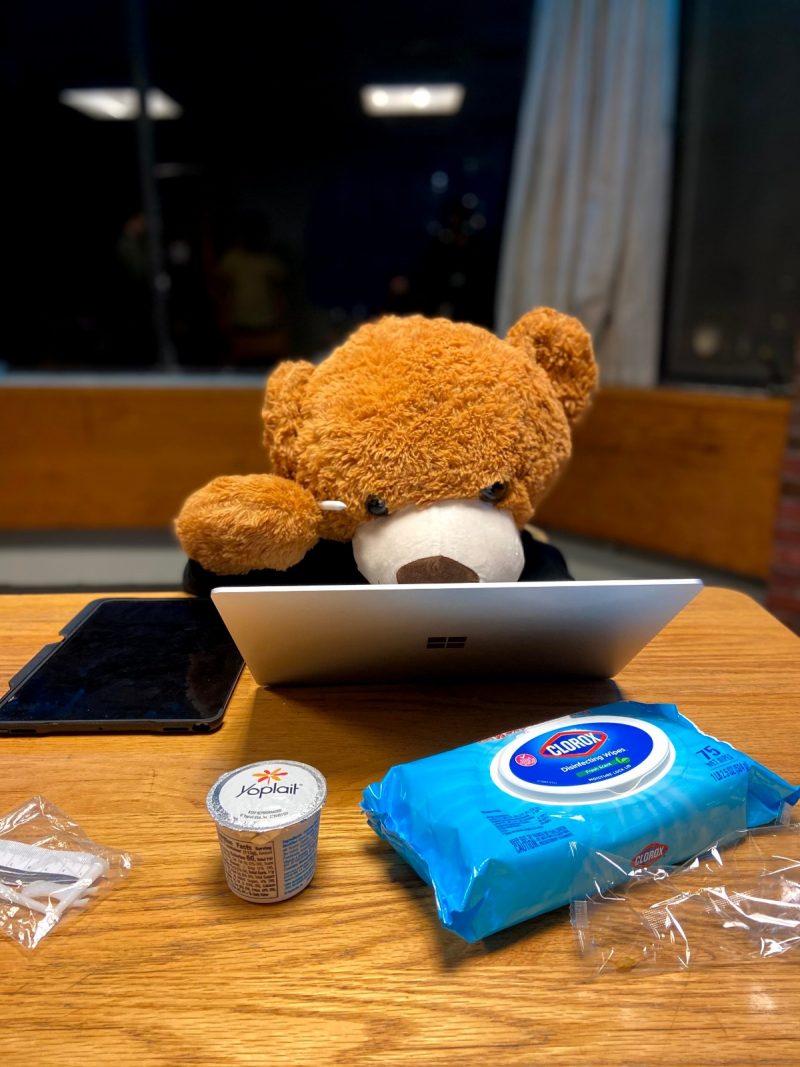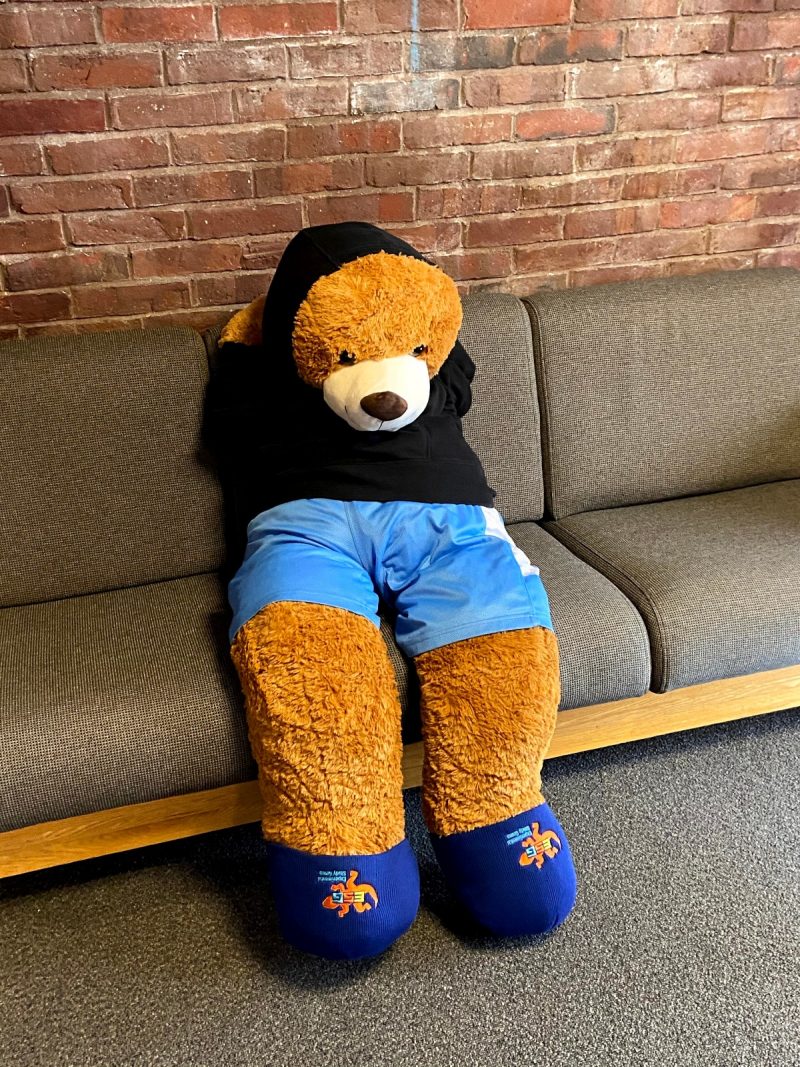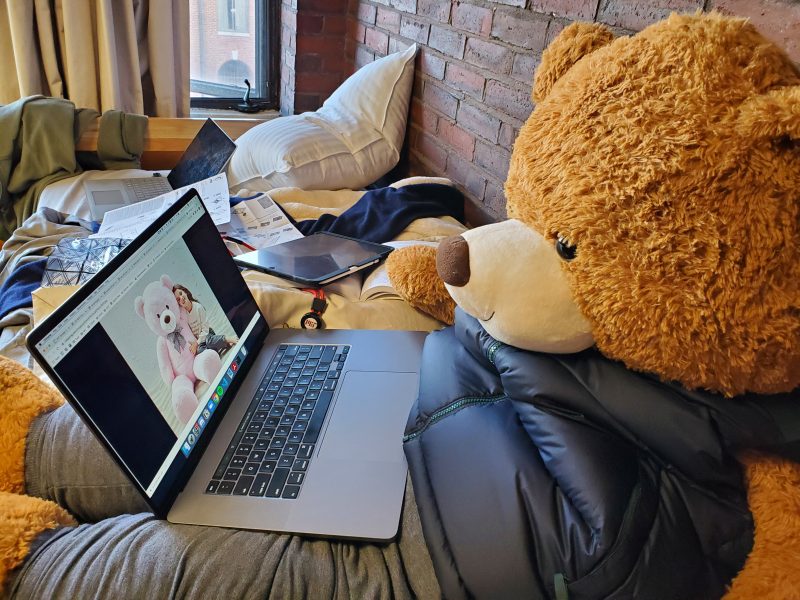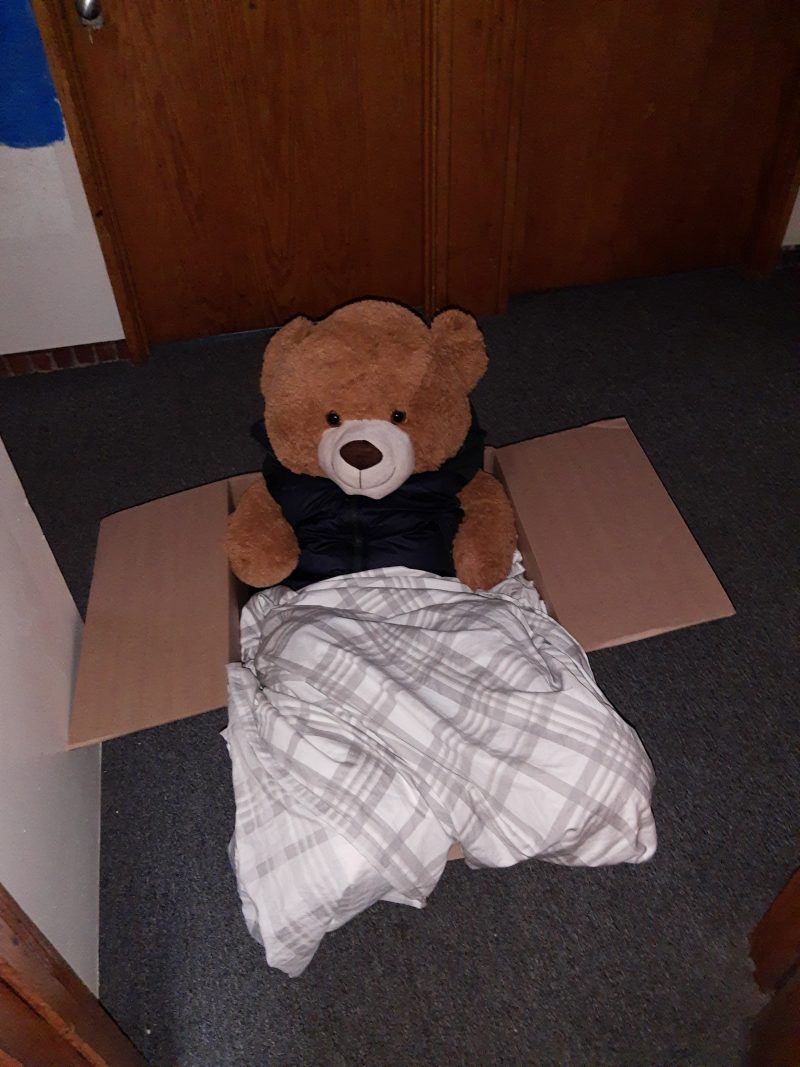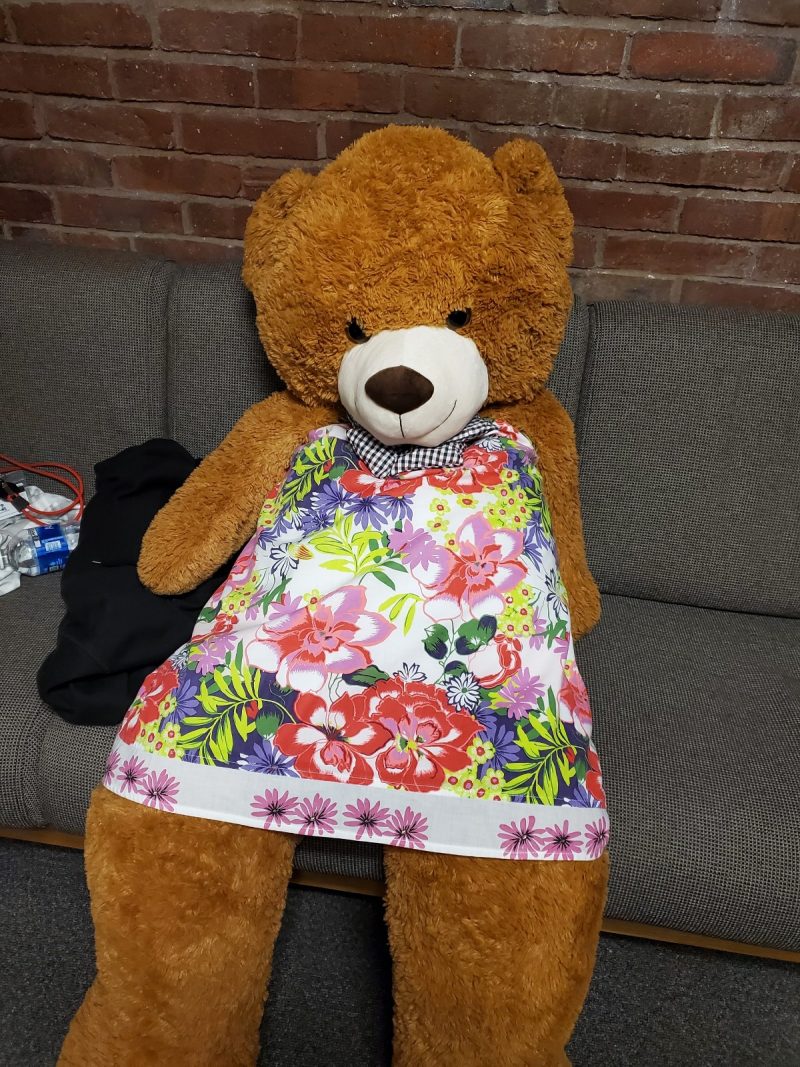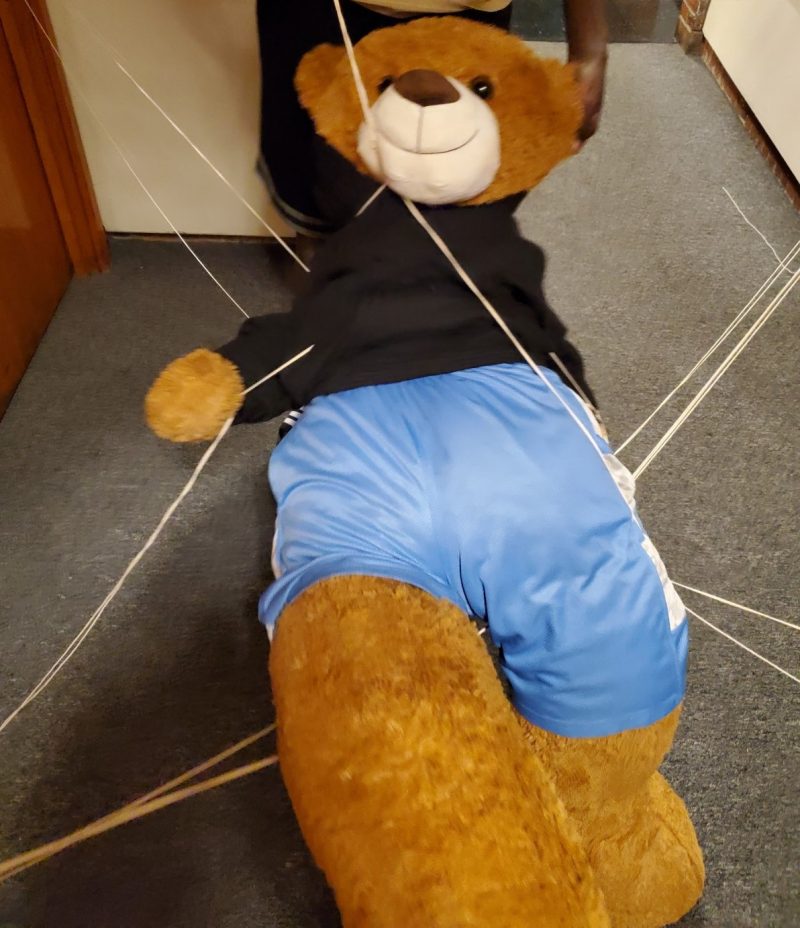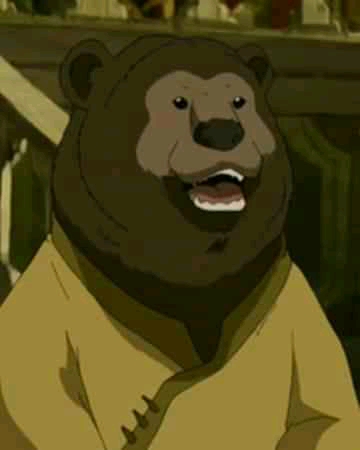 — Octoplushies —
We ordered octoplushies from a pretty sus website. We thought we got scammed, but they came! Here are some of them on my podmate's squishmellow named Dominic.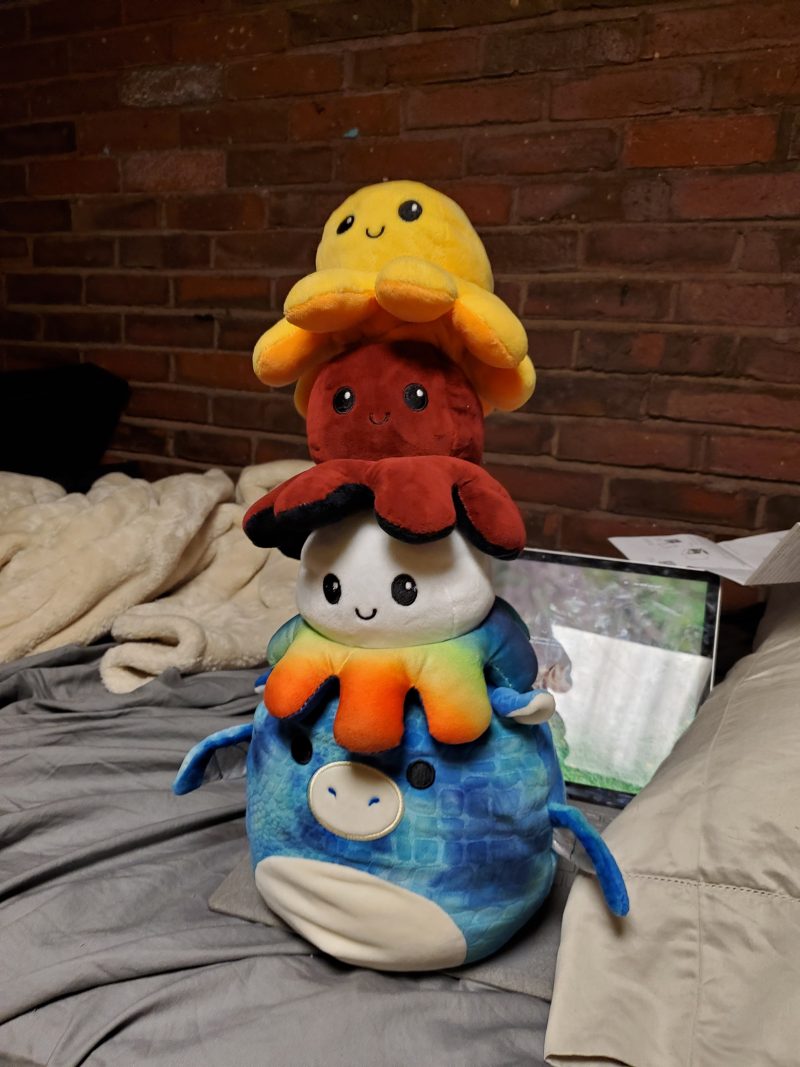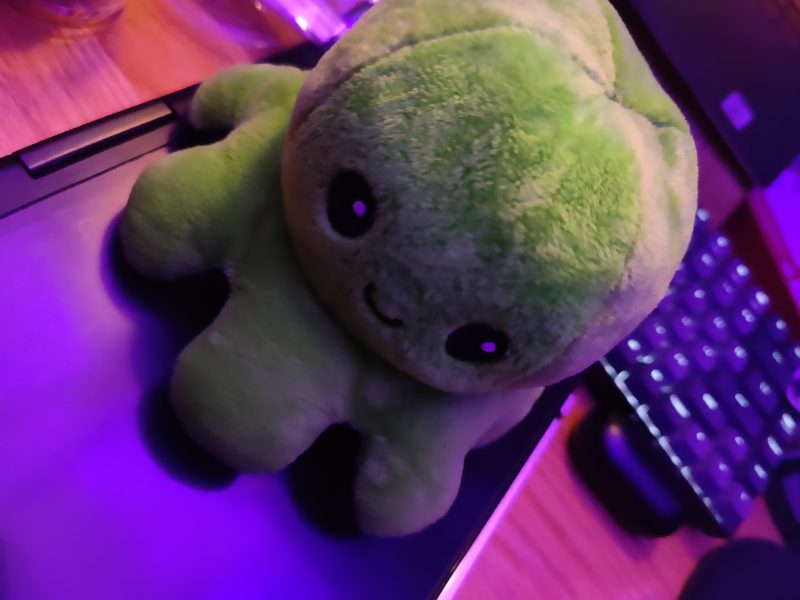 — Rabbits and Geese —
No one told me MIT has so many rabbits before coming to campus. To be fair, it makes sense no one would think of specifically mentioning that. I have seen so many different rabbits, and they are all very hoppy and cute, so that's nice.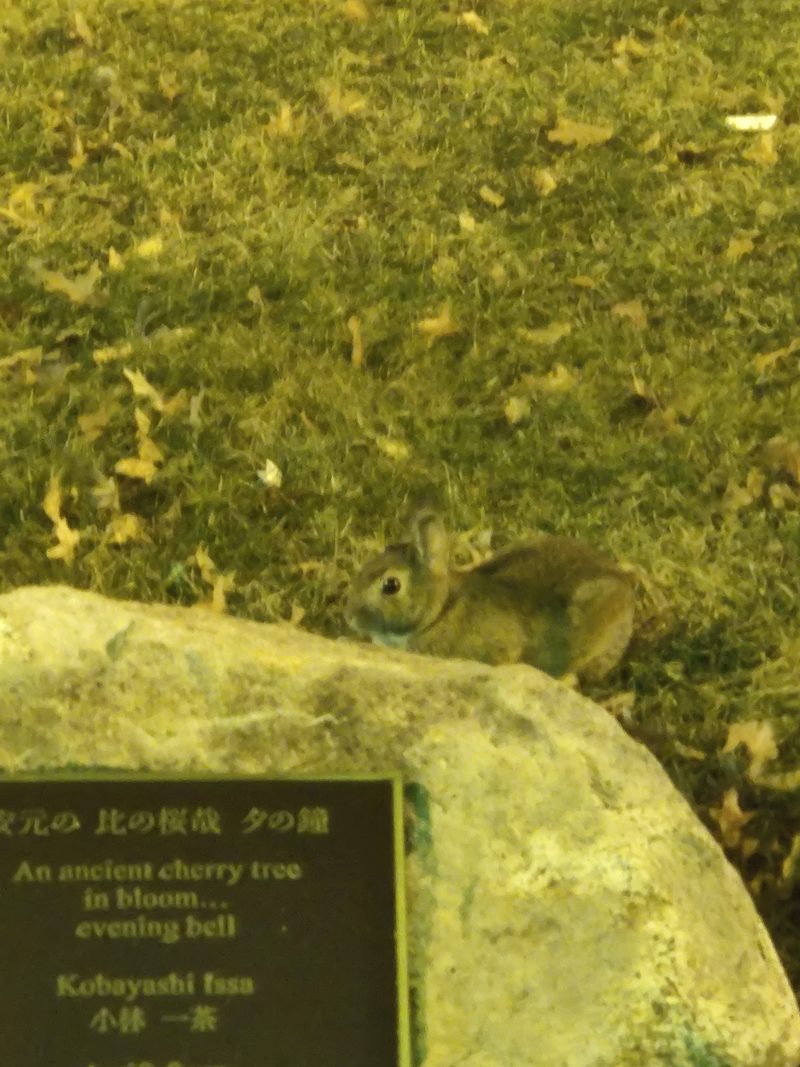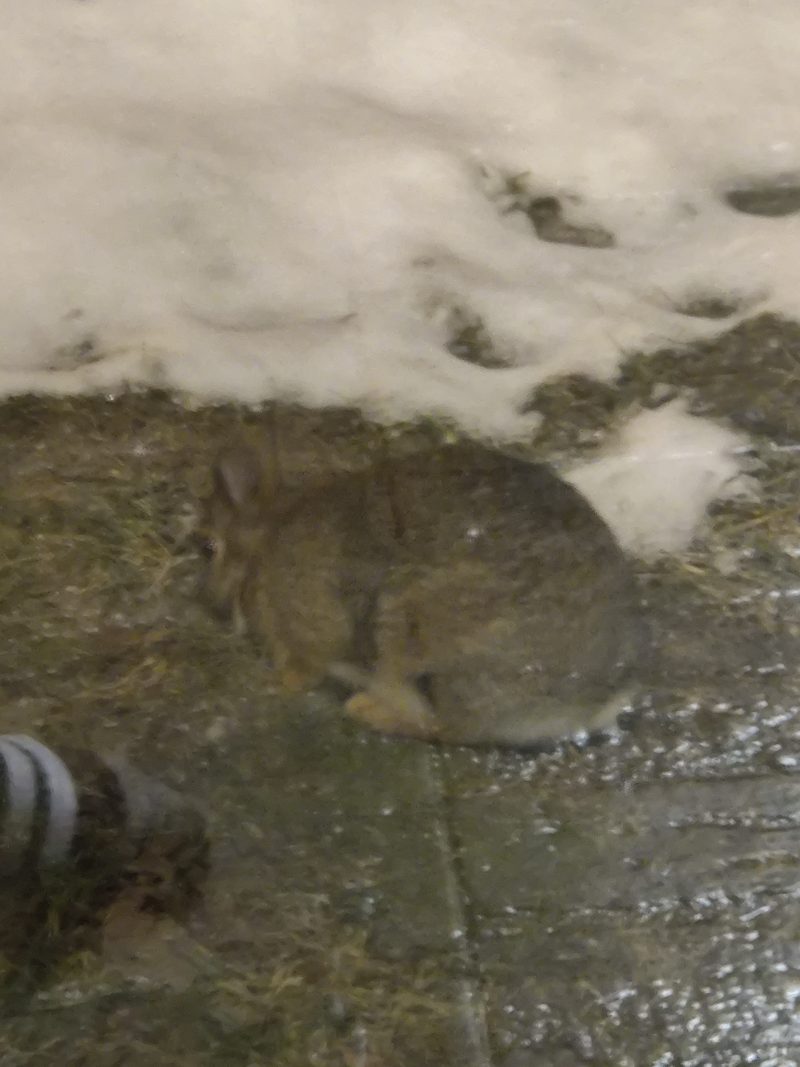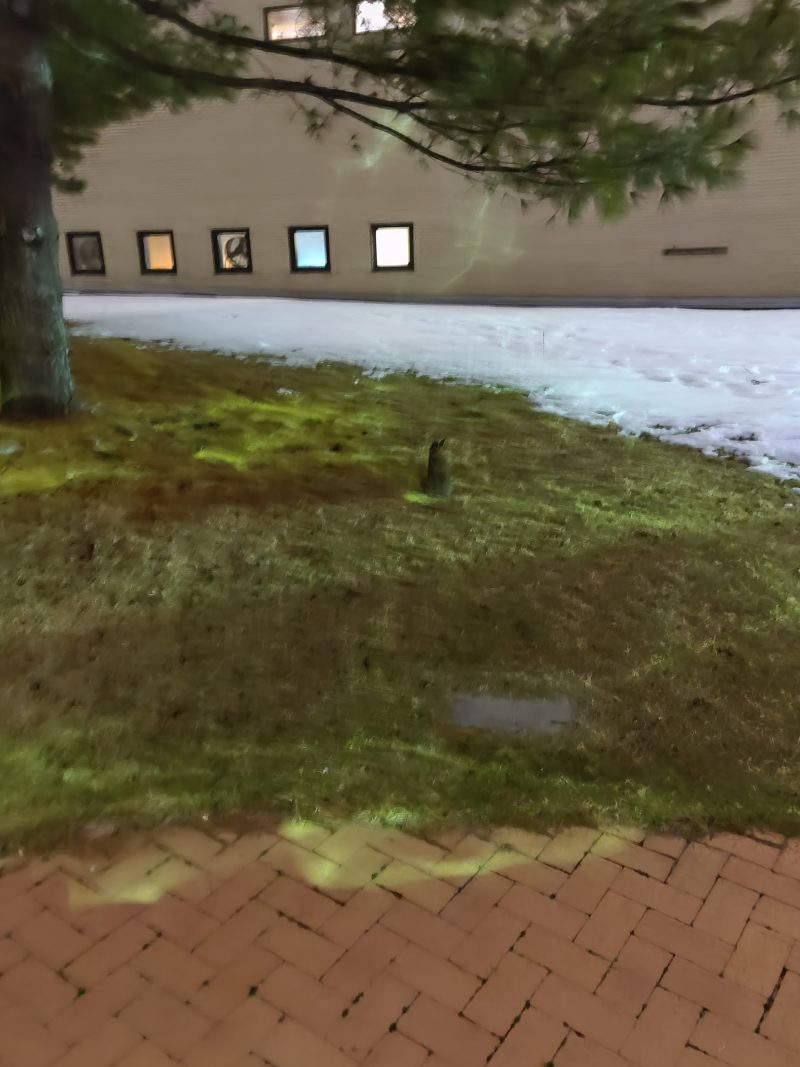 On the other hand, the geese, which I also had no prior knowledge of, are absolutely terrible. They cannot shut up. They fly outside my window at 4am. They render fields terrible to use. MIT has a geese epidemic, and we need to find a solution ASAP. Evidence is below: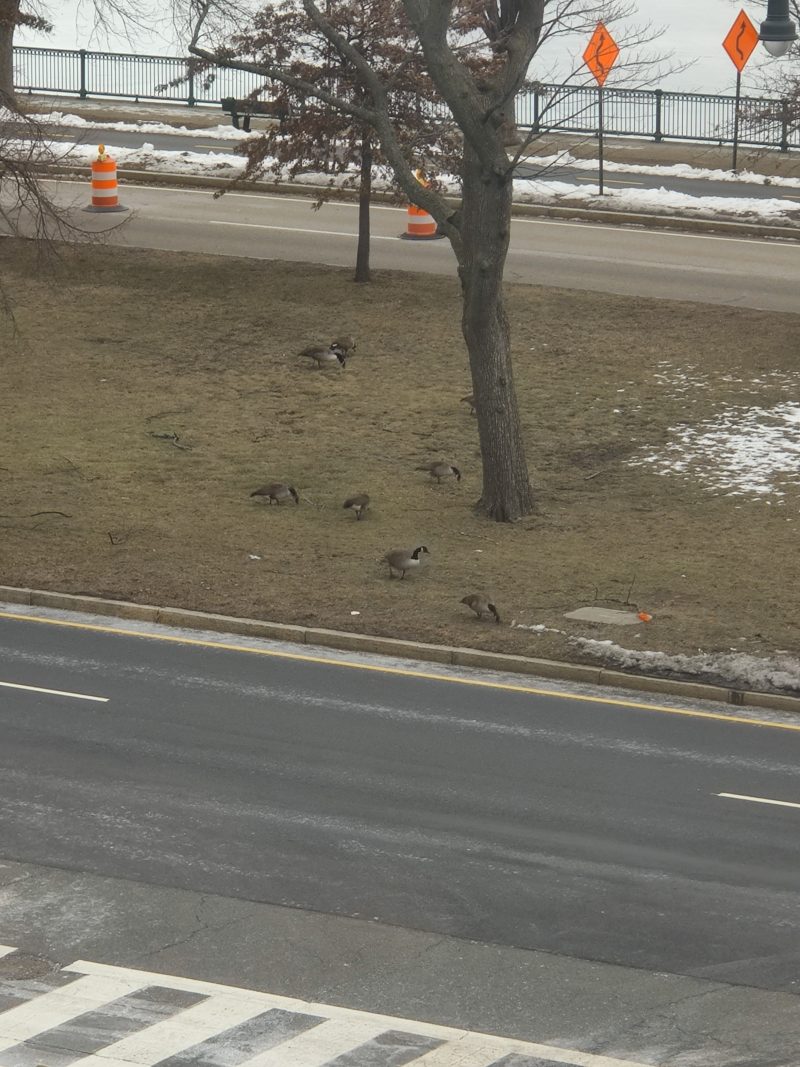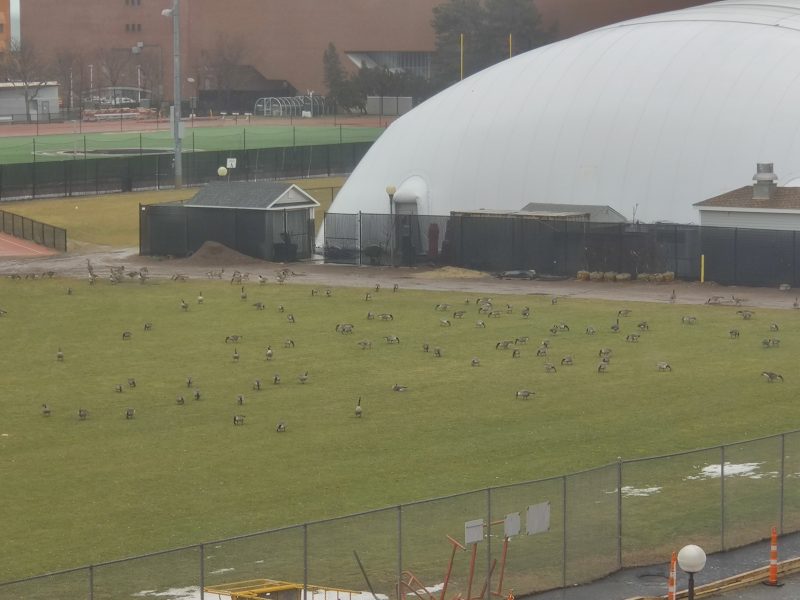 — Maple! —
The crown jewel of MIT.
Maple is absolutely adorable.
Maple is one of my favorite presences on campus.
Maple is the Macgregor Wellness GRA's dog, and since they often walk through our pod, we have been fortunate to see Maple many times.
No more words are needed since Maple is adorable.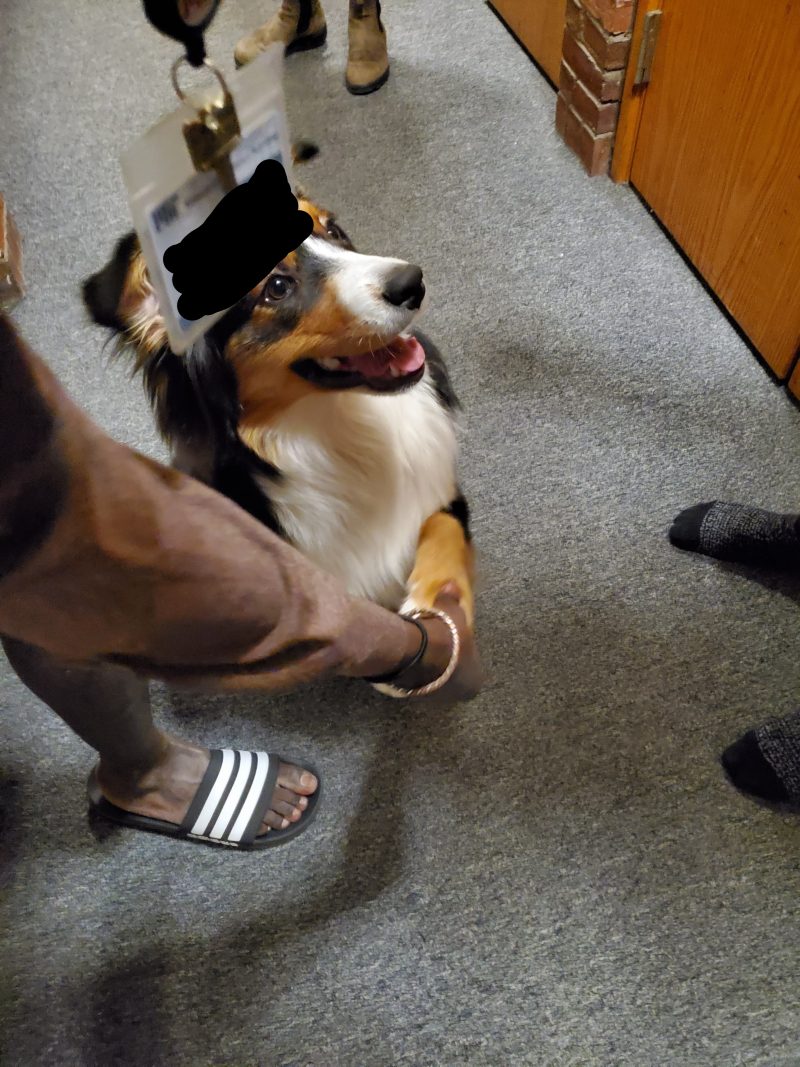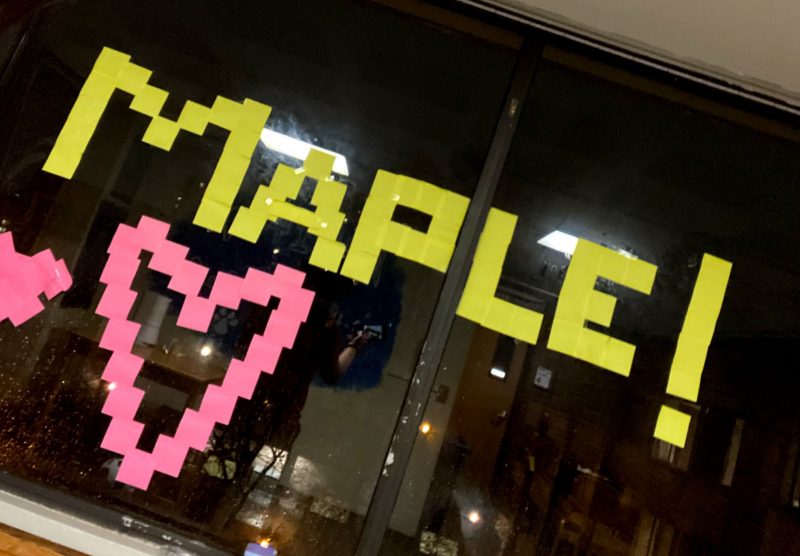 — Cardboard Fort —
My pod had so many cardboard boxes after moving in and ordering stuff, so we planned to make a fort in our lounge. We accumulated all the boxes in our lounge, waiting for q-week to end to start working on our lounge. Unfortunately, one cleaning staff member got upset at us and threw them all away :((((. So rip the fort, our promised neverland.
— Rave Lounge —
I heard that some pods were referring to our pod lounge as the rave lounge. It was somewhat puzzling since we don't do anything exceptional. Besides very chaotic and aggressive nerf gunfights. We mess around a lot, but I wasn't sure how they could have seen that well. It wasn't until one day, my pod went on a walk and came back and saw our pod lounge's lights from the courtyard. I didn't think a little disco ball and led lights would be so visible, but it turns out they are…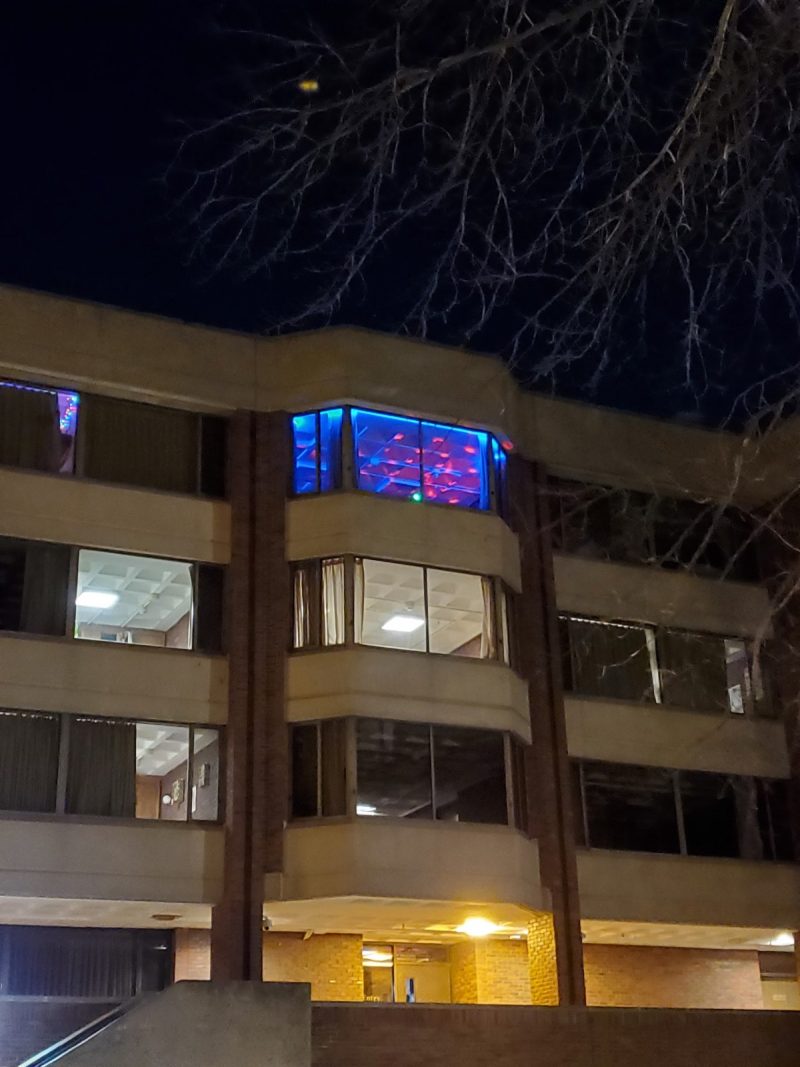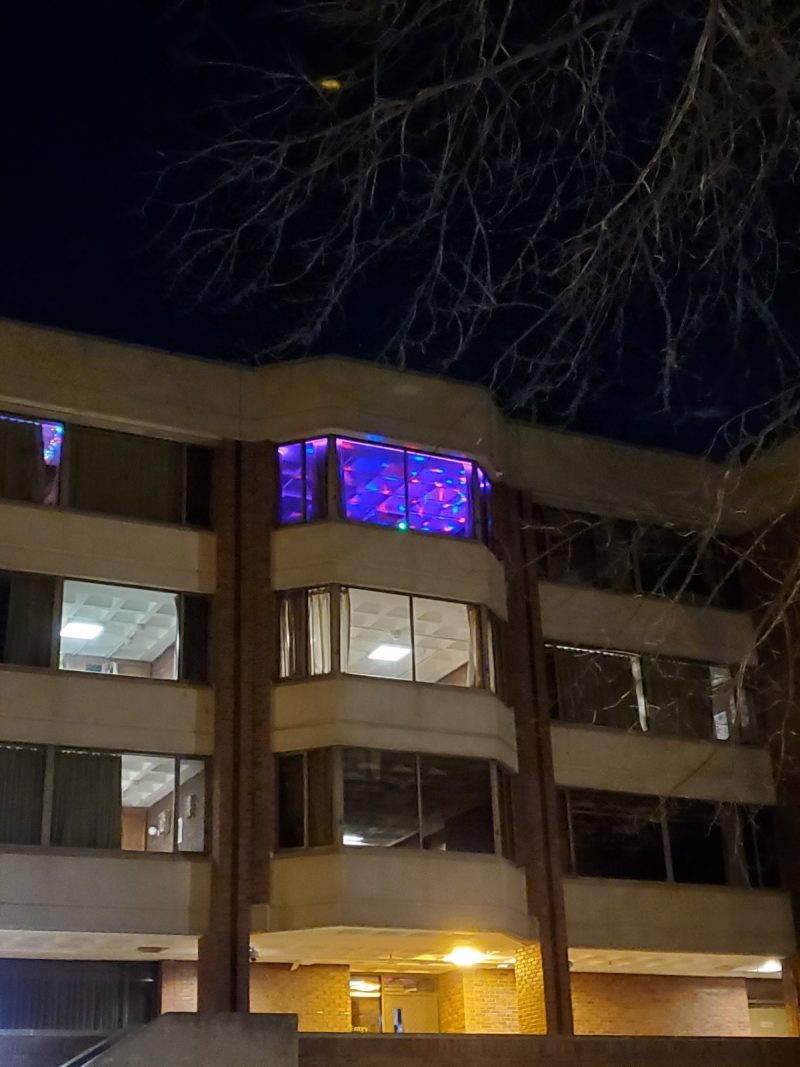 — Glow in the dark condom (2021 – 2021) —
What happens if you throw around a glow-in-the-dark condom filled with water? That secret dies with my pod and I :)!
— Walk Pictures —
Since being on campus, I have been taking so many pictures. I feel people look at me weirdly as if I am a tourist. It is unfortunate, but I can't help it. I don't remember the context for most of these pictures, but I do remember loving the landscapes, so good times.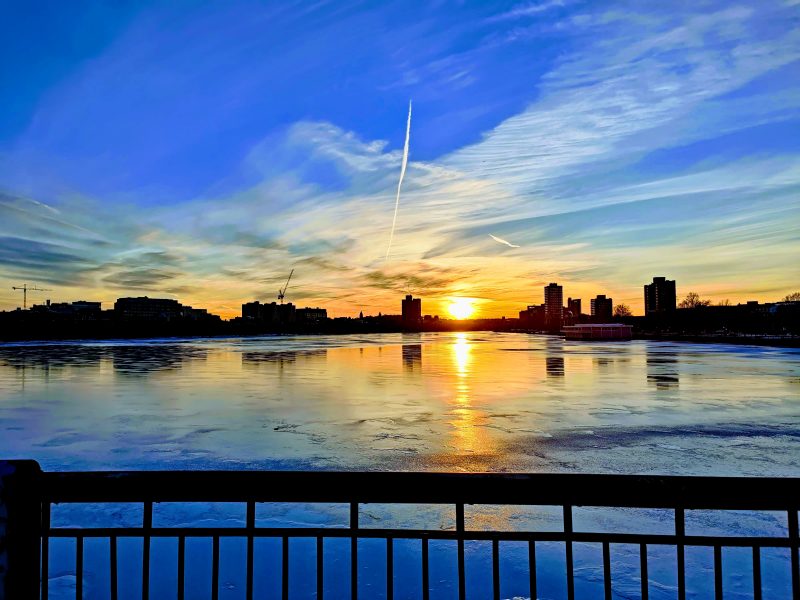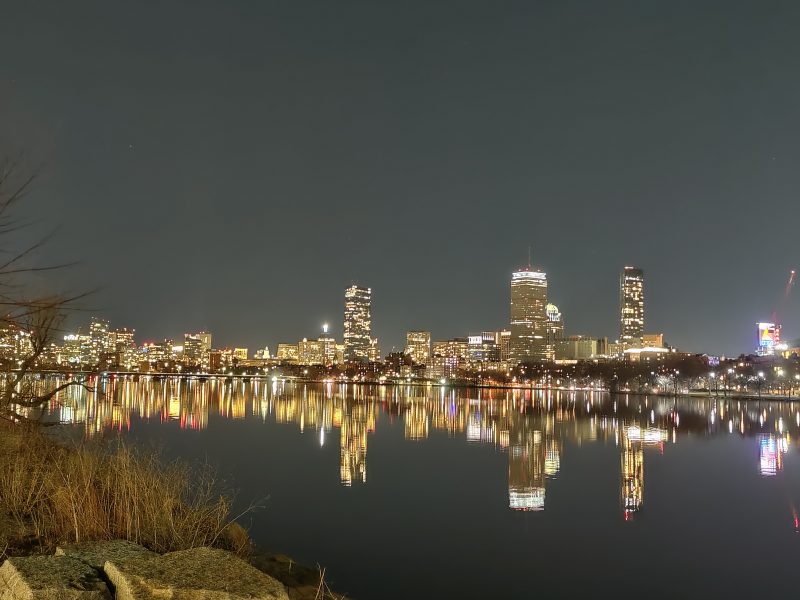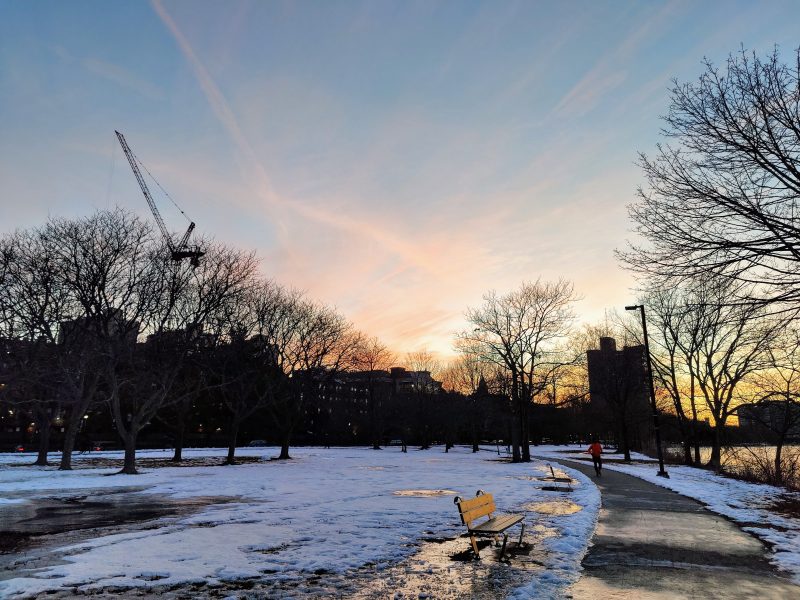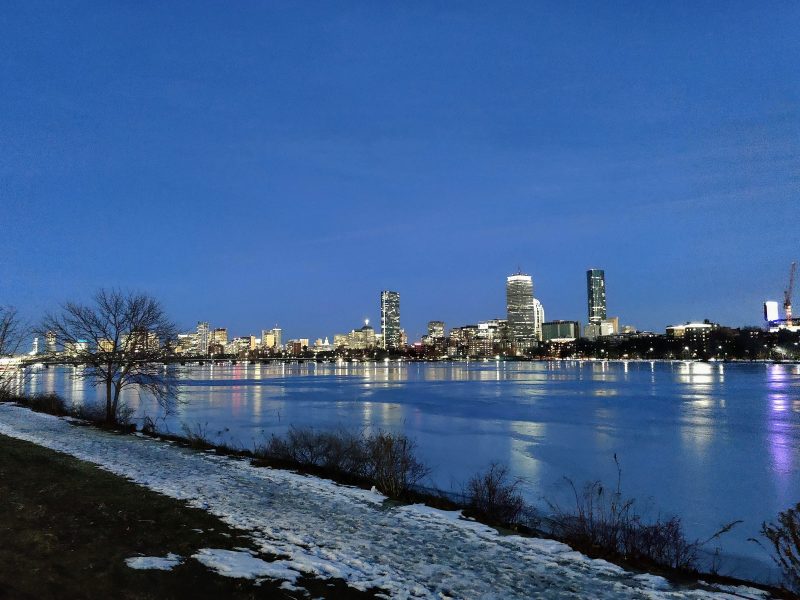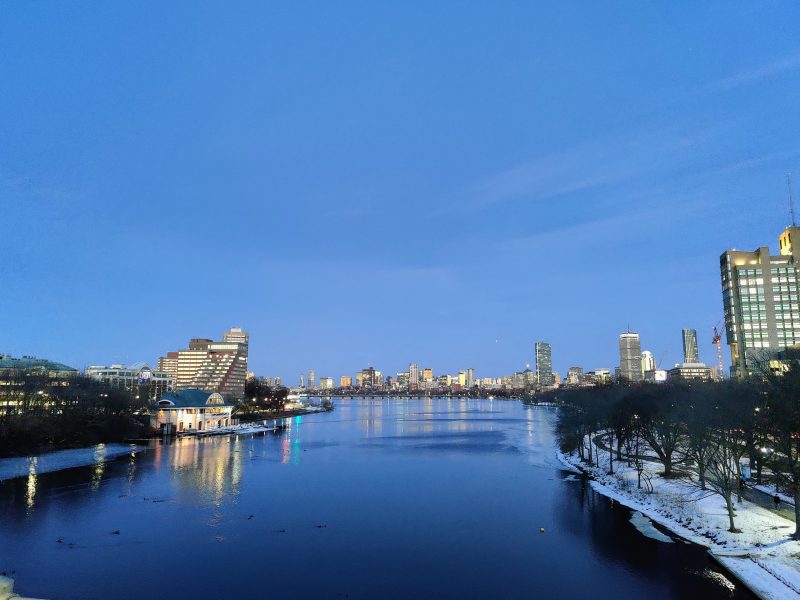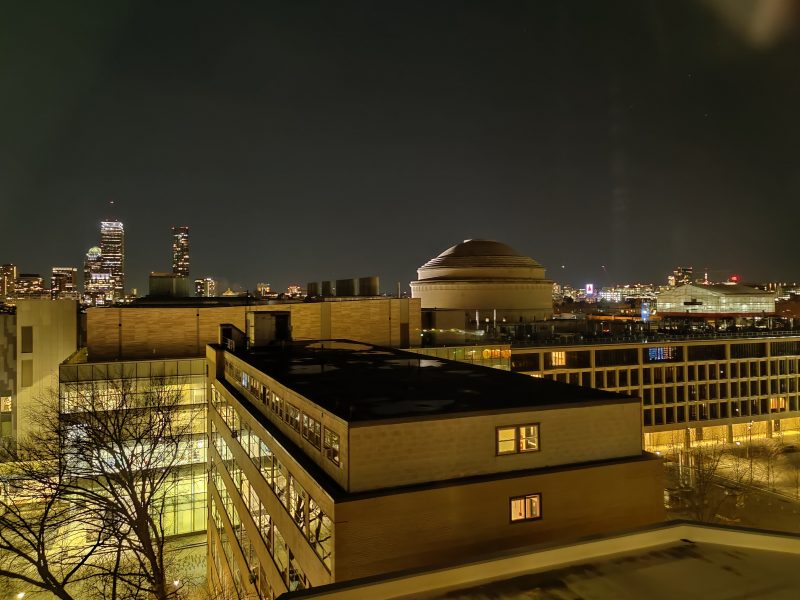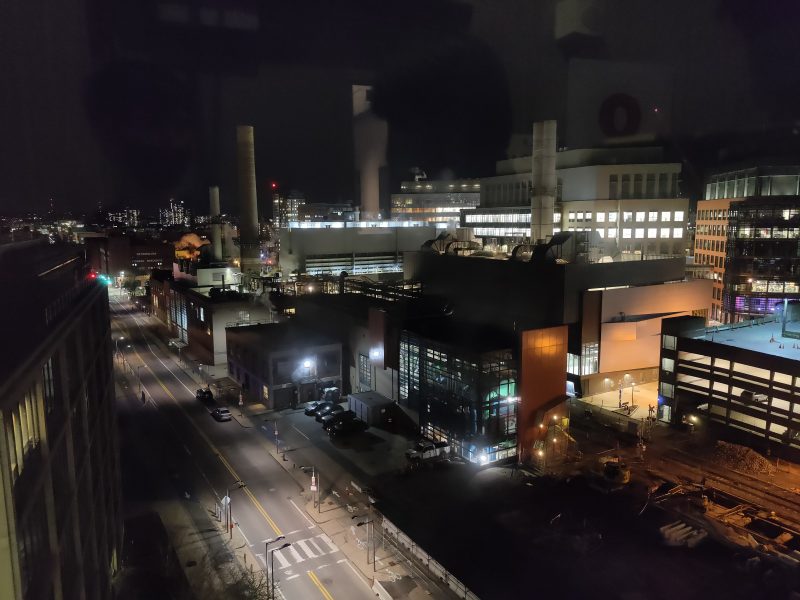 — Game Room —
Macgregor has a game room groups can reserve for 2 hours at a time, so my pod has been taking advantage of that on weekends. We usually play ping pong, and the first time we went, since we didn't have paddles, we played ping pong with cardboard sheets. It was incredibly jank, but it worked pretty well. We got a few rallies through. Sometimes, we also would play foosball, which is pretty fun, even if you aren't very good. I believe we also played pool once :). We also tried to play on a switch on the giant projector screen in the room, but we could not get it to work after troubleshooting for an hour. We were recently able to get it to work, though, after about a month!! We played Super Smash Bros! And watched the first episode of Attack on Titan after one person in my pod and I encouraged⁠06 forced everyone to watch.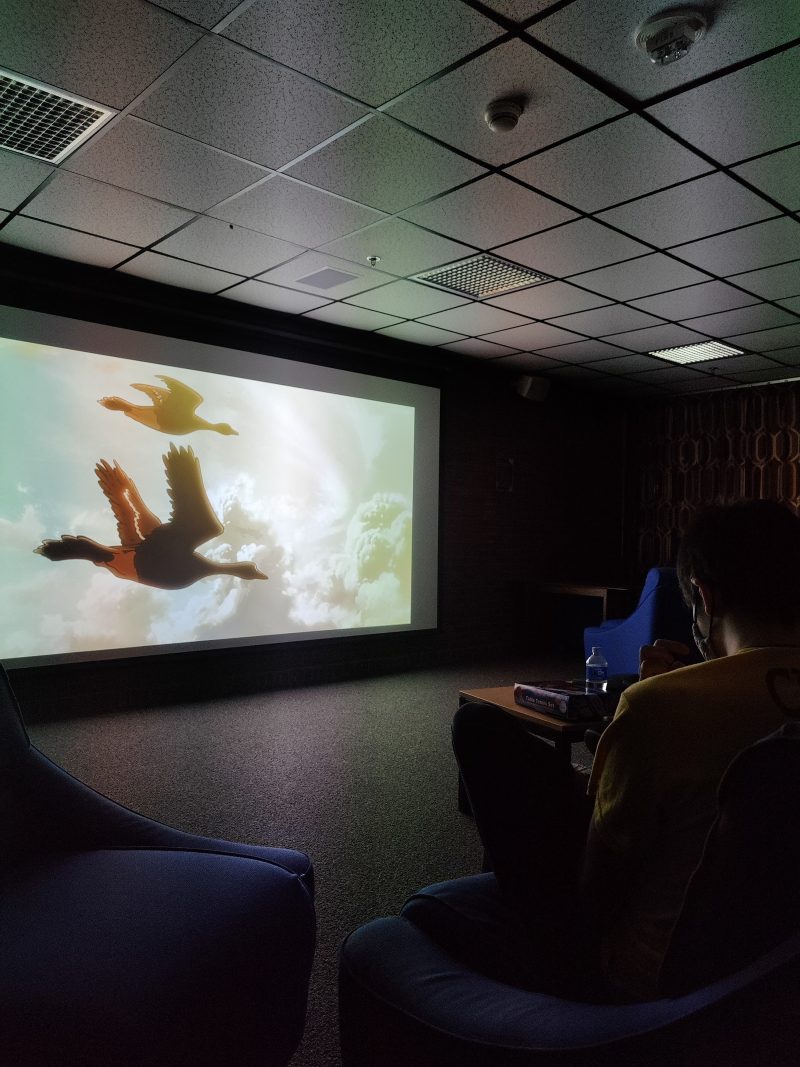 — Ice Cream Stash —
Friday nights at Macgregor have ice cream, so my pod stocks up on it for the week. Here's a look at our freezer from a few weeks ago.⁠07 it is as full or fuller now.
— The Macgregor Wind Tunnel Strikes Back —
The design of Macgregor serves as a mighty and dangerous wind tunnel at times. The air drafts are so strong that if you open your door on a windy night, it might swing open or slam shut on its own. If you open up your window at night, it might decide to slam itself into the brick wall of MacGregor and break itself. This scene happened to my pod mate, who was windowless for a few days:
— Misc. Chaotic Stuff —
I don't know what to categorize some of this as, so here are some miscellaneous photos and archives from my podmates and me…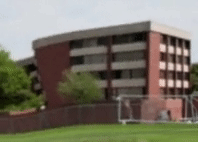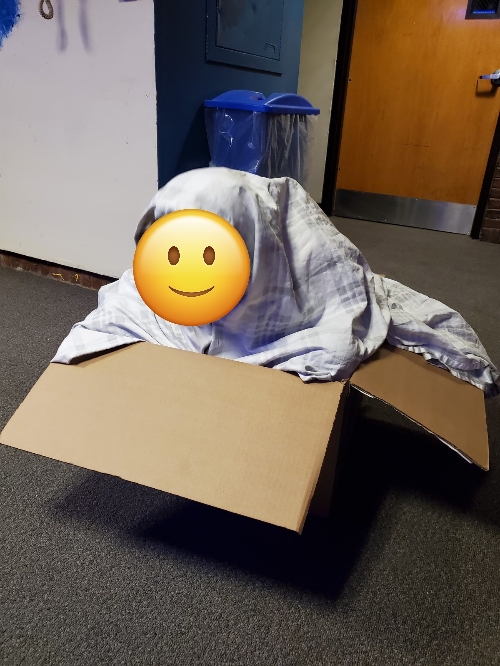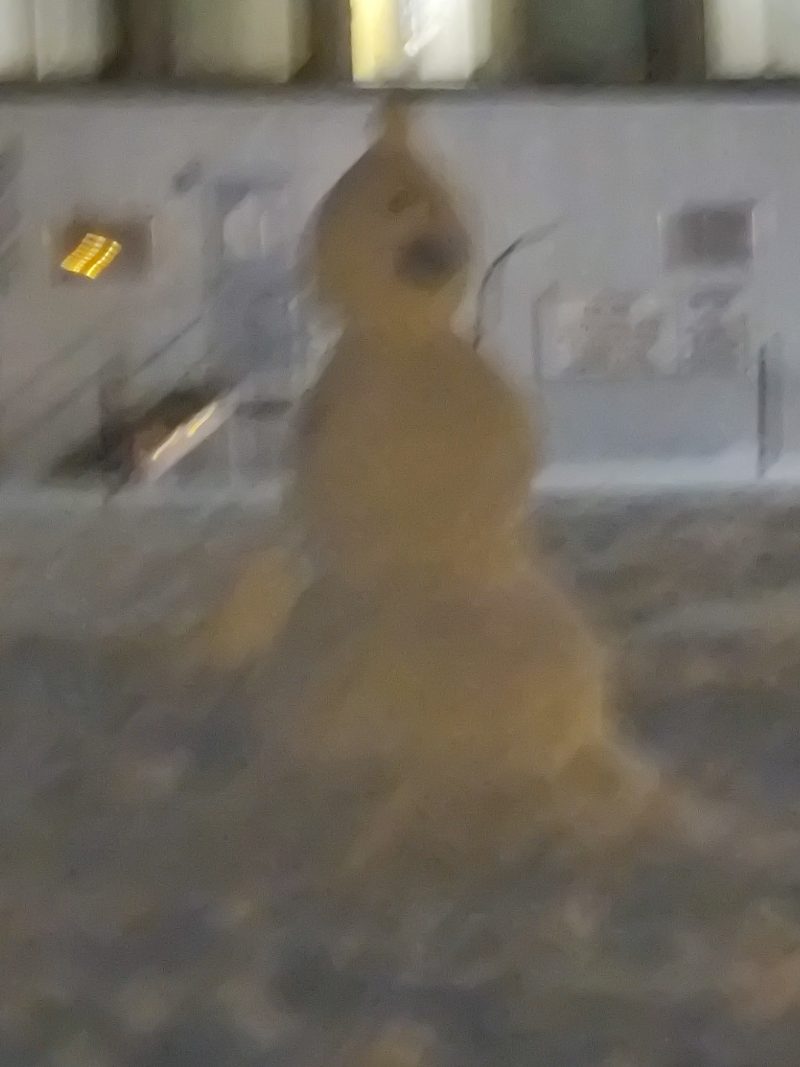 — Quarantine —
Since our pod was deemed too chaotic to be left alive, we were recently put into mandatory quarantine. It is vital to protect the MIT community from us at all costs. Now let's replace the word chaotic with 'likely to have been exposed to Covid-19,'⁠08 maybe the words 'to be left alive' should be removed as well and that should give the complete picture. Quarantine happened rather quickly this past Tuesday, and a typical day slowly turned into a pretty chaotic mess. MIT medical called to inform us of potential exposure and about the 10-day quarantine. It would be a lie to say quarantine has been easy, but on the bright side, we did get some good memes out of it so far: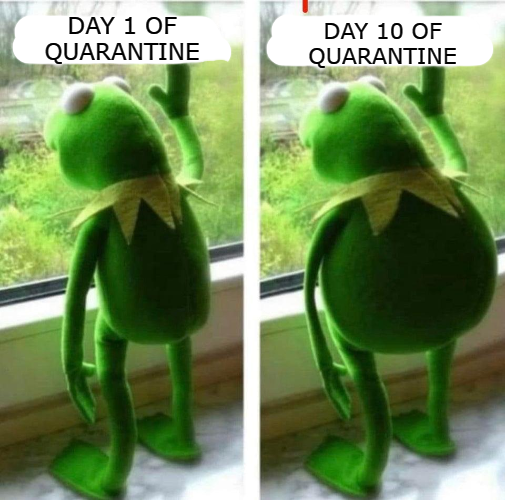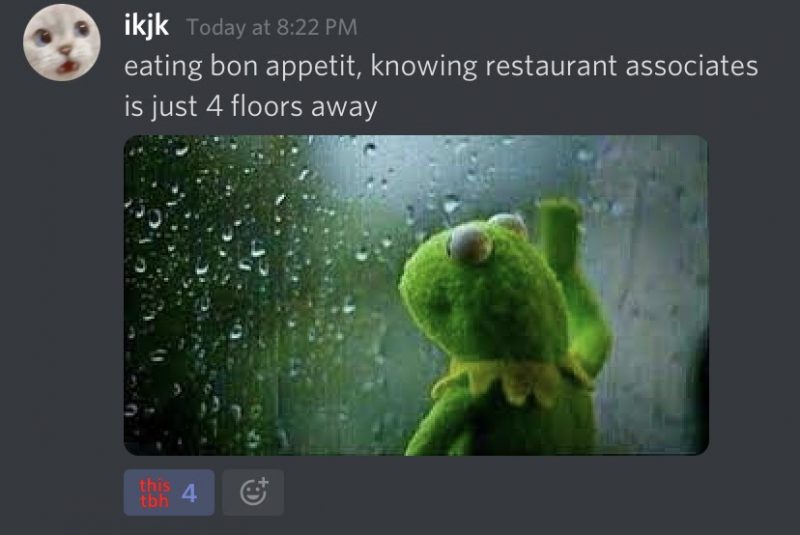 And some days of lackluster food…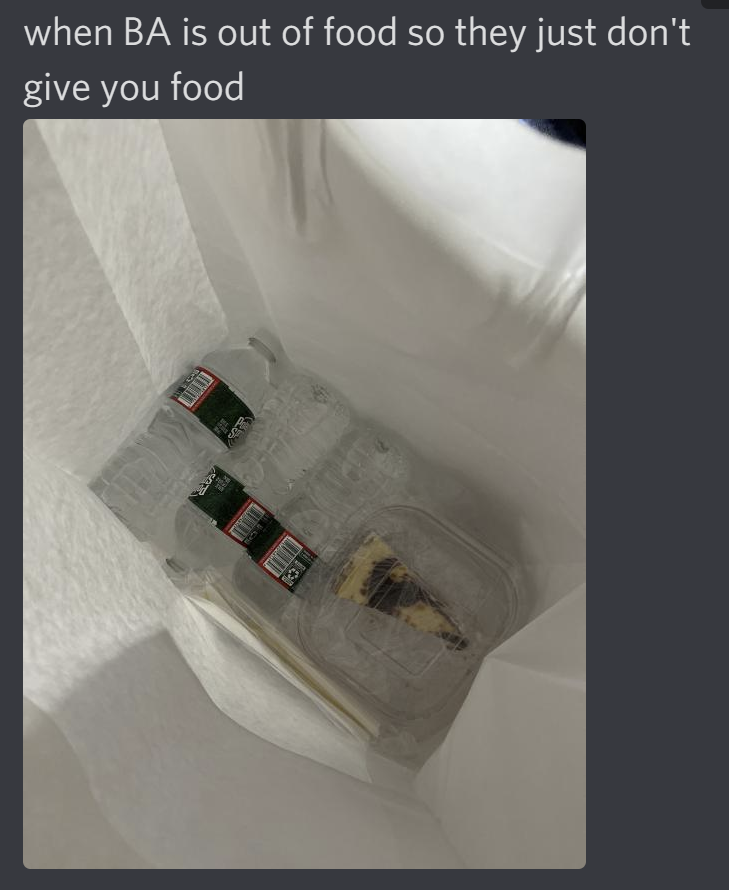 There are still a few days left in quarantine, so hopefully, the outside world isn't an apocalypse by then. Hoping for some more fun times. It has been a pretty radical shift in life since living on campus, both happy and challenging to adapt to. But these memories and photos remind me of the things I've really enjoyed and cherished pre-pandemic, and I am happy to have them back a bit.
Bonus:
List of amazing purchases my pod has made to date:
55inch Bear
Nerf guns
Disco ball
Tennis Racket and Balls
Pull-up bar
Pushup spinny thingy
Basketballl
Soccer Ball
Ping Pong Paddles
Giant yoga Ball