This semester, I'm living in New Vassar, the newest undergrad dorm on MIT's campus. It only opened its doors to students this winter, so the general vibe is very modern and clean and shiny. Beyond that, though… I'm not sure it has a vibe yet.
Seeing how new the dorm is, I thought I'd do a bit of a tour. I invite you to walk with me from the front door, through the building, and up to my room on the fifth floor.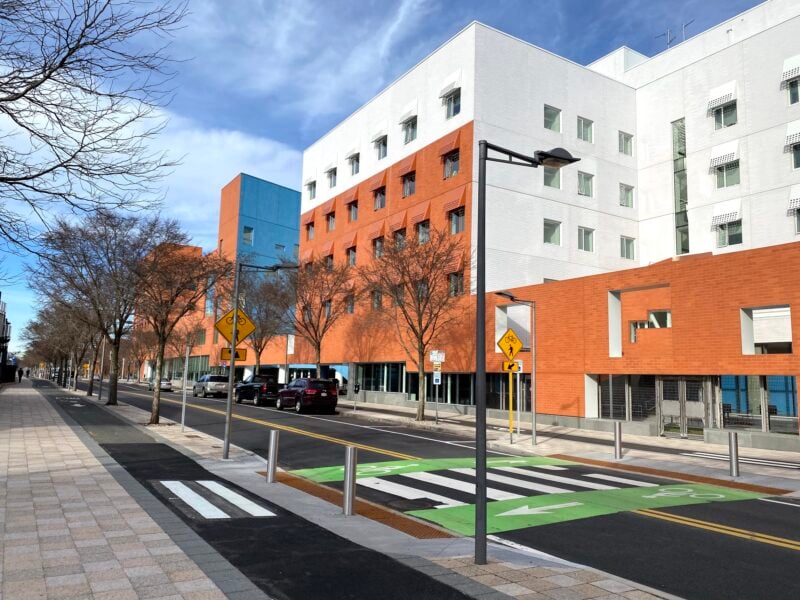 We'll start outside. I'll be honest – I'm not the biggest fan of the architectural choices made for this building. The color scheme in particular annoys me, as well as the design of the little overhangs on the windows.⁠01 I know theyre important for energy efficiency, etc,, but they have these amoeba shaped cutouts that are just so weird and vaguely remind me of preschool wallpapers I'll admit, though, that on sunny days like this it doesn't look all that bad.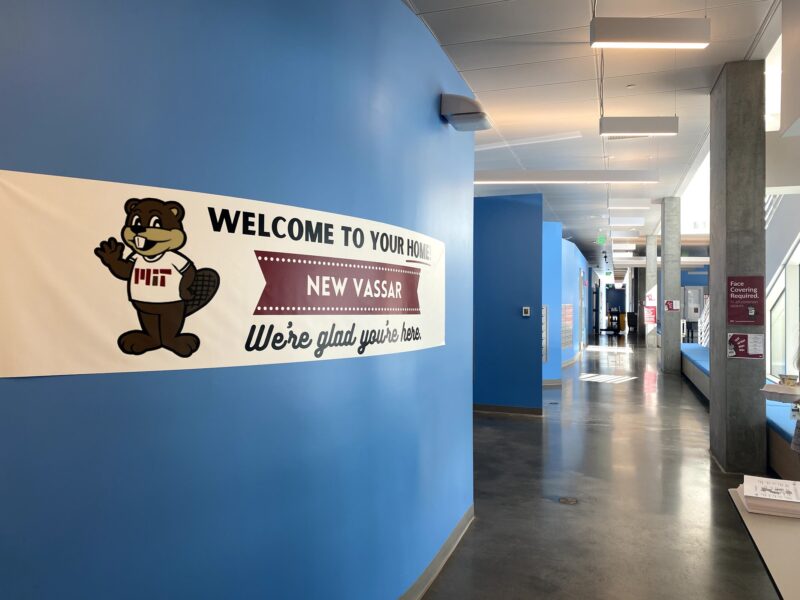 Welcome to New Vassar! Tim greets me every day as I walk down this hallway to my side of the building. Before we go there, though, check out this piece of art: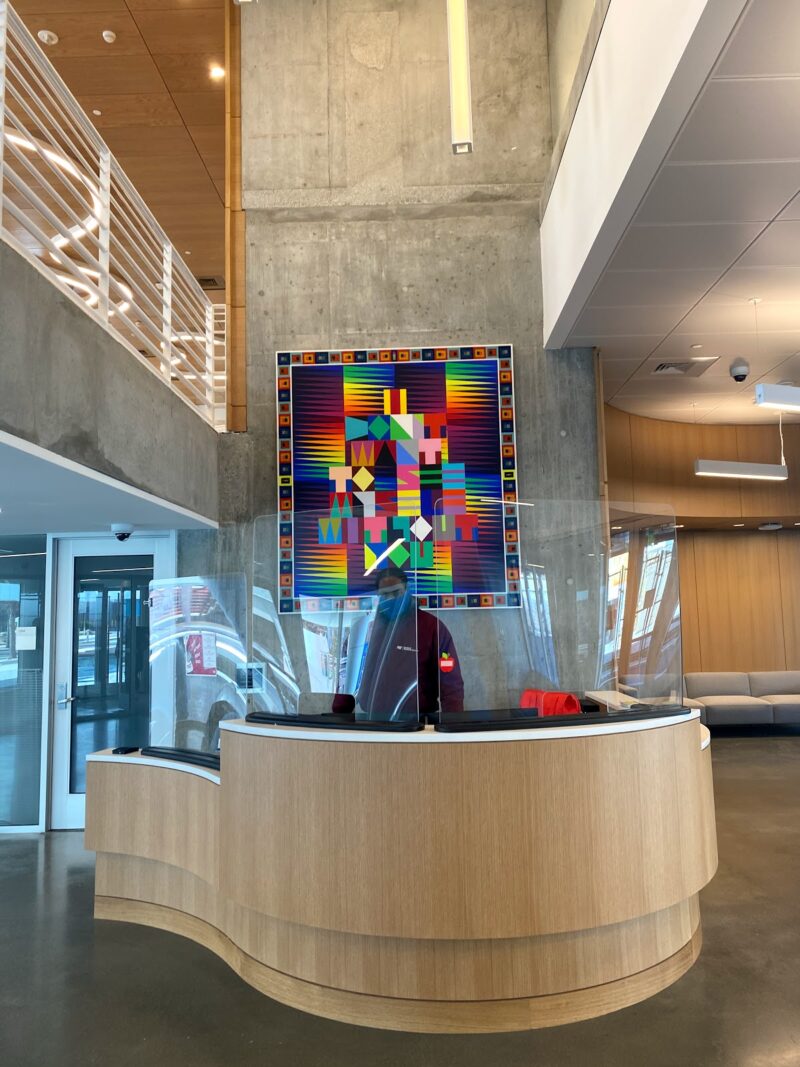 Hung over the security desk is the piece "I DON'T WANT TO SEE MYSELF WITHOUT YOU" by artist Jeffery Gibson. This work was specially commissioned by MIT for its public art collection.⁠02 which is actually so extensive and so so cool and I respect MIT so much for putting money into this As a fun fact, this is the first piece by an Indigenous artist on MIT's campus. You can read more about the work here.
Since we're already here, let's walk to the dining hall, which is right by the front entrance.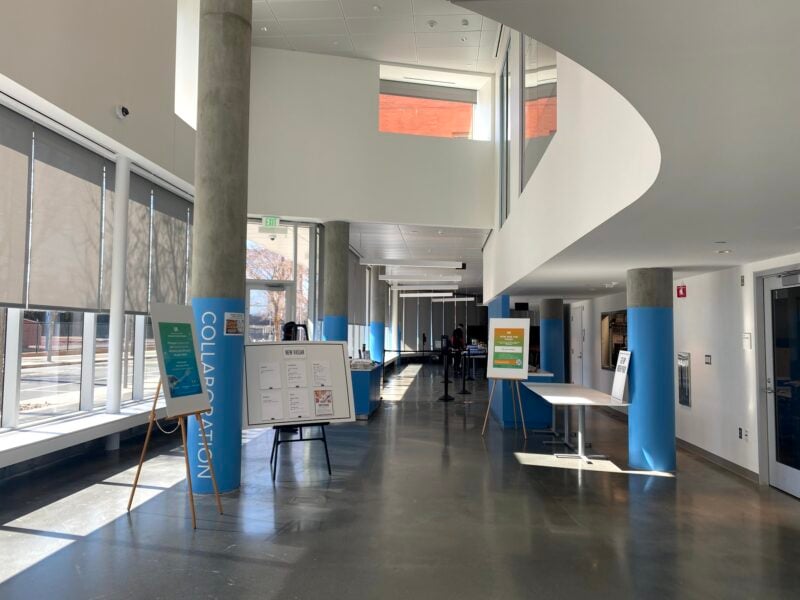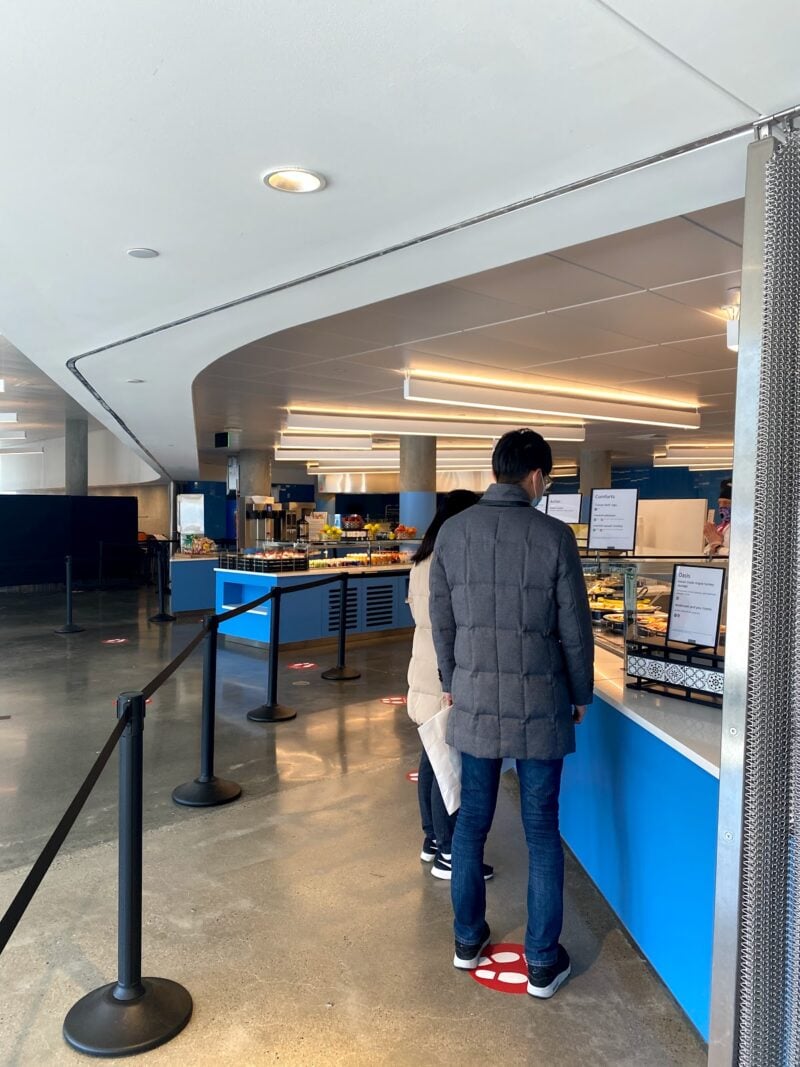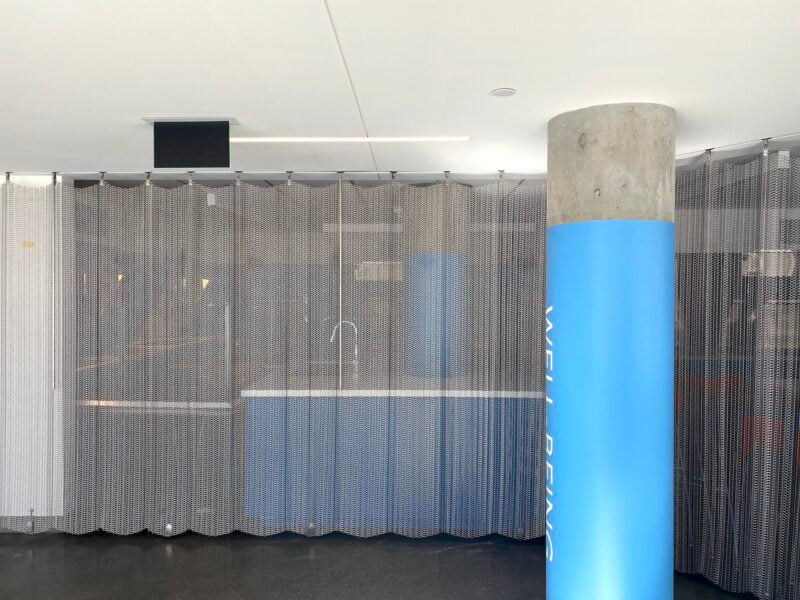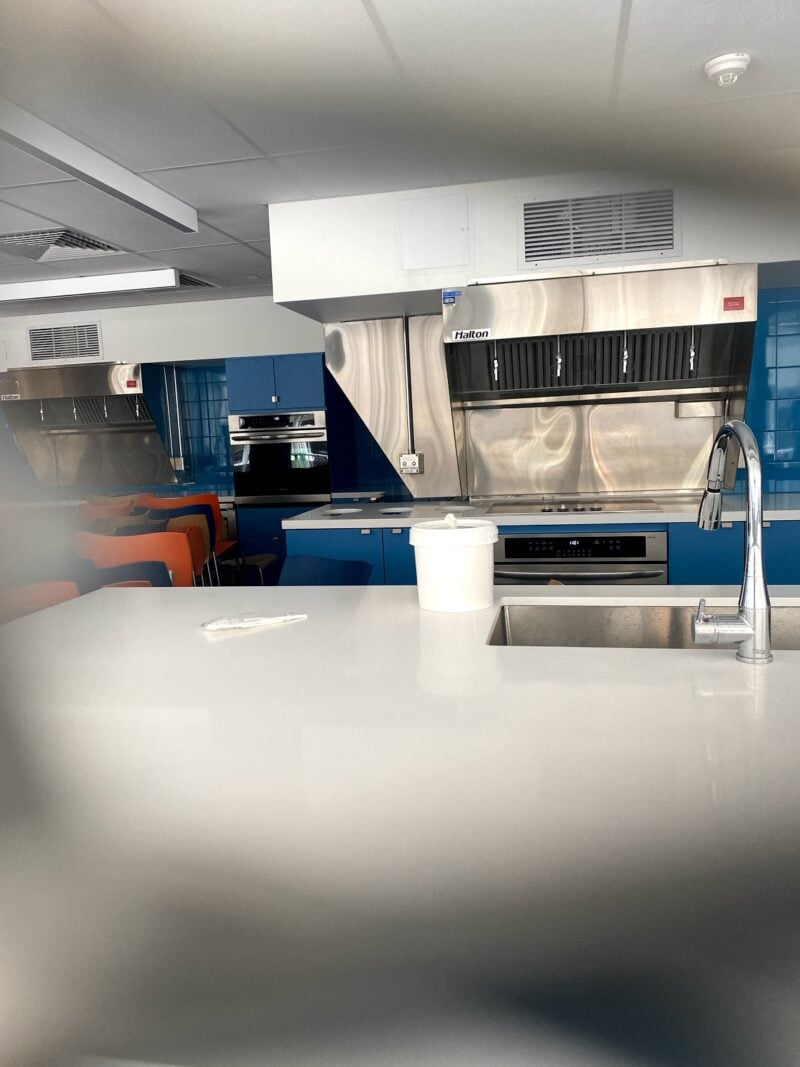 I'll be honest, my feelings about the food are very mixed. Before covid, I never intended to live in a meal plan dorm. I'm kind of picky about my food, and my eating schedule is kind of weird. In particular, I'm annoyed that all the best food typically is served for dinner, whereas I don't usually eat dinner, and when I do it will be something light. The food itself here has exceeded my expectations, but mostly because my expectations were pretty low. The food is alright, and there are generally a variety of options, but it's not amazing and I'm definitely looking forward to having more freedom to cook for myself in future semesters.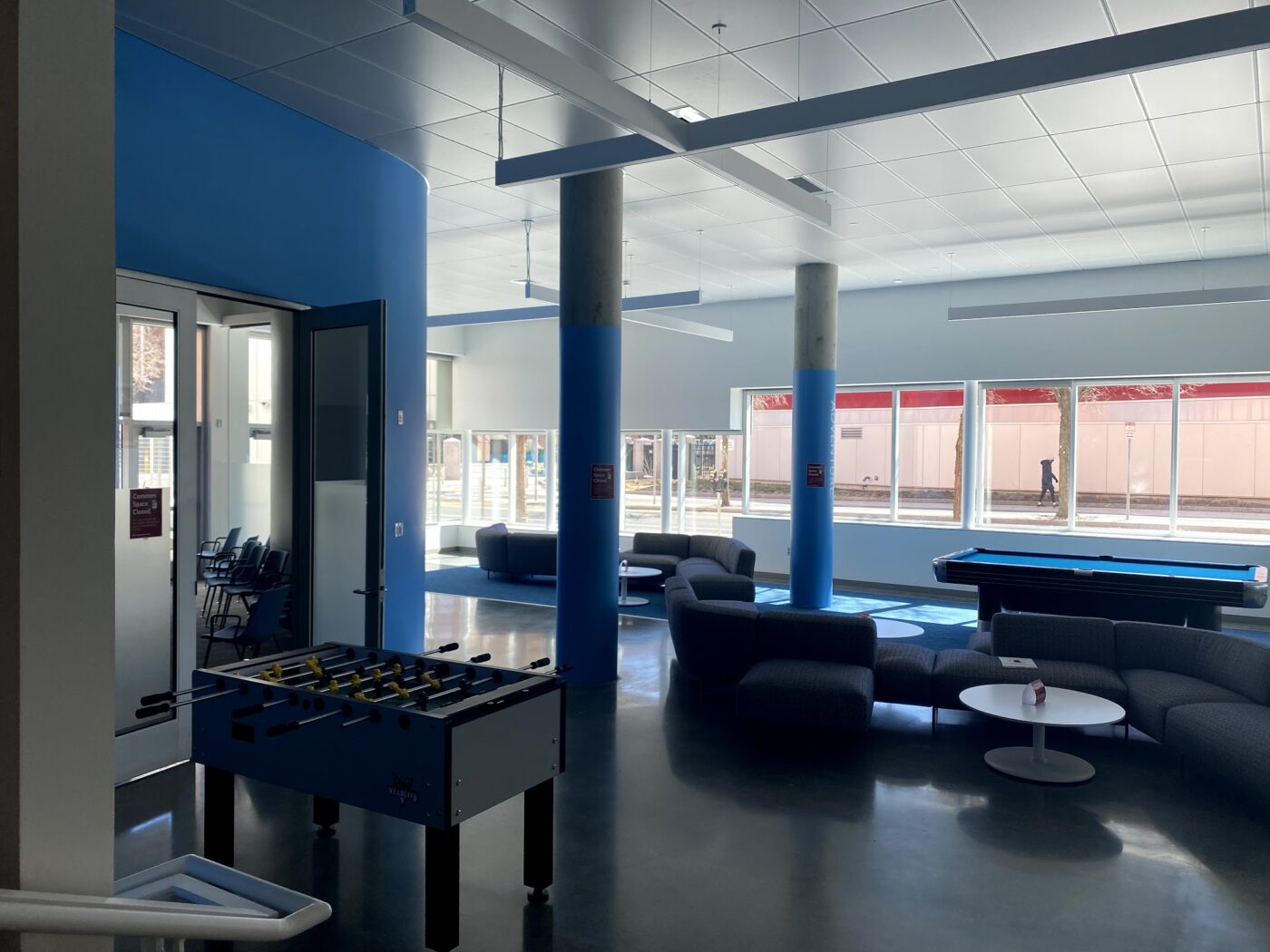 Walking to the other side of the first floor, we pass by several common spaces (closed for covid, of course). These look really nice and it makes me so sad, honestly, to think of how nice these spaces would be if we were actually able to use them.
This outdoor space is quite promising, though, for warmer weather, though that fencing on the street side of it disturbs me a little. I like the idea, though, of getting lunch from the dining hall and then sitting here to eat it with my pod. On the other side of the building, there's some more tables, too, but I didn't get any pictures. There's some lawn chairs, too, it's quite nice.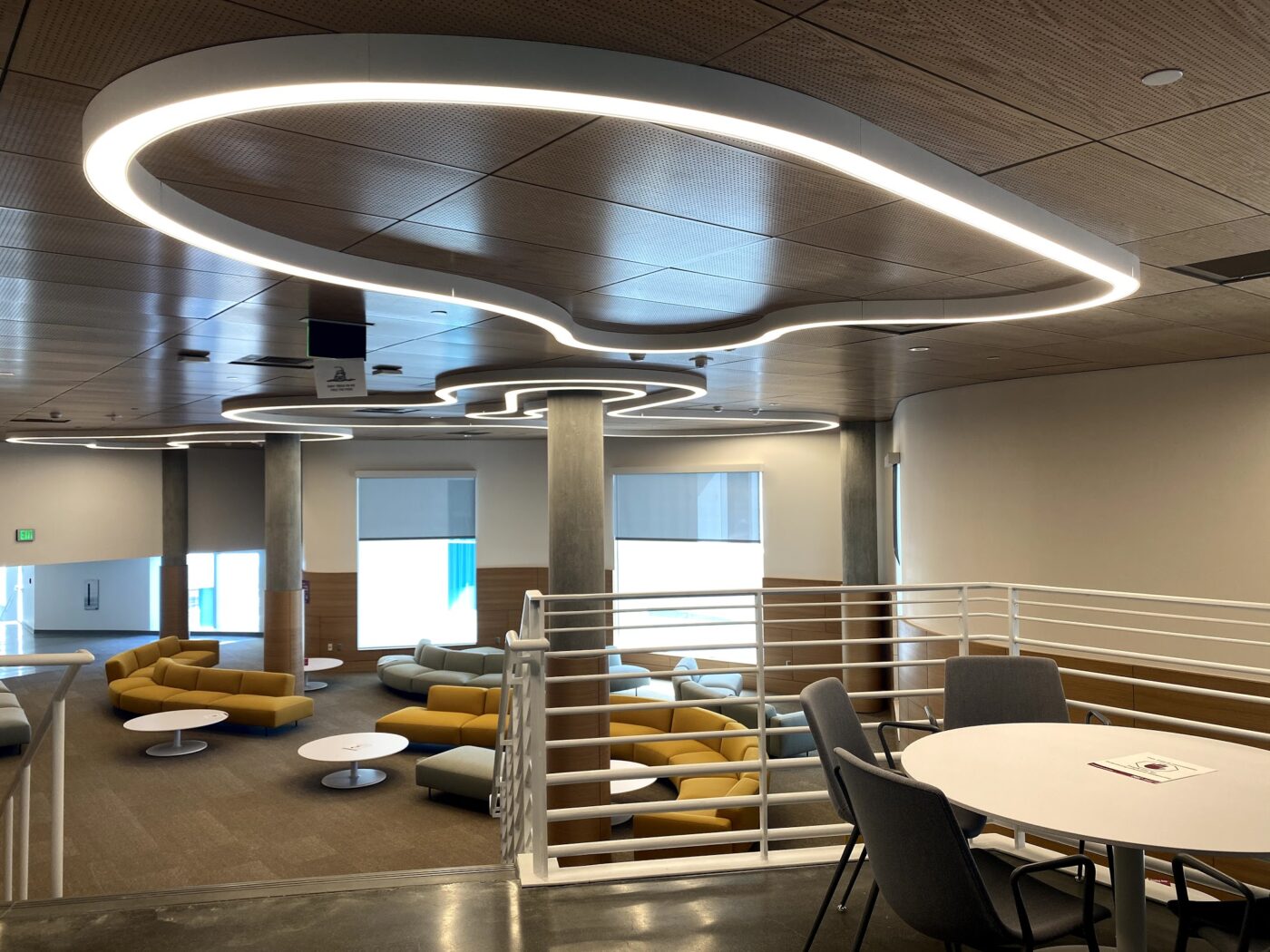 This gorgeous lounge space is on the way up from the lobby to the second floor. Once again, would be such a nice place to hang out in non-covid times. There's a lot of little communal spaces scattered around the building, which is really cute. All taped off, but such is life right now.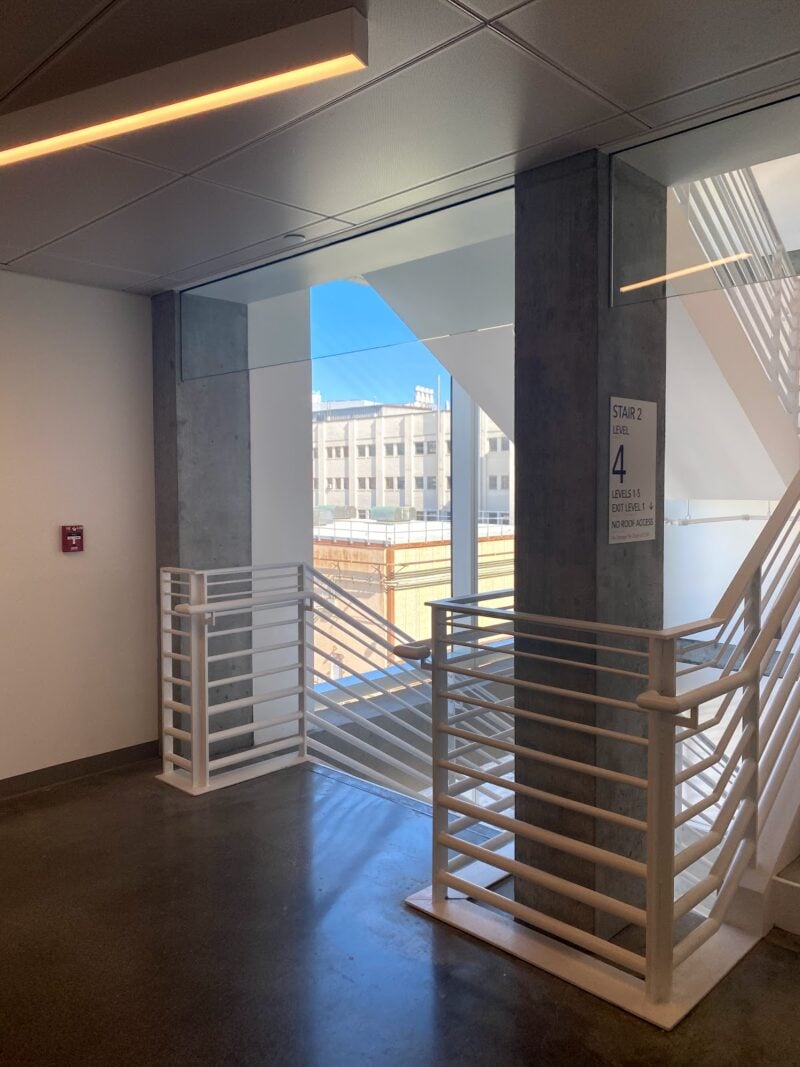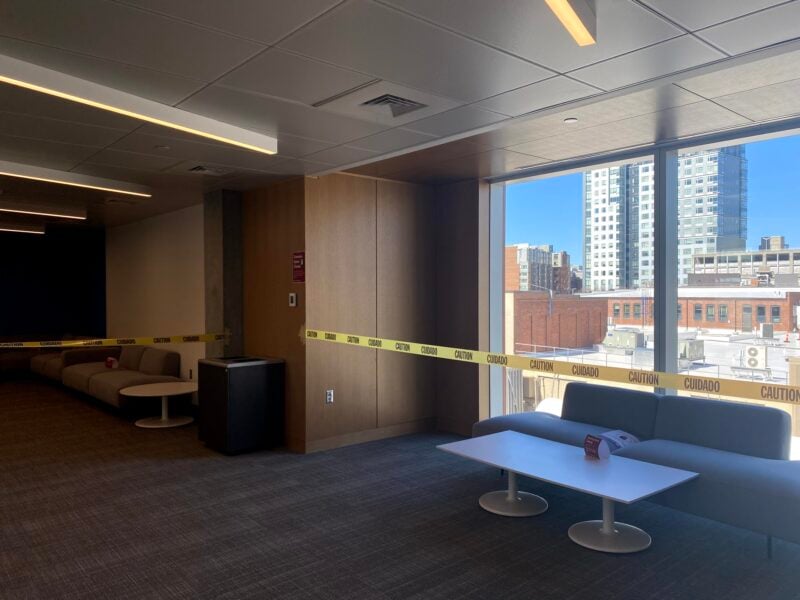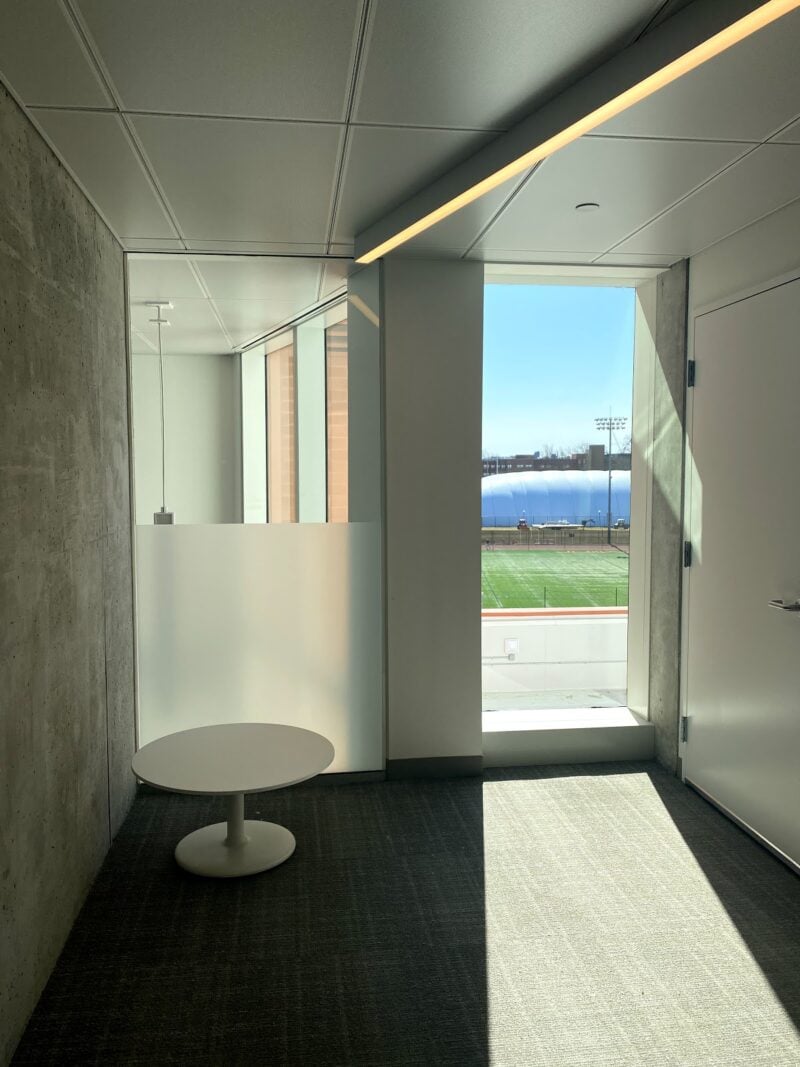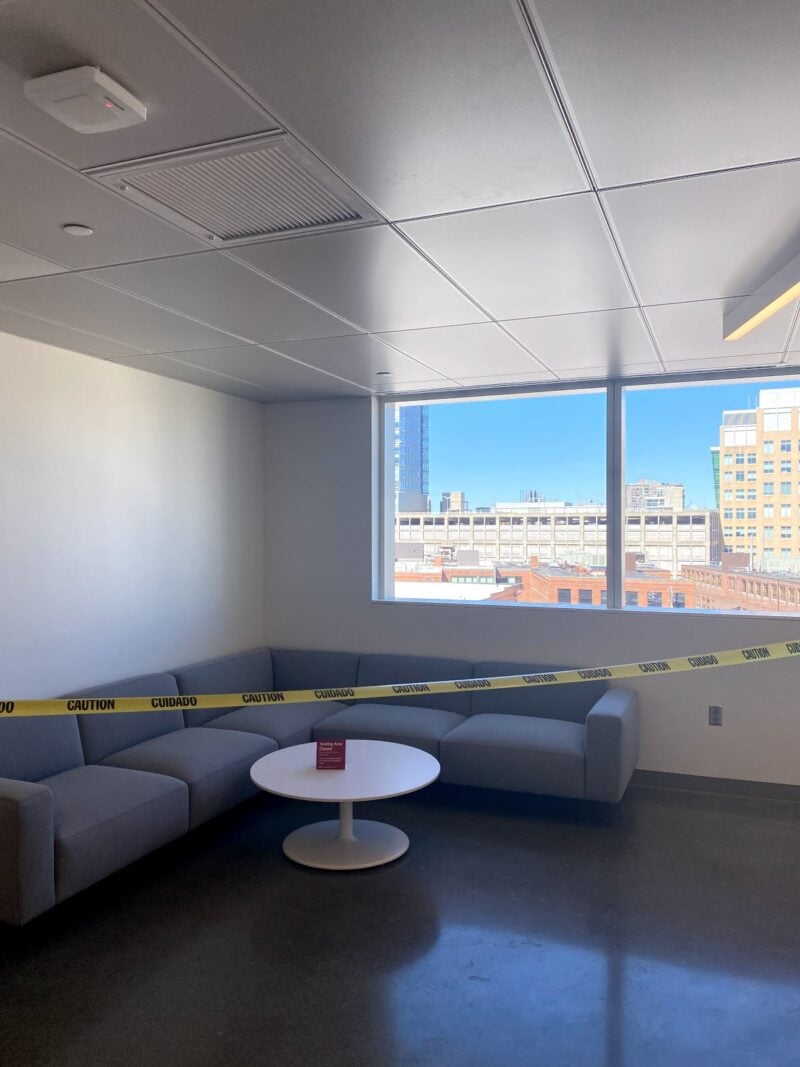 Finally, we arrive at my floor. Each floor of Vassar is split into three sections, and each section has its own kitchen area and lounge. Right now, though, these lounges are closed, and instead each pod has their own lounge – typically an empty room next to the pod rooms.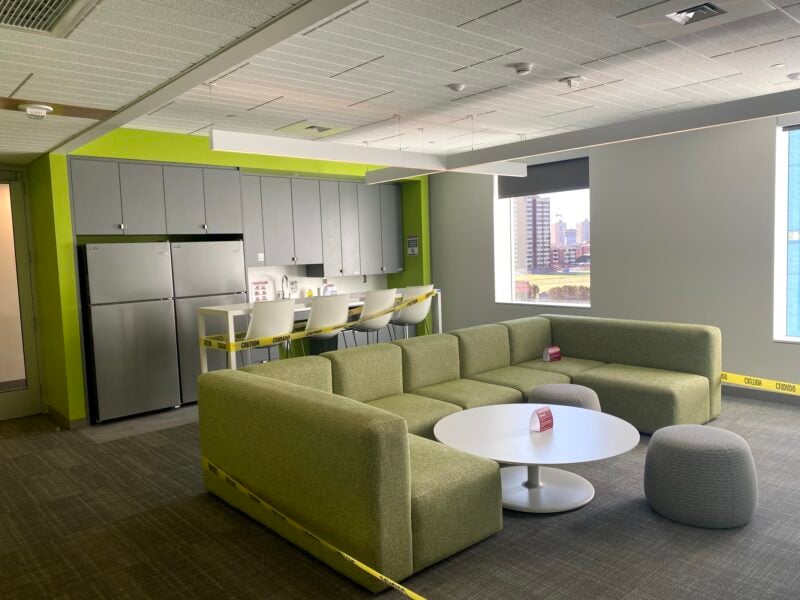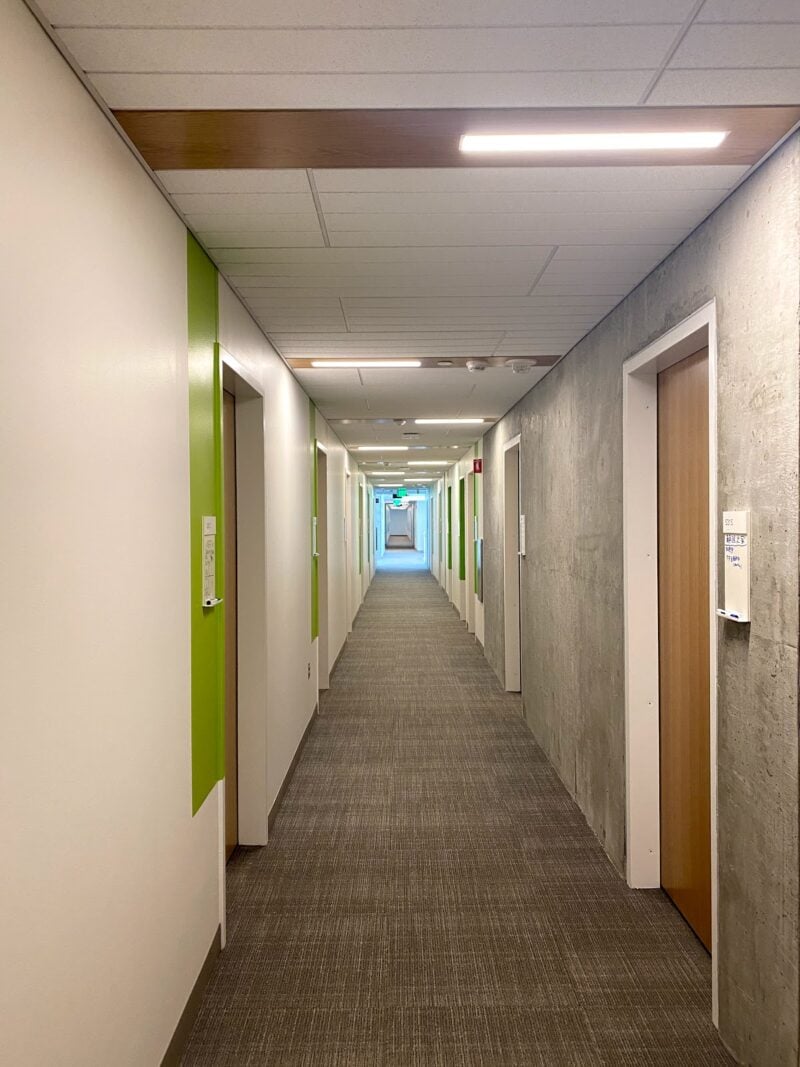 Dorm culture is an important part of the MIT experience. More so than at other schools, I think, different dorms have different personalities and house different types of people. This has, of course, been somewhat difficult to maintain in the current situation. It has been even more difficult for freshmen, who have had to form friendships and forge connections outside of the physical settings of campus. Even before MIT announced its decisions to keep the first-years off campus in the fall, I wasn't entirely in love with the vibe of any one dorm.⁠03 except maybe Burton Connor, but I personally didn't really consider it given the ongoing renovation. though I do know some freshman BC scuffy groups have been really successful. Things didn't really work out with my scuffy⁠04 scuffy was an initiative to match first years to virtual dorm communities in the fall group, and so most of my friendships have been forged through my sorority, SK, and through random connections over Instagram. This is all to say that for me, my attachment is to my pod first, and only then to my dorm. I think this is widespread in New Vassar, actually. It's a very mixed assortment of people, which isn't necessarily good or bad, it's just a little weird. That's a function of the pandemic, though, and of opening a new dorm, and of opening a new dorm during a pandemic. I predict it'll be at least several years before a true dorm culture starts to form. I'm curious to see what that will look like.