Yesterday was the final Friday of IAP. IAP went by so quickly, and sadly I missed most of it! Determined to not completely miss out on IAP this year (aside from Mystery Hunt), I took a couple breaks from reading applications yesterday to experience 5 fun events.
First was the famous MIT Charm School. Charm School is a long-standing tradition here. Students and community members take classes on such silly but important topics as Giving a Firm Handshake, Joke Telling, or Networking/Business Etiquette. Other classes included "How to Accessorize/Dress for Success," "How to Tell Someone Something They'd Rather Not Hear," "Hello, World: Manners for the Traveler" and "Flirting 101." Students who "pass" the requisite number of classes earn a Bachelor's, Master's, or Doctoral degree in Charm.
When I first arrived at Charm School, I was greeted by an incredible jazz quintet. They were so good I asked the Charm Organizers if they were professionals, but, perhaps unsurprisingly, they were in fact MIT students.


Upstairs, the Ballroom Dance Team were giving dance lessons. If I could dance, I know I'd definitely be more charming.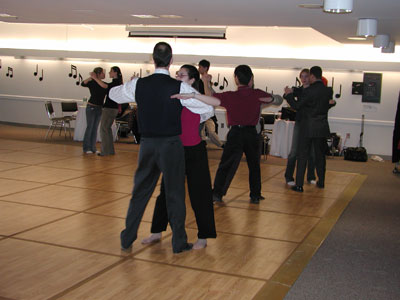 I then ran into Mitra and her suitemate at the dinnerware class (i.e. which fork to use, is my bread plate to my left or right, etc.). In the photo, Mitra is showing off the mnemonic that the class taught: "b," on the left, is for bread, and "d," for drink, is on the right. I'm going to have to remember that one.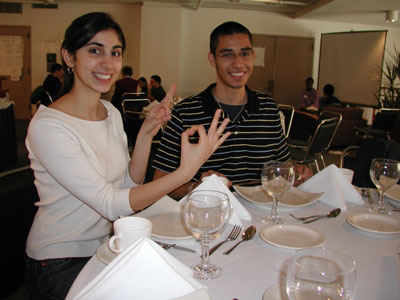 Next, I headed over to the European Career Fair, for students interested in working overseas after graduating or for a summer internship.


Many European employers were represented, including the French & German Embassies, Transport for London, the European Union, BMW, Barilla (the pasta people!), Deutsche Bank, and multinational companies such as Goldman Sachs, Shell, Proctor & Gamble. At 45 companies in total, it's not the largest career fair held at MIT, but it's one of the more interesting ones. (In the second picture below, you can see the EADS booth, one of the companies mentioned by expatmom in the comments)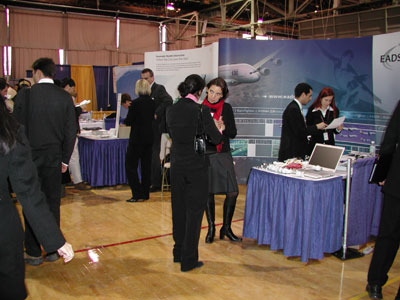 After checking out the Fair, I headed back to the office to read applications for a while until 4:45pm or so. At that time, myself along with Lorelle and Marivel headed off to the east end of the Infinite Corridor, 3rd floor, widely acknowledged as the best viewing point for MIThenge. You might ask the same question Marivel did — what the heck is an MIThenge? Well, roughly 39 days on either side of the Winter Solistice, the sun actually shines the entire length of the Infinite Corridor. It's a beautiful and intriguing sight, one that I've seen many times during my time here. The crowd was huge this year, and unfortunately that meant I didn't get a good photograph… so here's one taken by Donna Coveney from the MIT News Office at the last occurrence of MIThenge, approximately 2*39 days ago. This picture was taken on the first floor of the Infinite Corridor — not quite as strong an effect, but illuminating nevertheless.


Then I went over to check out MASLab (a.k.a. Mobile Autonomous System Laboratory, or course number 6.186). This is one of MIT's robotics competitions that I have never seen. Again, these robots are autonomous, but one twist is that the robotics problem is vision-based.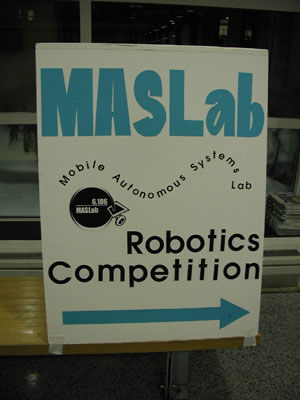 The competition was held in room 26-100 (566 seats), and the room was pretty packed. One of the very cool things about watching the competition was that the crowd was shown a real-time visualization of the robot's "vision" (see the blue and purple screen image in the first picture below). Another great element of the event was the play-by-play commentary by the robot designers, which more often than not was laugh-out-loud hilarious. I felt like I was laughing half of the time, and the rest of the time I was applauding. Pictures two and three below are of one of the most impressive designs, incorporating two Archimedean screws. This team was Team Three: Order of Random Cauchy, composed of four students whose applications I read not all that long ago… that's Arkansas' own Andrew Spann in picture two below.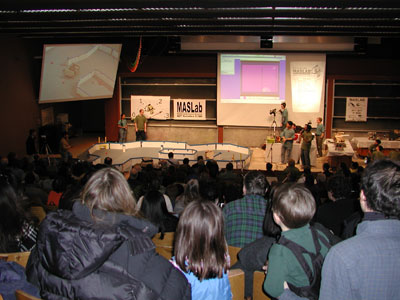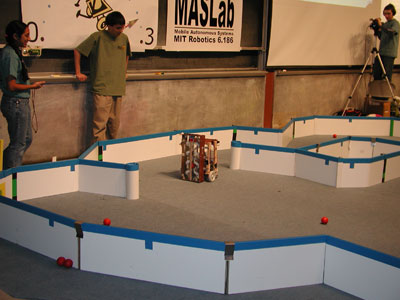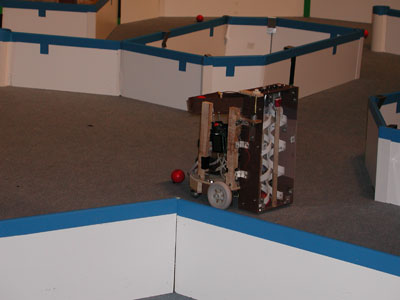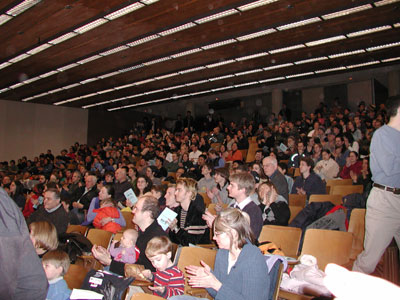 I ran out of MASLab down to room 10-250 to check out a screening of The Hot Shoe, a documentary about card counting.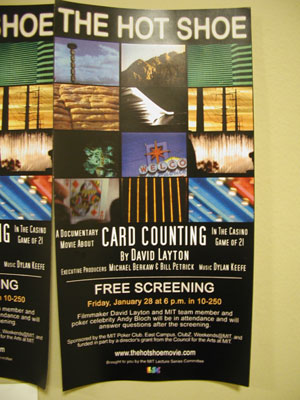 The best part, though, was that after the film, there was a discussion with not just the director, David Layton, but also three members of the infamous MIT Blackjack Team!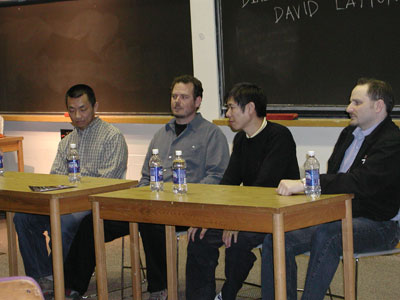 MIT team member Richard Chen (left), director David Layton (left center), team member John Chang (right center), team member Andy Bloch (right)
I saw Kevin there (taking a well-deserved break before tonight's 6.370 Robocraft competition); I think he wanted to find out how he could join the team =) Anyway, it was amazing to hear these guys talk; hearing the inside world of professional gambling was quite intriguing, actually. And, of course, they were experts in probability and statistics (I'm sure that these MIT Electrical Engineering alums aced 6.041).
One of the interesting questions asked was, what are the team members doing now? Richard is a 12-year veteran of JPL. John has "retired" to Las Vegas, where admitted to still playing "from time to time." And you may have seen Andy on the World Poker Tour; he also is one of the folks behind Full Tilt Poker.
All in all, a great day of IAP. Spring term starts Tuesday!