Ok so I am very late jumping on the Trader Joe's bandwagon, but I'm finally here to enjoy all of the great things it has to offer! For all of the Trader Joe's lovers out there, you are in for some good news! The nearest Trader Joe's to campus is a quick six minute ride on the MIT Shuttle (and actually like a 17 min walk from Next House which is the furthest down dorm row).

There are a few other nearby options for groceries as well. Whole Foods, Target and HMart are all a walkable distance down Central Square. But let's be real, Trader Joe's is obviously the superior option. Or at least that's what me and my podmates discovered this past quarantine semester. We started a pod tradition of going to Trader Joe's every three weeks or so.  We'd go late in the evenings when the crowd wasn't crazy and would take the MIT SafeRide OnDemand shuttle service (which was barely being used and often ended up being a private ride). We'd pick up all kinds of snacks and critically analyze the goods like the food connoisseurs we pretended to be. When the snacks were all gone, we'd return for another round of discovery.  So here are some of my favorite Trader Joe's grabs:
Side note: the craziest thing about Trader Joe's is that whenever I talk to another TJ fanatic they automatically know what snacks I'm talking about. So either I'm super basic and like the things that everyone else does or Trader Joe's fans are part of this unspoken cult that memorizes the entire store inventory. Either way, I'm not complaining.
Essentially The Entire Dessert Aisle
This was always the highlight of our runs. There are so many fun varieties in the dessert aisle from the usual ice cream sandwiches and pops to frozen chocolate covered strawberries and bonbons and even Kunefe (?!?!). I highly recommend the macaroons and the mochis were also pretty good.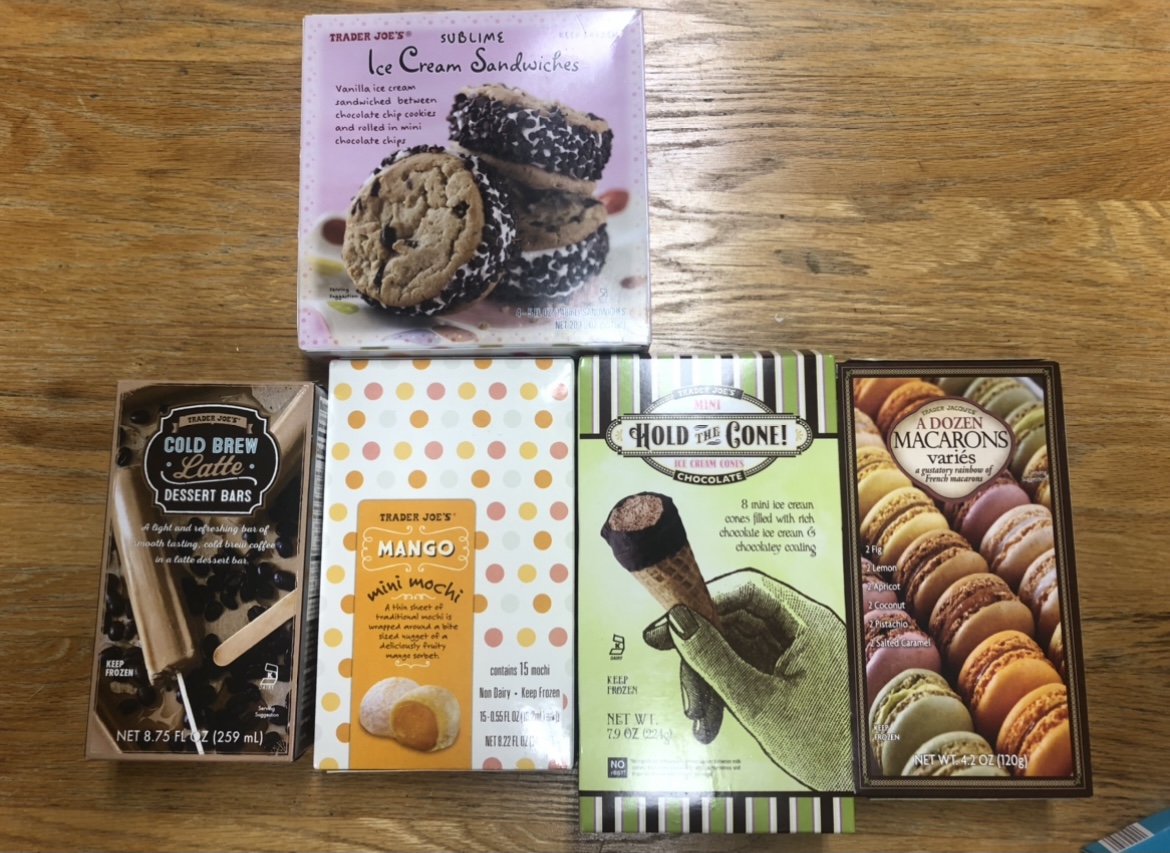 But Especially The Hold The Cones 
Okay so the "Hold The Cone" ice cream deserves a special shot out. I really really like these because they were literally created to satisfy my dessert cravings. I have a huge sweet tooth  and my body almost always demands dessert after dinner. Hold The Cones are like a third of the size of an actual cone but they're just as filling. And they're only 50 calories, which is honestly crazy. I'm not a calorie counter at all but these cones taste good and they don't make me feel guilty for wanting something sweet. Sounds like a win-win to me.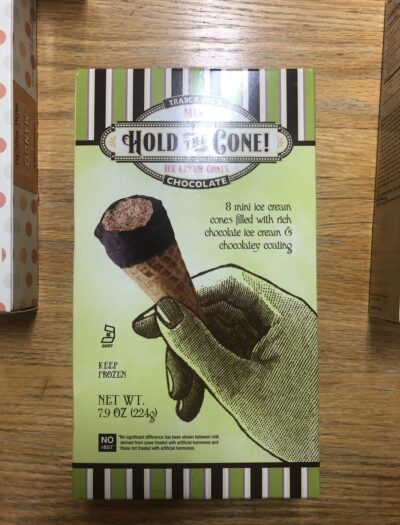 Maple Leaf Cookies (these go super fast)
I'm told that these are one of Trader Joe's most popular items. And in fact, most of the times they were sold out in the store. I'm not sure where to even begin describing these. Think one big autumn-themed hug in a bit. They're basically two shortbread cookies with a one of a kind creamy maple filling. Words don't do them justice.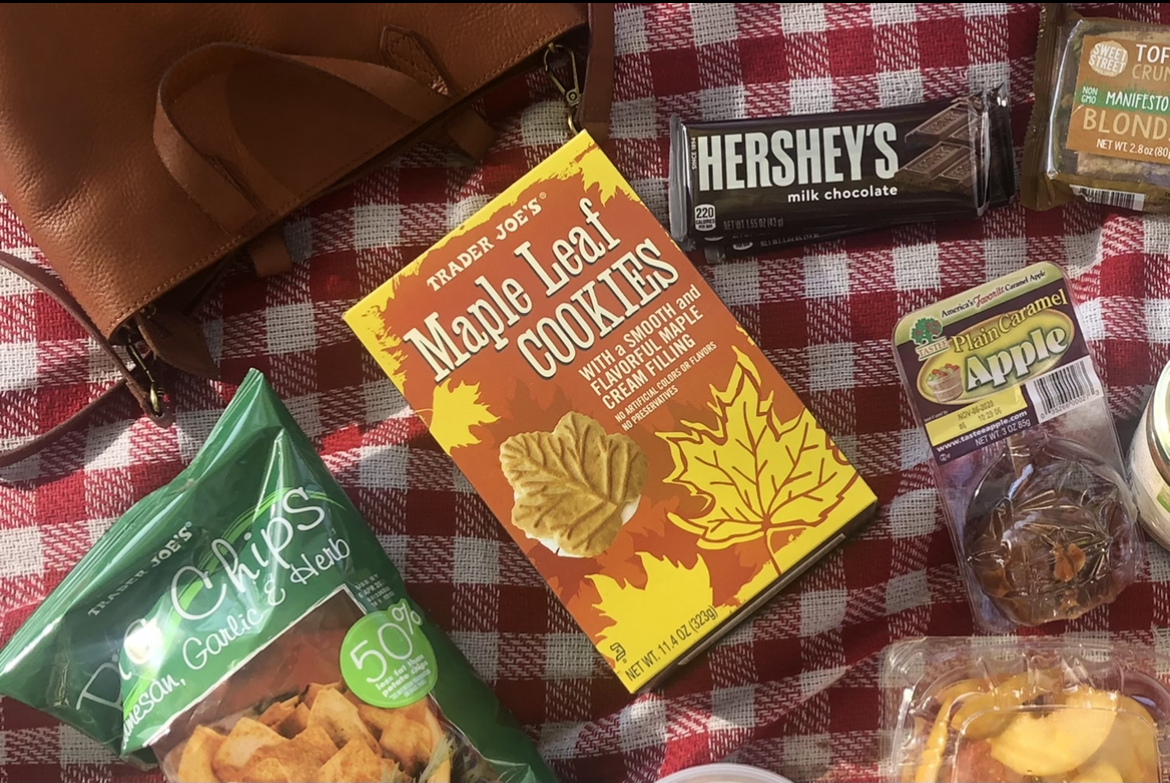 Spicy Pumpkin Samosas 
I am not a pumpkin fan whatsoever. I'm not into pumpkin pies or PSLs or really anything that has pumpkin in it. But these are now my only exception to the no pumpkin rule. I also think that might be because the samosa is also stuffed with paneer and a bunch indian spices, but the combination of sweet and savory was surprisingly good. They also give off a very warm and homey aroma when cooking which was always nice to walk into.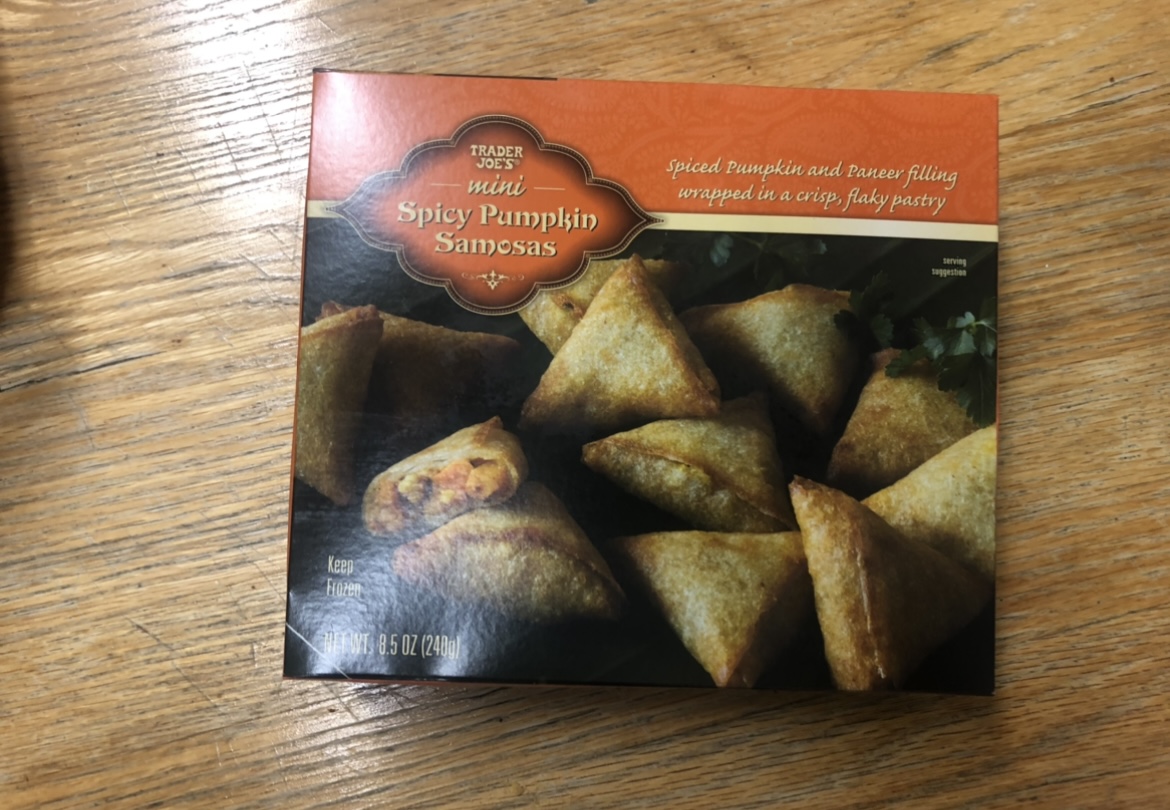 Miso Ramen Soup
It's really hard for me to find ramen that doesn't use a chicken broth. The vegan label on the box was enough to get me sold. I ended up buying the spicy version because I prefer having a bit of a kick in my ramen. Sadly, the ramen really was not that spicy. My spice tolerance does fall on the higher end so take that with a grain of salt. I also found that the serving size was a bit small. Nonetheless, it tasted really good and I was very happy to find a vegan ramen option.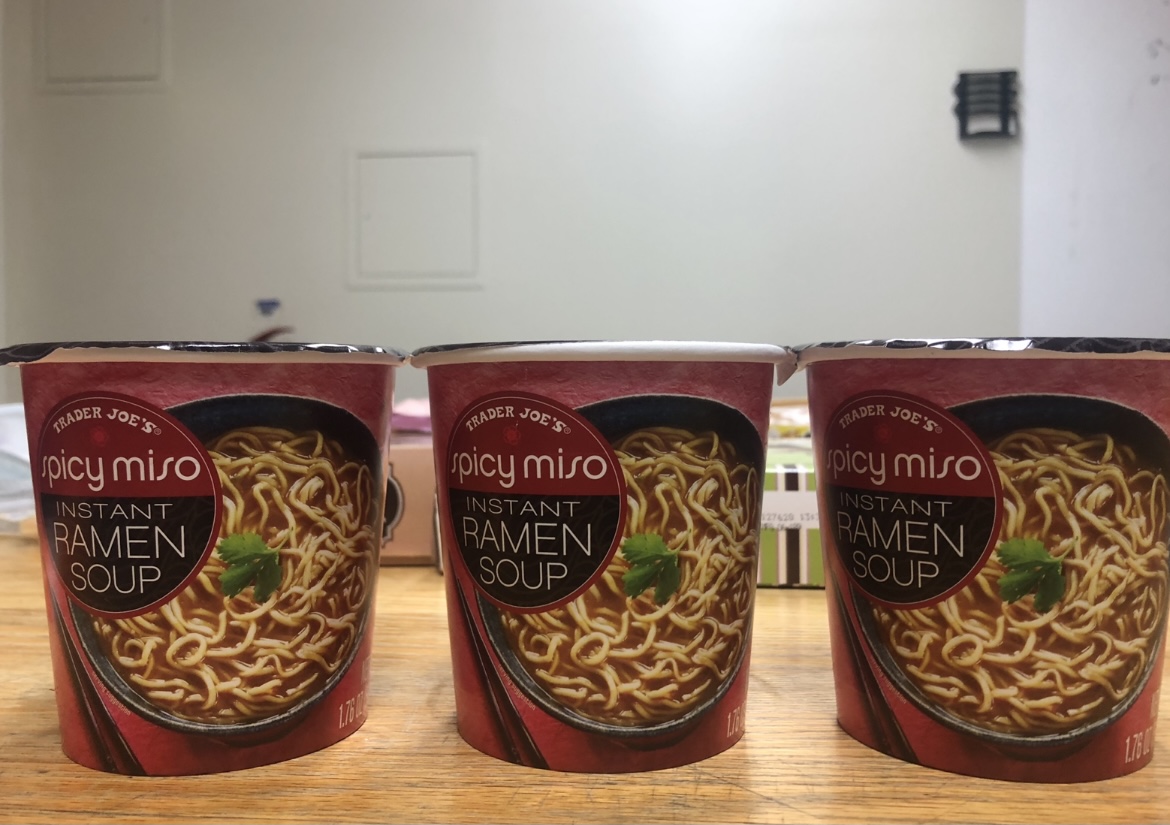 Chilli & Lime Rolled Corn Tortilla Chips (aka Trader Joe's Takis)
I am a really big Takis fan. It's like my one snacking weakness. So I was really apprehensive when trying these because how could you ever do justice to the OG Taki? These definitely were not the same, but they weren't bad either. These don't leave my mouth on fire the way Takis do which is a good offering for when I want a chili & lime snack without the tears.