I can't sleep in. I don't have any early-morning obligations – I just naturally wake up very early. I know, it's a nice "problem" to have 01 Except for when I sleep too little the night before, because I'll crash <em>hard</em> in the afternoon. .
Last year, I wouldn't ever have thought waking up before 7 AM could be nice. The morning used to be a stressful rush to get to school on time for first period. Here, each morning presents me with a beautifully quiet campus. I wake up early and, depending on the time of my earliest class on a given day, I have three to five hours to do anything I please. The lack of social distractions make it a very personal and productive time.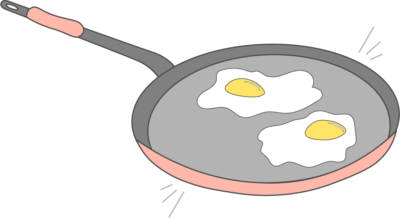 For example, the early morning grants me a rare solitude in my suite kitchen. The counter is clear, all four stove burners are available, and no one else is using the sink. At dinner time, it's fun to share the kitchen with my suitemates, but I love the efficiency I can achieve when I cook breakfast.
Things like working out, doing laundry, and parking my bike are also much easier when almost everyone is still asleep. The morning is so empty that it sometimes feels like I'm the only person awake.
In reality, around 10% of MIT wakes up around when I do, according to data collected by the Office of the Chancellor. Each respondent reported the approximate times they go to sleep and wake up. I visualized the data with a stacked bar chart (see code here).
Unsurprisingly, going to bed earlier corresponded more with waking up earlier. As the hours pass along the x-axis, the red (representing earlier bed times) disappears and the yellow (representing later bed times) increases.
My dorm⁠02 MacGregor (my dorm), six other dorms, and some Greek houses are all directly next to the Charles. is located directly next to the Charles River. There are several popular running loops which go along the Charles, across one of many bridges to Boston, along the Charles again, and finally across another bridge back to Cambridge. Waking up early gives me time to run. I stopped along some bridges to take photos:

Some of my friends prefer wake up in the afternoon, stay up all night, and go to bed in the morning. At the start of the year, two friends came downstairs to my suite around 6 AM when I was making breakfast. I grabbed two more bowls and we moved to the lounge to eat and watch the sun rise. I found out they were nocturnal when I asked them what they were planning to do next, and they said sleep. It was breakfast for me, dinner for them.
Except for when I sleep too little the night before, because I'll crash hard in the afternoon.⁠

back to text

↑
MacGregor (my dorm), six other dorms, and some Greek houses are all directly next to the Charles.⁠

back to text

↑