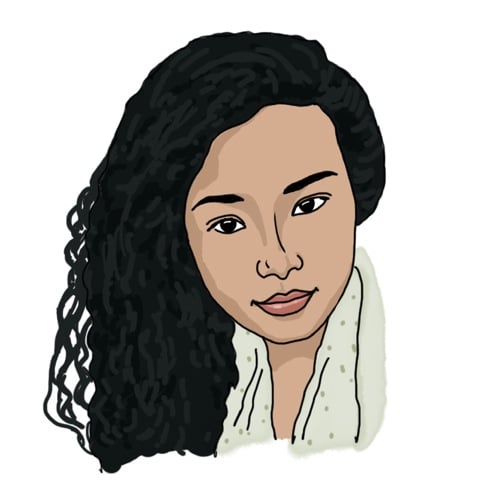 This week in the series: a Ghanaian research initiative by a dedicated MIT senior
Emmanuel A. '18 is a member of my own class year (as is Pelkins A '18, who I covered last week) and therefore someone I've interacted with a lot while at MIT, from freshman orientation until now. I did not have the privilege of sharing a class with him, but we would meet at all our different community events and (of course) occasionally when working on psets at the student center. Emmanuel is also highly active in the African community at MIT, serving as Vice President of the African Students' Association and the President of Sakata Afrique, an African dance team at MIT (trust me, he's got some sick moves!)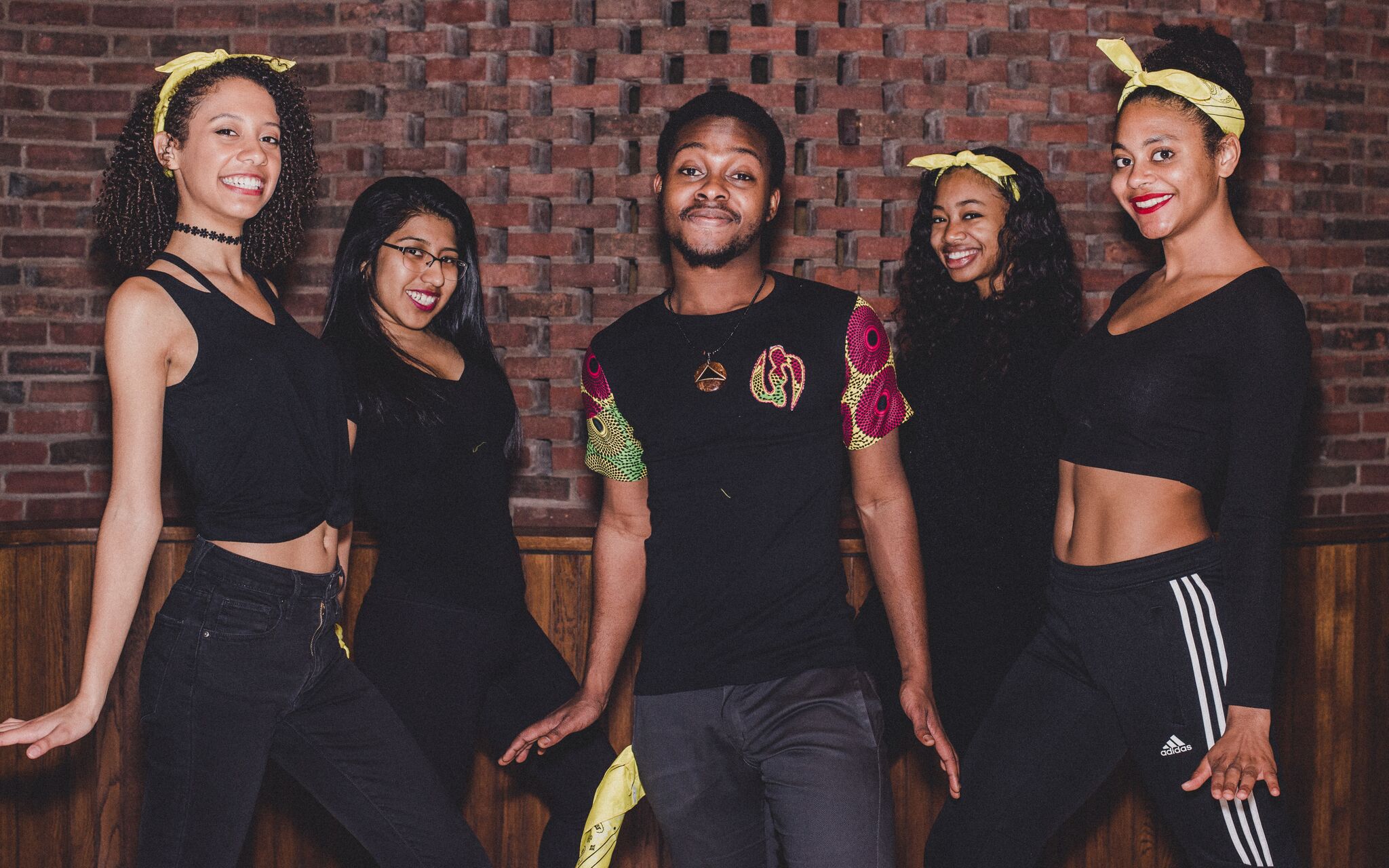 Emmanuel and other members of Sakata Afrique, in a photoshoot to publicize their spring show, "AfroShake"
When I first sat down to talk to Emmanuel, that feeling of responsibility I'd observed across so many people was there again, unquestioning.
"I mean, you know, giving back," he said simply and nonchalantly, and went on to describe his ongoing project in Ghana.
He also shared with me a personal anxiety: "I felt I should start something now so I can go back to Ghana sooner…" he said, "once people get married or have children in the U.S., that's it, they stay here."
While it might sound silly at first, Emmanuel was particularly moved by a documentary created by MIT alumn Arthur Musah '04, MEng '05 called Naija Beta, which details a first-generation Nigerian-American's efforts to help his father's community in ways his father, who ended up staying in the U.S., never could. There is a very real and powerful emotional entanglement that comes with "settling down", so to speak, which is sometimes inevitable with time spent in the U.S. Emmanuel felt discomfort and urgency after watching the documentary, and was inspired to act quickly.
Except that, initially, Emmanuel was not sure what he could do as an effective project in Ghana. He mulled over the problem for a while, keeping an open ear to the projects of other MIT community members. He was partly inspired by Bruke K. '19, for example, who was involved on campus in creating the [email protected] celebration. Hearing the practical, logistical steps of his process planning the enormous event gave Emmanuel some insight. Most importantly, it led to a key realization, which is easy to say but difficult to really believe: that a single person, including Emmanuel himself, could set in motion something great, with a widespread impact.
It was then that Emmanuel began to think back to the previous year when, like many MIT students, he decided to participate in the MISTI program Global Teaching Labs (GTL). In the GTL program, MIT students can spend IAP teaching students in other countries. Emmanuel went to Israel with GTL, where he came into contact with the Ecological Greenhouse in Kibbutz Ein-Shemer. More than just a greenhouse, this organization allowed students across a wide age-range (from elementary school through high school) to participate in after-school programs where they conducted all sorts of applied science and engineering projects. Older children were guided in conducting small research projects, and learned the different skills needed for effective research. There were even some projects that taught 3D printing skills and design work, unrelated to the greenhouse or botany subjects altogether. Kibbutz Ecological Greenhouse and its programs left a strong impression on Emmanuel, who saw how it provided effective teaching and resources, which many Ghanaian and even American high school students didn't have.
"Every country that's developed so far has invested heavily in research," he said, "and I hate that our people are still dependent on others telling them about their own country."
Emmanuel understands the power of good research institutions–which are first made by good researchers. He is also frustrated by how reams of research papers about African countries come from institutions outside the continent. Emmanuel felt strongly that this needed to change–especially in Ghana. Education standards are certainly improving for sure, as both Ghana and the African continent grow at a breakneck pace. To handle this rapid growth, the recent emphasis in Ghanaian education is often on entrepreneurial thinking and development, like Ashesi University, whose founder quit Microsoft to build the school, and focuses heavily on entrepreneurship. "For every 3 college graduates, one should be an entrepreneur" seems to be the central principle guiding modern Ghanaian education.
However, Emmanuel felt the careful process of quality research should be pushed forward, too. He felt the country couldn't truly reach its full potential without measured scientific thinking, in addition to the emphasis on entrepreneurship.
There were many things about Kibbutz Ecological Greenhouse that Emmanuel liked, from how it emphasized research to how it started kids so young. He saw the value in this.
"I am a firm believer in the quote, 'as the twig is bent, so grows the tree'. Teach small kids how to do things, and by the time they grow up they'll be so good at it!"
Spring of Emmanuel's junior year, he started seriously working on trying to start something similar in Ghana–a research institute of sorts, for younger students. He wanted to teach students how to write papers and proposals, how to read papers, how to follow scientific methods and conduct quality research. He reached out to many people at MIT to get advice–from Professor Hazel Sive, an incredible woman who leads the MIT-Africa initiative, to Professor Dennis Freeman, the Dean of Undergraduate Education at MIT. He scrambled to find funding to go and start partnerships in Ghana, finally securing a travel grant from the Public Service Center.
This past January, Emmanuel's Senior IAP, he found himself in Accra with a vague plan and a lot of running around to do. Some of his early partners helped tremendously, like Mawuenyega Dogoe, the Director of MISE Ghana, a youth research initiative focused on math that also supports the Ghanaian branch of International Math Olympiad. Mr. Dogoe became a huge resource to Emmanuel, and mentored him during his time in Ghana purely out of enthusiasm for the project. Other community partnerships fell through, like an attempt to connect with the University of Ghana's Office of Research Innovation and Development (ORID), where the liability involved in teaching minors became a significant obstacle.
So, unsure of where else to turn, Emmanuel followed the advice of Mr. Dogoe to reach out to a faculty member at the University of Ghana Legon, Dr. Elsie Effah Kaufmann. Emmanuel had actually known her from a high school quiz competition he'd participated in (and surprisingly, she remembered him!)
Dr. Kaufmann agreed to help Emmanuel find other cooperative instructors at the University. Through her, he also met Professor Patrick Kobina, and both faculty agreed to support his program. The newly–and somewhat suddenly–formed team planned to host 20 students over the summer, with 4 graduate student supervisors each taking on 5 high school seniors. The age was moved up slightly higher than Emmanuel originally intended, to bypass liability issues for the pilot program.
On his return to MIT, Emmanuel worked to construct a curriculum centered on research methods and find speakers for the program, something he's still working on now. Another roadblock appeared in an issue with his U.S. visa, preventing Emmanuel from traveling out of the country this summer. He worried that after all this work, he wouldn't be able to go back to Ghana for the summer to facilitate the program. Again seeking advice from the broader African community at MIT, Emmanuel was speaking with Brook E. '18 of Ethiopia, who suggested sending another MIT student in his place via MISTI. And, to Emmanuel's surprise, not one but three other MIT students expressed interest, though the MISTI office could only send one student. Part of his current work now is arranging travel and facilitating his program remotely, via a classmate–a beautiful example of MIT students supporting each other.
Emmanuel still wants to be involved in the summer program even though he can't physically be there. "I'll be Skyping in," he assured me. Going forward, there's still a lot to sort out, and this project is a work in progress–he wants to find ways to take on younger students, like the Greenhouse that inspired him, and build up the volume of participants. However, he's still excited about the potential the program brings, and ready to face the challenges of this first iteration.
After the long, crazy process of starting this research initiative (tentatively named the Ghana Youth Research Program) Emmanuel was most moved by how many Ghanaians were quick to help him and work with him toward these goals.
"It was nice meeting people from home who were so excited, and want to help in any way they can."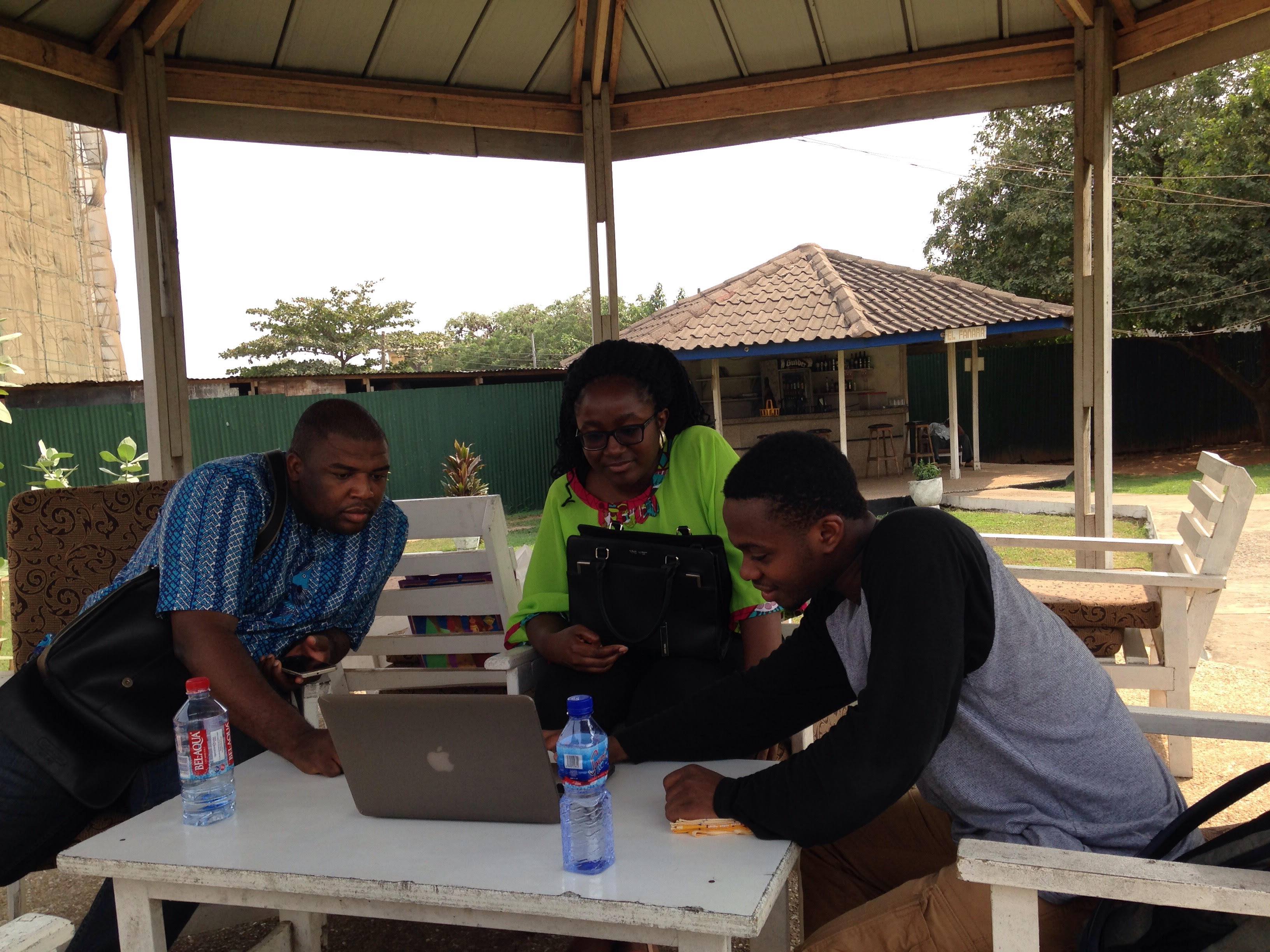 A brainstorming session with Mr. Dogoe and Jessica Q. '20, another student that became involved in the project.