It's raining in Boston today, but MIT students are smiling anyway, because today is the grand opening of Anna's Taqueria on campus!
Anna's Taqueria is perhaps the best know Boston restaurant of the variety "cheap AND yummy." Anna's serves Mexican food, primarily burritos, tacos and quesadillas. It today opened its fourth restaurant in Boston, in the MIT Student Center. When surveyed, students overwhelming requested that Anna's be lured to campus, and that's exactly what happened.
Last night, before the official opening, Anna's decided to throw open its doors and give out their food for free to MIT's students. I wasn't there, but I'm told that the placed was, predictably, packed.
We in the Admissions Office have been awaiting the opening of the MIT Anna's just as eagerly as the students. Today we decided to go have lunch there.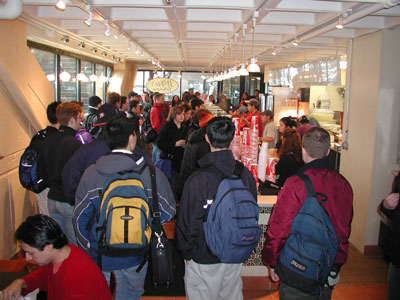 When we arrived, the line was literally out the door.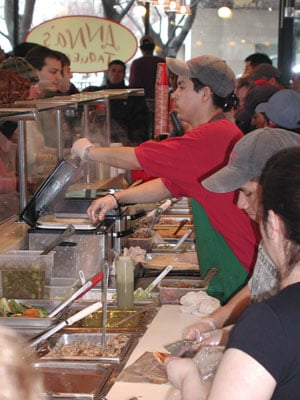 One of the best things about Anna's is that they're speedy; it's faster, and much yummier and healthier, than fast food burger joints.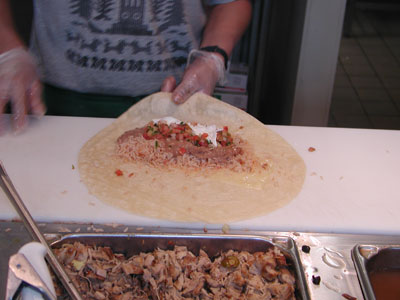 Here they are making my carnitas super burrito. Mmmm. Not pictured: my horchata to drink.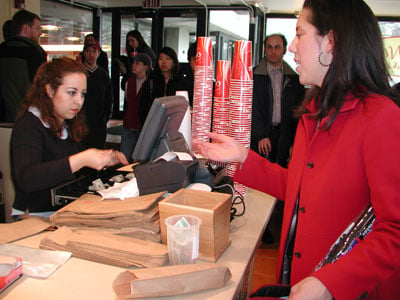 The other thing we love about Anna's is that it's cheap, definitely on a student budget. Here's Lorelle paying for her meal.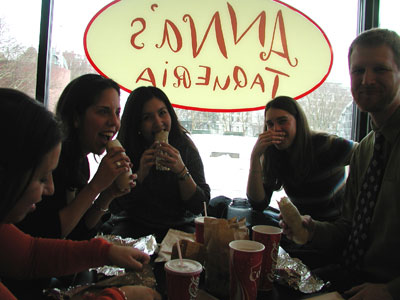 From left to right: Admissions intern Marivel Oropeza, Associate Director of Admissions Lorelle Espinosa, Admissions Counselor Amy Perez, Admissions reader Amrys Williams, and Communications Director Ben Jones. Not pictured: me, holding the camera.
Topic for a future post: other food options at MIT.