It feels good to be back at the 'Tute!!! My family drove me up to Boston on Friday night. We expected to hit a lot of traffic, considering the fact that it was the Friday before Labor Day weekend, but we were pleasantly surprised to find NO traffic at all (not even near Manhattan *gasp*.) Perhaps the ungodly gas prices kept people at home. The only line that we did face was while waiting to fill up our tank at a NY rest stop for a whopping $3.19 per gallon, which was a good deal at the time. It seemed that the lanes with the gas pumps on the right had much shorter lines than those on the left, so a clever minivan driver decided to turn around and back-up into the pump to save some time. Since I thought the driver was potentially a fellow Engineer, I took a snapshot.
Though I love driving, I am definitely happy that I will not have to surrender my wallet at any gas stations for the next few months. Unfortunately, my modes are transportation are even more limited now that my bike is locked up in the bike room that nobody can seem to find the key to!
Anyway, we made it to Boston and were greeted by glorious weather and a rockin' campus. My parents are both architects so they hosted their own show, which they have called Extreme Dorm Makeover. For anyone who hasn't seen the original show, a group of interior decorators and a contractor take over a house and completely transform it in one week, while they send the original owners on vacation. Unfortunately, I wasn't sent to Hawaii or Disney World, but I did witness a dramatic transformation. I loved our room to begin with, since it's a half-solar double that faces the river and has two walls of continuous windows (yay Next House! All the rooms on the 2nd floor have tons of windows.) My friend, Kevin ('08), just visited and he's proposed to be roommates next year to take advantage of free interior decoration services. Good thing I saw straight through him.
One of the views: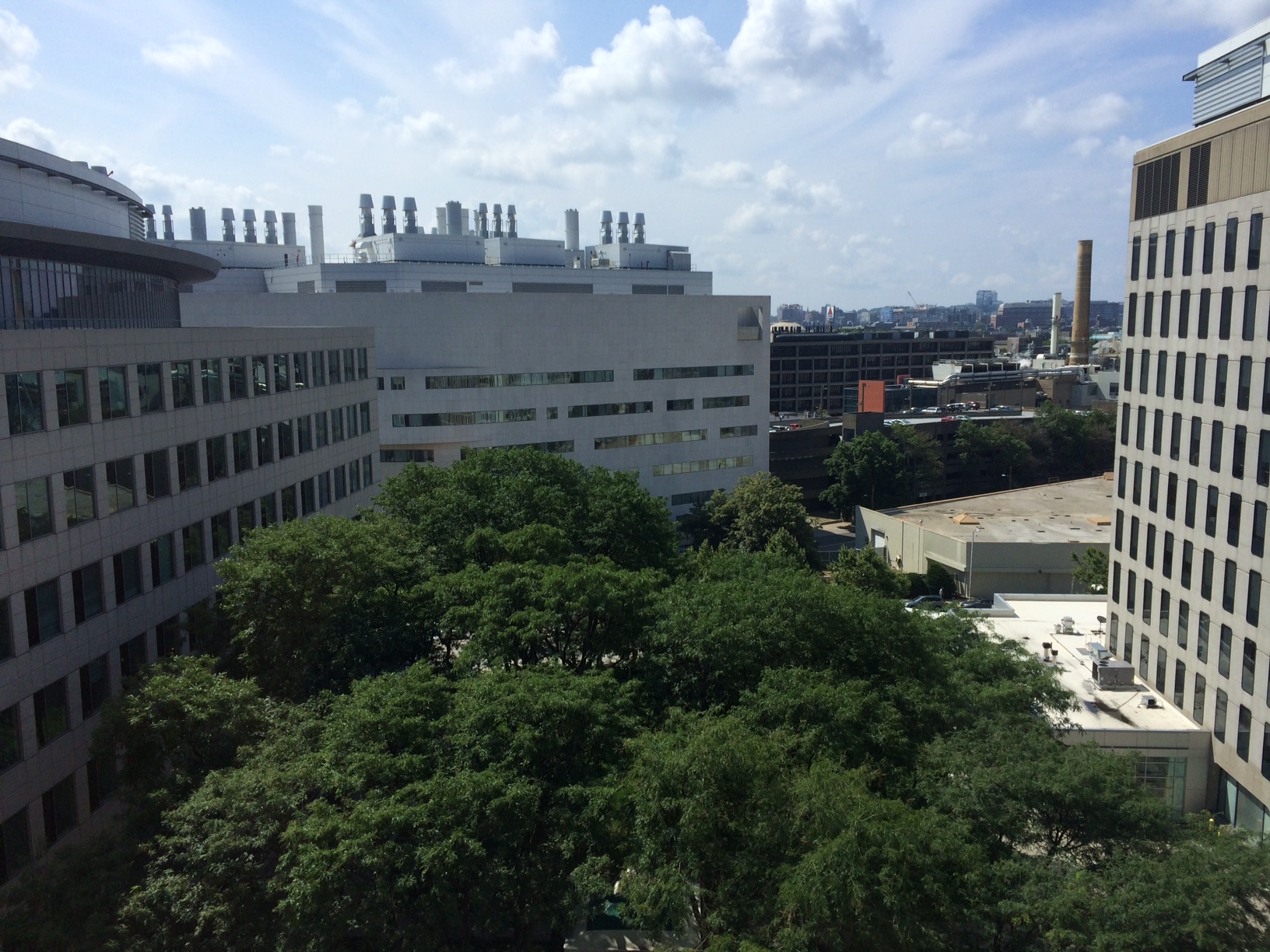 My litter sister and me:

On Saturday night, after a long day of unpacking, my family went to my parents' friend's restaurant in Rhode Island. If you're ever itching for really good Mediterranean food and a nice mini-break, I would highly recommend this place. The restaurant is called Bay Leaves, in Kingston, RI, which is about thirty minutes from Providence. The commuter rail runs to Providence, so it's a fun (and cheap) day trip. I'd highly recommend visiting other cities for a change of pace, especially for freshmen (take advantage of pass/no record and see your friends at other schools.)
In other news, Rush is in full swing! I've been helping Chi Phi, but everyone has been having a blast chilling at luaus, paintballing, going to the beach, canoeing, dancing, and much, much more! It's a great time to check out the different living groups on campus so hopefully everyone is making the most of it.
3 responses to "Back and ready for action!"