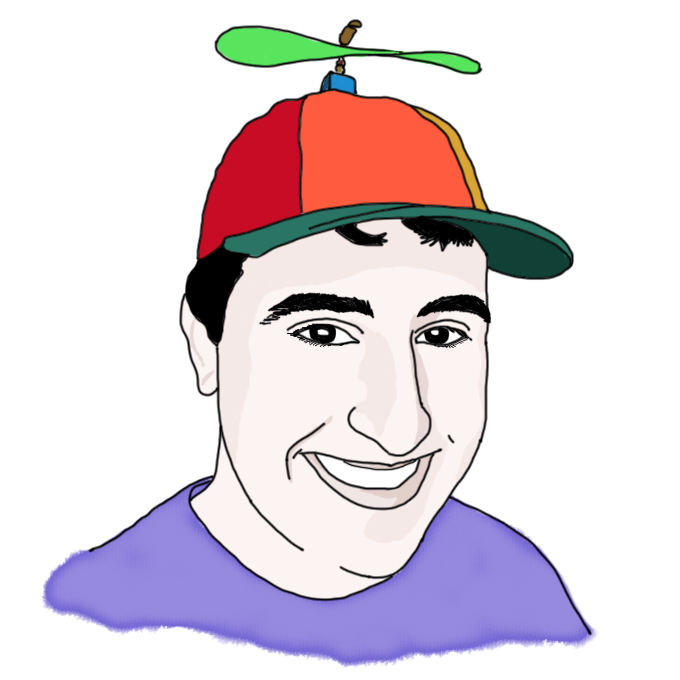 Has anyone really been far even as decided to use even go want to do look more like?
You asked for it[citation needed], and so here it is. After the list of classes I gave in my last post, we're left with the question: what am I doing with my spare time?
Sleeping? No, that's what I should be doing. Different concept. *stares blearily at computer screen, stifles a yawn*
What I'm actually doing is a wild variety of projects and whatnot. This is a new phenomenon for me: I had a bit of an existentialist crisis at the end of sophomore year, when I realized that I hadn't really done anything aside from schoolwork for the prior two semesters, and felt like I had squandered a block of time I could have spent with friends or with activities I enjoy. In spring of 2013, the questions What do you do for fun? and What are some clubs you're involved with? were met with uncomfortable stares and a long, awkward silence on my end. Not that you are somehow required to be involved with clubs and activities while you're here: I just find it personally disconcerting for me to not be involved with much of anything, so I set out to fix that.
At this point, I've probably gone far too far in the opposite direction. Oops.
Danfoolery: A Radio Show
There's a really deep and convoluted story behind the formation of the radio show I do with my friend Dan E. '16. Dan and I went to high school together, and now live in the same dorm. One night in February, sitting in his room, the following conversation occurred:
"Hey, Danny: what if we had a radio show?"
"Dan that's ridiculous why would we do that"
"Why not?"
"…"
And so we did. (Sorry, it wasn't actually a very good story.) WMBR is the campus radio station: it began in the 40s as a quasi-legal radio station in the basement of Senior House, but has since upgraded…to the basement of Walker Memorial. Students and locals alike have radio shows of all varieties, and WMBR has an extensive CD and vinyl collection with which you can fill your time-slot.
Dan and I submitted our show idea as Danfoolery: we're like Car Talk, except it's not about cars, and we don't give advice.
That lucid description and some timeslot shuffling managed to secure us a spot for our first season: Thursday early mornings, 2-3AM. Ouch. Our listener base was small (I've heard that the Suffolk County Jail tunes into WMBR at night, so hopefully we were popular with the inmate crowd) but the slot gave us time to experiment in our first season without too much exposure.
Now, we're onto Season 2. Danfoolery's in v0.0.2alpha [UNSTABLE] and we're in the big leagues: Mondays at 11PM. We're still working out content for the show week-to-week, but I can now tell you more about where to eat in Pine Bluff, AR than I could have before. So there's that.
ESP Splash Class
ESP stands for the Education Studies Program: each year, their largest annual event is Splash, where high schoolers from all over descend on MIT to take a wild variety of classes taught by pretty much anyone. MIT Students teach, college students from elsewhere fly in for the weekend to teach (I'm looking at you, James B. UIUC '16), and a certain local cartoonist has even taught in the past. There have certainly been blog posts about Splash before, but I wanted to mention it here out of excitement for my upcoming class.
I've taught for Splash twice before, both times teaching a subject titled "Kicking Ass Serious Butt on the TI-83+L A Guide to Lists": turns out your graphing calculator can do a heck of a lot more than you might think, even without getting into the whole programming side of the device. I regularly used those tricks through high school to solve equations in parallel, brute force multiple choice solutions, build things like a molar mass calculator. 'Twas fun, but having already taught this two times, I decided on a bigger challenge.
OK, to be fair, I backed myself into a corner and felt the need to follow through. What happened was that I had this idea for a crazy Splash class, and may have mentioned it in half-jest to several ESP admins at a party. I received an email later asking if I actually wanted to go through with it, and here we are.
More on this to come. Sorry to tease, although if you were really curious I suppose you could register for Splash (which you should totally do) and find my class in the listing….
East Campus Historian
I have a particular interest in learning about places where I live. It's how I found myself researching the Commissioners' Plan of 1811 in high school, Sutro Baths this summer, and MIT itself. Last semester, I took STS.050 History of MIT, which gave a decade-by-decade look at the history of the Institvte, and helped explain a lot about how we ended up with MIT being MIT as we know it today.
I also happen to live in East Campus, and combining these two things resulting in my becoming East Campus Historian. It's a difficult job (read: I sit around and peruse The Tech's archives in my spare time) but it's led to a lot of interesting finds. One of my two papers for STS.050 was about East Campus and the beginning of MIT's hacking culture in the 1920s (then just the '93 Dormitory or the New Dormitories), and this Lydia person ended up putting it on the internet. That was neat. (Thanks Lydia! :D)
In other news, 2014 is an important year for East Campus: it's the dorm's ninetieth birthday! Four score and ten years ago this fall was when the first students moved in for the first time. Over that time, we've had our share of adventures, to the point where I'm pretty sure the FBI has a file on our dorm.
Did you know that that last point is a thing you can check? Enter the Freedom of Information Act, which allowed me to send the following to the Federal Bureau of Investigations:

Date: August 19, 2014
FBI
Record/Information Dissemination Section
Attn: FOIPA Request
170 Marcel Drive
Winchester, VA 22602-4843
Dear FOIA Officer,
I hope you are well today. I am writing this email in my role as historian of my undergraduate dormitory East Campus, here at the Massachusetts Institute of Technology. In the interest of learning more about the dormitory for historical purposes, this is a request under the Freedom of Information Act.
Date range of request: January 1, 1923 to August 19, 2014
Description of Request: Records pertaining to East Campus, an undergraduate dormitory at the Massachusetts Institute of Technology. The dorm also goes by the names of "EC", "East Campus Alumni Housing", "Class of 1893 Dormitory", "'93 Dorm", "the new dormitories", "Fred Dorm", and "Fred the Dorm". The houses of the dormitory go by the names "Goodale", "Bemis", "Walcott", "Wood", "Hayden", and "Munroe"; the floors of the dormitory go by assorted names including: "1W", "First West", "Stickman", "2W", "Second West", "Putz", "3W", "Third West", "Floor Pi", "4W", "Fourth West", "41W", "5W", "Fifth West", "Vdub", "1E", "First East", "Dancef***", "2E", "Second East", "Beast", "3E", "Third East", "Tetazoo", "4E", "Fourth East", "Slugfest", "5E", "Fifth East", and "Florey".
Please search the FBI's indices to the Central Records System for the information responsive to this request related to: Any and all references to the dormitory or its houses or floors, and any and all references to activities within or connected to the dormitory or its houses or floors.
I am willing to pay up to $50 for the processing of this request. Please inform me if the estimated fees will exceed this limit before processing my request.
I am seeking information for personal use and not for commercial use.
Thank you for your consideration,
Name: Danny B.D.
Title (optional): President, East Campus Historical Society

A lot of waiting took place, and then finally, finally, I received a reply:

We were unable to identify main file records responsive to the FOIA.
Drat. Oh well. It's still lots of fun to dig up old records.
Admissions Blogs
It's the thing you're reading right now!
CourseRoad
CourseRoad's a thing I built freshman year which has ended up being pretty popular among undergrads. Basically, it gives you a vertical timeline to plan out your classes and a checklist for your major's requirements: you can play with it here, even if you're not a student (although the course and class numbers will seem pretty alien to you). There are some important plans afoot for CourseRoad coming up, because I want it to keep running even after I've graduated. Also, if you're one of the people who's sent me an email about it and I haven't replied to, I'm really sorry about being so delinquent, and I'll try to catch up soon. D:
Facebook
I got to work on a cool thing at Facebook this summer, which had a launch date after my internship ended. This was frustrating, but I was lucky enough to get a position as a contractor at Facebook which allowed me to watch the ramp-up to the launch. And launch it did: I spent my summer working on Facebook Safety Check, which is a disaster relief tool Facebook can activate in the event of a major disaster. If it launches, then those affected and their friends will be notified and people can mark themselves or others as safe to help mitigate fear, uncertainty and doubt in the aftermath of a natural disaster. It was an absolute dream to get to help with this this summer, and I'm so glad it's finally announced (so I can stop excitedly bouncing in my chair while dodging friends' questions about what I did at Facebook). We might be able to help people! With a social network!
---
There are a lot of other side things, but I might as well expand those out into their own posts. Also, when did it become October 27th? It's my parents' anniversary and my sister's birthday today, so I should probably call home. And Halloween's coming up really soon, so I need to finish my costume. And I wanted to work on overhauling or tweaking or building one to three websites. And… and…
Oh right: sleep. Almost forgot.