It was 86 degrees F in Boston on Wednesday!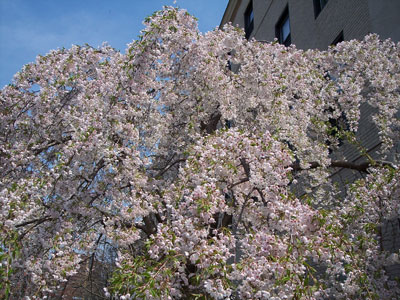 A blooming tree in front of the Senior House dormitory
Now, I'm in New Jersey for the wedding of an MIT roommate. Lots of old friends from across the country are coming in for the festivities. Most of us know each other as we chose to live in Baker House for our 4 undergraduate years.
Baker House has been in the news lately because on Thursday, it revived an old MIT/Baker tradition: the piano drop. According to The Tech, "The piano drop was first enacted in 1972. It was conceived by a Baker resident, Charles Bruno '74, who wanted to bring back the grand old hacks of the past. In honor of him a new unit of volume was created: the 'Bruno.'"
Now the Bruno, like the Smoot, is a uniquely MIT unit of measure. Brush up on some of your MIT jargon…
Bruno - A unit of volume resulting from a piano falling six stories onto Amherst Alley from the roof of Baker House. [How To GAMIT 2004]
Bruno – A unit of volume equal to the size of the dent in asphalt resulting from the free fall of an upright piano. Determined to be 1158 cubic centimeters when the experiement was first performed in 1972. [MIT Club of Boston, 1999]
Thursday's piano drop was the first since I was an MIT sophomore. It had been performed annually between 1972 and 1984, when Amherst Alley ("dorm row") was moved farther from Baker, eliminating the "test site" for recalibrating the Bruno. Nevertheless, the piano drop has occurred a number of times in the past 20 years. But since it has been 7 years since the "experiment," this one made the local news. It is currently New England Cable News' "video of the day." The Tech also had some nice photos.
Thursday was another kind of drop date, that is the final day MIT students can "drop" a class. MIT is fairly flexible about things, as classes can be added to your schedule in the first 5 weeks of the term, and can be dropped from your schedule up to 10 weeks into term. Also, Thursday was also the first day of Spring Weekend, featuring the Fierce Forever drag show, which Alison blogged about here.
And given that today, Friday, is Earth Day, I thought I'd take the opportunity to highlight just a few of MIT's cool environmental programs:
Finally, don't forget that Friday is also the second day of Spring Weekend, with the International Fair in the afternoon and the Spring Concert, featuring Fabolous & Lloyd Banks.
As for me, I'm off to the rehearsal dinner…