Among my defining personality traits are playing 2048 in the year of our lord 2022 — many people have made fun of me for this, but it's like a fidget toy for me at this point — as well as baking banana bread, and being the number one Carly Rae Jepsen fan in most of my social circles.
Like most people, Call Me Maybe was my first exposure to Carly Rae Jepsen. For some reason, the sixth graders⁠01 because for some other reason, my elementary school went up to sixth grade instead of ending at fifth at my elementary school would do a flash mob at the last assembly of every year, so without warning, music would start blaring from the speakers and suddenly there was a dance number happening at one end of the gymnasium.
In fourth grade, Call Me Maybe was the song that the sixth graders decided to do a flash mob to. And then afterwards, I went home, logged onto my dad's PC and looked up the music video. I firmly believe that Carly Rae Jepsen changed the trajectory of the gay rights movement forever with that video.
(And also, whenever I bring up the fact that there'd be flash mobs at my elementary school, people look at me funny. It was kind of weird. In fifth grade, the sixth graders did the Harlem Shake, but there weren't any cool songs that came out in our year, except Happy by Pharrell Williams, which is an inherently annoying song, and also the teachers had already done a video to it so we couldn't do it. I think we ended up doing some boring song, proved by the fact that I can't even remember what it was.)
I feel like Carly Rae Jepsen just had a large impact on everyone's psyche in elementary school. I was talking about her with my friend Rui and she told me how Carly came to her school for some sort of concert, and when she sang Tonight I'm Getting Over You, she told all these little elementary schoolers to punch the air and pretend like they were punching her ex-boyfriend.
Anyway, her album E•MO•TION came out in middle school. I remember coming across it on my shiny new Spotify account and listening to Favourite Colour in my 8th grade geometry class⁠02 my least favorite class in middle school. i feel like you're either an algebra or geometry person, and i was definitely an algebra person. funnily enough, when i was a little kid my mom took me to get iq tested and the guy told me that i had poor spatial reasoning skills, which meant i'd be bad at physics and geometry. i guess he was right, because i am not in fact the biggest fans of those subjects when I'd finished all my worksheets for the day.
Honestly, I thought being a hardcore Carly fan was just one of those things I'd have to defend to others until I met Alex and Ace in 2020 and she dropped Dedication Side B and we spent hours and hours talking about how good the album was.
Recently, by virtue of talking about Carly Rae Jepsen enough around her and making her an intro playlist with some Carly essentials, I've gotten Chris into a few of her songs, namely Want You In My Room, Favourite Colour, and I Really Like You.
And then we went to the Carly concert on Monday.
"I need to look so hot for Carly Rae Jepsen that she'll come down to the stage and give me a kiss on the forehead," I told Chris.
It was at the Roadrunner, which also happened to be where we saw Mitski back in July. The audience was definitely a lot older, though. More of a queer millennial scene compared to the gay Gen Z hordes at Mitski, with every other person in the line wearing Doc Martens (including me).
Also, apparently one of August's friends was also at the Boston concert?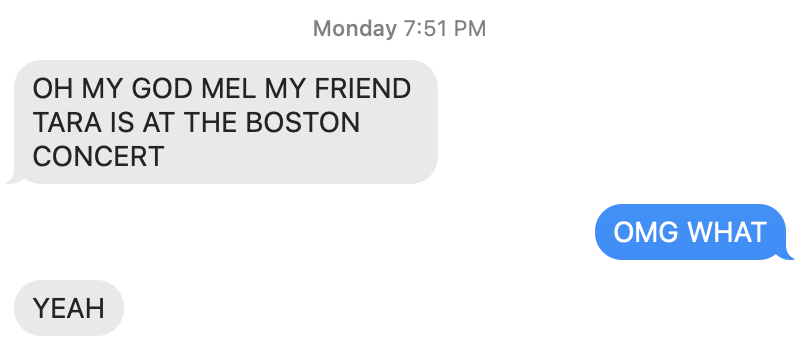 The opener was Empress Of, and I really liked her energy on stage. Except we were on the floor, and this group of really tall guys kept pushing their way to the front, blocking everyone's view. So we ended up moving to the balcony to get a better view, and waited maybe 45 minutes for the show to start.
And holy shit did she make an entrance.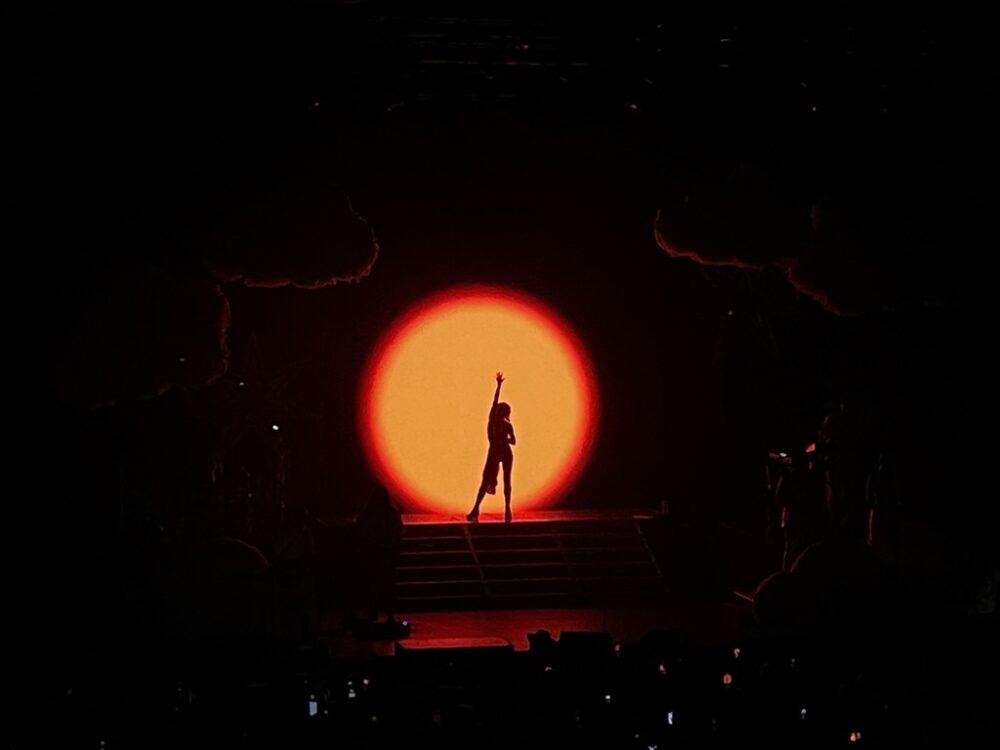 August has seen Carly live before, and what they told me is that along with Japanese Breakfast, she's got one of the brightest voices they've ever heard. She definitely lived up to those words. She's got such a mesmerizing stage presence.
After she sang Julien, which is about how she'll never forget some guy named Julien, she was like, "I don't even know where that boy is now!"
Icon. Queen. I love her.
And then for her last song, Cut To The Feeling, she somehow obtained a Minecraft diamond sword from someone in the audience and she was waving it around as she was singing. Again, an icon.
Overall? One of the best concerts I've ever been to, and my favorite night so far this semester. I'm paying the price for spending Monday night having fun instead of doing psets — I just spent six hours camping at Nu Delta tonight begging Bryson for 6.046⁠03 i really don't know how anyone would survive 6.046 by themselves unless they were super insanely cracked at algorithms, which i am not, so i'm glad i'm taking it with a bunch of friends help, but it was worth every single minute.
Thank you Carly Slay Jepsen for healing my inner middle schooler.
(And here's her setlist from the Boston show!)
because for some other reason, my elementary school went up to sixth grade instead of ending at fifth⁠

back to text

↑
my least favorite class in middle school. i feel like you're either an algebra or geometry person, and i was definitely an algebra person. funnily enough, when i was a little kid my mom took me to get iq tested and the guy told me that i had poor spatial reasoning skills, which meant i'd be bad at physics and geometry. i guess he was right, because i am not in fact the biggest fans of those subjects⁠

back to text

↑
i really don't know how anyone would survive 6.046 by themselves unless they were super insanely cracked at algorithms, which i am not, so i'm glad i'm taking it with a bunch of friends⁠

back to text

↑