Happy Pi Day!
I'm in Washington DC. Seeing as yesterday (Pi Day, 3/14) was also Einstein's birthday, and seeing as I was right next to the Albert Einstein Memorial at the National Academy of Sciences, I set up my camera to take a picture with birthday boy Albert.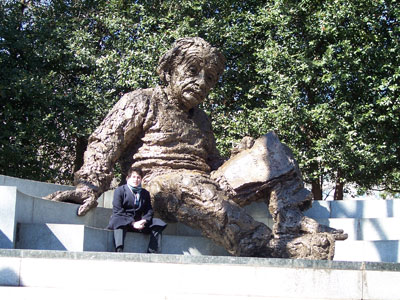 What was I doing at the National Academy of Sciences? I was there for the public exhibition of the finalist projects of the Intel Science Talent Search. I got to see some old friends and make some new ones. And, as always, I was quite impressed with the projects and the finalists themselves.
I enjoy going to places where you show your stuff such as science fairs. In May, I'll be at the Intel International Science & Engineering Fair in Phoenix, AZ. I hope to see some of you there! More details as the date draws nearer.
In the meantime, thanks for all your thoughtful comments on the above decisions posts…