As you've probably heard about already, Bill Gates visited campus today! And thanks to the MIT Admissions Office, I got a ticket to see him :)
He was scheduled to speak at 11:30 a.m., but the doors to Kresge Auditorium opened half an hour earlier. When I wandered into line at about 10:40 a.m., there were about 20 people ahead of me. Ten minutes later, there were hundreds of people behind me. Apparently, I got there at the right time.

(the people in line before me)
Our tickets were efficiently scanned, and we were all ushered into the auditorium. Ranjeetha '13 and I managed to snag some pretty awesome seats, just behind the last row of reserved seating. We did, however, throw a few jealous looks at the Gates scholars, who not only got to meet Bill Gates in a smaller, more personal setting but also got to sit directly in front of the stage! Lucky…
When Bill Gates walked onto stage, there was a flurry of flashing cameras, to which I contributed: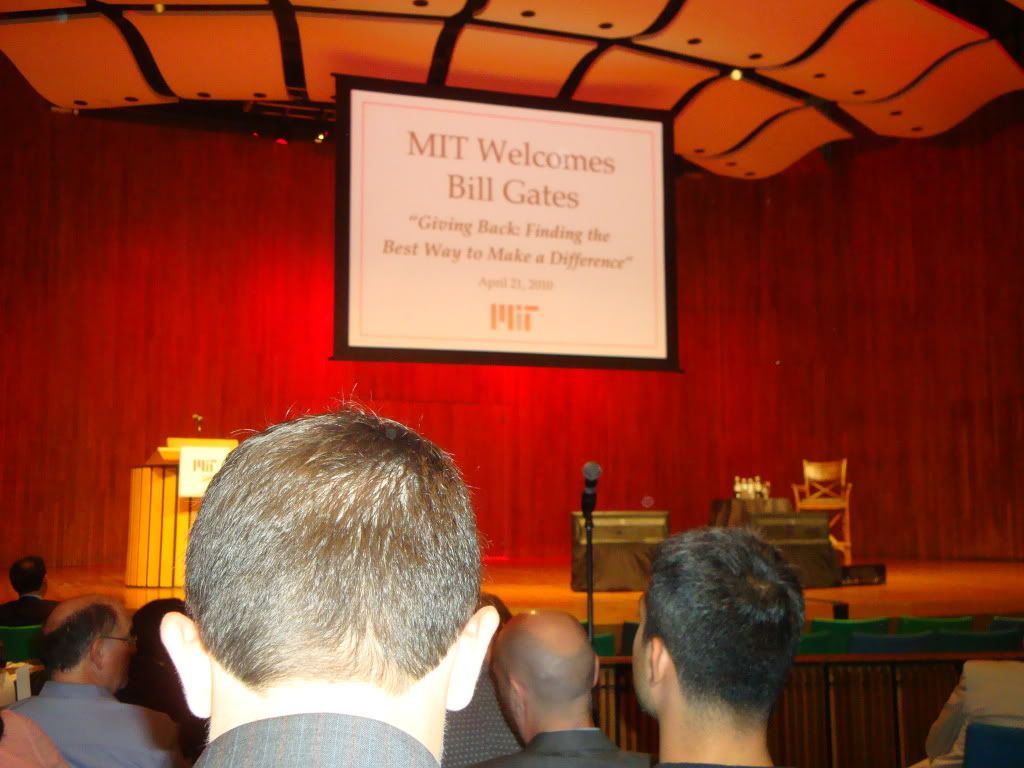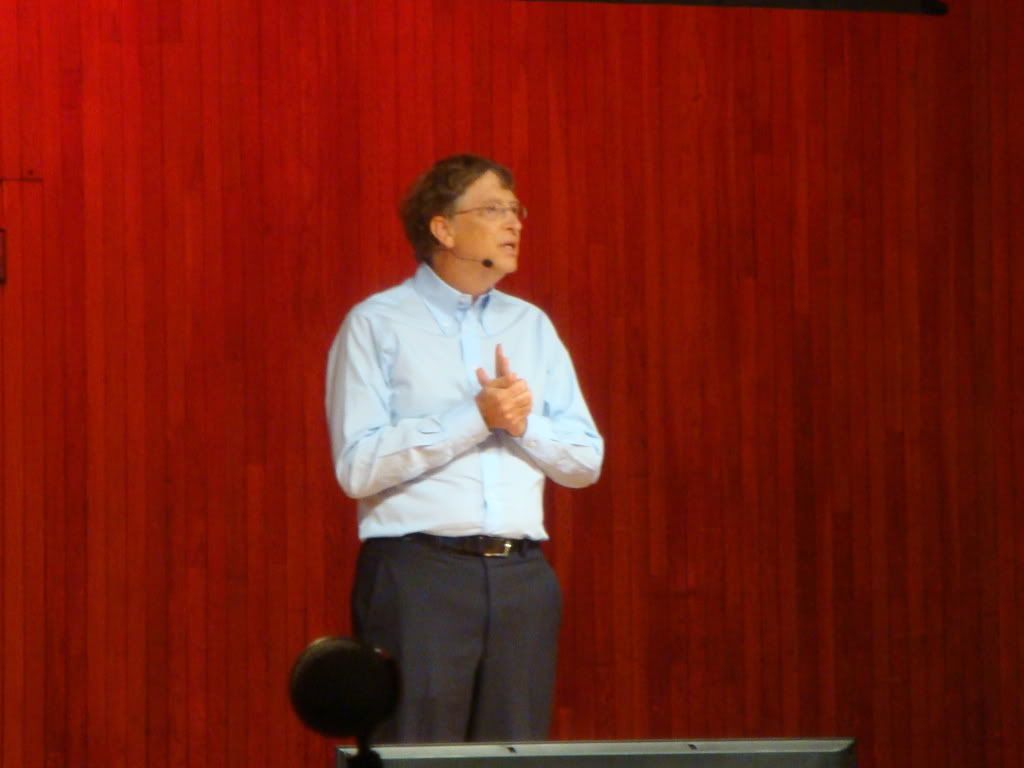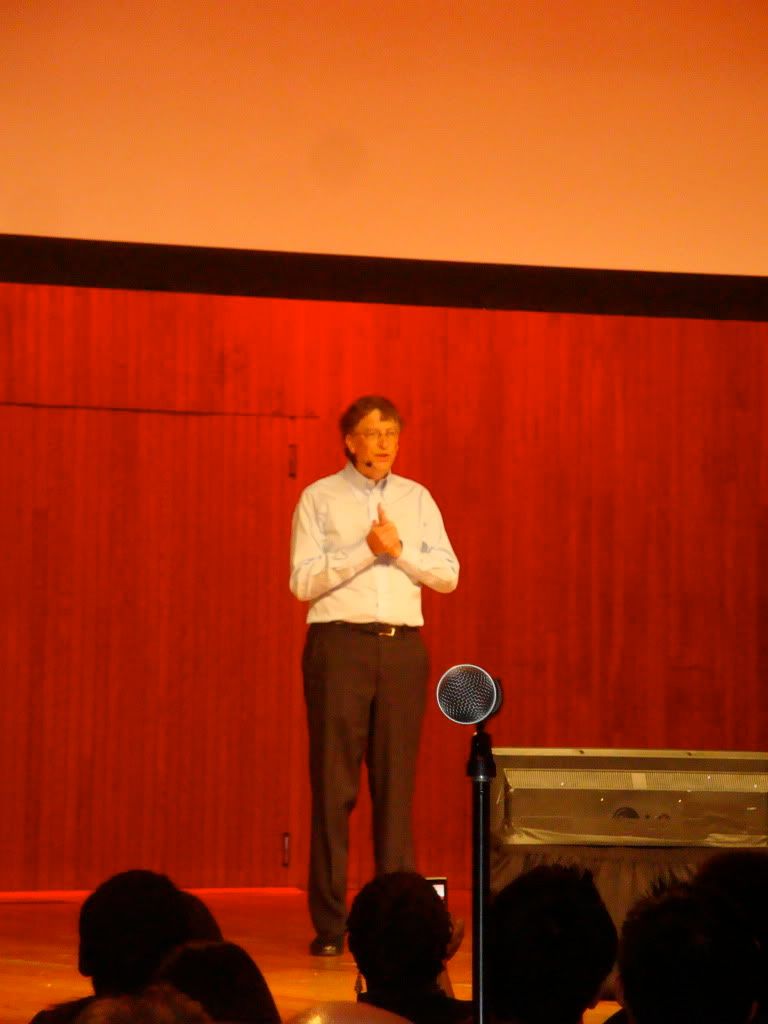 (They're kinda blurry – sorry, guys…)
After a few minutes, the number of flashes died down, and Bill Gates began to speak. His talk was entitled: "Giving Back: Finding the Best Way to Make a Difference," and he focused largely on education, energy, and international development. I actually enjoyed his casual, occasionally stream-of-consciousness, style of speaking and found much of what he said relevant to my life as an MIT student. Changing the world, making other people's lives better – that's why I wanted to come to this school.
The last bit of the program was dedicated to Q&A. Ranjeetha '13 and I had a quick, whispered conversation in the audience:
Ranjeetha: "Hey, what question did your friend want us to ask him again?"
Me: "'What does it feel like to be one of the richest people in the world?' I'm way too scared to ask him that."
Ranjeetha: "I'll ask him!"
Me: "Wait, seriously?"
Ranjeetha: "Yeah!"
Me: "…Go for it!"
Ranjeetha left her seat and got in line to ask her question. When it was her turn, she went up to the microphone, introduced herself, first asked a legitimately academic question, and then –
"So I'm curious…how does being such a rich person affect your life?"
To which Bill Gates responded, in complete seriousness, that after a few million dollars, it didn't quite matter so much and that McDonald's burgers were as good as anything. He did admit that air travel was better, though (private jets tend to be that way :D) Meanwhile, I'm sitting in my seat – simultaneously impressed and shocked by what Ranjeetha just did.
As soon as we left Kresge, I managed to rein in my excitement long enough to get a brief video interview with her:
If you end up reading any articles on Bill Gates's visit to MIT today, she'll be the "freshman" or the "bold student." Just FYI ;)
37 responses to "I Feel Cool"