— EDITED 12/11/04 09:50 AM EST —
The postman picking up all 383 Admit Letters…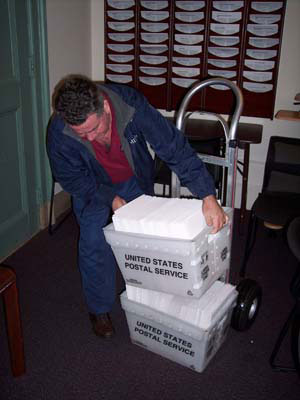 Actually, this photo only shows about half of the admit letters, as overall there were 4 buckets of The Big Envelope.
Speaking of envelope sizes, since I've received a number of questions about this, I can tell you that the Admit Letter is 10″ x 13″, and the defer and deny letters each come in a standard #10 window envelope (4.125″ x 9.5″).
The other FAQ I've been getting is, why so few EA admits?
| | | | |
| --- | --- | --- | --- |
| | 2002 | 2003 | 2004 |
| EA Admits | 525 | 438 | 383 |
Well, there are two factors at work here. First, we are committed to admitting no more than one-third of our class during early action. We feel that the pressures to apply early are too high, and don't want to further contribute to that by leaving only a very small number of spaces for regular action, further pressuring people to apply early. We don't want to penalize those students who apply regular action. Second, our last two classes, because of an increased yield (the percentage of admitted students who decide to enroll), have been quite large, and we're aiming for a smaller class this year. So, given our 1/3 constraint, our increased yield, and decreased class size, there you have it — 383, a nice prime number (though I'm sure you'd prefer a different prime number, maybe something like 2699).
More later (off to dim sum at China Pearl!)…