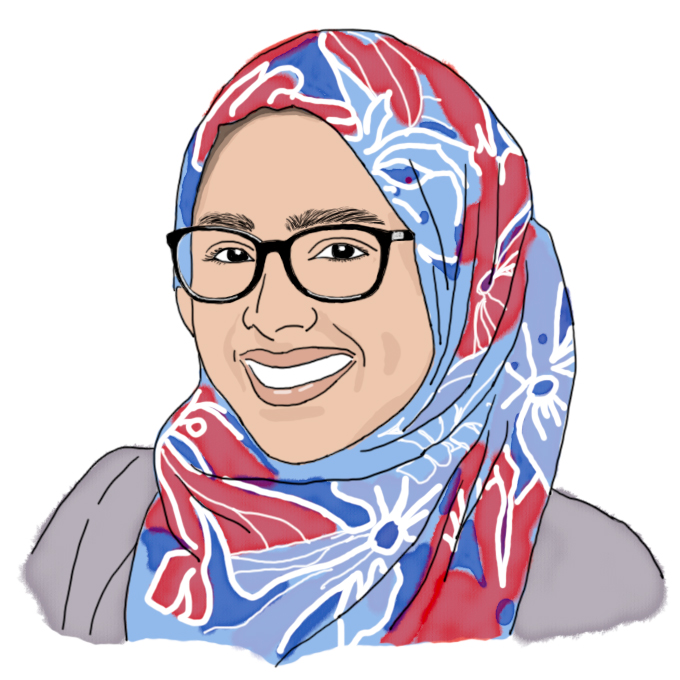 Lady Afeefah travels across campus in search of the best eateries
Disclaimer: This post was supposed to be written a whole 6 months ago. Pictures were taken, trips were made, food was scrutinized. But as happens a bit too often, writing this actual post got pushed further and further down my to-do list. But here it finally is!
---
Hey everybody! I'm Lady Afeefah and we're rolling out looking for MIT's greatest Diners, Dig-Ins and Dives! This trip, we're trekking to all corners of campus, trying the all-you-can-eat dinners that each of the five dining halls have to offer. Which dining hall is the best? Campus might have a general consensus. But tbh there's only one way to know. (Huge shoutout to the many friends who joined me on this adventure. Food is a million times better with good company!)
Monday Dec 10, 2018 : Maseeh Hall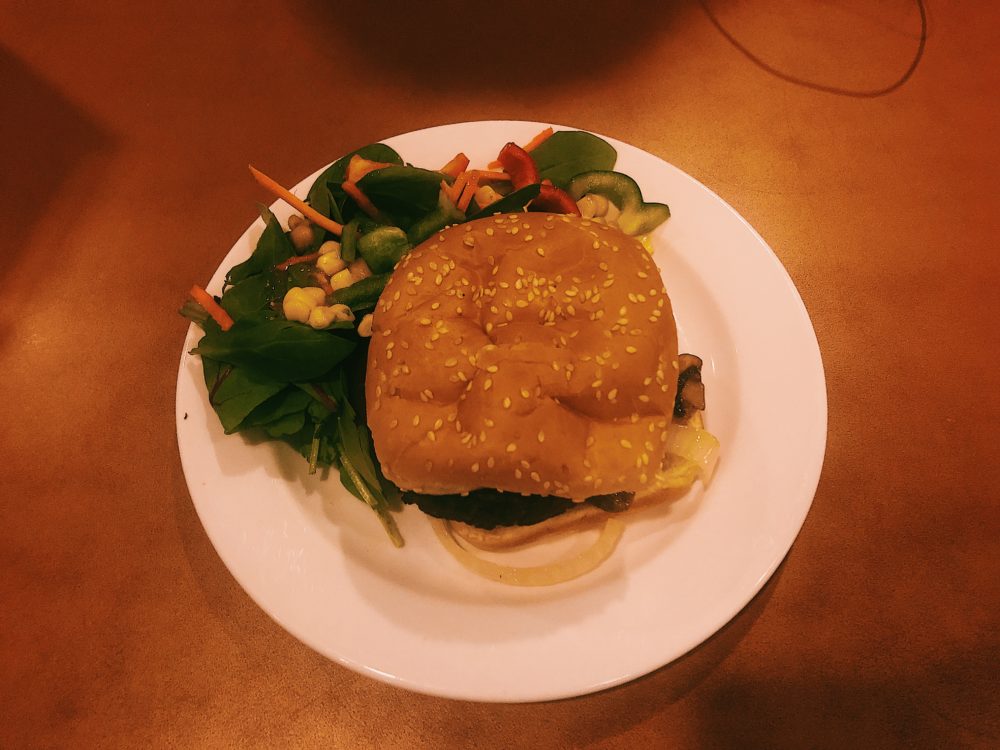 Maseeh's dining hall is by the far the biggest one on campus. With an ample amount of seating and multiple stations, including pizza, a salad bar, the grille, comfort foods, daily specials and kosher foods, the hall is open for business for most hours of the day. Maseeh serves breakfast, lunch, dinner and late night meals. While this all sounds great, one could argue that Maseeh does quantity better than quality.
What I ate: After scoping the many different stations set up in Maseeh, I decided on the safest option there is: a freshly-grilled bean burger with a side of a self-made salad. And while the burger was nice and warm and the salad was refreshing, personally it's always a little disappointing when I come back to the same old burger given the variety of food Maseeh offers. As someone who observes a halal-diet, my options are cut in half and what little vegetarian options do exist just don't seem appetizing or filling.
Overall rank: 5
Tuesday Dec 11, 2018: McCormick Hall
I really really wish I had a photo of this meal. But I guess I was just too excited to start eating that I completely forgot to snap a picture. But just imagine a beautiful, incredibly colorful plate of cashew pilao, topped with a spicy chicken tikka masala. On the side, aloo palak and warm pieces of naan.
McCormick's dining hall is the smallest on campus, but it's the one that I eat at most often. Partially, because it's the closest to me, but mainly because it ALWAYS has a halal-option. McCormick has the reputation of serving comfort food that is as close as you'll get to a home-cooked meal. On a weekly basis, food rotates between Monday-night quesadillas to Tuesday-night Indian food to Thursday-night Sushi. Once a month, it serves specials including African food, Southern Soul Food, Courtyard BBQs and many other student-requested meals. All in all McCormick is comfy, familiar and reliable.
Overall Rank: 2
Wednesday Dec 12, 2018: Baker Hall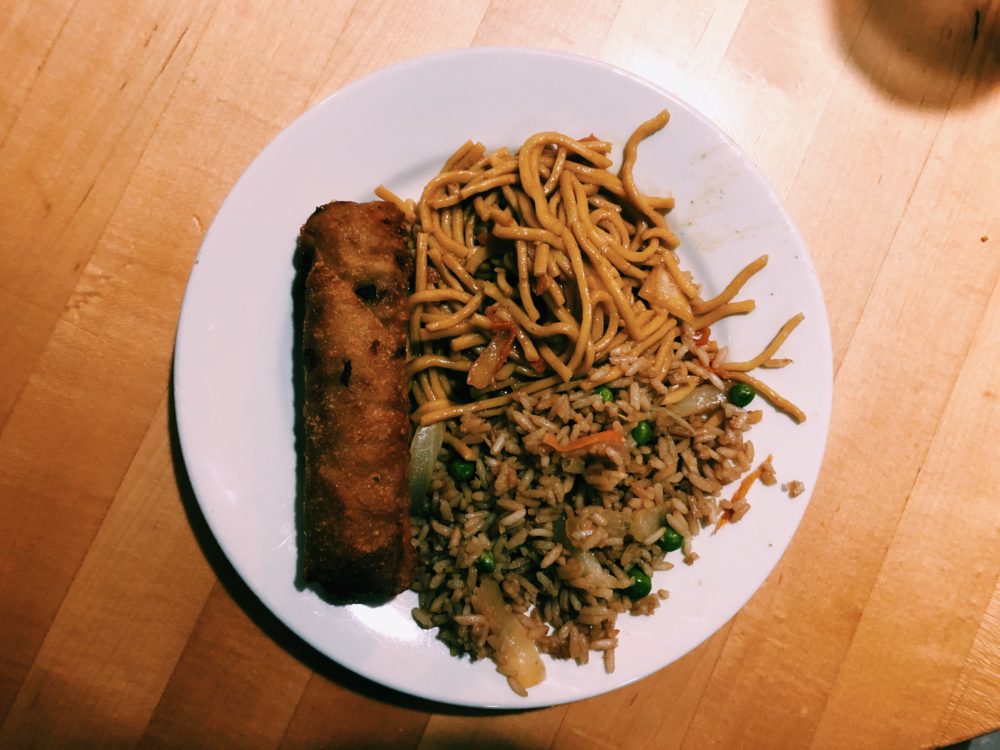 To be completely honest, this was my first time eating at Baker. Even after being on campus for a whole year and a half, I hadn't heard much about Baker's dining hall. Baker is the one dining hall that is open through many of the mid-semester breaks, ensuring that students staying on campus still have access to food.
What I ate: It looked like I had waken in on an asian-inspired dinner menu, complete with vegetable spring rolls, chow-mein and a vegetable fried rice. While Baker also does not offer halal meat, I was fairly content with the vegetarian options. As expected the food was not authentic, but it wasn't bad either.
Overall Rank: 4
Thursday Dec 13, 2018: Next House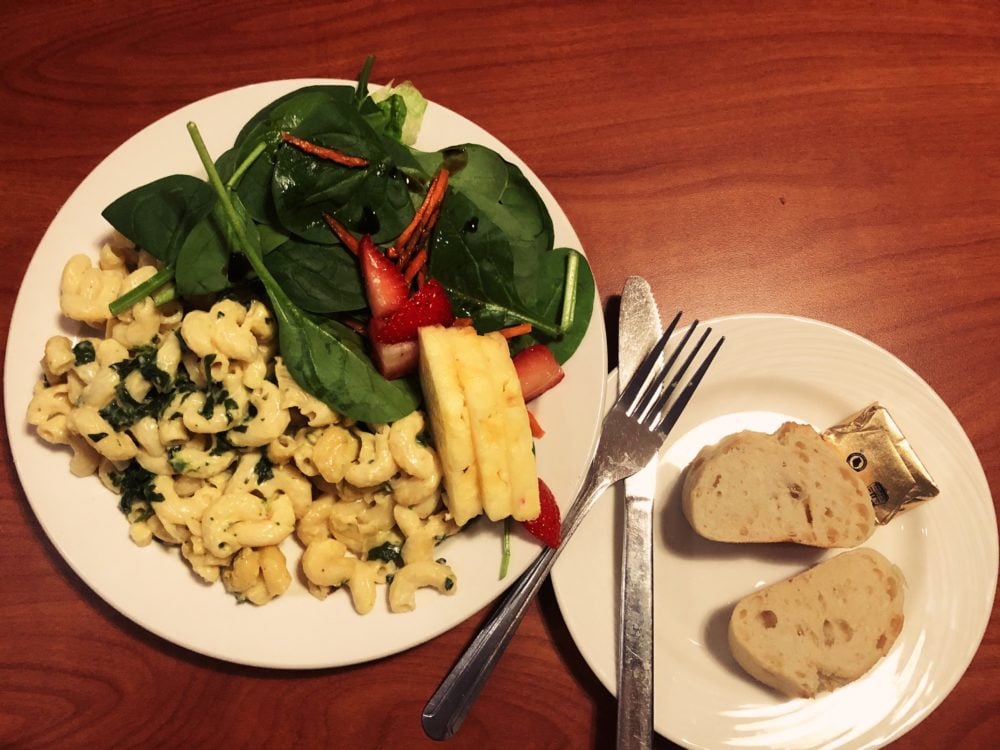 Although eating at Next House involves a 15 min march to the end of dorm row, the food here makes the travel worth it. Although at a smaller scale, Next also includes a grille, salad bar and daily specials. While Next doesn't offer halal meat, it does offer salmon burgers at the grill which makes most pescatarians happy. The dining hall also offers really cozy seating, like really really cozy. Restaurant cozy. *Biaser alert* General consensus is that this is in fact the best dining hall on campus.
What I ate: Artichoke and broccoli mac and cheese with a side of baby spinach salad, butter and toast and beautifully cut strawberries and pineapple. Overall, I really enjoyed my meal. It had just the write amount of tastefulness, comfort, variety and healthy. Complaints? I have none.
Overall rank: 1
Friday Dec 14, 2018: Simmons Hall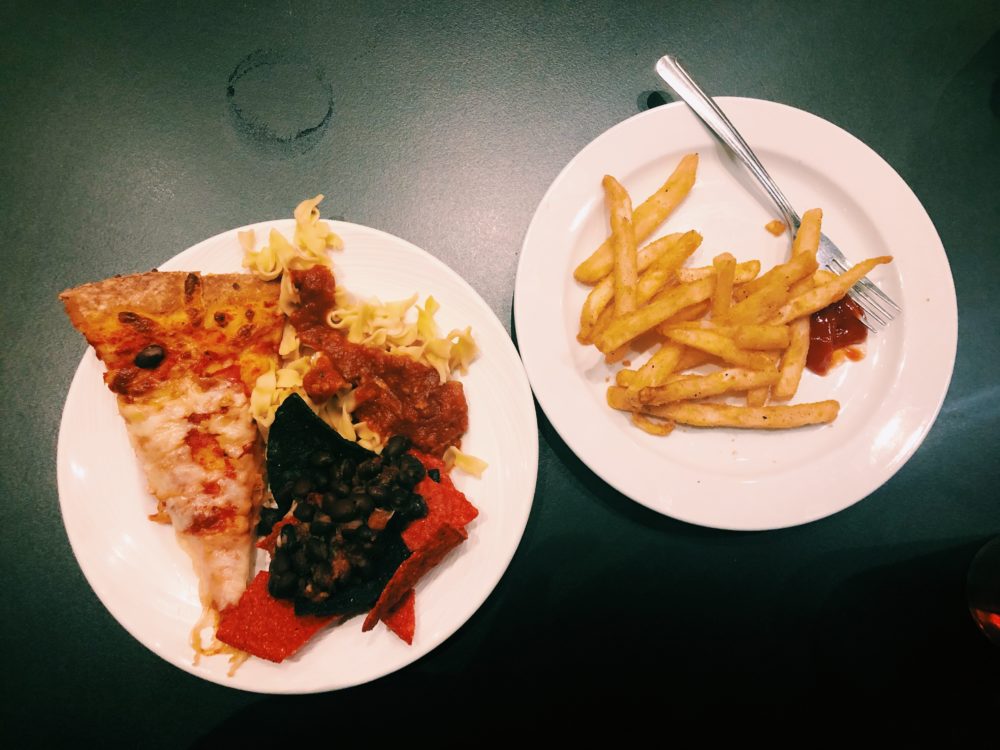 I ALWAYS eat at Simmons on my cheat day. I don't think there's been a single time that I've at Simmons and chose to eat healthy. That's not to say that Simmons doesn't have healthy options, it just that it does the treat-yourself items so well. Simmons also has multiple stations, including a grill that can make a mean portobello burger.
What I ate: Pizza, pasta with marinara sauce, a side of tortilla chips and fries. Eating at Simmons makes me ridiculously happy. As a college student that rarely eats out, I really don't get to eat freshly fried, extra crunchy, warm on the-inside french fries often. While the food here is actually amazing, it's safe to say the distance is a good thing.
Overall Rank: 3
---
And that's all for now folks! Next time, we might just venture off campus to explore nearby grab and-gos and diners. But one things for sure, you can travel as far as you want, the food might get slightly better, but the ambience of eating in a loud dining hall, reliably bumping into people you know, and being a hands distance away from a never-ending stock of chocolate chip cookies, is something that can't be found elsewhere.