This post has been updated as of October 2018 to reflect new requirements for the Maker Portfolio. For current requirements, see here. 
Hello World!
(That's my Arduino talking, sorry. I've been having some fun teaching myself the language Processing, adding to Matlab, Python, VB.NET, and Assembly that I learned since coming to MIT.)
Fun!  See?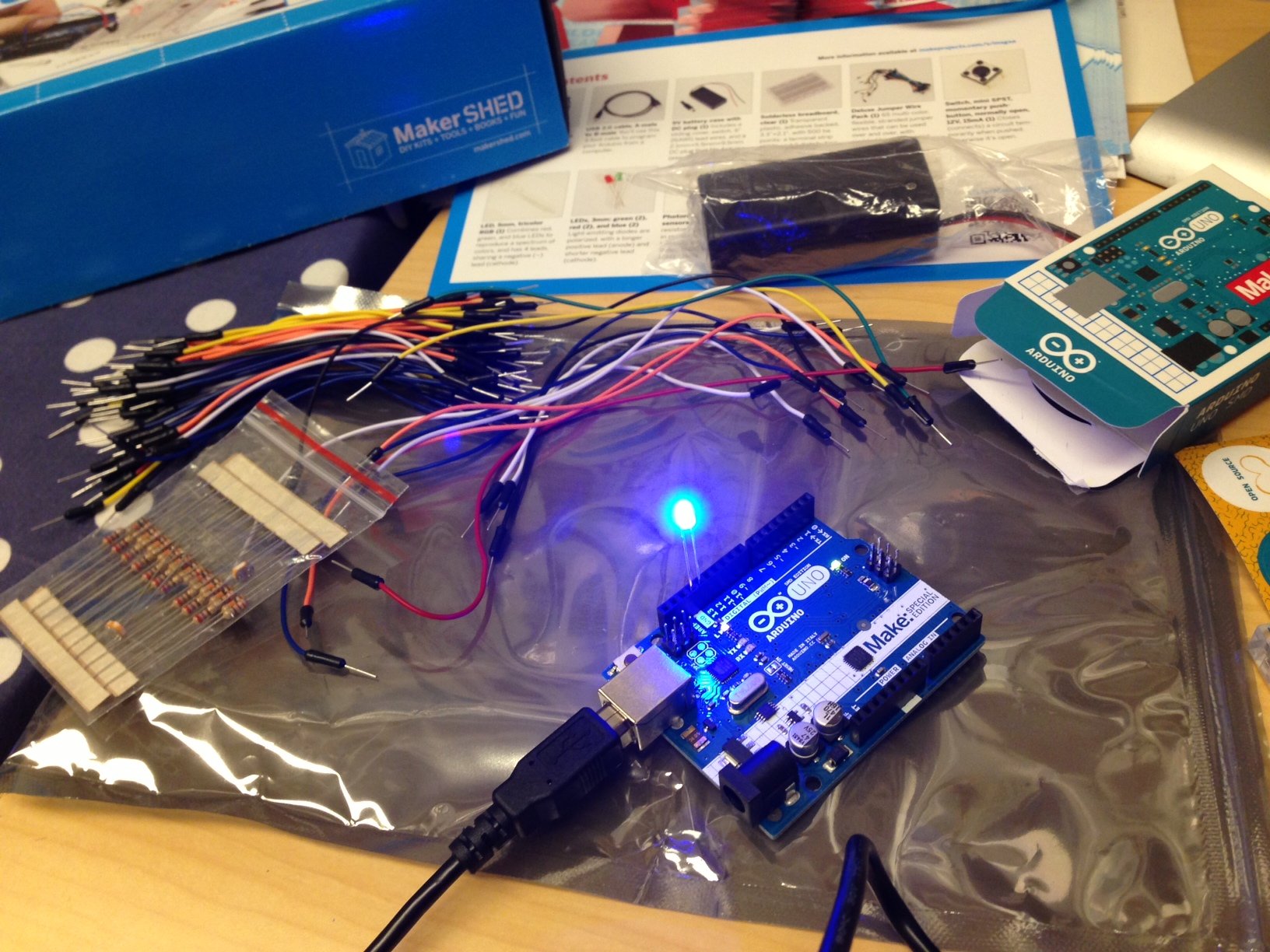 Anyways, while I've been making things in my spare time, we've also been getting a lot of questions about the new Maker Portfolio supplement on the MIT Application this year. I wanted to try to answer some common questions here to make sure that everyone understands what we are looking for.
Q1) There is a Maker Portfolio option? Really?
A1) YES! Check out the information about all of our supplements and portfolios on the MIT Admissions website.
Q2) What is a Maker Portfolio?
A2) We want to see how you learn, create, and problem-solve in an project-based environment. In addition to answering questions about your project, you may upload documents, images, and video to record it. In total, all video elements must be less than 2 minutes in runtime. Many different projects would fit the bill, for example: new origami designs, a chainmail suit, a potato cannon, a knitted fractal, or a computer program/app.
Q3) How do I submit my Maker Portfolio?
A3) Maker Portfolios are submitted via the MIT Admissions Slideroom page. If you have issues accessing Slideroom, please contact the Slideroom help.
Q4) Why can't I send in more information? I have SO MUCH I want to share with you!
A4) I am excited that you are excited! But we are looking for specific information about your project. The experts on the Engineering Advisory Board have a limited amount of time to review the materials that are sent in so please be concise with your answers and thoughtful in chosing which images and videos you share with us.
Q5) How do I send in my source code? How do I send you my website? How do I send you my 200-page portfolio? How do I send you other things?
A5) Think of the Maker Portfolio as an "elevator pitch" about your Maker projects. You have a short amount of time to explain your project, what you did, how you did it, and why you enjoyed it. That is why the questions are very specific.  Similar to the MIT Application, we ask you the questions we want to know. Imagine that you get into an elevator with Mark Zuckerberg. You have a limited amount of time to introduce yourself to him. Probably he will get to know you better if you summarize your project instead of him reading a few lines of your code. Give us enough technical information in the Maker Portfolio questions that we understand what you did, but don't lose sight of the big picture of why you did this project and what you learned. 
Q6) Is a Maker Portfolio required?
A6) No! This is a completely optional part of the application. All of the supplements and portfolios are not required in any way.
Q7) Do you have any new videos of yourself talking about Makers and education?
A7) Why yes, I do. If you want to learn more, you can watch a video of me speaking at the most recent Maker Faire in New York City about Makers in the College Admissions Process.