It's finals week. However, there's a lot going on besides final exams. This blog will be updated over the course of the week the things that are going on! Not everything is all that interesting (in fact, most of it is boring) but it is an accurate representation of my life at the end of the semester.
[Sunday 5/19]
The morning/early afternoon were very rainy, so I stayed inside. Then sun came out so my friend Gabi N. '22 and I took a study break and went for a walk!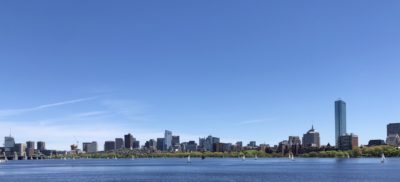 A few dorms (especially the cook-for-yourself ones) purchase their residents breakfast and dinner during Finals Week. So instead of doing my usual Sunday-night-meal-prep, I had some Popeyes chicken and biscuits. It was good.
I realized I have a lot of groceries to finish before Saturday (the day I move out of MacGregor). At this point, that includes some eggs, yogurt, apples, frozen edamame, and frozen dumplings.
I finished grading some problem sets for 6.0002 (Introduction to Computational Thinking and Data Science), a class for which I am a Lab Assistant⁠01

For more information on this, see the third section of this post: https://mitadmissions.org/blogs/entry/teaching-at-mit/

.
[Monday 5/20]
Started this blog post!
I ate lunch at Chipotle in Kendall Square with my friend Moctar F. '22. It was the first time I has been to this particular Chipotle – I normally get meals from on-campus options, my own food, or cafes on Mass Ave.
I finalized my summer storage plans. I got a storage locker just outside Cambridge that I'm sharing with a friend. Protip: storage facilities in Boston/Cambridge get lots of business over the summer (this area is saturated with college students) so you should start your search for storage space as soon as you know you'll need it! The main things I'm going to need to store are my whiteboard, desk chair, winter clothes, and a piano keyboard⁠02

I got this for free at a party one time. As someone who has played piano for many years, it was a super nice addition to my suite lounge. A lot of my friends also had a good time learning or practicing on it.

.
I got ice cream with my suitemates. We walked from MacGregor into Boston to Emack & Bolio's! It started raining just as we got there. I forgot to take pictures of the ice cream because I was excited to eat it, so just imagine a waffle cone with chocolatey-fudgy ice cream in it!
Dinner today was assorted pastas. It was good.
[Tuesday 5/21]
… studying…
There was an end-of-year blogger study break. We hung out, ate food Petey made (it was good), and watched bizzare TV shows from like 2003 (please comment below if you have any memories from this ancient year).
[Wednesday 5/22]
For the past several days, MacGregor has been providing each entry (living group of 30-45 people) with hot breakfast. I took advantage of this today and fueled up for my last day of studying with scrambled eggs and some fruit.
I got lunch at Stata and then ate it outside (!) on North Court for the first time since fall.
I went to a review session⁠03

I apologize for contradicting the 'non-academic shenanigans' part of this post.

for my last final (which I will take tomorrow morning!).
Dinner was pizza and wings. It was good. Please don't read this post and then try to mimic the finals-week-diet (it's pretty unhealthy if you haven't already noticed).
[Thursday 5/23]
As of 12:00PM, freshman year was officially over!
I wrote cards for the TAs and Professor for 9.09 (Cellular and Molecular Neurobiology), one of my favorite classes this semester. Most of my classes first semester were really large since they were GIRs. The smaller size of this class made it feel like a family. I asked my friends to sign the cards too.
After delivering the cards, I went to Flour Bakery + Cafe with my friends from 9.09. I got my favorite dessert there: the triple chocolate mousse cake. MmmmMMmmm.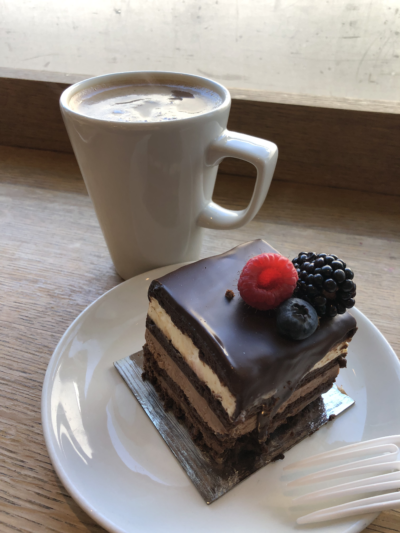 I helped my friend pack. It took five hours and a lot of heavy lifting but I am definitely a clean freak and took great pleasure in watching the space go from cluttered to empty. It also helped me think through the sort of challenges of packing things into three categories – summer storage, summer usage, and the weird in-between of things to take home for a week before I return to campus in June.
[Friday 5/24]
My morning got off to a late start (I was exhausted from the previous night's intense packing) with me eating the weirdest and biggest breakfast I've had in a while. There were eggs, nearly half a tub of Greek yogurt, walnuts, and a few apples. When the smoke cleared, I found I had finished my food! Yay for no food waste!
I met with my UROP supervisor to plan for the next few weeks. I have lots of interesting questions to answer this summer! I'll be working in the lab of one of my 9.09 professors (Troy Littleton), using fly genetics to explore synaptic structure and plasticity.
Packing… packing… packing… did you know vacuum bags are magical? I fit my quilt, sheets, pillow, towels, and five winter coats in one vacuum bag. I only used one this year, but I plan to use many more in the next few years.
I got dinner at Spring Shabu Shabu, a hotpot restaurant just outside Boston. It's my one of my all-time favorite places. The first time I went there was in August, with a group of people from my FPOP. Since then, I've had a lot of special dinners there, from dates to birthday celebrations. I can't recommend it enough.
and that's a wrap on finals week
For more information on this, see the third section of this post: https://mitadmissions.org/blogs/entry/teaching-at-mit/⁠

back to text

↑
I got this for free at a party one time. As someone who has played piano for many years, it was a super nice addition to my suite lounge. A lot of my friends also had a good time learning or practicing on it.⁠

back to text

↑
I apologize for contradicting the 'non-academic shenanigans' part of this post.⁠

back to text

↑