Without fail, if I could only eat one food for the rest of my life, it would be ice cream.
Fortunately, here at MIT, ice cream is only a few blocks away in any direction.
First off, there's Toscanini's about a five minute walk from campus. This is actually where the bloggers went at the end of last semester before it was time for us to take our finals. One of the nice thing about Tosci's is that they have some pretty interesting flavors including Olive Oil and Earl Grey Tea, and from this earlier blog entry, you can probably tell I support diversity in ice cream flavors.
If you walk in the opposite direction up Mass Ave or take Saferide, you can walk down Newbury Street and pass JP Licks, Emack and Bolio's, and Ben & Jerry's. Personally, for ice cream, I'm all about the JP Licks.
Emack and Bolio's is where I go for smoothies, but unfortunately, I never really do the Ben and Jerry's thing. I can buy that at the grocery store.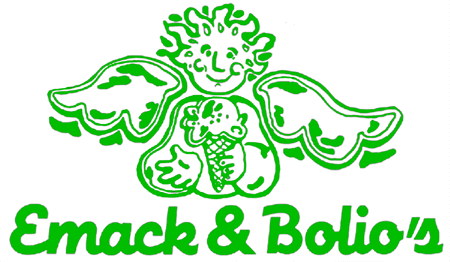 There are a lot of other small eateries with ice cream, but these in my mind are the big ones for Boston and Cambridge.
…And what would a blog entry be without a vocabulary lesson? Here's a few ice cream related terms that you might only find in the northeast, so if someone asks you for a cabinet, you'll know what you're talking about.
Frappe: Made of milk, syrup, and ice cream, it ideally has a consistency that "is something like loose cement," says J.P. Licks owner Vince Petryk. This is the Boston term for a milkshake, from the French "frapper" ("to strike") or "frappe" ("iced").
Float: You need soda [soda = pop = coke], ice cream, and a tall glass to make a float. "Suds and a sidecar" is the old-fashioned term for the popular root beer float. Ice cream sodas, which are similar to floats, contain seltzer, milk, syrup, and a scoop.
Milkshake: Technically, this is the same as a frappe. In Boston, however, still sometimes means milk and syrup. That can cause confusion for tourists, who are expecting something tall, thick, and full of ice cream.
Smoothie: The best of these fruity cold drinks blend frozen fruit, juice, milk or yogurt and sometimes ice cream. They're often offered with an array of nutritional add-ins, such as protein powder, bee pollen, or spirulina. Avoid smoothies made with a high-sugar base, too often overly sweet and artificial-tasting.
Source: Boston Globe, Food Section, Wednesday June 29, 2005
Cabinet: Another word for milkshake or frappe, typically used by people from Rhode Island because milkshakes were made behind a cabinet so the mess could be confined.
Jimmies: Another word for sprinkles.
A USA Today article on Ice Cream
Joke (post your answer as a comment)
Q. How do astronauts eat their ice cream?
Trivia: (post your answer as a comment)
What does the JP in JP Licks stand for?
13 responses to "Get The Scoop"