D-Lab is an interdisciplinary program at MIT committed to working with people around the world to create and disseminate affordable technologies. This January, teams comprising a total of 35 students are working in Cambodia, Zambia, India, Ghana, Honduras, and Brazil.
Janet Li (Urban Planning) '12 is blogging from Cambodia, where the D-Lab team is working together with farmers and credit union members to build composting bins and a low-cost biodigester under the guidance of an expert in the community. The team is also gathering feedback on solar lantern technologies from 18 households without electricity in Kien Svay, developing and teaching creativity-building educational modules at a youth shelter in Phnom Penh, and learning from rehabilitative organizations about local needs and the potential for the Leveraged Freedom Wheelchair (LFC) to be used in Cambodia.
Greetings from Kampong Thom!
It has been a jam-packed couple of days as always. It seems crazy that we will soon be out of Cambodia – Heng just jetted off to Switzerland yesterday, Nabeela is heading back to Massachusetts tomorrow, and the rest of us have less than week left.
We have been traveling for the past few days – we were in Siem Reap for a little over 48 hours and are currently spending the night in Kampong Thom to do some work with our community partner FLIFLY at an affiliated office here. Here's a glimpse of what we've been up to since our last update.
Technology Evaluation: During our time in the Kien Svay province with FLIFLY last week, we completed another two rounds of interviews as part of the D-Lab Technology Evaluation program for solar lanterns. Working in teams, we collected back the solar lanterns we had distributed to nine rural households without electricity and redistributed them to another nine, conducting interviews about the families' light usage along the way. Together with FLIFLY, we decided upon a fair, randomized lottery to determine which nine families would be able to keep the technology at the end of our field trials.
Compost bin support: Following our successful composting workshop last week, which we are reproducing in Kampong Thom, several farmers expressed the desire to create compost bins of their own. Our team, including Alice, Carolina, Sara, and Kofi, continued to work on the design of the bin and later discovered the brilliant innovation of the farmers themselves, who utilized local materials to recreate their own highly effective compost bins. It was a great example of how the villagers learned from us, and how we also learned from them.
Meetings with local organizations: We continued to meet with organizations with whom we could potentially form partnerships for long-term work in Cambodia. These included the Center for Children's Happiness (an orphanage and school for children who were previously garbage pickers — the kids were bright and very affectionate), Geres (Groupe Energies Renouvelables, Environnement et Solidarités, which works on large-scale environmental projects including cooking stoves, green charcoal, and forestry), Hagar (a rehabilitation center for victimized women, which also works on prevention education), Advanced Engineering Consultants (a consulting firm that also conducts educational workshops to introduce children to engineering), and Naga Biofuels (a biodiesel manufacturing plant that started as a way to supply energy to the Visitor Center of the Angkor Hospital for Children, which Alice's architecture firm designed).
Dinner with Heng's family: To thank Heng's family for everything they did for us, including helping us get our apartment in Phnom Penh, housing Kofi, and stuffing us full on more than several occasions, we took them out to a hot pot restaurant on Friday night. The food was delicious, and it was lovely to spend more time with them all. We also underwent a photo session to commemorate the night.
Fun with trash: At our third session at at A New Day Cambodia, the team of Cabrina, Carolina, Jessica, and Janet, along with students from ITC (Institute of Technology of Cambodia) and Harpswell, taught the kids about Reduce, Reuse, Recycle. We then asked them to build boats out of materials that other people had thrown away, with the purpose of transporting as many oranges as possible across a tub of water. As always, we were blown away by the children's creativity and cleverness.
Angkor Wat: Yesterday, as a break from our work, we took a whirlwind tour through the breathtakingly beautiful and sacred temples of Angkor Wat. We arrived before 6am to drink iced coffee and see the sunrise, and spent the next 12 hours exploring the world's largest religious complex. Built in the 12th century as the heart of the capital city, some temples were more in ruins than others; some had the roots of enormous trees wrapped around their walls; most still had their Buddhist and Hindu stone carvings preserved. It was an architectural wonder, and we all took photos until there was no space left on our cameras and smartphones. When we succeeded in avoiding the large crowds of tourists, visiting the temples was truly a spiritual experience.
The week ahead (our last one!) is short, but we still have much to accomplish before we leave Cambodia.
Janet Li (Urban Studies and Planning '12), Sara Comis (Mechanical Engineering '13), Nabeela Arshi (Wellesley College Economics '12), Cabrina Kang (Wellesley/MIT English & Education '13), Carolina Kaelin (Civil and Enviro '14), Alice Hartley (MBA '12), Meng Heng Touch (Physics '12). Jessica Huang and Kofi Taha are D-Lab trip leaders who in real life are full-time D-Lab staff. Jessica will be co-teaching the D-Lab Biodiversity course this spring and Kofi Taha is Associate Director of D-Lab.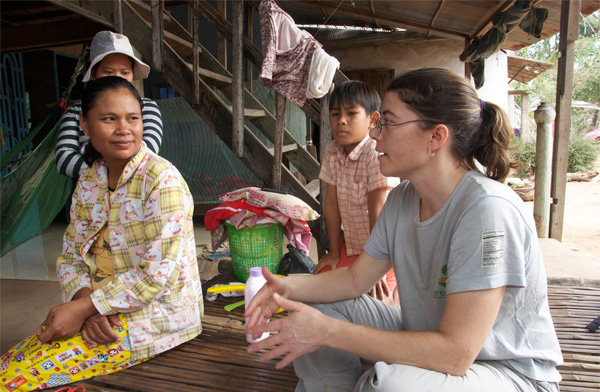 Alice Hartley (MBA) '12 learns about the need for biogas from a family in Kien Svay.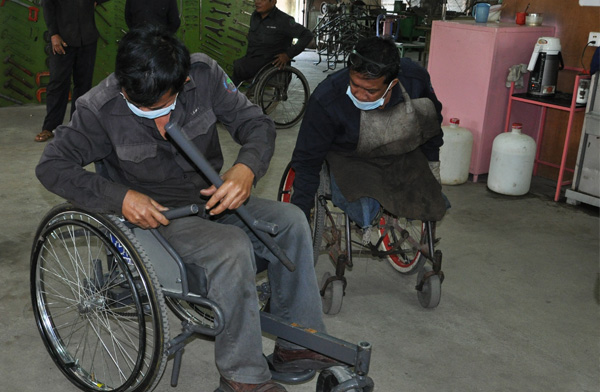 Two technicians from the Veteran's International wheelchair workshop try out the leveraged freedom chair and provide valuable feedback. Photo: Carolina Kaelin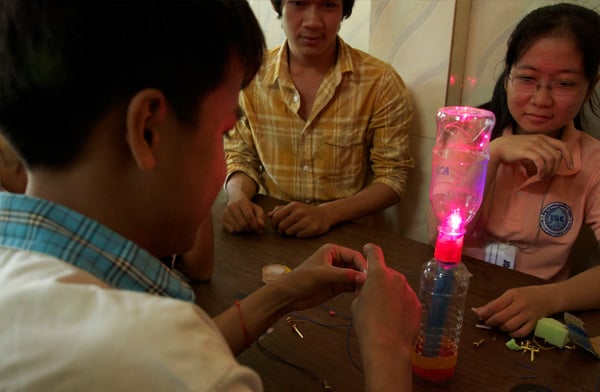 Students at A New Day Cambodia learn about basic circuitry and design their own flashlight using local materials such as old water bottles. Photo: Carolina Kaelin
2 responses to "Greetings from Cambodia: D-Lab students in the field"