Since last summer, we here at MIT [Admissions] Labs have been working on an extremely awesome and extremely top secret project: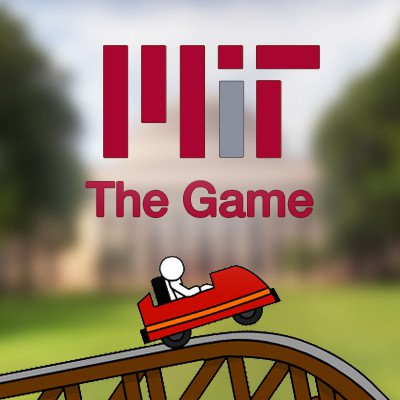 MIT: The Game
is a revolutionary breakthrough in admissions technology. Designed and built by current MIT freshman
Victor Hung '14
, with music by admissions staff, it allows students to experience all the best parts of an MIT education (burritos, roller coasters, and such) from the comfort of their own homes.
The game was conceived almost a year ago, when Admissions held a mini- GameJam during the 2010 IAP. We more or less locked a half-dozen current students in a room with a bunch of pizza and soda for 48 and let them come up with a bunch of ideas for levels and build very simple versions of them.
Since last fall Victor Hung '14 has been collecting slivers of time that drop between the cracks in his schedule and has built out these concepts and ideas into a full Facebook game. With MIT: The Game, you will be able to participate in all the most important aspects of an MIT education, including:
Building all the burritos you can eat at the campus taqueria
Navigating the flood of fellow students down the Infinite Corridor
Riding the East Campus Roller Coaster
Finding your way through the labyrinthine tunnels
Getting your (virtual) MIT diploma
We began closed beta testing of the game to our Early Action admits last month. Nearly all of them survived! So now we're ready to unleash the zombie virus release it to the world!
To play the game, you may click here.
A few pre-emptive FAQs:
MTG isn't loading for me!
It probably is. The flash file is packed with so much awesomeness that it weighs in at a solid ~7 megabytes. If you're not on MIT's lightspeed internet connection, it may take a few moments, or minutes, to download for the first time. It's worth the wait though. We promise.
MTG wants access to my profile information. Gadzooks! Are you collecting information from my Facebook machine?
No! We have an office policy against Facebook/mySpace/Googlestalking prospective students and applicants. MTG only collects your Facebook ID number, which is a numeric string that allows us to keep track of your scores so that our leaderboard works. We are not collecting anything else. We will not use it for anything other than the leaderboard.
A bug! I found a bug!
Congratulations, e-entomologist! There may still be some lurking out there. Specifically, we have been receiving some reports that for some users, some of the time, the roller coaster duplicates. Why? It is a mystery. But refreshing the page seems to make it go away, and we are working on a fix.If you have another, different bug to report, or if you want to send us e-valentines and/or commendations of some kind, you may email admitfbookgame-dev [at] mit [dot] edu.
I should also probably mention that we've launched a MITAdmissions Facebook Page today as well. It's essentially where I post admissions updates, important blog entries, and entertaining photos of dogs. Again, we're not going to collect any information or anything through here – but if you want to become a Fan of us, then you're more than welcome to do so!
And enjoy the game!
46 responses to "Greetings from MIT Labs!"