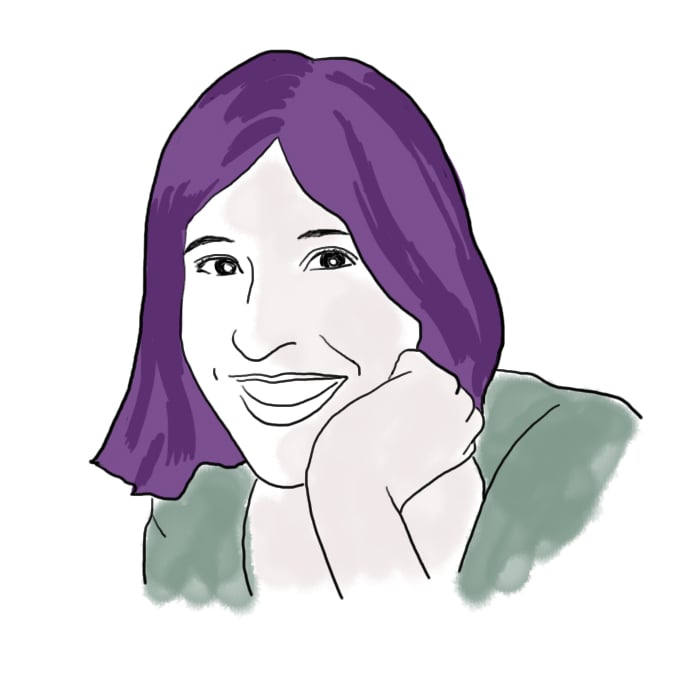 I had two ideas for good blog posts, and both were stolen by other bloggers!
Once I was at a fancy banquet-type event, one of the ones where they have multiple courses. Well, the soup was yummy and the fish was good, and then they brought out dessert. And it was gorgeous. A beautiful, sparkling peach, a couple of berries, a needle-thin stick with a pale green flower attached… it must have been made of something sweet, chocolate or sugar or something, but I never found out. It was too pretty and uncluttered to touch.
That's how I feel about the new MIT admissions website. I can't write a blog post! I can't mar this clean, polished page with my humble observations about the Institvte! And yet I have things I want to blog about, so here I am.
But switching website designs also means switching back ends. I get to learn a whole new process for bringing my words to your web browser, and the best part is pictures are now super-easy to upload. You know what this means? Photos of kitties!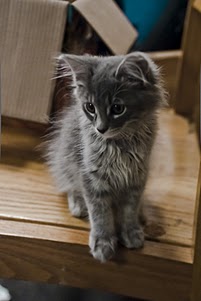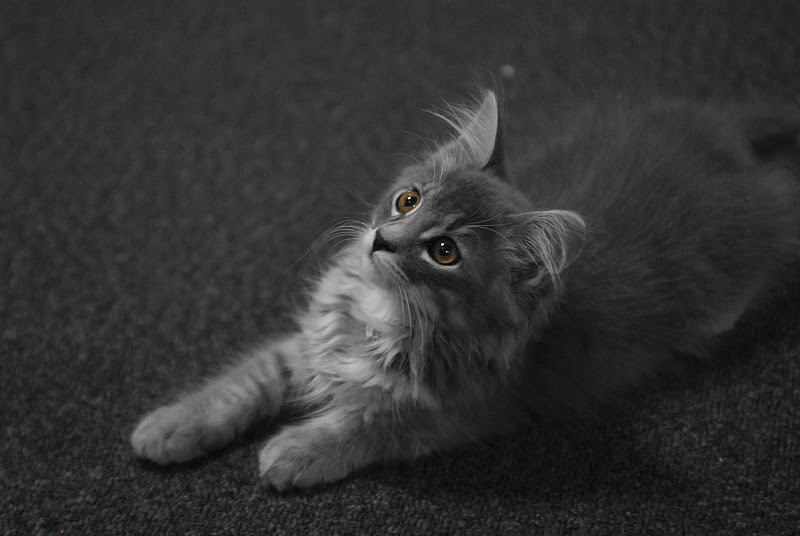 This is Galileo, one of two new kittens on Third East. He and his brother were adopted by Kerry N., '14.  If you think that's cute, just imagine him falling asleep in your arms, his little belly moving up and down as he breathes… (Photos by Greg Steinbrecher)
Needless to say I've been trying to spend every spare second sneaking off to Tetazoo to see the kitties. This hasn't always been possible though: my summer job as Awesome Diva for the Research Science Institute has been keeping me busy in the evenings. Every night this week has been spent in formal wear, hosting guest lecturers or college reps.
Monday's lecture was by Dr. John Cohn, from IBM. As soon as he started speaking, I knew I had to work him into a blog post. Unfortunately, he beat me to it. He got a pretty good picture of me wearing his rainbow-LED-crown, which should give you an idea of what he talked about. Most lecturers come to RSI to talk about their work and their journey through the world of science; Dr. Cohn brought a quarter launcher and a light-up crown he'd built himself. His message was about the importance and excitement of engineering careers; he told us about his life's path, his involvement with Watson, IBM's programmed jeopardy contestant, and his stint on a TV reality show ("Colony") building flamethrowers to fend of fictional post-apocalyptic bad guys.
At one point he asked the group to raise their hands if they saw themselves as an engineer, and pitifully few did. I actually almost raised my hand, thinking he was talking about the MIT mascot. "We are, we are, we are, we are, we are the engineers…" But I'm definitely a mathematician, not an engineer: the last time I tried to build something (an ill-fated arch of cardboard boxes in the ESP office) it came toppling to the ground the minute I touched it.
After his talk, we had our RSI international night, so students from different countries could tell us about their country. If I'd had any doubt about the sheer awesomenees of Dr. Cohn, it was erased when he agreed to stay! However, he'd gotten the message that we needed more engineering in our lives, so while the students got set up to dance, sing, and present their countries, he ran off to get supplies for more demos. He took over an intermission during international night to make a pickle glow, and use piezoelectonics to shoot wet paper towels across the room. "What? Pojectiles in 6-120? Mr. Facilities man, I have no idea what you're talking about!"
By contrast, Wednesday's lecture was different in almost every way. Instead of 1 speaker, we must have had 20, from over 15 different colleges. Instead of 1 program, we had 3: two other summer programs joined us for RSI/MITES/WTP college night. I mention the college night in a blog that is by necessity biased towards MIT, because of what I was thinking during the presentations. I was timing all of the college reps to keep them under 3 minutes, but when I listened to what they said, I just felt more sure that I had made the right choice. It's not that they were bad speakers or they were saying bad things about their colleges. It was really easy for me to see the right person being happy there. But whether they emphasized things that I didn't feel were that important to me, or they highlighted things I'd realized I didn't want in a college, I never got the wistful feeling of "What would it have been like if I'd gone there instead."
I guess what I'm trying to say is, if I had to go back and do it all over again, I wouldn't do anything differently. IHTFP.
Then again, the MIT rep's three-minute talk was the best by far, anyways. Matt McGann, of blogger-and-general-awesomeness fame, got up and in 3 minutes basically conveyed the contents of this blog post. Of course, there I am, thinking "That's so cool! I should totally blog about it!" and completely forgetting that of course he would have beaten me to the punch.
When we broke out into information tables, every other college brought info sheets and postcards. Apparently, even though the event was held at MIT, nobody could find any similar swag for the MIT table. Matt had a printout of a paper written at MIT, about developing an Invisibility Cloak, so we put that on the table. I can't tell you how many people came up as I was standing there and tried to take the first page, thinking it was a stack of information sheets, and I had to chase them down and get it back so other people could read it. For the rest of the night I talked myself hoarse answering questions about student life and academics, at least for the MITES and WTP kids who hadn't been putting up with me for 4 weeks already!
2 responses to "Guest Lectures"