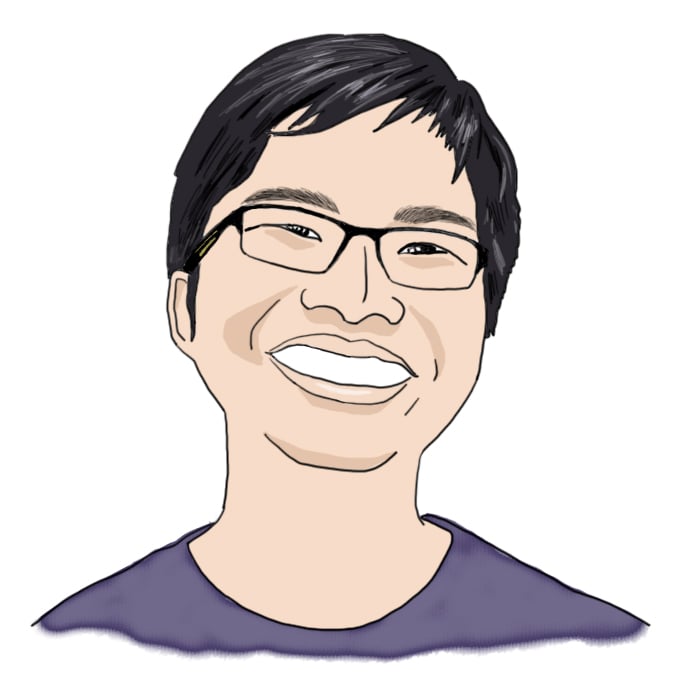 [Guest Post] On Food and Cooking at MIT, per se

by CJ Q. '23
a selection of fantastic dishes, part 2
Bonjour. It's me, Jacky, again. More than a year ago, I wrote a somewhat arrogant and definitely premature blog post⁠01 <a href="https://mitadmissions.org/blogs/entry/guest-post-on-food-and-cooking-at-mit-semester-1/">Link to previous blog post</a>. on my freshman fall cooking experience. Now, allow me to present the sequel to my assortment of culinary ramblings.
A lot has happened in the past eighteen months. A pandemic closed the MIT dorm kitchens and subjected on campus students to a dining hall experience that I would rather not talk about. Restaurants took a huge hit due to shutdowns, and some people lost their sense of smell due to the virus. Gastronomy seemed to be sacrificed in exchange for a sense of safety. But how can anyone feel truly safe and secure without proper nourishment?⁠02 Spoiler alert: if you follow chef Thomas Keller, you'll know where I learned that term from. Cooking is all about nourishment… more on that later.
Perhaps in response to this degradation of the culinary environment around me, I turned to various prominent figures in the wider culinary world for inspiration. In particular, Thomas Keller and the dishes he invented have fueled my pursuit for the finesse that characterizes his interpretation of French cuisine. The first dish in this post – lobster beets and leeks – is my take on Mr. Keller's signature dish at his world-famous Napa Valley restaurant The French Laundry.
Although still far from French Laundry standards, I am showcasing my culinary creations in my own restaurant,⁠03 No, I am not working, this is just a jo…… <i>screams as ICE storms in and deports me</i> er, food Instagram @thefrenchdormitory, where I can at least pretend that my dorm cooking is comparable to a three-Michelin-starred restaurant. With that said, let us dive into the awesome world of food and cooking!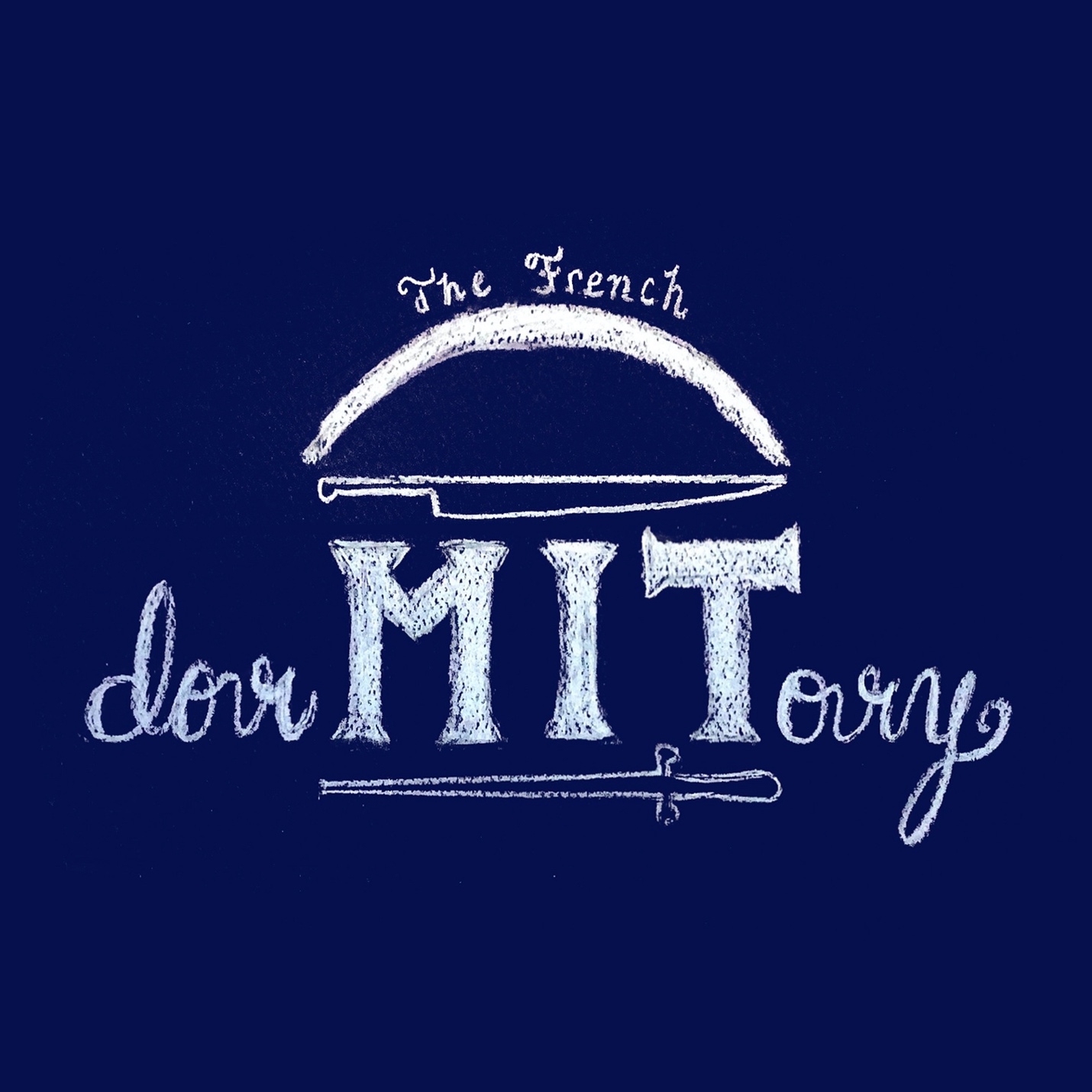 Figure 1. Logo of The French Dormitory, my food Instagram. Courtesy of Sierra Green '24.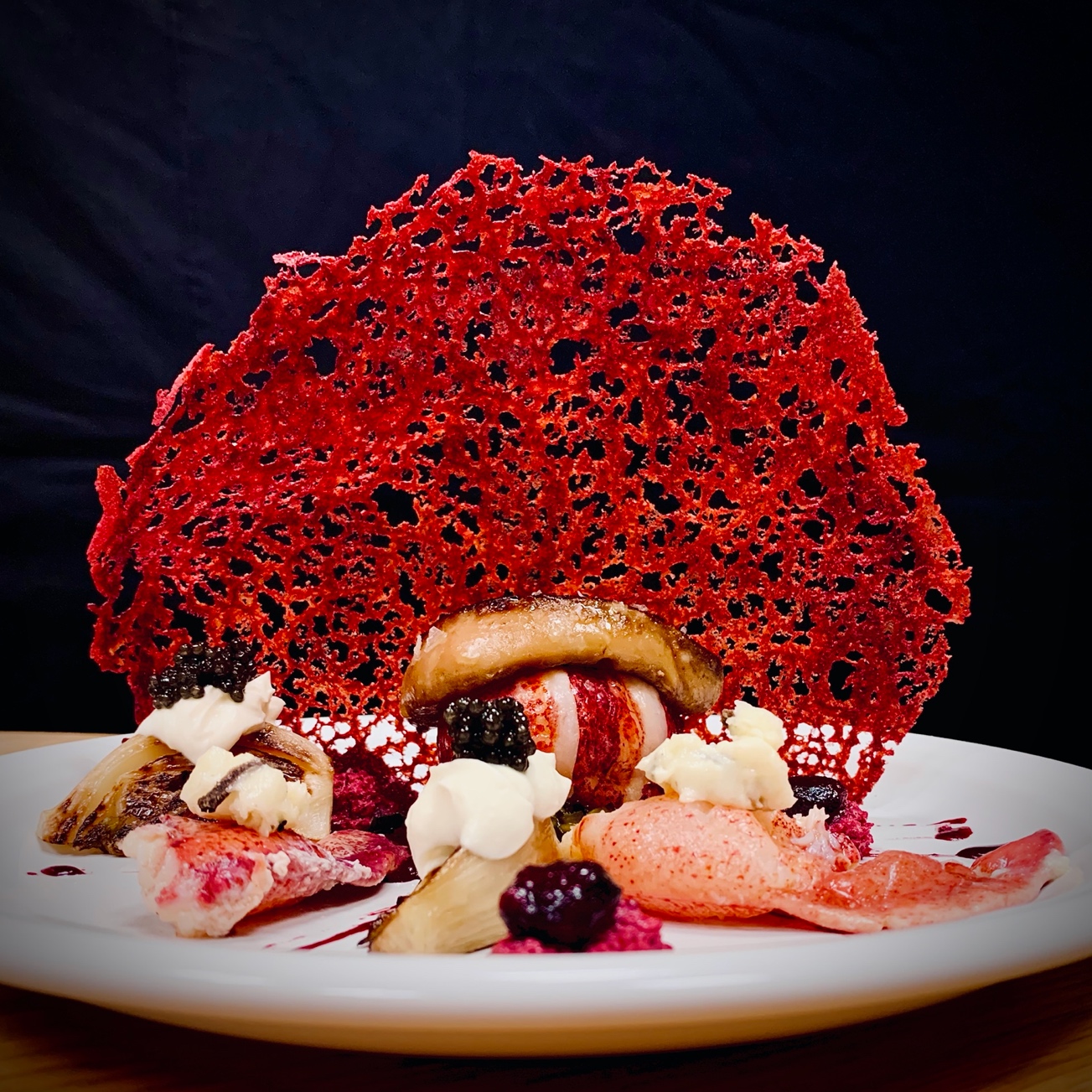 Figure 2. Lobster beets and leeks. My interpretation of American chef Thomas Keller's famous dish is crafted out of a desire to give my loved ones the best of everything, in terms of both technique and ingredients. Featuring: butter poached Maine lobster tail, pan seared foie gras, beetroot tuile, and sauteed leeks; butter poached Maine lobster claws topped with truffle butter; sous vide caramelized fennel topped with crème fraiche and Siberian caviar; beet glaze, beet mayonnaise, and jeweled beets. Phew, that was a lot. This dish is also featured on Issue 3 of MIT's food magazine: Chop Stir Hack. Fun fact: I once said that this was "a simple dish" – that was before I went through 45 steps to assemble the dish – since then I have taken that statement back.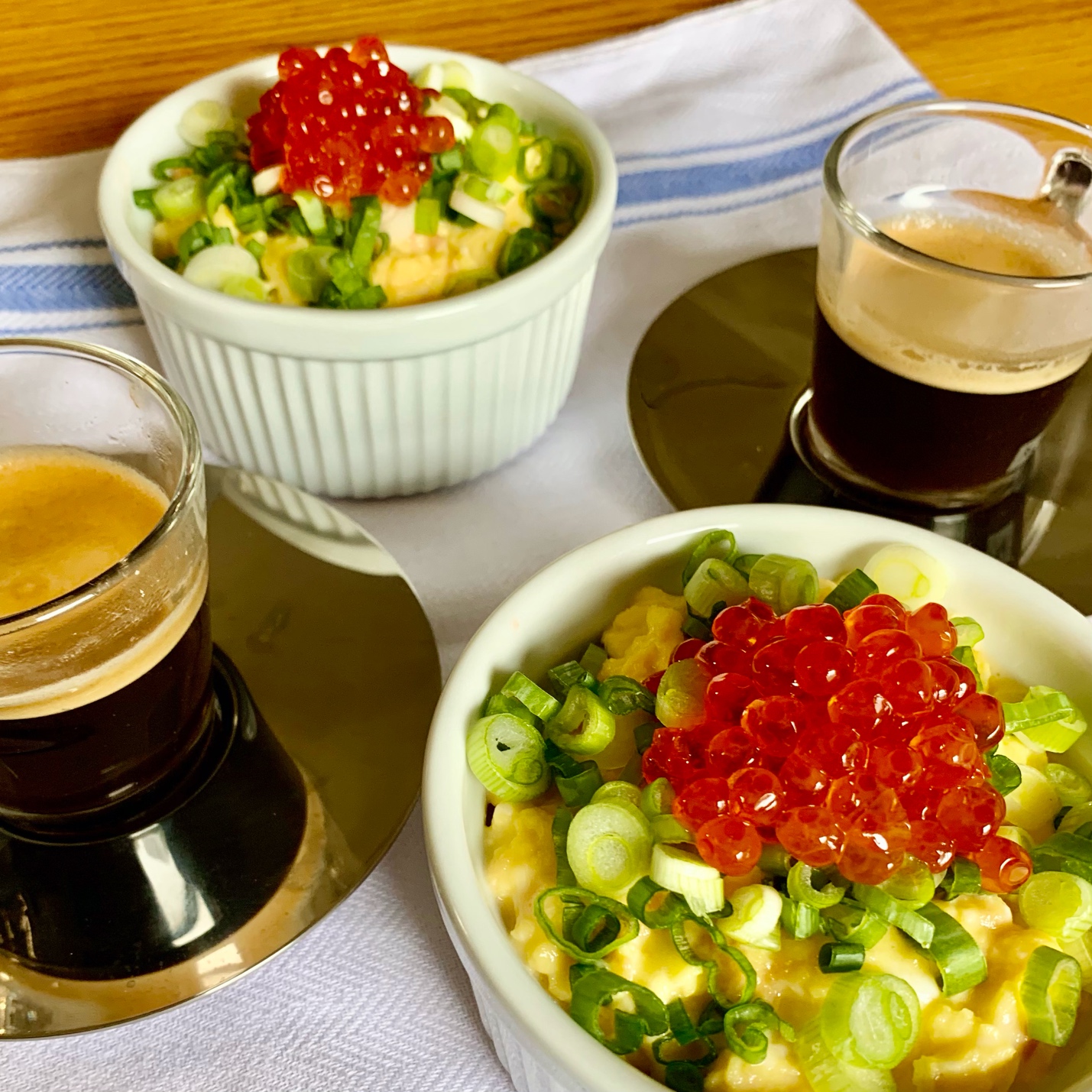 Figure 3. "Oyako" scrambled eggs. Scrambled eggs with salmon and salmon roe. "Oyako-don" is a Japanese rice dish with chicken and eggs. Likewise, salmon pairs well with salmon roe… but who knew it would work so well on scrambled eggs?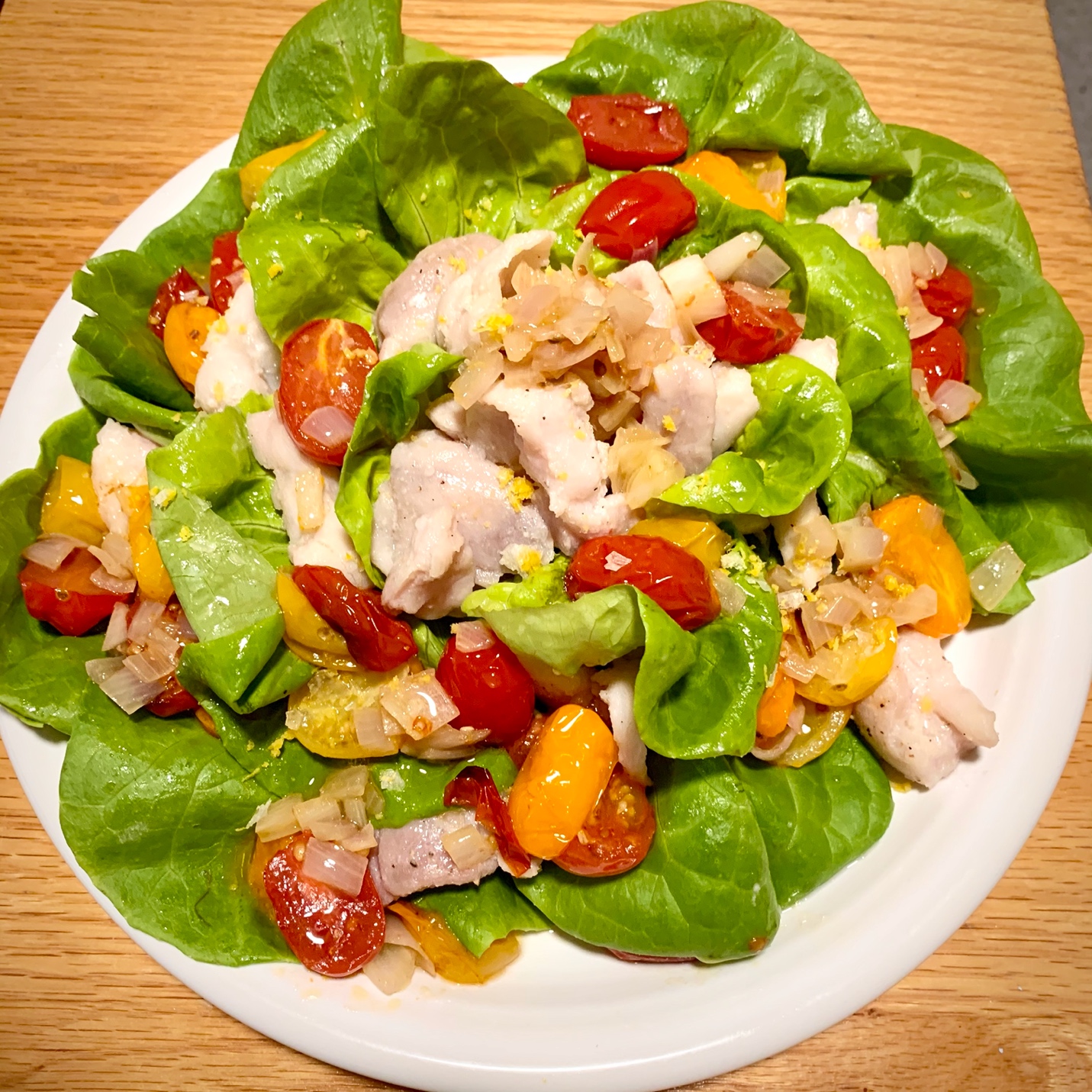 Figure 4. Butter poached alligator, tomato confit, Boston lettuce, and sauteed shallots. Alligator has a texture similar to chicken thigh, but a more mature taste. Butter poaching showcases these luxurious textures nicely, while hydroponically-grown Boston lettuce provides a refreshing backdrop against the heavy ingredients. After two years at MIT, I have become more accustomed with the local produce. Heirloom vegetables are a delight.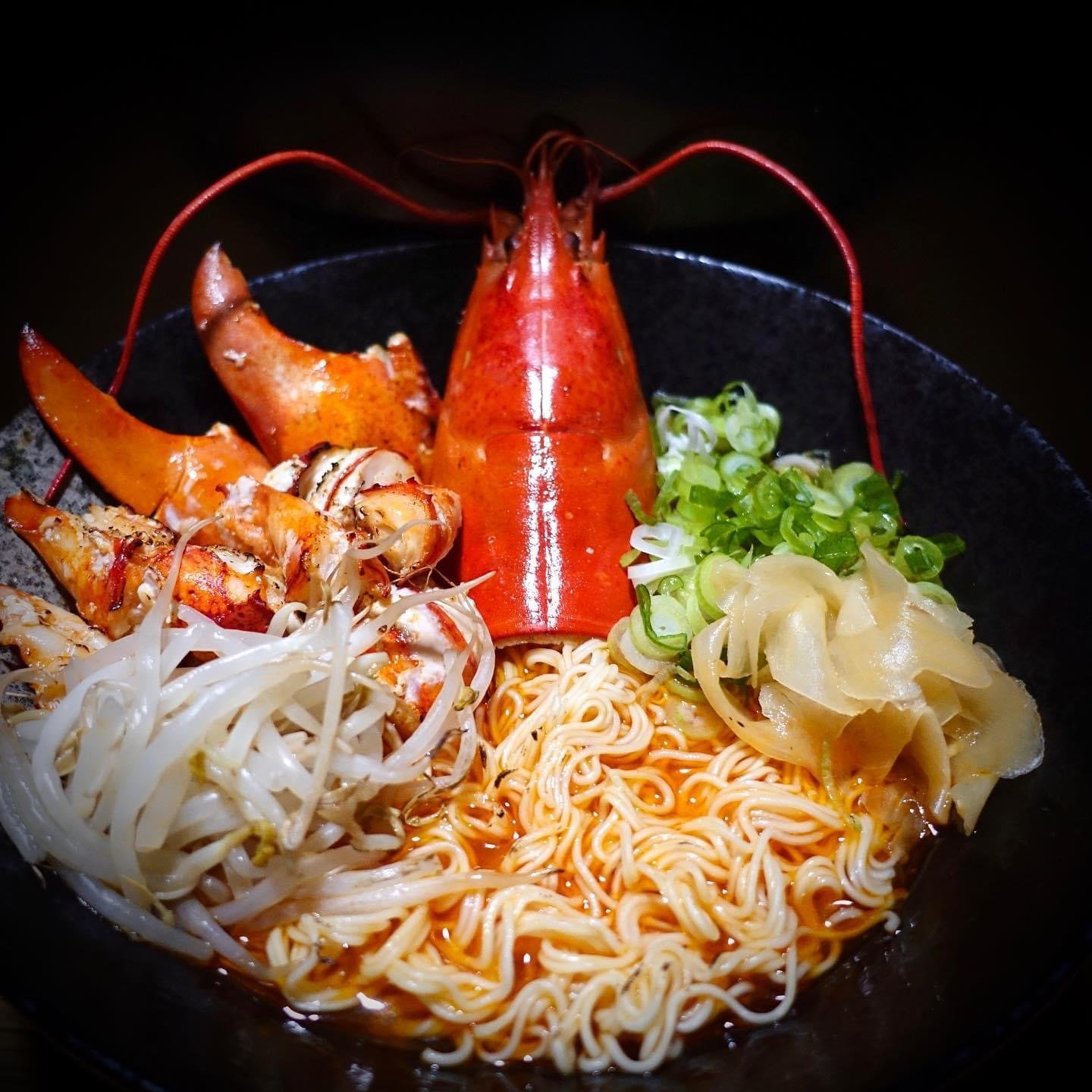 Figure 5. Lobster Ramen. Speaking of local ingredients, one simply cannot ignore the famous Boston Lobster.⁠04 Which mostly comes from Maine nowadays. Making a savory bowl of lobster ramen has been my dream since freshman fall. This version consists of tender, juicy lobster meat cooked sous vide, fragrant lobster oil screaming bright orange, savory lobster broth cooked overnight… all the best stuff combined into one bowl, perfect for a winter night.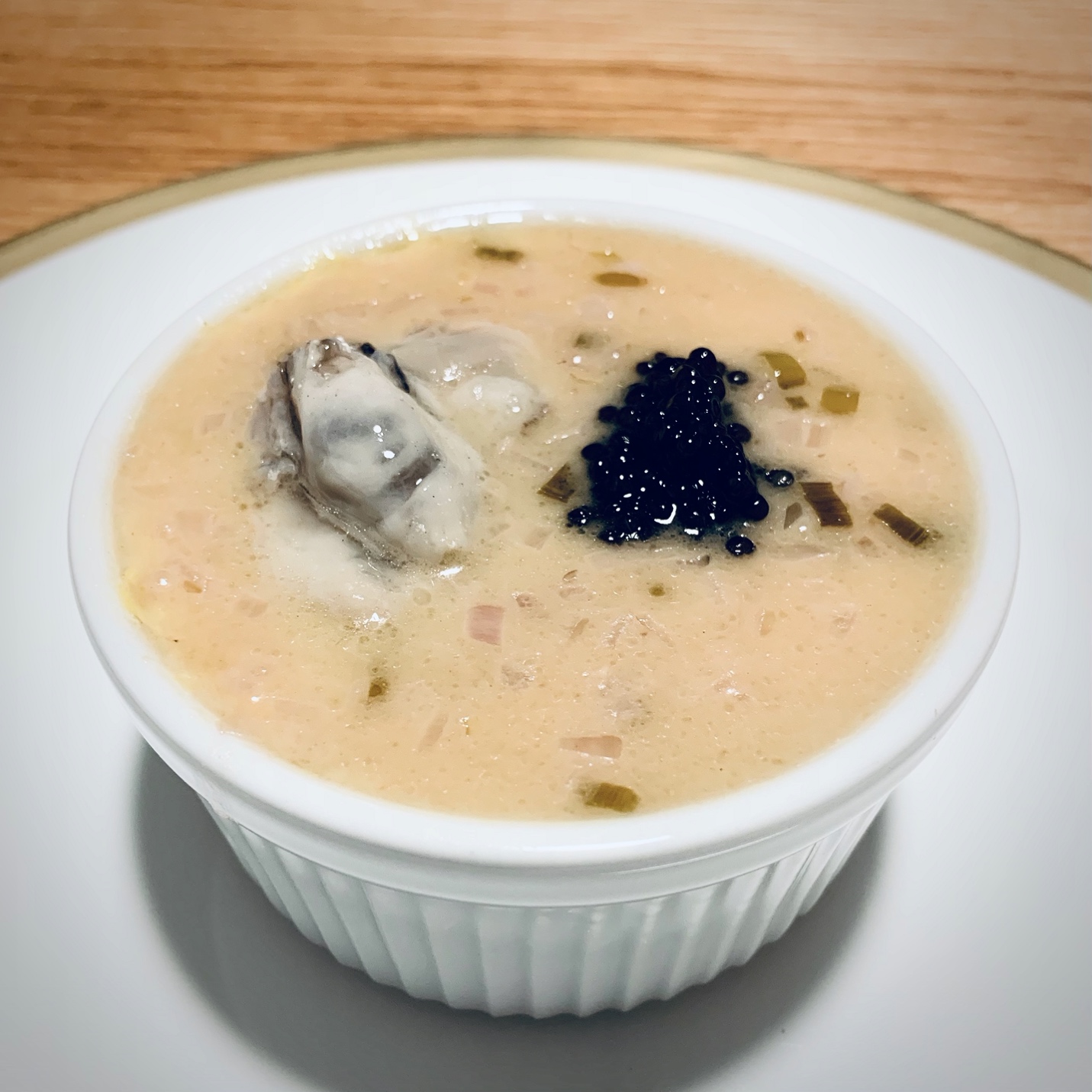 Figure 6. "Oysters and Pearls" – sabayon of pearl tapioca with oysters and caviar. Boston's wealth of seafood does not stop at lobsters – the oysters produced in various locations in the area are high in quality and vary greatly in taste, texture, and salinity. Here I recreated another one of Thomas Keller's creations at the French Laundry. When I have less time to spare on cooking, I simply shuck the oysters and slurp them with a squeeze of lemon. Delicious.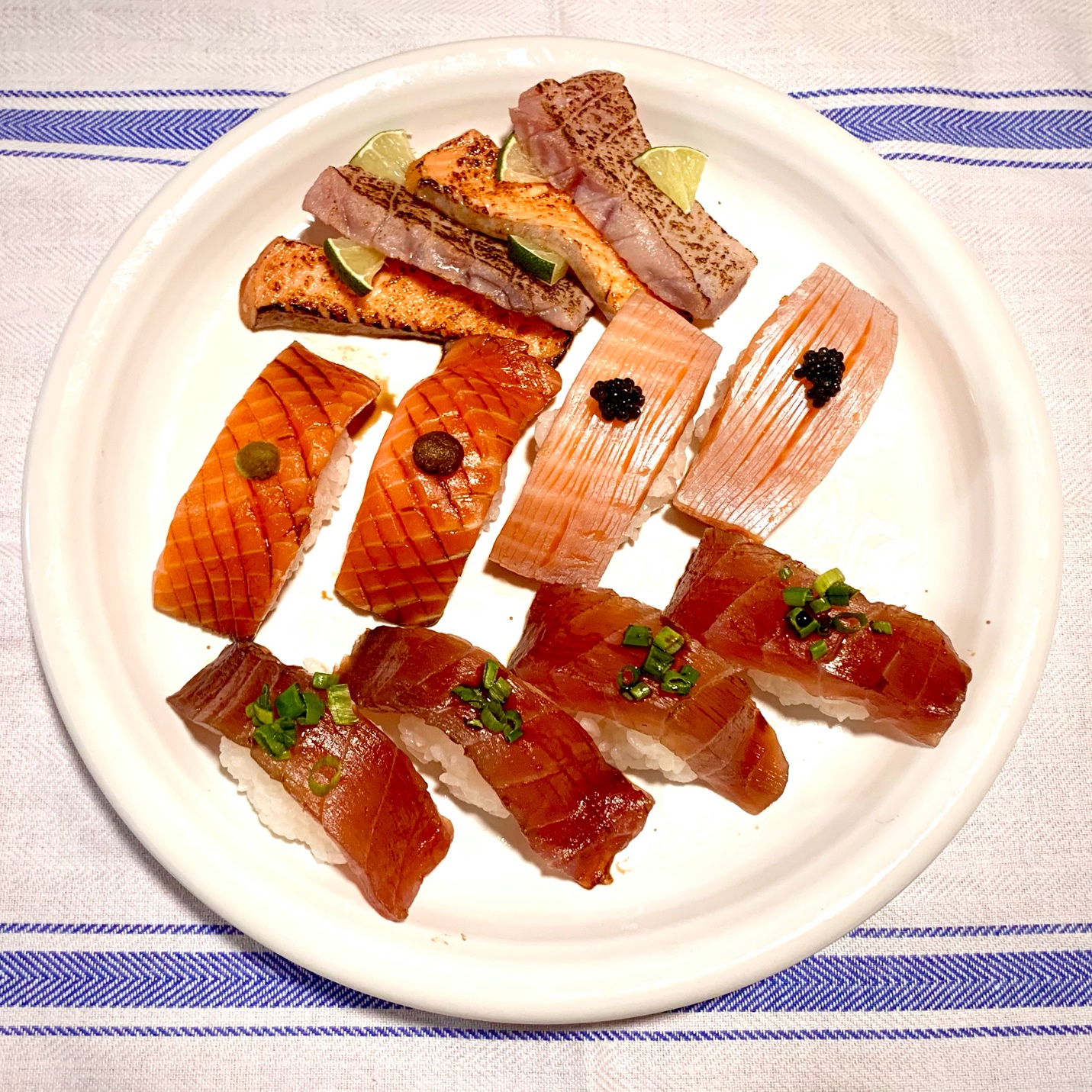 Figure 7. 7-day aged bluefin tuna and Ora king salmon, nigiri & sashimi sushi. After unsuccessful attempts at aging beef, I realized that a dorm environment is more suitable for aging fish. The tuna is dry-aged by "kombujime" – wrapping it in kelp so that glutamate can penetrate the fish as it slowly desiccates, resulting in an extremely concentrated umami flavor. The salmon is aged in a wet marinade, preserving the silvery fat that gives a luxurious mouthfeel, splendid flavor, and lots of healthy omega-3 fatty acids.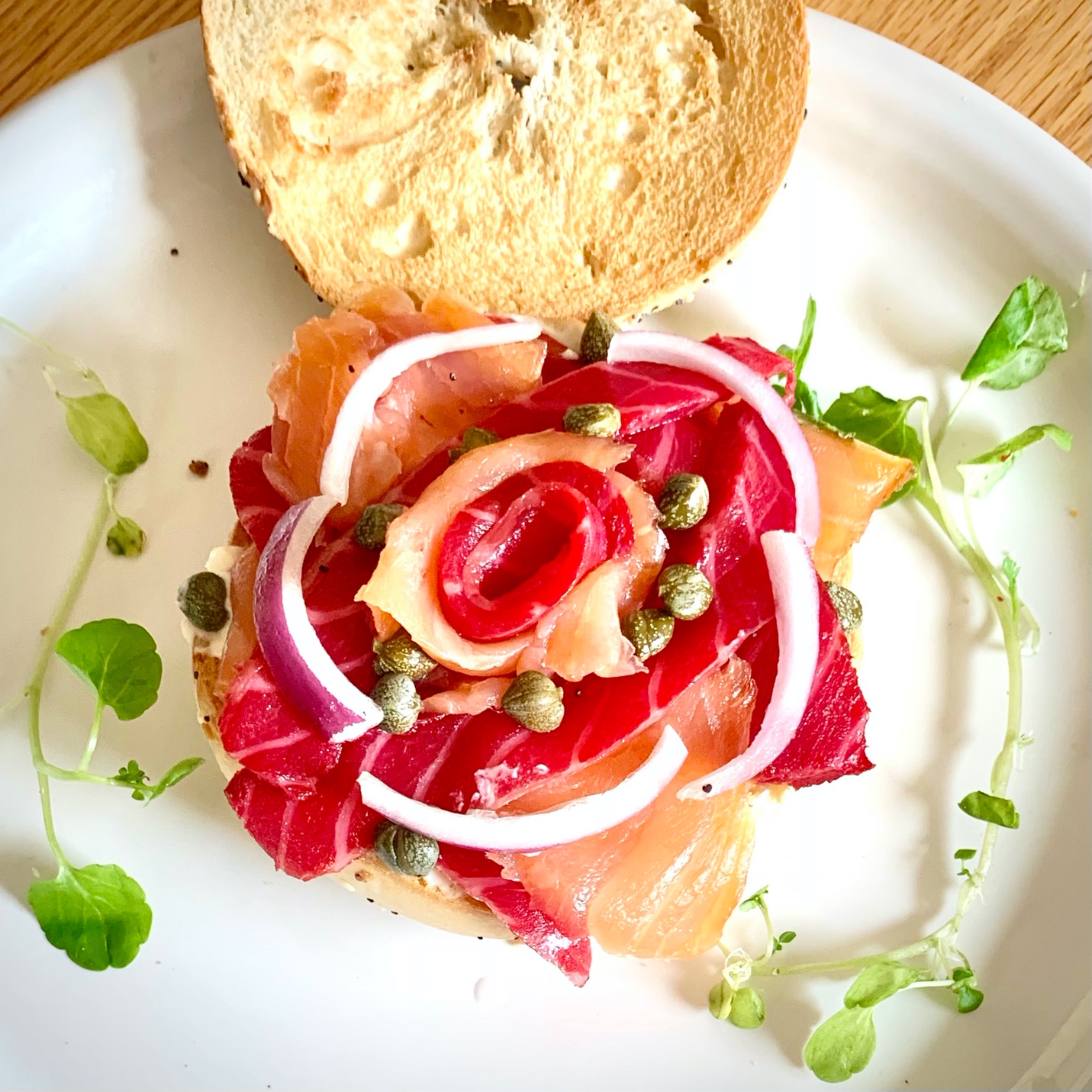 Figure 8. Beet gravlax and smoked salmon bagel. Making lobster beets and leeks (Fig. 2) requires tremendous amounts of beets, and leaves a massive pile of beet puree, so I decided to cure salmon with the puree. Curing, unlike aging (Fig. 7), uses salt instead of air to dehydrate the fish, which results in the smoked salmon texture that we all love, or at least I do. Fun question: can you guess which ingredients are "adapted" into this dish from MIT dining?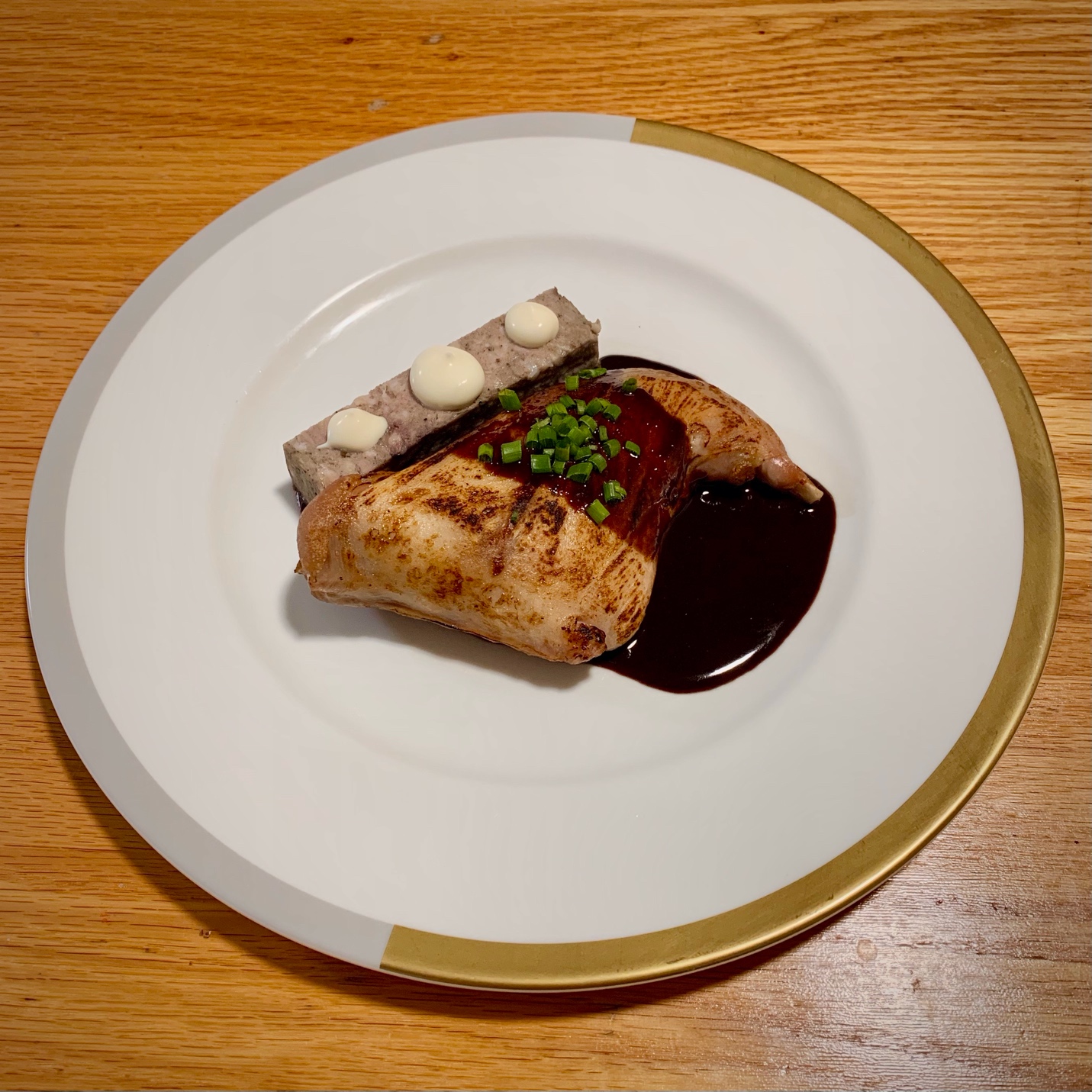 Figure 9. Rabbit leg, red wine and chocolate sauce, pheasant pate, and crème fraiche. A deconstructed and far less time-consuming version of the lièvre à la royale dish that I made during freshman fall.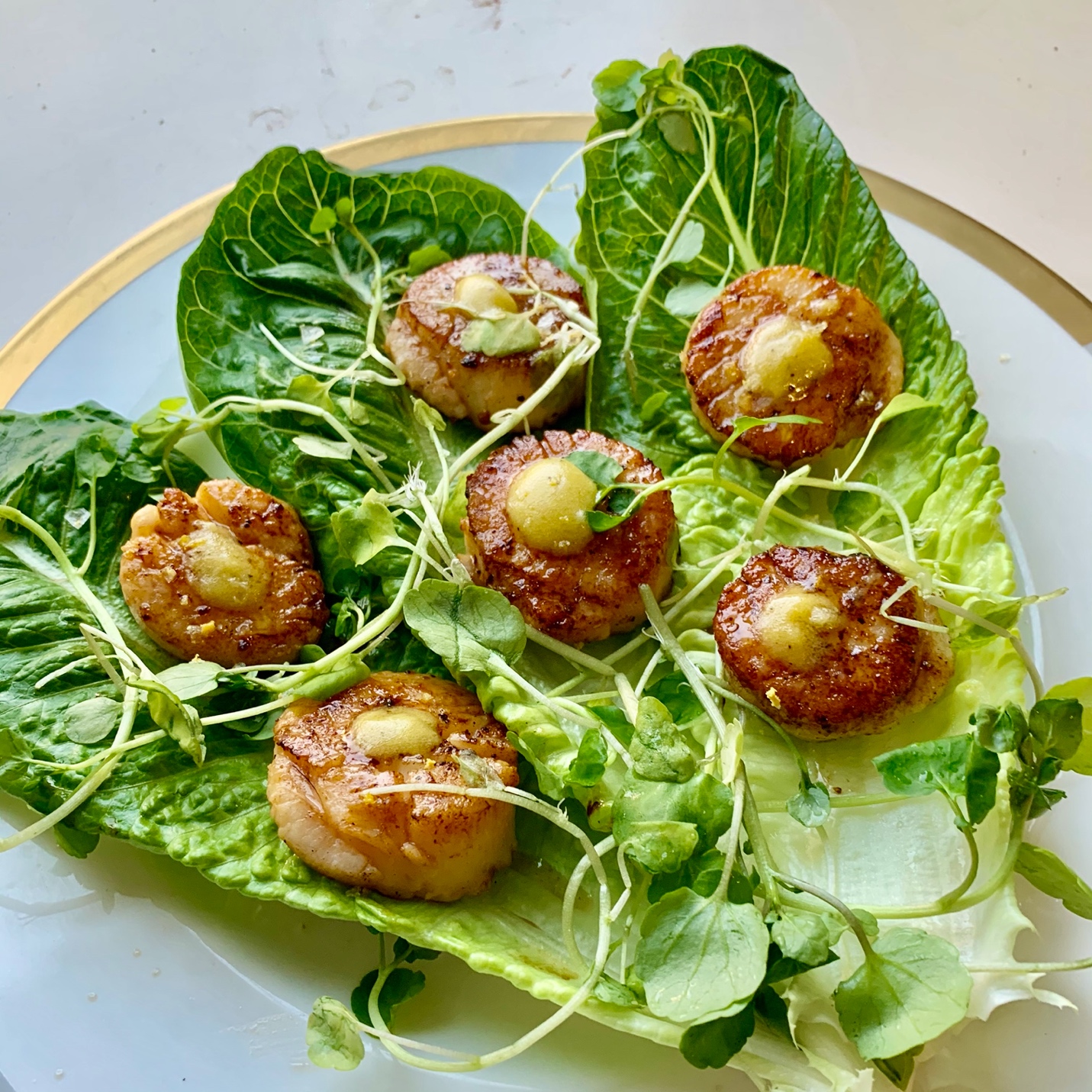 Figure 10. Seared scallops with champagne vinaigrette, romaine lettuce, and watercress. Sometimes, simple is best. A difficult claim for me to make, I know, especially considering all the hassle that went into dishes like lobster beets and leeks (Fig. 2). However, in the true spirit of dorm cooking, a simple dish of pan-seared scallops is hard to beat.
---
Compared to freshman fall me, my repertoire has both expanded and shrunken. I brought modern pairings and inspirations into my world, and learned new techniques like butter poaching, dry-aging, and sauce-making. In contrast with the international range of cuisines that I explored during freshman fall, however, I focused mostly on French and Japanese cuisine during the past year. These two cultures have fundamentally different approaches to how ingredients should be treated, but in trying to reconcile the two, I realized that #itsallaboutfinesse. Finesse, as chef Thomas Keller⁠05 It's embarrassing how much I go around being a Thomas Keller fanboy for the entire post, but his cooking is just too innovative, touching, and motivational. likes to say, is what elevates good to greatness – taking time and effort to hone the details and to cook with care.
In the end, cooking is about caring for ingredients, caring for yourself, and caring for others. Bon appétit – I look forward to seeing you all in my next blog post, hopefully with more fantastic dishes and more finesse to share!
Appendix 1. A recipe
Butter Poached Alligator with Tomato Confit and Mustard Mayonnaise (See Fig. 4)
Rationale:
A French take on alligator meat, treating it like a chicken thigh
Poaching in beurre monte preserves the silky texture of alligator
The mustard mayonnaise is used to complement the alligator's swampy flavor
Experimental design:
Prepare sous vide alligator meat in beurre monte
Prepare tomato confit
Prepare mustard mayonnaise
Materials:
Sous vide alligator in beurre monte
Tomato confit

Small tomatoes
Animal fat

Mustard mayonnaise
Salad greens (e.g. Boston Lettuce, 1 head)
Procedure:
Sous vide alligator in beurre monte

Cut alligator into bite sized pieces
Season with salt and pepper
Make beurre monté by whisking butter into a thin coat of simmering water
Season beurre monté to taste with salt
Place alligator and beurre monte in a sous vide bag and seal
Sous vide at 132.5 °F for 60 minutes
Drain beurre monte

Tomato confit

Chop tomatoes in half, cover in animal fat and bake at 300 °F for 15 minutes
Drain animal fat

Mustard mayonnaise

Mix 2:1 mayonnaise and Dijon mustard
Plate by laying salad greens first, followed by alligator, then tomatoes. Serve with sauce on the side separately as a dipping.

Plating

Lay down a head of lettuce on a plate
Gently lay sous vide alligator in the center of the lettuce
Tuck pieces of alligator between the leaves
Garnish with tomato confit
Squeeze half a lemon, then sprinkle with lemon salt