This year the city of Boston turns 375 years old (that makes Boston how many years older than me?)
And of course, who has a 375th birthday and doesn't have a party? I know I'm gonna party when I hit 375 (or when I hit 20).
To kick off part of the festivities, free hot air balloon rides were offered across the city on Saturday afternoon.
And boy, it was hot on Saturday…about 98 degrees. Fortunately, they were giving away free Vitamin Water (I've recently become a big fan of Vitamin Water). I don't actually know if Vitamin Water makes any money though; of the say 20 times I've drank it in the past two months, I think I've paid for it three times. They're always just giving it out for free wherever I am.
After waiting for an hour in line as they set up for the balloons, the balloon crew let us know the weather was going to be unfriendly and prevent us from going up in the balloons. Stupid wind, GOSH! (Sorry, I just watched Napoleon Dynamite again.)
To make up for the lack of hot air balloon rides, they also gave out free JP Licks Ice Cream.
I love JP Licks (Actually, I just love ice cream.) JP Licks is known for such seasonal favorites as Cucumber Ice Cream (yes, and it actually DOES taste like cucumber) and Pumpkin Ice Cream. There's one not to far from the MIT campus (makes for a nice walk on most nights). (I think I may one day do an entry devoted to ice cream in Boston/Cambridge, what do you guys think?)
After getting our fill of ice cream, we walked around Boston Common for a bit then walked over to Downtown Crossing. After browsing through some stores, I returned home to get ready to head to an office party with my friend, Evelyn. Evelyn, '07 – Course VI-2, is working at Stottler Henke Associates, Inc. and they were celebrating the pre-release of a software program that Evelyn has been working on. She's working there with a couple other MIT interns as well through the Undergraduate Practice Opportunities Program (UPOP), a program that teaches engineering sophomores business skills and helps pair them up with internships in industry.
Boston has a lot of other exciting events in store to celebrate it's 375th birthday, and I hope to check many of them out such as Harborfest 2005.
One of the biggest events I'm looking forward to is JULY FOURTH! Boston is known for having one of the biggest fireworks displays and parties on this side of the Mississippi.
For those of you interested in pyrotechnics of it all, here are a few facts about the fireworks display here in Boston.
Firework Facts (Source: http://www.july4th.org/concertnfireworks/fireworks/)
– The number of shells and devices used each year is over 10,000.
– The total number of pounds of pyrotechnics is more than 17,500.
– The highest actual firework sent into the sky is a 12-inch shell with a diameter of 1,500 feet.
– The total weight of equipment and pyrotechnics for the production is 160,000 pounds.
– The farthest distance that the show can be seen, depending on the sight lines, is 10 – 15 miles.
– The total number of digital cues given throughout the show is over 2,500.
– The required time to load and wire the show including the construction phase is approximately eight days. For the "live" portion the load-in is four days.
– The total number of pyrotechnic crew on the team is nine.
– The total number of hours used in the creative portion as well as the pre and site production are over 2,500 hours.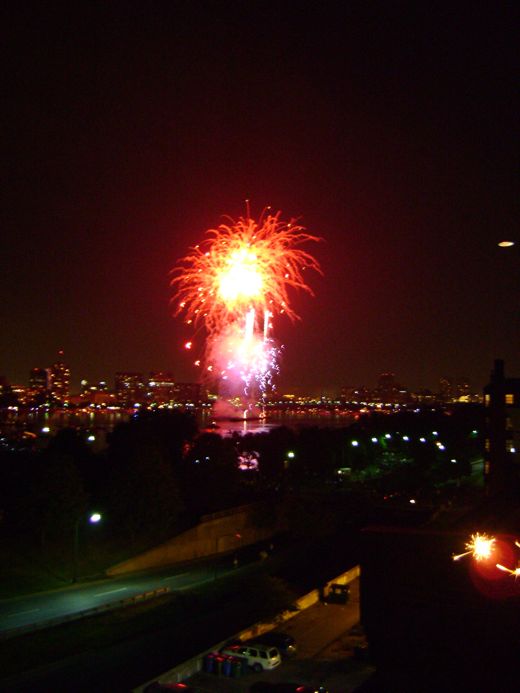 I don't know what our plans are quite yet for the 4th, but I know we're going to have a blast. July 3, I plan on checking out the Boston Pops preview concert just in case my post-10 AM wakeup time on the 4th leaves me high and dry in terms of getting remotely anywhere near the festivities. (Expect an entry about all the festivities around July 5) What are you guys planning on for the 4th? Big family barbecues? Firework extravaganzas?
8 responses to "Happy 375, Boston!"