So summer kind of comes to an end today. Orientation starts next week, and then comes Rush and classes.
Now, I will say this, I had an absolute blast this summer.
So here goes my attempt at one of those guides like the professionals do on how to spend a summer in Boston.
Now first off, I think one of the biggest reasons why I had such an awesome time was because I spent my summer with my friends. I don't really know how it happens, but when I'm with my friends, I cannot help but have fun because we feed off of one another's energy and just make sometimes the most seemingly boring things some of the most fun things ever.
Now the following list of things to do is by no means expansive and there are probably a lot of things that I've missed or forgotten about, so if you have any recommendations, feel free to leave comments.
So the keyphrase, "free stuff Boston" works really well in the Google search form.
In googling, we managed to find:
– free hot air balloon rides
– free movie tickets
– free vitamin water
– free barbecues
– free imax movies
– free museum tickets
Some things that are great about a Boston summer are the Friday Free Flicks at the Hatch Shell, July 4th, museums, festivals, tryouts, etc.
One thing I suggest is getting a T-Pass. During the semester, I don't plan on buying one, but this summer it made for a great resource. With my T-Pass, I was able to get on the T, miss a stop, get off at the wrong stop as much as I wanted. And the big plus, on Sundays I could bring a friend for free to play T-Pass Bingo which basically involves getting off at a random T-Stop and just seeing what was in the area.
Also, another big thing about Boston/Cambridge is that summer is a great time to celebrate cultures, so often times, there will be a cultural celebration spotlighting free food among other things.
Also, while it also often becomes a coaster for the coffee I pretend to drink, reading thin newspapers like the Boston Metro provided me with a lot of things to do like leavn about Busycles, for example. These newspapers are always giving away free tickets to events etc.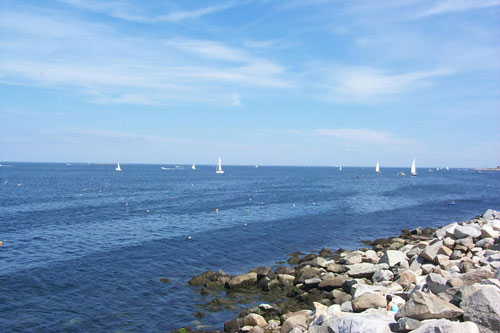 Another big source of fun is sports. Going to the beach (Revere Beach is T-Accessible), learning how to sail for free, running along the Esplanade are also awesome things to do to pass the time.
Another thing summer is good for is learning something new. This summer I learned to ballroom dance. I also managed to catch up on a lot of reading, the Copley Square Boston Public Library is hott (with two t's).
With so much to do and only three months to do it, it's easy to forget one of the most important things, SLEEP. Make sure you get some at least.
There is a lot I left out as a lot of the things I did this summer I will continue to do this semester, but I hope you got the idea that summers in Boston can be a lot of fun.
Rock On.
One response to "how to spend a summer"