Not really…but I used to.
I wrote this little diddy back in 3rd grade, just thought I'd share.
Mollie, maybe Adam wants to make this the course 16 anthem?
Background: In 3rd grade, we had to do creative biographies about individuals, and I chose Neil Armstrong, and furthermore, I chose to do a rap about him. This only demonstrates how nerdy I was even back then, except I didn't wear glasses.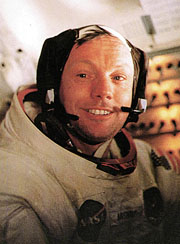 The Rap:
"Neil Armstrong is my name,
Planes and space is my game,
First American on the moon, that's my claim to fame.
Some say I look ugly,
Some say I look good,
But outer space is my neighborhood,
On July 16, 1969,
Apollo left earth with one thing on it's mind,
To boldly go where we've never gone before,
Armstrong and his men opened up a new door,
To that new frontier in outer space,
As an astronaut at that NASA place."
Copyright – Dj B
Album – Phat Beats from the Playground, Vol. 3
MIT has a set of it's own astronauts as well.
What is the nerdiest creative project you've ever had to do?
5 responses to "I Wish I Was an Astronaut"