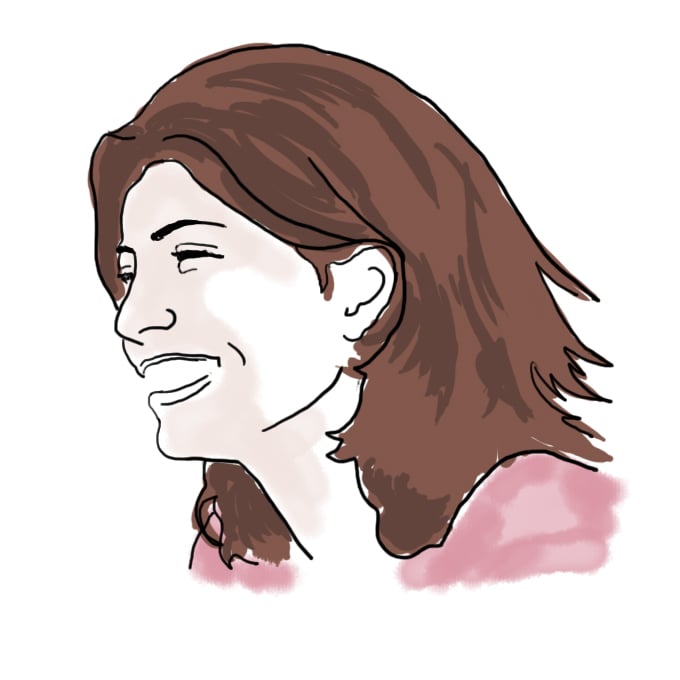 Interview with Emilienne: The Sophomore who does brain surgery

by Melis A. '08
Emilienne has been studying the brain through her UROP in the Fee Lab.
Emilienne, a sophomore studying Biological Engineering and French, has had a UROP in the Brain and Cognitive Sciences department since February 2006. In the Fee Lab, she studies the brains of beautiful little birds called zebra finches, which are known for their ability to sing songs that they learn from their fathers. She loves her UROP because it is a time where she can "focus on pursuing research questions which interest me without having to think about grades. I always look forward to going in to lab."
When Emilienne started her UROP, she spent a lot of time learning basic lab techniques like how to slice brain tissue, stain and mount the tissue, and take images using a fluorescent microscope. She began working on two projects: studying how neurons communicate with each other within a certain area of the bird's brain, and the development of dendritic spines. Dendritic spins are tiny knob-like structures that sprout off of dendrites, which act as lightening rods that direct electrical signals from surrounding neurons to the cell body of the neuron.
Emilienne has spent the last semester studying the part of the brain that controls fear, with the goal of gaining a better understanding of the neural mechanisms which control anxiety. To do this, she performs brain surgery on birds to create lesions (i.e. tissue damage) to the brain and observes the animal's subsequent behavior. She also injects dyes to see which areas of the brain are connected to the "control center" of fear (think about what areas of the brain need to provide input to this region, and which areas might be affected by it.) Once, she created a fearless bird that did not lose its motivation to sing, eat, and fly. She explains that, "this result could potentially prove useful in lab if it is replicable because bird song could be more easily studied if a bird is not afraid of the researchers studying it."
She found out about this UROP opportunity through an IAP seminar called "Introduction to Research Topics in Neuroscience." Emilienne says that, "Each morning, a different professor spent two hours presenting his or her research to the class. After nearly every lecture, I stayed late to talk personally with the professors. I was so excited by everyone's work! I asked several professors about openings in their labs, mostly because I thought I would be interested in getting a UROP for the summer in order to stay on campus. However, the opportunity arose for me to begin working in one lab by the end of IAP and, despite being a member of the varsity track and field team, I decided to take a chance with the lab. I'm certainly glad I did! I've learned so much from my work here and have had a wonderful time both learning about research and life as a scientist."
Her favorite part of the research is working with the birds and learning about research and life as a scientist. Understandably, her least favorite part has been sacrificing the animals: "It's an important and integral part of research with animals, but it's always saddening."
In general, she loves the other researchers in the lab, who all have a great sense of humor and are always willing to help. She also says that, "it's always an adventure working with birds as opposed to the standard lab rat because of one key element: flight. If you're not careful, you may suddenly find that the bird you were trying to grab from his cage has escaped. Promptly, someone in the room runs to the door to shut it. Another hits the lights because birds become less active in the dark. From here, people start chasing the bird and jumping up and down to try to catch it. Sometimes birds get caught pretty quickly, but other times, the chase can last a good while. It's always amusing to watch a group of mature researchers running around a lab in the dark chasing a loose bird."
When she is not performing brain surgery, Emilienne is a member of a sorority and will be a Panhellenic Recruitment Counselor this fall. This semester, she has been working with several other students to form the Biological Engineering Undergraduate Group. She serves on the Board of the recently formed Congressional Award Alumni Association as the first Outreach Committee Chairperson. She is forming a committee which will work to reach out to more schools and youth programs as well as Congress people to raise awareness about this award for youth, which is Congress's only charity. She's involved in the Biological Engineering/Biomedical Engineering Society (BE-BMES) and the Society of Women in Engineering.
For fun, she love to sew: "Whether it's formal gowns (my favorite thing to sew), quilts, pajamas, or gifts for my sorority sisters, I always like to have a project on the side. This past summer, I actually got to make my cousin's wedding gown! I like to go camping. This summer I'll be spending half a week in Niagara Falls. I enjoy spending time with my sisters, my hallmates, and my boyfriend. From time to time, I will cook with the people on my floor, anything from late-night smoothies to feasts. I started an annual tradition of the St. Patrick's Day feast. This year, my hallmates and I got hall-funding again, looked up about a half dozen Irish recipes and spent a fun-filled day cooking on an otherwise dreary Saturday in March. That evening, our whole hall celebrated together!"
Her favorite things about MIT are her hall (in East Campus), her sorority, and her UROP (yay!) She loves doing random things with hallmates, from trips to restaurants to annual traditions like Hall Thanksgiving and the Spring Picnic. She loves the six cats living on her dorm's floor right now and that students have the freedom to build lofts and paint murals in their rooms. In fact, her room is pink and green and her loft even has a spiral staircase.
Clearly, Emilienne is totally amazing! On a final note, she is getting a minor in French and loves the subject material and the small class sizes. She has chosen to condense her studies at MIT into seven semesters so that she can spend her first semester senior year abroad.
If any of you have questions about the Biological Engineering major (which is new to MIT), Brain and Cognitive Science research, sewing, French, birds, or more, I'm sure Emilienne can answer them =)
4 responses to "Interview with Emilienne: The Sophomore who does brain surgery"