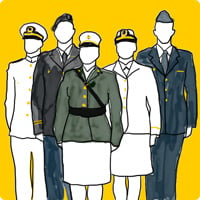 Introduction To ROTC At MIT

by ROTC
A new guest-author blog in response to a variety of inquiries regarding ROTC programs at MIT.
My name is Evan Karlik, and I graduated from both MIT and Navy ROTC this past spring. In response to a variety of inquiries regarding ROTC, it's my pleasure to introduce a new guest-author blog that will help you to better understand the ROTC programs here at MIT.
 
ROTC is more than your average student activity. Its primary purpose is to prepare MIT undergraduates who are US citizens for success as officers in the United States military, but there are opportunities for international students to get involved as well.
What makes military service attractive to us? Some reasons include access to advanced vehicles, systems, and technology, the chance to assume a challenging leadership role early on, and an opportunity to serve our country. A scholarship usually accompanies involvement in ROTC, though there is an application process whether you are in high school or have already started as a student here.
 
My classmates and I graduated from MIT on a Friday morning in June and received our commissions that evening, making us active duty officers in the US military. From there, we'll go on to diverse assignments, such as an R&D job in an Air Force laboratory, infantry officer school followed by command of an Army or Marine Corps platoon, flight school for the Navy or Air Force, or the nuclear reactor training required before serving aboard fast-attack or ballistic missile submarines.
In fact, the Institute has quite an established tradition of preparing students to serve as officers in the military; since its founding, more than 12,000 officers have been commissioned from MIT, of whom more than 150 have attained the rank of general or admiral.
 
Many ROTC students are also active in varsity sports, fraternities and sororities, academic clubs and honor societies, music groups, UROP (undergraduate research)… one great advantage of the ROTC program is you'll have a chance to live a balanced college lifestyle.
 
To provide you with a window into the everyday lives of our cadets and midshipmen, this blog will highlight six MIT students: two Air Force cadets, two Army cadets, and two Navy midshipmen. They'll provide regular accounts of ROTC courses and events, in addition to information about their backgrounds, MIT classes, extracurriculars, and future plans. We hope you enjoy reading!
 
– Ensign Evan Karlik, MIT '07
13 responses to "Introduction To ROTC At MIT"