ROTC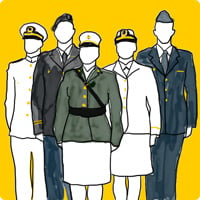 Biography
Military training has existed at MIT ever since the Institute opened its doors in 1865. Since then, more than 12,000 officers have been commissioned from MIT, of whom more than 150 have reached the rank of general or admiral. The three Reserve Officer Training Corps (ROTC) programs located at MIT provide unparalleled leadership training and practice in order to cultivate motivated students into tomorrow's U.S. military leaders. Upon graduation, you'll have earned not only your degree, but a commission as an officer and exciting opportunities unavailable in the civilian world.
For all of the services, training each week typically includes one or three hours of classroom training depending on year group and two hours a week of a hands-on, cadet or midshipman-run leadership laboratory. Further, each ROTC program has physical fitness training each week and a required summer program at some point prior to graduating. Any student may participate in the classroom training. Students who are United States citizens or who have applied for citizenship and who are medically qualified for military service may enroll as a cadet or midshipman.
Army ROTC
The Army ROTC Paul Revere Battalion was established at MIT in 1917, shortly after the passage of the National Defense Act of 1916. It is one of the first Army ROTC programs in the Nation. During World War I, there were more Regular Army Officers serving in the Army from MIT than from any other school except West Point. The battalion now consists of students from MIT, Harvard University, Tufts University, Endicott College, Gordon College, Salem State College and Wellesley College. Students are trained in leadership and management, and develop confidence and interpersonal skills which are vital to becoming successful in any competitive career. Army ROTC gives students the opportunity to have extraordinary experiences while building their resumes as dependable leaders.
Naval ROTC
The Naval ROTC program was established to educate and train qualified young men and women for service as commissioned officers in the unrestricted line Naval Reserve or Marine Corps Reserve. As the largest single source of Navy and Marine Corps officers, the NROTC Scholarship Program fills a vital need in preparing mature young men and women for leadership and management positions in an increasingly technical Navy and Marine Corps.
Air Force ROTC
The Air Force ROTC program provides qualified students with the opportunity to become commissioned officers in the Air Force after completing their undergraduate or graduate degree. While many cadets go on to be pilots or navigators, there are a variety of other options for those interested in other pursuits including engineering, law, medicine, public affairs and intelligence, among others. The leadership and management experience gained in Air Force ROTC, combined with an MIT degree, is sure to prepare students for a promising future in either the Air Force or the business world.
There are many reasons that students join ROTC at MIT. Some feel the need to serve their country. Others are looking for a way to help pay for school, or simply can't bear the thought of a traditional desk job. ROTC may not be for everyone - but if it might be for you, please check back regularly to see what our own cadets and midshipmen have to say about their experiences. More information on the Reserve Officer Training Corps (ROTC) can also be found in the MIT Course Catalogue.
Disclaimer: blog postings do not reflect the views of, and have not been approved by, the ROTC programs, their associated Services or the Department of Defense.
Recent Posts
by ROTC
September 4, 2008