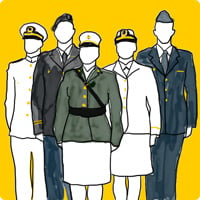 [by C/3C Christopher Benson, '10] Before AFROTC, this abstract concept of "leadership" seemed very generic...
[by C/3C Christopher Benson, '10]
"Sometimes after I take off, I wonder how I am getting paid to do this job… I should be paying them."
This quote came from an F-15 pilot who stopped by to speak to the AFROTC cadets a few weeks ago. It is statements like these that make me very excited to commission as an Officer in the United States Air Force, to have the chance to fly faster than the speed of sound, pull more Gs than any roller coaster, and gain an experience that very few people will ever know. I want to be a fighter pilot – that is why I joined AFROTC, for the chance (which happens to be very good coming out of MIT) to have an awesome and exciting life.
When I first signed up for ROTC, I thought of it simply as an avenue to become a pilot and to pay for school. I wasn't expecting to gain much in the program other than a commission. Now I am a year and a half into it and I have learned more from the ROTC program than from any other source here at MIT. Everyone at MIT is learning technical subjects: thermodynamics, differential equations, programming… ROTC has given me the opportunity to learn useful and immediately applicable skills. I have learned a considerable amount about management and about working with superiors and subordinates – and along the way I also learned how to lead.
This abstract concept of "leadership" seemed very generic to me as I filled out my college applications, making sure to include all of the "leadership positions" that I had held in high school. After only a year and a half at MIT, this concept of leadership has become much clearer to me, as it now stands to separate me from my peers. Having tangible leadership experience has been vital for many different applications and interviews that I have done since getting to MIT. From gaining other campus leadership positions, to competing competitively for scholarships, to getting internship offers, my ROTC experience has given me an edge. At MIT, sometimes you need something other than intelligence to make you stand out above the crowd. AFROTC did that for me.
5 responses to "Standing Out"