I had a great time last week at ISEF. This is what it looked like: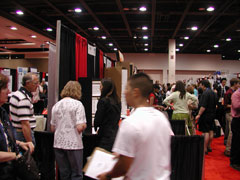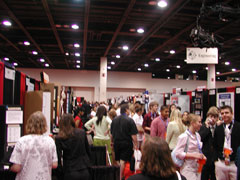 1400+ students and 1100+ projects from across the world were at ISEF.
One of my favorite parts of events like this is getting to meet some awesome students and see their projects. I made a list of all of the students/projects I wanted to visit during public hours, and I sadly made it to fewer than a quarter of them. Next year, perhaps, MIT will have to send multiple admissions officers to ISEF, which will be in Indianapolis.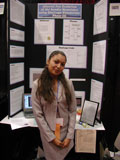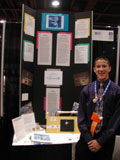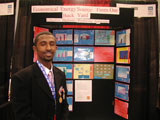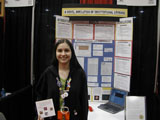 A handful of the many awesome students: Nicole (an amazing young woman), Andrez (an awesome hands-on engineer), Nathan (already saving the world), and Aliza (future head writer of the Mystery Hunt).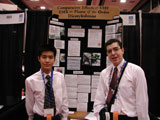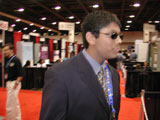 More awesome students: Renaldo (who I'm looking forward to seeing this summer at MITE2S), Johnny & Ery (who taught me a little Latin), and Ravi (a semi-professional rapper!).
After visiting the projects, I went to host the MIT ISEF Lunch. Last year's MIT ISEF Lunch (actually, it was a dessert last year) drew about 40-50 students, so I figured 60 students would be a safe guess for this year, but was I ever wrong. The restaurant put out 90 seats. By 2:30 (the official starting time), just about every seat was full, and people kept coming. When all were counted, the ultimate total was 139 people. Wow! Thank you all for coming!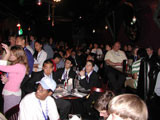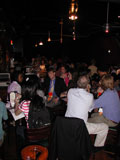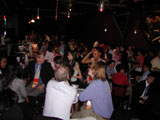 As you can see, the restaurant was completely packed!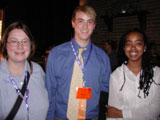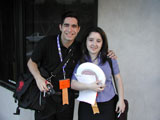 Some new friends from the Kentucky (left) and Long Island (right) delegations (great chatting with you, Danny and Nora!).
Probably the highlight of the Lunch (my favorite part, at least) is hearing from all of the incoming MIT freshmen (Class of 2009) who were at ISEF. They each stood up and said why they chose to come to MIT. It made me quite proud of my institution!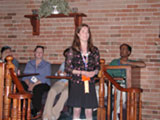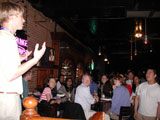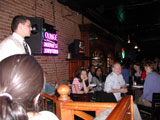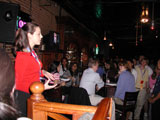 A small subset of the MIT '09s who spoke: Amber, Johann, Mike and Jackie.
My biggest disappointment was that so many people showed up that I didn't get to talk with everyone. I hope that if I didn't get to talk with you that maybe you got to chat with one of the awesome MIT '09s (like Nick, who apparently was just voted Prom King, or Lyn or Kim, who weren't in the earlier picture but who are super cool). If not, I hope you'll drop me a line here on the blog to say hi. And if you sent me an email after ISEF, I'm still catching up on those… also, still trying to finish up the next Questions Omnibus… isn't it supposed to be a relatively quiet time for admissions officers now??
Thank you all for a great time at ISEF.
Tomorrow, MIT Admissions has the first of two annual retreats to discuss the year gone by. Should be a very interesting day.