Late last week one of the bloggers was talking about her spring break plans. They were all very exciting, with lots of travel and warm weather and such. Then she asked me what my plans were for the break. "Work," I said. Her eyes glazed over. "Oh…right," she said. "This is your job."
Yep. The students here at MIT may be on spring break, but the office is still rolling full tilt into the spring. The registration deadline for Campus Preview Weekend was yesterday, and we're already expecting more students to attend than ever before. And I'll be working with the web team tomorrow on some cool projects we have in our admissions labs right now.
But even though I'll be working on the weekend, it's still Friday; and even though we're not on spring break, we can still have fun.
Por exemplo:
One of my friends here in the office is Mikey Yang. Mikey is an MIT alumnus (Course VII, '05) and sang with the MIT Logarhythms when he was a student (fun fact: he was also a featured soloist on two early Kidz Bop albums! See if you can find them in the archives!) Mikey, as you can see from his blog profile, is a happy dude, and full of smiles.
But he hates Friday. Not "end of the week" Friday. This Friday by Rebecca Black.
Like everyone else in America the office was captivated last Friday by this Friday. But not Mikey. I'm not sure whether it's the grating autotune, or the terrible blue screen, or the creepy adult man inexplicably injected into the video, but Rebecca Black is Mikey's kryptonite. In his office he drew a big "REBECCA BLACK FREE ZONE" sign on the whiteboard and left the room whenever we began replaying it.
So last night, after working late, I made this poster, printed it out on 11×17″ glossy paper, and affixed it to his external monitor so it would be the first thing he saw when he stumbled in bleary-eyed and sat down at his desk the next morning: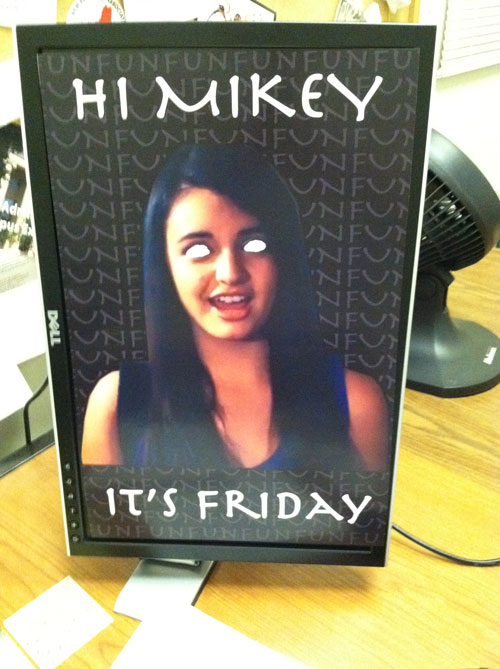 Unfortunately, I wasn't there when he arrived today, but some others in the office were; the words "uncontrollable shrieking" may have been used to describe what happened next.
And later, when I popped grinning by Mikey's office to ask him how his morning had been, his normally sunny face was still overcast in my general direction.
At first, that is.
Then we talked about this slow loris holding a tiny umbrella.
And all was well.
This is a life lesson, kids. Whether you're at work or in school, on break or in the office, and whether or not it's Friday (any kind of Friday), you can always take the time to relax and have a little fun.
…funfunfunfunfunfunfunfunfunfunfunfunfunfunfunfunfunfun…
24 responses to "It's Friday, Friday…"