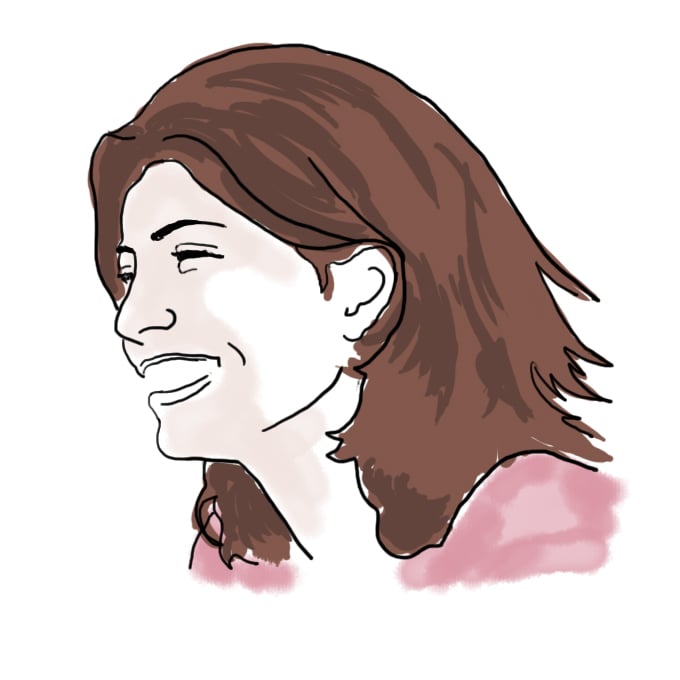 Jhumpa Lahiri visited MIT today!

by Melis A. '08
...and all of Cambridge (it seemed) wanted to see her!
There are only a few authors whom I feel very strongly about, let alone love, and Jhumpa Lahiri is one of them. The Pulitzer Prize winning author of the books Interpreter of Maladies (1999) and The Namesake (2003) spent this evening at MIT. Though she was born in London and raised in Rhode Island, Lahiri spent some of her childhood in Boston and consequently her books include countless references to Boston, including MIT, Harvard, and Central Square. But anyone could write fiction about Boston. Jhumpa Lahiri's books are about families, relationships, and cultural differences. She has one of the most elegant writing styles and her stories are often simultaneously heartbreaking and uplifting.
So, you can imagine my excitement when I saw a poster advertising her upcoming MIT visit, which was sponsored by the MIT Literary Society. I literally jhumped for joy (ouch, yea, bad one.) The timing of the talk wasn't great; it started at 7 pm and I have a class in the Longwood Medical Area (a 15-minute drive from MIT) that ends at 6:30 pm. I knew I wasn't likely to get a good seat, but when I arrived at the Stata Center, there was this gigantic line of millions of people (ok, more like hundreds) and I realized I probably wouldn't even get in. Sadly, even though the talk was held in one of the biggest lecture halls at MIT, there were far more fans than seats. Luckily, they had set up two TV screens right outside of the lecture hall, so I parked myself on Stata's concrete floor and craned my neck to see the TV.
After a brief introduction, Lahiri began by reading one of the eight stories in her new book, Unaccustomed Earth, for forty minutes. I videotaped a small, random portion of it. To watch it, click here
My general impression was that the subject matter was very similar to her other stories, but it was still insightful, entertaining, and moving. The book comes out on April 4th, and she'll actually be in Brookline, MA on April 3rd for a book signing.
I'm pretty bummed that I couldn't meet her, or get her to sign the two books that I brought along, or even get to sit inside of the lecture hall. There was also an awesome tea and Q&A session that the Literature department held at 4:30 pm, where about thirty-five students got to speak with Lahiri and get their books signed. Sadly, I found out about it too late and I was in class anyway =(
Anyway, I'm offering yet another book recommendation. After you've read her books, go see the movie, The Namesake. It's not nearly as good as the novel (you know how it goes), but it's still worth watching.
18 responses to "Jhumpa Lahiri visited MIT today!"