In the summer of 2011, MISTI sent 22 Biology students across the globe to explore new labs, new methods and new research projects. Here is brief look at some of those internhips:
---
Samin Houshyar
Class of 2011
MIT-France Program 2011
Internship: Institut Pasteur, Paris
This internship gave me an incredible opportunity to not only understand a great deal about cellular biology, but also a chance to improve my French and learn about France.
The project: The aim of my project was to verify whether infected cells can activate non-infected cells by excreting lipid particles called exosomes. I managed to isolate exosomes and show that they carry the parasite antigen called LPG.
The host: PARSIG's goal is to understand the mechanism of L. donovani infection and activation of the immune system. Every year 350 people are at risk of leishmaniasis which can be fatal.
The city: Paris has a lot to offer and truly all the weekends there are not enough to explore the city. The city is always alive and there is something new to explore every night.
What next? I may return to France in IAP or next year as part of MISTI 2.0 to make more progress on my project. I also discovered that I can use the technical portions of my internship in my UROP. In the long run I am considering applying to French medical schools as well as American schools.
---
Stephanie Tsai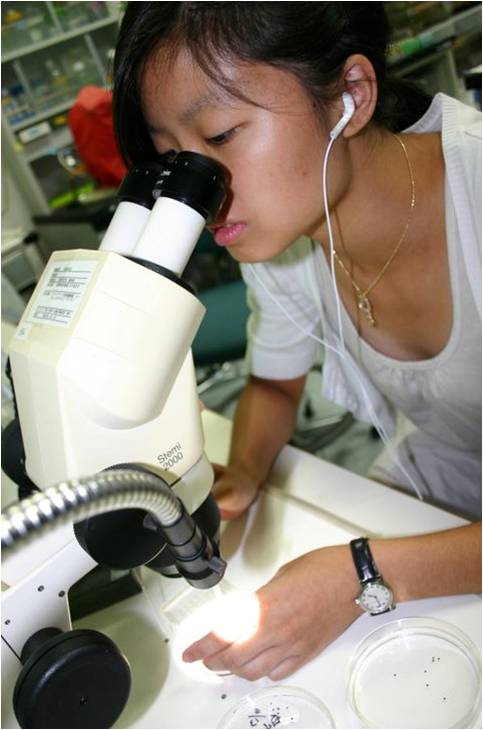 Class of 2013
MIT-Japan Program 2011
Internship: Agata Lab, Kyoto University, Kyoto
This internship was the perfect mix of work and adventure. I not only gained the self-confidence to pursue a career in biological research, but also a lifetime of unforgettable memories!
The project: My project was to develop transgenic newts and frogs that would allow for the study of angiogenesis during amphibian limb regeneration. I learned to persevere through all the hardships I encountered during my experiment. Failure is sometimes just as important as success in science.
The host: The Agata lab researches the development and regeneration of planaria, frogs, newts, and sponges. The lab was always welcoming and intellectually stimulating!
The city: Kyoto is a very unique city, home to much of Japan's history. There were always many beautiful shrines and temples to explore, but also great places to shop and eat!
What next? I definitely plan on continuing the research I conducted this summer, as an undergraduate, and hopefully as a graduate student. This internship was the hardest I've ever had, but the most rewarding as well. Without a doubt, I would love to do MISTI Japan again, it is a cross-cultural and intellectual growth experience that is unbelievable!