In my junior year of high school, I had a phase of telling everyone about how I was going to make my dress for senior prom. I had never used a sewing machine before, but I was armed with the false confidence gained from years of watching DIY fashion youtubers.⁠01 my favorites are coolirpa, withwendy, and Micarah Tewers! And the desire to be quirky with a nonstandard prom dress. Unfortunately, my senior year was the year that the pandemic hit, so prom never happened and neither did my DIY dress. 
I finally had the chance to dust off my dressmaking dreams when Ring Delivery rolled around this past April. Ring Delivery is a major milestone where sophomores receive their brass rats to celebrate completing half of our undergraduate journey through hell the Institute. It's also an incredibly fancy event that expects people to peel off their crusty career fair t-shirts for suits and gowns. 
As I prepared to make my dress, I realized that watching DIY fashion youtubers sew doesn't automatically make you a master seamstress. Who could've known?! Thankfully, a mentor at Metropolis, an especially accessible makerspace at MIT, was happy to teach me how to use a sewing machine. As practice, I made this harness out of elastic bands and O rings: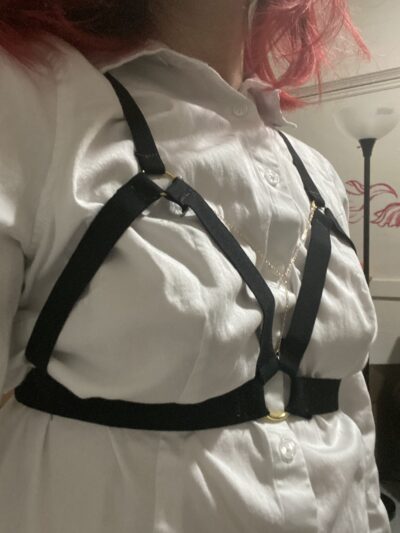 Making the harness required zero patterning and only short stitches. To practice patterning and making longer stitches, which would be required for a fancy dress, I tried to make a circle skirt out of a thrifted dress with a beautiful ukiyo-e style print and some scrap blue fabric. My patterns didn't quite match up — curse tolerances! And I kept sewing pieces with the incorrect sides together — bless my seam ripper! Nevertheless, it felt good to have a nonzero amount of sewing machine experience under my belt. Sadly I never took a picture of said skirt, and I don't have it with me at this time. 
Onwards towards making my actual dress! After spending who knows how many hours scrolling through Etsy, I decided on this beautiful black tulle with stars and moons embroidered in gold. I love celestial aesthetics for the idea that when I see a star, a stream of photons must've traveled unobstructed for billions of trillions of miles only to hit a tiny patch of my retina. It makes my existence feel just that much more meaningful. Because the tulle is sheer and flimsy, I also bought a couple of yards of black cotton from Van's Discount Fabrics in Chinatown for a sturdier lining. Always love supporting local businesses!
I decided on making a two piece wrap dress with a tie closure, heavily based on this tutorial by Micarah Tewers. As someone often who doesn't have the patience to measure things in standard units, I appreciated Micarah's instructions to cut pieces in "the length of a forearm and the height of two mugs."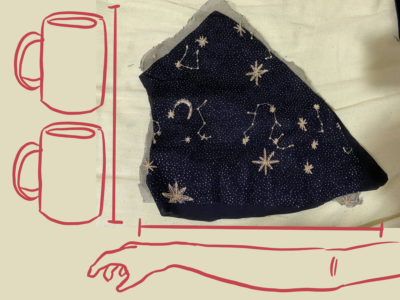 Tulle was kind of finicky to work with because it scrunched up easily under the sewing machine, but I'm happy with how the top turned out. 
To make the skirt piece, I cut, hemmed, and attached a large rectangle of the tulle to another large rectangle of the black cotton. I sewed in some pleats to add some pizzazz (and to hide the fact that my two large rectangles didn't quite match up). 
Here's my final dress! It wasn't not as finely crafted as what you'd buy from a store, but I dug the grunginess of my DIY efforts. Wearing it made me feel like a sparkly, magical witch. 
My hallmates and I first took pics on campus prior to leaving for the Ring Delivery venue: 
And then met up with more friends to take pictures at the venue, the glitzy glamorous Fairmont Copley Hotel. Unlike our campus photos, these shots featured brass rats on ring fingers: 
Shoutout to the 2024 RingComm for designing the ring and organizing Ring Premiere/Delivery! I've heard that making all this happen is an extremely involved and time consuming process. 
---
I've never worn a ring regularly before. This hunk of metal chafed slightly against the sides of my pinky and middle fingers. People joked that receiving your brass rat is like marrying the Institute, but it's quite the shaky marriage. I thought about the two years worth of sleeplessness and exhaustion still ahead of me. That made me think about divorce. 
Up close, MIT can look like a depressing concrete monolith. But from afar, especially if you're looking from the other side of the Charles River under a twinkling night sky, MIT is truly beautiful. After Ring Delivery, a few friends and I frolicked outside for a bit. As the night air swept cold against our skin, we basked in the warm glow of the city lights, the glittery river reflections, and each other's presence. I felt alive. 
As I'm revising this blog post hopefully for the last time before I hit 'publish,' I have just finished the semester and flown back home. My first draft, which was written shortly after Ring Delivery, had a much angstier ending. "But a Ring Delivery blog isn't supposed to be angsty!!" said Kellen, probably. I think distancing myself from MIT is finally starting to soothe that angst. It's too easy to fixate on the mismatched seams, the uneven hems, the soulsucking psets, and the failed conference submissions. But even if stars are actually just angry hellpits of hot gas, they make a beautiful array of twinkling dots that I can admire from light years away. There are pockets of this hellpit and also of myself that I can learn to love more often. I just have to step back a bit first. 
I'm proud of myself for just getting through this semester. And for finally making the dress that I had told everyone that I would back in high school.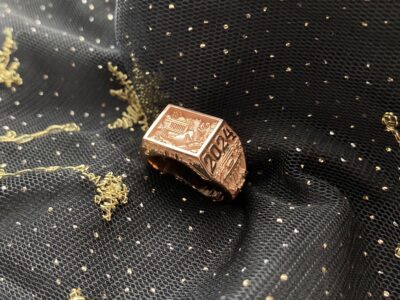 my favorites are coolirpa, withwendy, and Micarah Tewers!⁠

back to text

↑