When five bloggers (Anthony, Bryan, Matt, Mitra, and I) all attend the same event, you know it's the place to be and be seen =) Last night, my sorority, Alpha Chi Omega (AXO), had a chocolate fondue party, where we had the opportunity to open our house to the MIT community. The event was particularly special for me because I was one of the four organizers, so we have been organizing everything for the past month. Luckily, it went off without a hitch, with about fifty staff members and 400 students in attendance!
Background: There are five sororities at MIT, four of which have houses. We help our party at the AXO "Mansion," which is a row house on Commonwealth Avenue (two minutes from Fenway Park.) The house used to be a doctor's office and home, until MIT scooped it up a few years ago. While there are 120 girls in AXO, there is only room for 25 to live in the house. The rest of us are scattered around campus.
Publicity: As this is the first big event that I planned, I got to learn the intricacies of the process. I chose to design the t-shirt and posters, and I must say I learned a lot! On Friday, all my sisters wore the shirt I designed and it was really rewarding =)
Food: We bought out the world's supply of chocolate… not really but it sure felt like it. We went through three **25-lb** boxes of chocolate chips, which all went to filling the chocolate fountains and coating the array of carbohydrates. The chocolate covered strawberries and kiwis were probably my favorite. Ask Matt all about these, as he got to enjoy a strawberry the size of his fist.
Music: An MIT jazz trio provided some amazing music for the party (picture below, of the band and Amy '09). They played beautifully for three hours straight! It was amazing.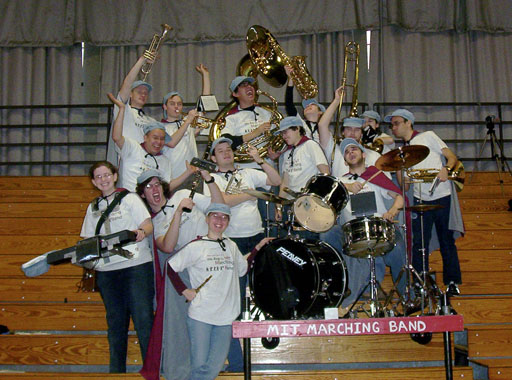 People: From 8-9 pm, we invited President Hockfield and her family, our professors, teaching assistants (TAs), and Graduate Resident Tutors (GRTs) for an hour of socialization with the sisters. I got to talk to many people, including the Assistant Dean of Housing about the new graduate dorm and the plans to turn a current grad dorm (Ashdown House) into an undergrad dorm in 2009 (right after I leave, not fair!) At 9, we opened up our doors to everyone. I saw a bunch of friends, old and new, so thanks to everyone who came!
Matt, Shaye '08, and me:

Time to study for my tests on Monday and Tuesday!!! Off to the library. I will leave you with this:

4 responses to "Melis and the AXO Chocolate Factory"