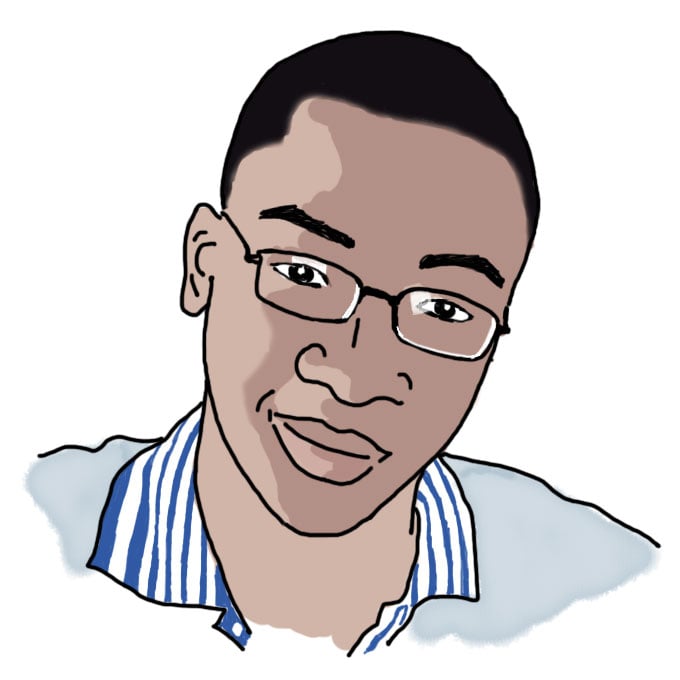 MIT.01: Intro to the Institute, part 3 (Finals)

by Vincent A. '17
You may begin at the sound of my voice. You have an hour to answer all questions... or weep.
The MIT.01 course, Intro to the Institute, has been very exciting to teach, and I expect that it will be added to the extensive list of courses already existing on OpenCourseWare. To gauge the extent of how well you understand MIT and how much the course taught you, I need you to answer the following questions immediately.
1) When was MIT founded?
2) If MIT was a fruit, what kind of fruit would it be?
3) What is the most appropriate way to react if you hugged the alchemist…and it hugged you back?
4) Do you agree that MIT courses are synonymous to downloading the internet into your brain? Why or why not?
5) What's the most drastic change MIT is likely to face, come 2113?
6)Over a 1000 freshmen will be admitted over the course of the next few months into MIT. How many of them will you say hi to, if a new fish is born today?
7) "Are new fishes born yesterday or the day after tomorrow? Is born even appropriate?" How will a course 9 student interpret this?
8)If all the buildings on campus wage a war, what building will win?
9)The number of seniors anguishing over a p-set right now is given by the letter S. The number of freshmen that have planned out their course schedules down to the final year is given by the letter F. The number of MIT alumni sitting by a window and thinking dreamily of MIT right now is given by A. Determine the number of people that will complain about the meal plan tomorrow.
10) Imagine that MIT were some large, living entity composed of highly active mitochondria, and several glycolytic enzymes that are activated by Earth-core temperature (you can tell I'm enjoying my biology class). If one of these enzymes is called Ihtfpase, why are you still reading this?
–
Running in uncomfortable high-heeled shoes after the Discover Electrical Engineering and Computer Science program I talked about was the week of orientation. Over one thousand eager beavers yet to experience the stoic firehose were split into small groups and plunged into a tornado of activities. The free food was endless, and the ability to make friends heightened. You merely had to look one freshman in the eye without freaking him or her out to begin a conversation. It was also possible to have walked up to them, grabbed their arms and torpedoed it around firmly, screaming, "HI, I'M (blank)! NICE TO MEET YOU!! WHERE ARE YOU FROM? WHY ARE YOU HERE? WHO SENT YOU? WHAT COURSE ARE YOU THINKING OF? WHY?! WHAT WAS YOUR SAT SCORE? WHAT WAS YOUR GPA? WERE YOU VALEDICTORIAN?"
That's typically the point everyone labels you a name that "isn't very nice" and leaves you alone. Of course you should never get that vocal or intrusive, but you do have to learn a few skills, such as repeating your name, state/country of origin, dorm and intended major on an infinite loop. It isn't always formulaic though. Ordinarily, when you introduce yourself to someone, they say, "Oh cool, that's great!". One evening however, while I was visiting a friend at Burton Conner (one of the dorms), I had the privilege of experiencing a conversation less…usual.
Person: Hey, what's your name?
Me: Hi, I'm Vincent.
Person: Where are you from?
Me: Nigeria!
Person: Where's that?
Me: Africa!
Person: Oh, alright, awesome.
(Thirty minutes later, a freshman walks in and "Person" jumps up in excitement, chiming, "Alright, let me introduce you to everyone! I got this!" Person looks around at all of us, and tries remembering our names…)
Person: Alright. Your names are… Gary, Will, Stephen, Lillian…
(Person turns to me, tries to remember my name, can't remember. Person tries luck at guessing my name anyway…)
Person: Nigeria?
–
My birthday took place during Orientation, coinciding with President Reif's convocation. MIT had an awesome birthday gift for me: The Math Diagnostic Test for Physics Placement. After a fairly gloomy ninety minutes of poking my pencil at a paper, I hurried out of the exam hall and spoke with my family over the phone. It was the first time I was experiencing my birthday without them and even as I heard their laughters, and birthday wishes, and, in the case of my youngest brother, request for a laptop filled with games, I was thrown into the arms of homesickness again.
That evening, I sat outside the Student Center, wondering what my siblings were breaking at home and wishing I could break it with them when I got a text message from a friend I had made during the Discover Electrical Engineering and Computer Science FPOP. He wished me a happy birthday and asked if we could hang out. We watched a hilarious movie and spent some time roaming down the rudely cold streets of Cambridge. The dreary thoughts of a faraway home vanished, replaced by idiotic intellectual conversations about monkeys in evil forests that rendered people dwarves with a single knock, about songs that determined who farted in a room of innocent-looking people, about the incoming p-sets and how much we would enjoy them (classic freshman naivete). Kayode Ezike turned my birthday around, from a festival of wistful longing to an exciting period of carefree time-wasting….and I do mean exciting. Just as Kayode and I were headed back to his dorm, we approached an incoming train, which would, in seconds, be directly in front of us. Thus came the dilemma of "to cross or not to cross". And…well, let's just say that it's not on every birthday you get the luxury of a near-death experience.
–
Several free food marathons, information sessions, and "Hi, I'm Vincent, what's your name?" conversation-openers later, orientation came to an end. An event called "Rush" followed, in which my life changed in several unexpected ways, but that's a topic for another blog post. After Rush came the dilemma of choosing classes. I had scored high enough on the math diagnostic to be recommended to take 8.012, a class commonly referred to as "Physics for Masochists". I had to decide if I wanted to take it or not.
I also had to decide which of the General Institute Requirement (GIR) classes I would be taking, and which of them would be through concourse . Concourse is an amazing learning community through which freshmen can take some of MIT's larger lectures in significantly smaller settings, while having eternal access to an awesome lounge in the middle of campus, to weekly discussions that explored philosophy and the intersection of science and humanities, and to free Friday lunch!
Well, here are the classes I'm taking this semester:
18.01: Single-variable Calculus
CC.801/CC.8012: Classical Mechanics through Concourse
7.012: Introductory Biology
CC.113: Ancient Greek Philosophy and Mathematics through Concourse
CC.A10: Concourse Friday Seminar.
I'll talk more about them later.
–
Bridging the disconnect
I've been very excited about coming to MIT, and those moments in which I would slip into deep thought and realize how lucky I felt to be here have never really faded. But there were times I felt a bit disconnected from the world of MIT. It just seemed so mutually exclusive from my pre-MIT life, and something about the newness of everything, from American culture to the pace of classes, sporadically terrified me. It seemed as though I had been plunged out of my safe planet, headfirst into this new colony beyond the Solar System.
The strongest sense of disconnection seemed to come from the cultural difference. I was trying to get used to the people, the accents, the food, to being a minority.The atmosphere of familiarity that had defined my pre-MIT life was missing, and I felt alienated. I lived with this alienation for a few days, becoming acquaintances with just enough people to warrant a friendly wave if I randomly came across them while straddling around campus, but not enough to let those relationships become a defining part of my MIT experience. Thankfully enough, it turned out time was all I needed, and as the days spent at MIT lengthened, a pattern began to emerge–within the communities I necessarily had to frequent, within my dorm and my classes and my floor, there existed a constant group of people I frequently saw and needed to talk to. It became clear that I had always felt at ease with my family and friends in Nigeria, not because we were tied to a unifying racial identity, but because we were tied to shared experiences, to standing the test of time together, to piling up days and weeks and months within which we became a natural part of one another's lives.
And with time, MIT rang of this world I knew. I got the privilege of the world's greatest roommate, James Deng. Apart from being a highly accomplished international olympiad participant with a deep interest in chemistry and a past research experience at Yale University, he's a great friend, the kind of person that sends me a text in the middle of the afternoon to see how I'm doing, the kind of person that smiles and tells me, "Have a nice day of classes" just before heading out of the dorm, the kind of person that asks me if I'm alright if I seem just a little downcast. A few days ago, James cooked dinner. We ate amazing food round a table and talked about our day. It's one of my best memories of this month.
I could roll out of a bunch of names of people that mean a lot to me: Nick and Isaac and Hannah and Fiona and Cheng and Abigail and Rachel and Sophia, but those are just names, names behind which true, beautiful people lurk. The importance of companionship is something I may have taken for granted over the past few years, as I never got to really thinking about the value of the people that were always around me, but when I had to recreate these meaningful relationships this month, I reestablished their value. Life will always play its tune of unpredictable variation, but comfort comes from the constant truth that we can always make important human relationships, and that they can always keep us strong and happy.
There was one concrete way I could tell that these people impacted me, these people I was getting to know beyond layers of names and intended course majors. They made me look forward to getting to see them in class, to p-setting with them, to merely just getting to talk to them. They made me think of MIT as a second home, not some impending degree attached to a bearable four-year timeline. They bridged the disconnect.
–
I hope that with these past three entries, I've given you a sense of what MIT can be like, of how its energy can affect you, of how things like mystery hunts and robot projects can open your mind to new ways of thinking, but most importantly, of how everyone here, everyone you see when walking down the Infinite or running to catch a SafeRide bus, or dragging your feet to an advisor meeting, can amaze you with their interests, inspire you with their stories and engulf you with their kindness.
I hope you stick around because this journey is just beginning.