Your Mystery Hunt puzzle of the day: Dead and Gone
I finished up work at 6:50pm tonight and was in the mood to do something interesting, so I pulled up today's IAP calendar and realized that in 10 minutes, a director would be screening a really interesting documentary over in Building 32 (aka the Stata Center) and taking questions, so I ran on over.
The film, Monkey Dance, is a documentary about the lives of three Cambodian-American teenagers in Lowell, Massachusetts (about 30 miles north of Boston, it's home to the third largest Cambodian community in the world behind Phnom Penh and Long Beach, CA). In subject matter, it was a little like the PBS series from a few years back, American High (filmed at Highland Park High School in the North Shore suburbs of Chicago), but it was a lot more interesting (at least to me). In the film, all three teens were from low income families. Each had dealt with significant challenges — siblings in gangs, a sister convicted of murder, a father getting cancer. Each had their own conflict between their parents' Cambodian world and their very American world. Their parents speak Khmer while they speak American teen slang — and in the case of one character, with a heavy Boston accent (think Matt & Ben in Good Will Hunting… y'know, pahk the cah in the yahd, etc.). The title of the film, Monkey Dance, refers to a classical Cambodian dance starring Hanuman the Monkey God. The characters are united in their love for dance, both classical dance through Lowell's Angkor Dance Troupe as well as American hip hop dance. Anyway, onto the show…
The posters around campus advertising the screening…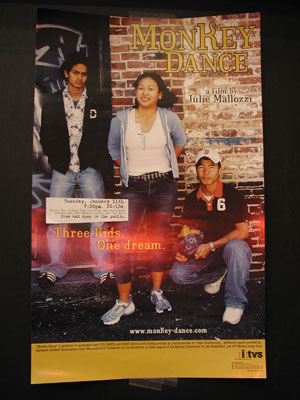 The director, Julie Mallozzi — no relation to the Car Talk guys, Tom & Ray Magliozzi, both MIT alums — speaking about her film.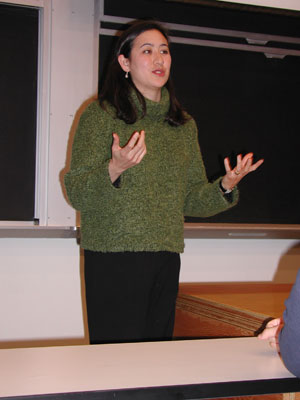 The standing room only crowd was quite appreciative.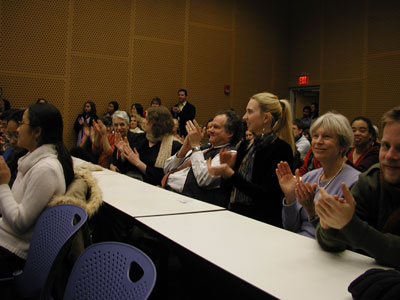 Overall, a pretty cool experience, though not as cool as when Mira Nair came to speak last year and kind of offered my friend a role in her next film, which is an adaptation of Jhumpa Lahiri's The Namesake with the lead role of Gogol being played by… Kal Penn?? Sadly, I missed the screenings and director talks at September's Silkscreens Asian American Independent Film Festival at MIT, since I was on the West Coast at the time.
For those of you with an Asian Students Club or a Film Society on your activity list, you may want to seriously consider asking Julie Mallozzi to do a screening of her film at your school. It's a great film for discussion, from both a cultural/sociological perspective and from a movie enthusiast perspective. Her contact information is here.
On the way back to my office, I spied another movie event poster that might appeal to some of you…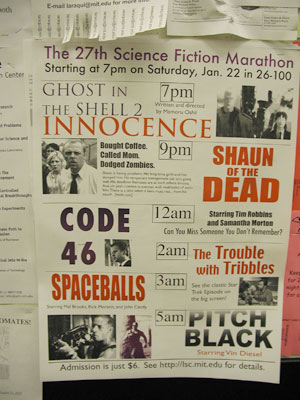 The (27th annual!) LSC Sci-Fi Marathon is a pretty big tradition here at MIT. Look at that lineup! The Trouble with Tribbles! =)