Without a doubt, I think every student here can agree that problem sets take a significant portion of their time throughout the week. Here is my normal setup: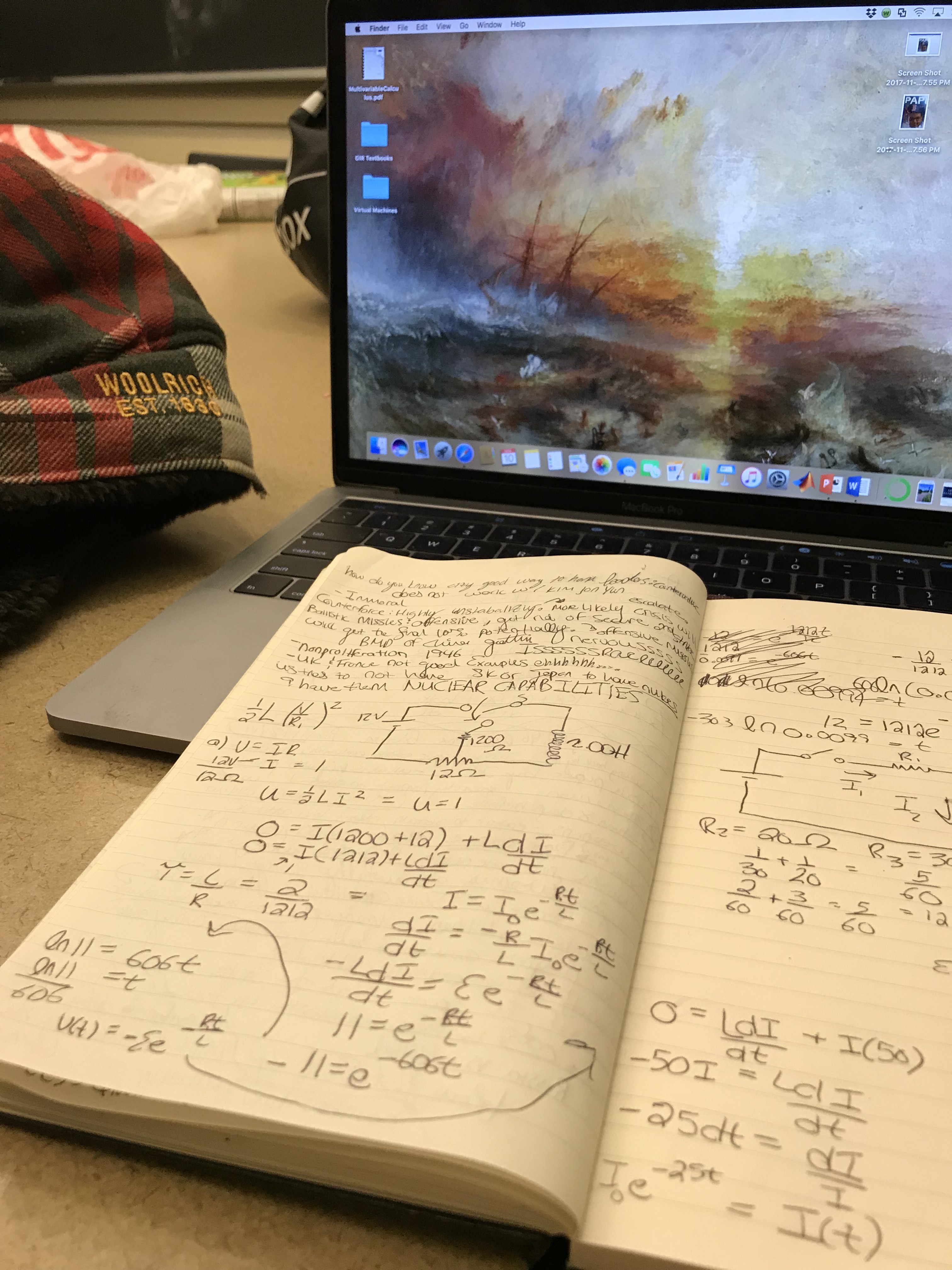 I always carry my single notebook that randomly switches topics between all my classes like the change from American Foreign Policy to RL circuits as you can see from the picture.
With four or five classes and UROPs, the homework piles up throughout the week. Also, there is most likely assigned reading for your classes that just add to the time out of class contributed to mastering the material. For me, I cannot stand working in my room. I feel cramped and not as productive as there are so many things within my reach that can easily distract me. Due to this, since the beginning of the semester, I have begun to use some locations around Cambridge and Boston to complete the majority of my work. I have ranked them using the criteria of table space, level of noise, proximity to food, and accessibility. Without further ado, here are my top seven places to P-Set:
1. Quincy Market, Upstairs by the GAP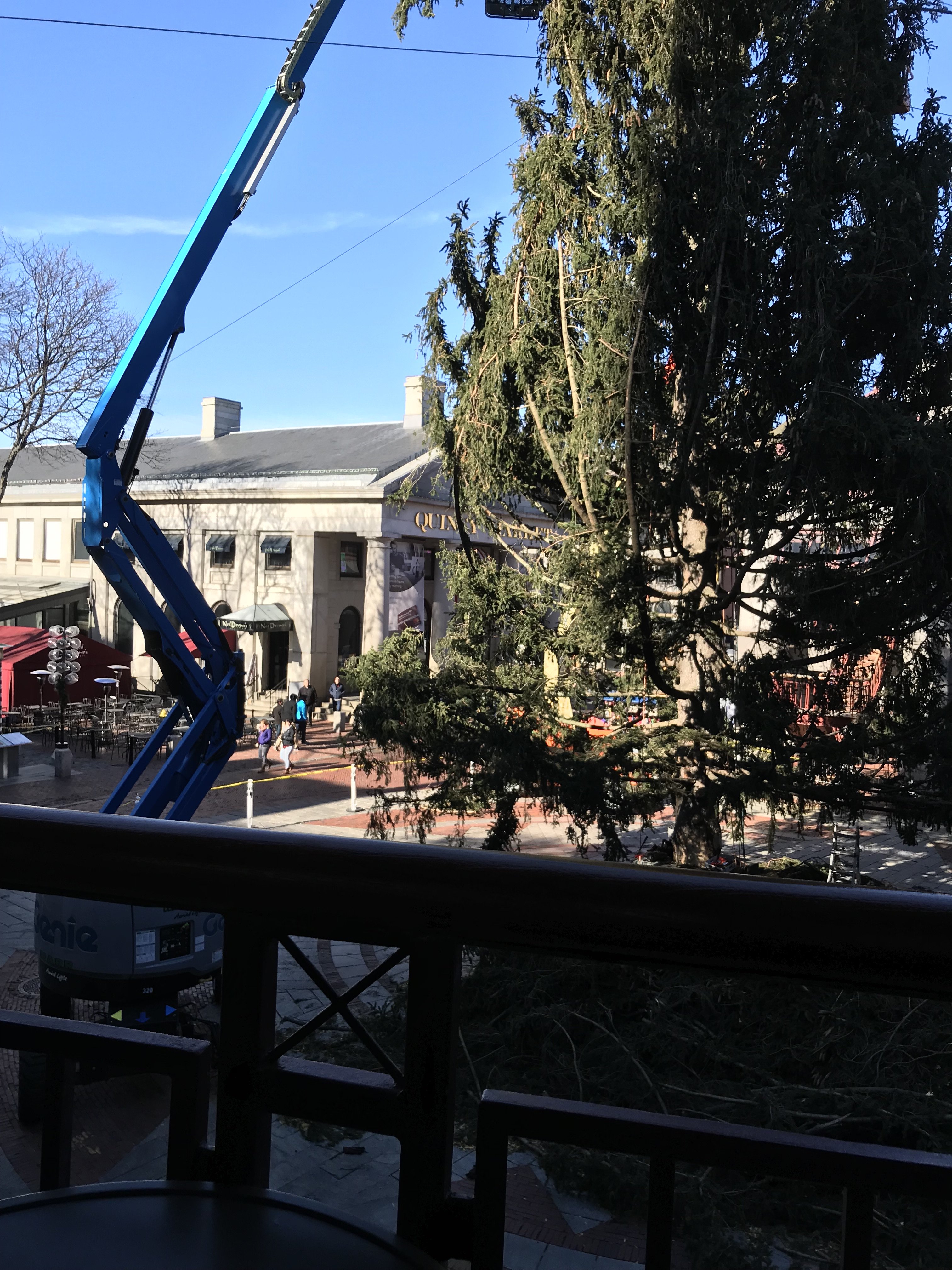 This is my favorite place largely due to the mall of food just a staircase away. I normally come here on Friday after I do some of my UROP. I will go upstairs, where there are three to four circular tables that overlook the courtyard that is now occupied by the huge Christmas tree in the picture! I do a lot of my calculus and physics here because of the table space. I can lay out my notebook, connect my computer to the GAP Wi-Fi and enjoy the noise of the ground below. There is normally not much going on up here on the second floor, and I go grab something to eat right after!
Bike ride from campus time: 20ish minutes.
2. Random Classrooms Around Campus/ Barker Study Spaces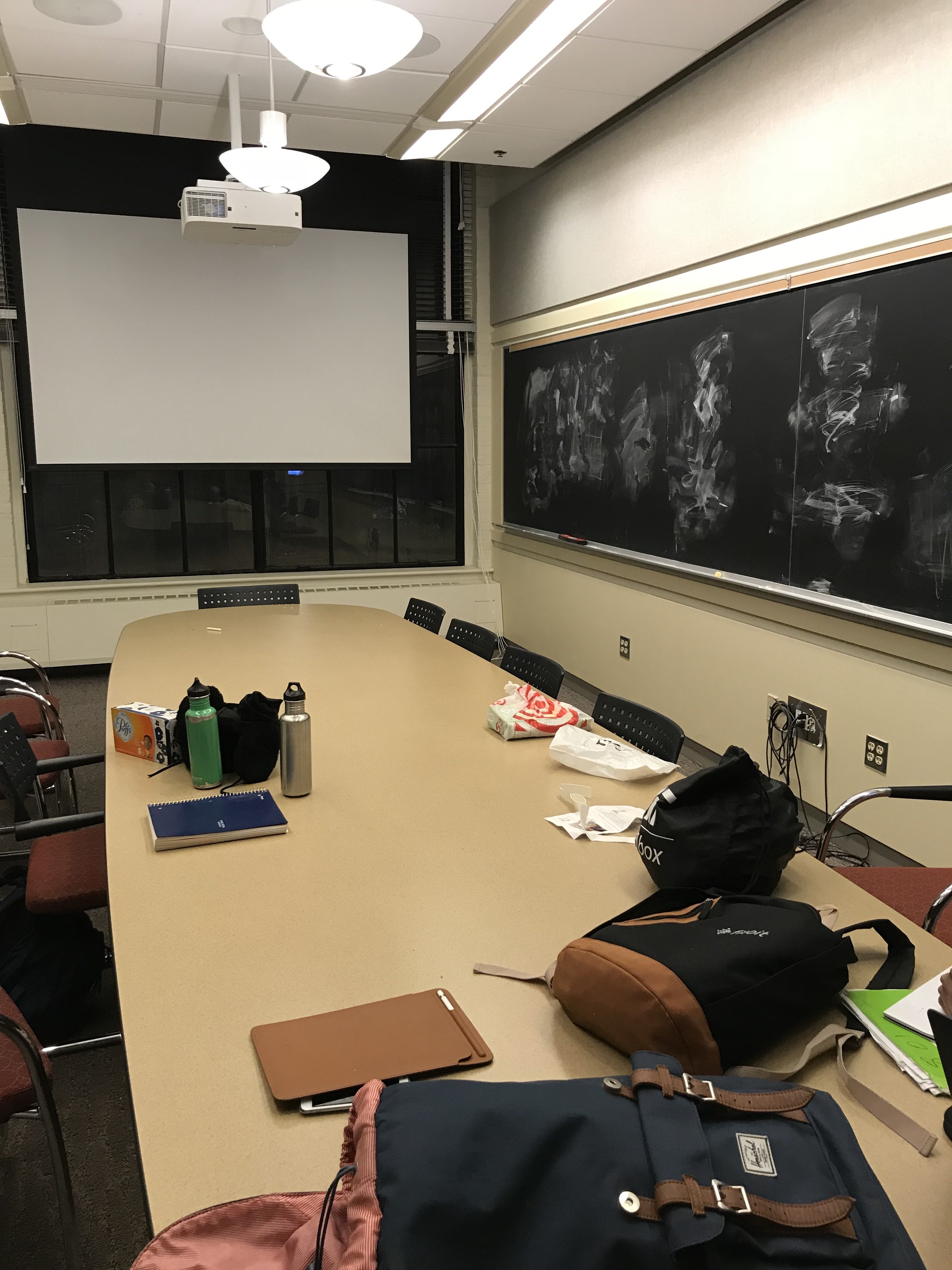 I go here when I am with my friends! We have a few spots that are normally open at the hours that we like to P-Set together, but I will leave the room numbers confidential so they do not get overcrowded. Overall though, it is great to have all the accessible chalkboards to use when working. This way, we all can work and display our work for one another. Normally, our Saturday and Friday nights (We are quite the party animals) are spent in these rooms, while I use all my other locations when I am by myself working.
It is on campus! Just a walk, well, a bike ride for me since I live at Next!
3. Long Wharf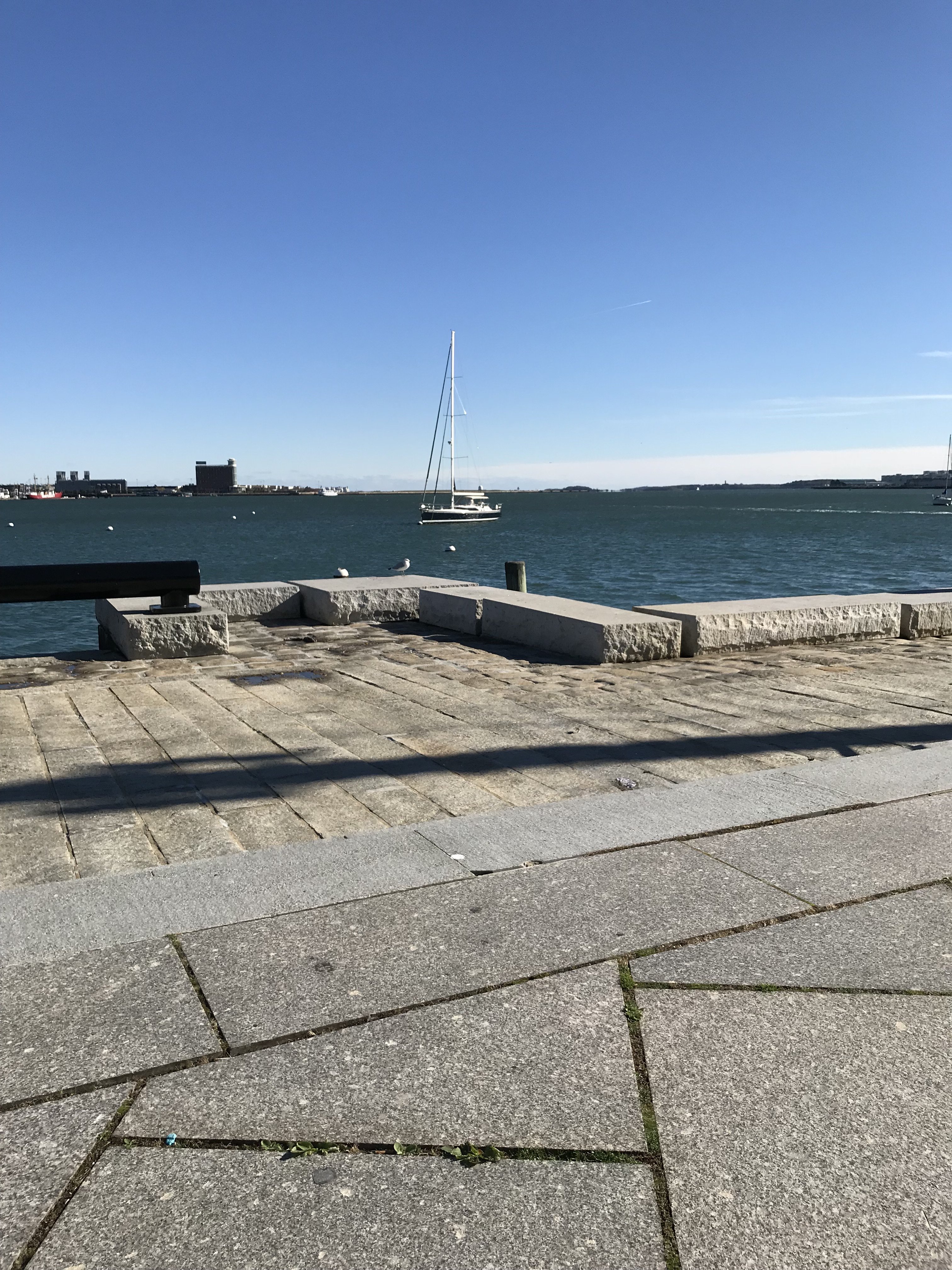 Although the chilly weather is quickly making this place unavailable unless I want hypothermia from the sea breeze, this is probably the most relaxing spot that I go to. I normally read here, for both classes and for the joy of reading. I sit on the edge and dangle my legs over as tourists upon tourists walk around me taking pictures with the Boston harbor background. I have probably photobombed over 500 family photos, and I plan on continuing all four years here. On a side note, I rode my longboard there to take the picture, and I managed to run over a chicken wing and almost wipe out in front of a trolley tour bus that was loading up its passengers at the time. It was quite the experience and highlight of the day.
Bike ride from campus time: 25ish minutes.
4. Boston Garden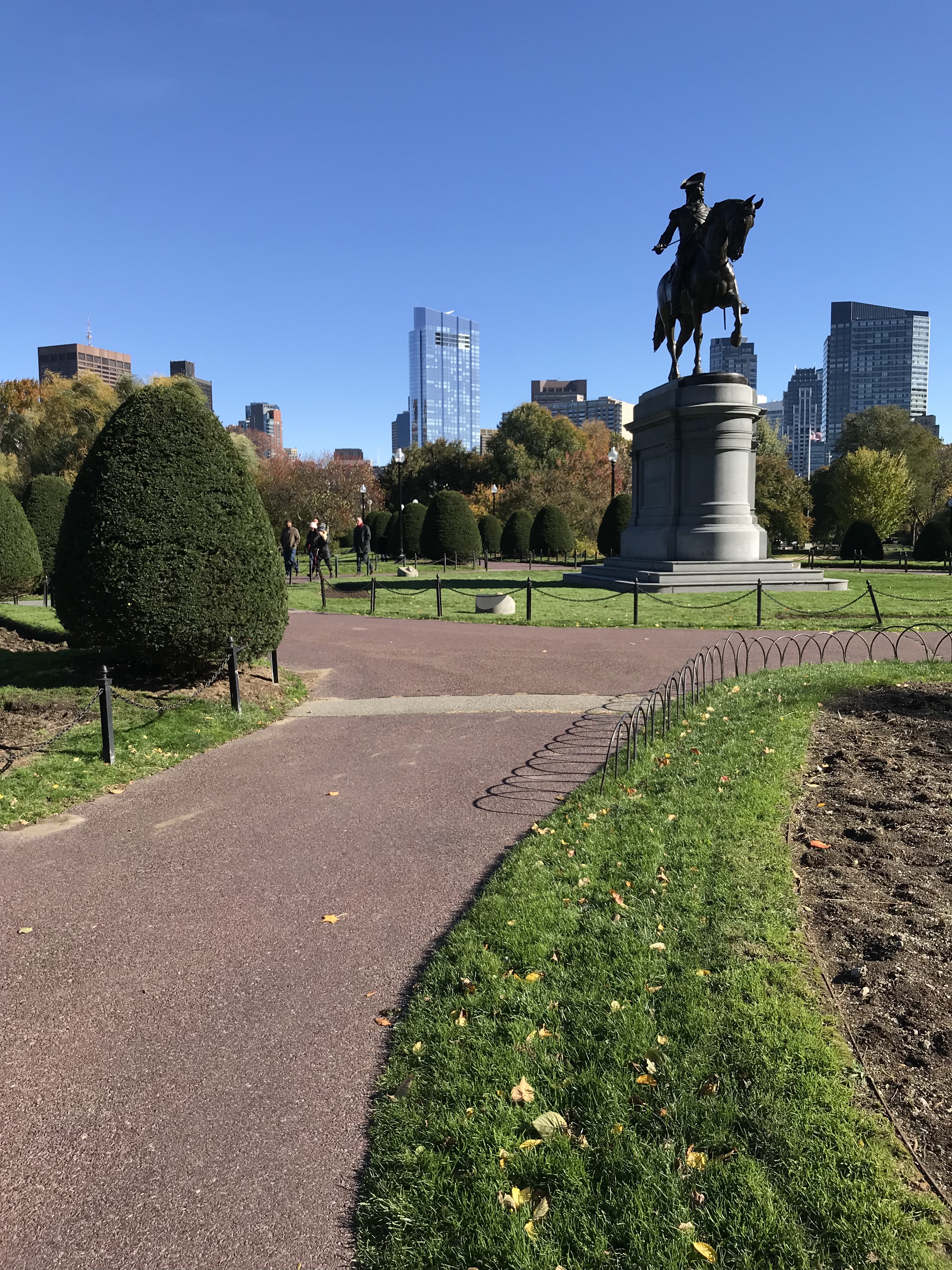 The Boston Garden is great for two reasons; 1. I can sit in the grass and work and 2. I can get sidetracked by watching dogs chase squirrels up trees. I come here to work on my blogs and write my essays for my foreign policy class. I go here a lot. Sometimes I go just to have a quick break from riding my bike when the wind is too strong. Sometimes I come to work. It is really a peaceful place and moderately close to campus. Plus, there is an Asian man who plays an interesting instrument sometimes close to where I work, and it sounds like some type of pan-flute violin hybrid that sets the tone for my work.
Bike ride from campus time: 12ish minutes.
5. Brookline Benches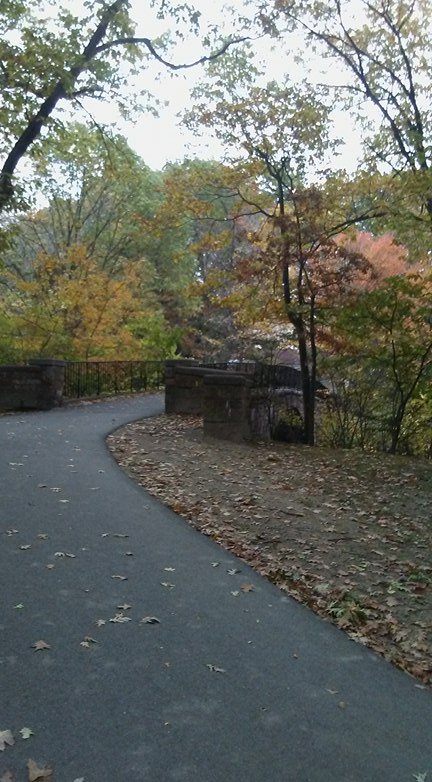 While many of the previous locations are grouped close to one another at the heart of Boston, I also enjoy some of the newer places that I have found. On my weekly run for snacks at the Target by Fenway, I was riding my longboard down this one road that was awfully hilly. To get to the point of the story, I couldn't stop quickly enough to successfully cross the street to get to Target and I ended up turning the other way to go along with my longboard until it slowed down. Weirdly enough, I stumbled upon this trail in the woods that runs parallel to one of the Green-Line T trains, and I found a secluded and wild area. Similar to the Boston Garden, this place is perfect for reading. I really enjoy reading in general, so I spend a significant portion of my time reading throughout the week. Anyways, the photo I took above is the view from the bench I sit at that is currently covered in all of the falling leaves! Definitely the nicest scenery out of all the locations and probably the quietest. On Sunday afternoons, I make my way over here with some of the snacks I bought the Friday prior, and I type on my computer or read my books. Truly recommended for those who enjoy peace and quiet while working.
Bike ride from campus time: 15ish minutes.
6. Prudential Center Inside and Outside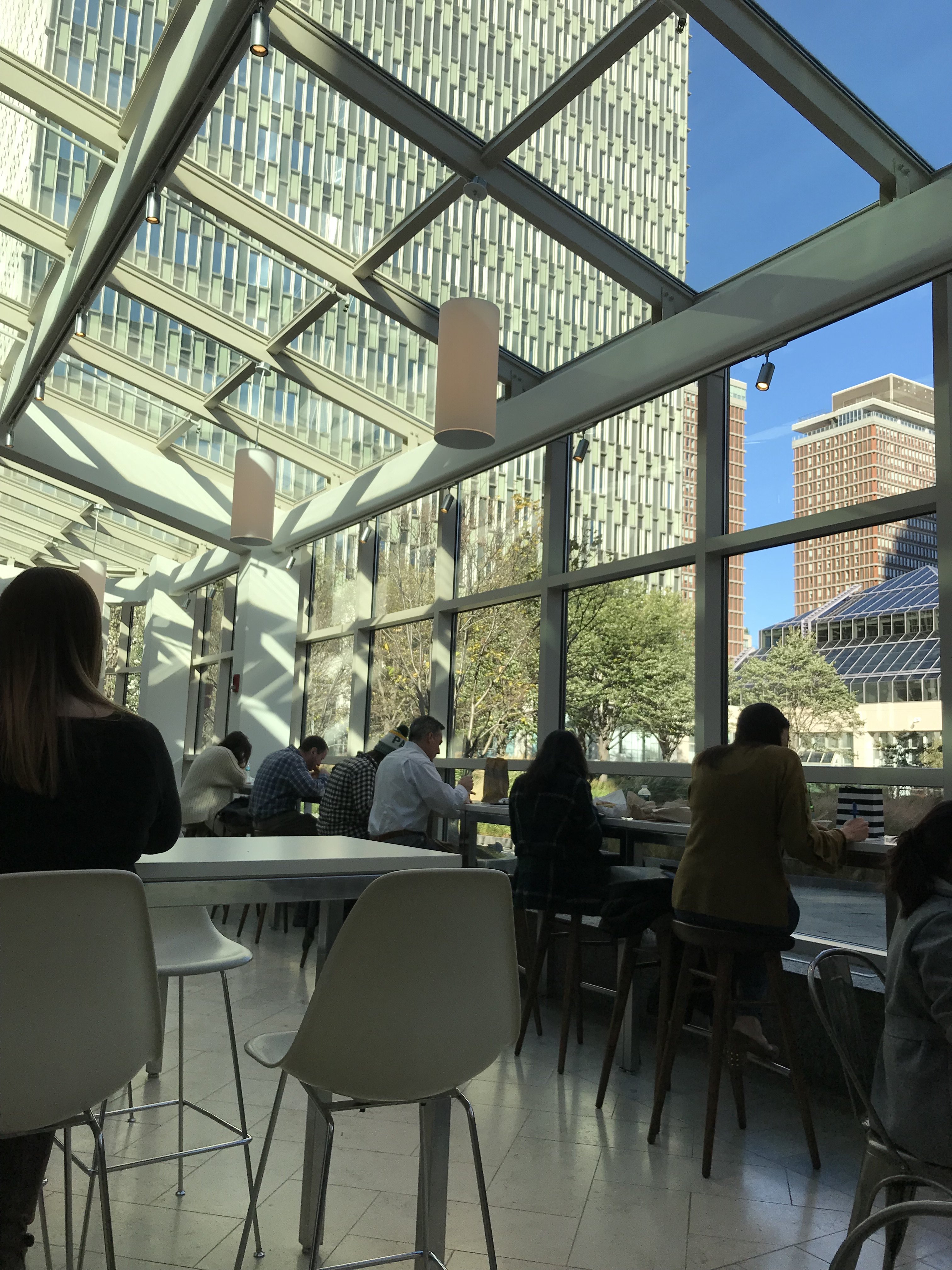 To my sadness, the little outdoor area I normally work on has been closed for the season, but it is okay because it's getting really really cold here. Like, today, I experienced the coldest temperatures of my entire life. I am definitely not in Florida anymore! I went out today in part to get the photos of the places, and I came back with my nose running and shivering and realizing that Winter is Coming. The Prudential Center is like my second Quincy Market, where I have access to both tables and food. Today, I brought my 8.02 problem set there, and I worked on a table that looks out into the outdoor area I used to work in. Then, after working, I grabbed something to eat in Eataly, where I tried some fancy chocolate nuggets that were amazing. The place is loud and the conversations are plentiful. I like the hustle and bustle sometimes to have in the background when I work!
Bike ride from campus time: 10ish minutes
7. Inside Fenway Target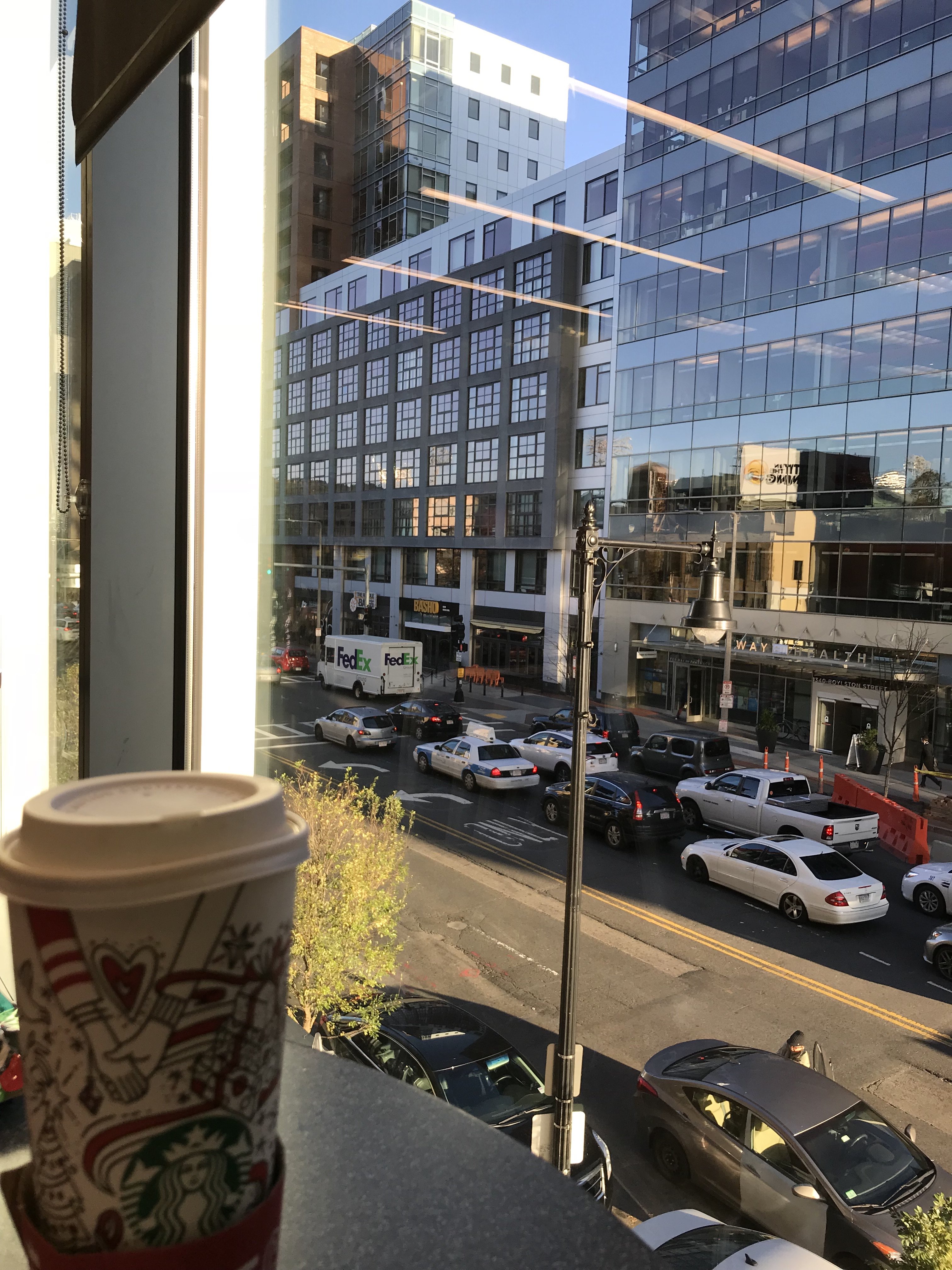 This is probably the most oddly specific case. Weirdly enough, although the goal of all of these locations is to P-Set, they are all connected to food in one way or another. In this case, the Target functions as both my snack dealer and second desk away from my room. When I go get my snacks, I normally like to relax for a bit before biking back to my dorm, so I bring my notebook with me and the paper copy of my homework in my back pack. The target is built in three stories, and there are tables next to the Starbucks after the cash registers on the second floor, where I can overlook the streets without being a part of the honking and constant movement. This place is a quick stop, maybe for a problem or two, before I move on with my day.
Bike ride from campus time: 15ish minutes.
Overall, I like to mix it up with doing my work. Boston is really a cool city, and I am sure by this time next year, I'll have a whole new list of places that I work on my stuff. I thought this would be helpful in both showing you a little bit of what Boston has to offer and how you can fit that bit of Boston, or the surrounding neighborhoods, into your academic part of life. It is a lot more motivating to finish a P-Set when you know that down the stairs await a piece of Fudge from Sprinkles or a warm cookie from Kilvert and Forbes that are my two favorite desserts from Quincy Market. When you have twenty problems to finish between Saturday and Sunday, get out, spend some time in Boston, eat some food, and work on the problems efficiently in the meantime with a full belly and beautiful view.