Us, hesitantly: "Do you want to see every Naruto-themed art project we made when we were 13?" 
Because this summer, we reorganized our closet at home, and found some …. Things. 
The sorting process started out normally. We went through the stacks of stuff, and pulled out hidden things from the corners they've been sitting in for years. "Okay let's donate this book." "Oh, wow we had so many stocked up school supplies!" 
Next up was opening containers. We started with a clear plastic one. Its lid, barely clipped down to the base, was protruded as if it was about to explode open. No surprise, given our hoarding tendencies. We opened the box, and memories, both cringy and happy, came flooding back. This container was our middle school version of Memory Mushroom. Letters from friends, birthday presents, random art we made, etc. 
But buried at the bottom, hidden by our 13 year old selves, was an atrocity. A persuasive essay about the true identity of a Naruto character, printed into a booklet and its cover unironically embossed with an obscure Microsoft Office font.
…. who even were we??? Let's unpack.
As you guessed by now, we were /invested/ in Naruto. So sure, maybe it would make sense to have a theory about a character, and then post it on a fan page. But no, we wrote this essay for no one, but us. We did it for *art*. 
In eighth grade, we had an incredible English teacher. Before her class, we dreaded writing and reading. Through her positive reinforcement, which encouraged creativity, she completely flipped our view of reading and writing. In preparation for a Florida standardized state exam we had to take, she taught us how to write persuasive essays. We had so much fun in class answering those prompts that we went home to make this: 
It's so conflicting. We cringe so much looking at this. The fact that we even made this. The word choice of "FOOL" was so weird, and clearly influenced by a funny math teacher we were trying to imitate. And yes, that is how you spell "reply." But at the same time, we remember writing this, having so much fun, and how much of a positive impact our eighth grade English teacher had on us. 
We continued organizing our closet. Next up was a folder. Now, what we found inside was this…uh,  plaque thing. There isn't much of a story behind this, expect that we were into visual symbolism and angst. We made the structure of this with popsicle sticks, and all the edges between the panels *meant* something. 
Clumped blue hot glue gun strings ⁠01 If you've ever used a hot glue gun before, you know what the hot glue gun strings are. They're like the very thin stray "hairs" that come off the tip of the glue gun when you pull away from the thing you're gluing. We were very fascinated by those stray hairs, so we learned how to harvest them, and then, used them for art. on one side and burned matches on the other symbolizes conflict. The blue and orange friendship bracelet symbolized, well, friendship. And clumped blue hot glue gun strings mixed with burned matches symbolized shared sorrow and pain.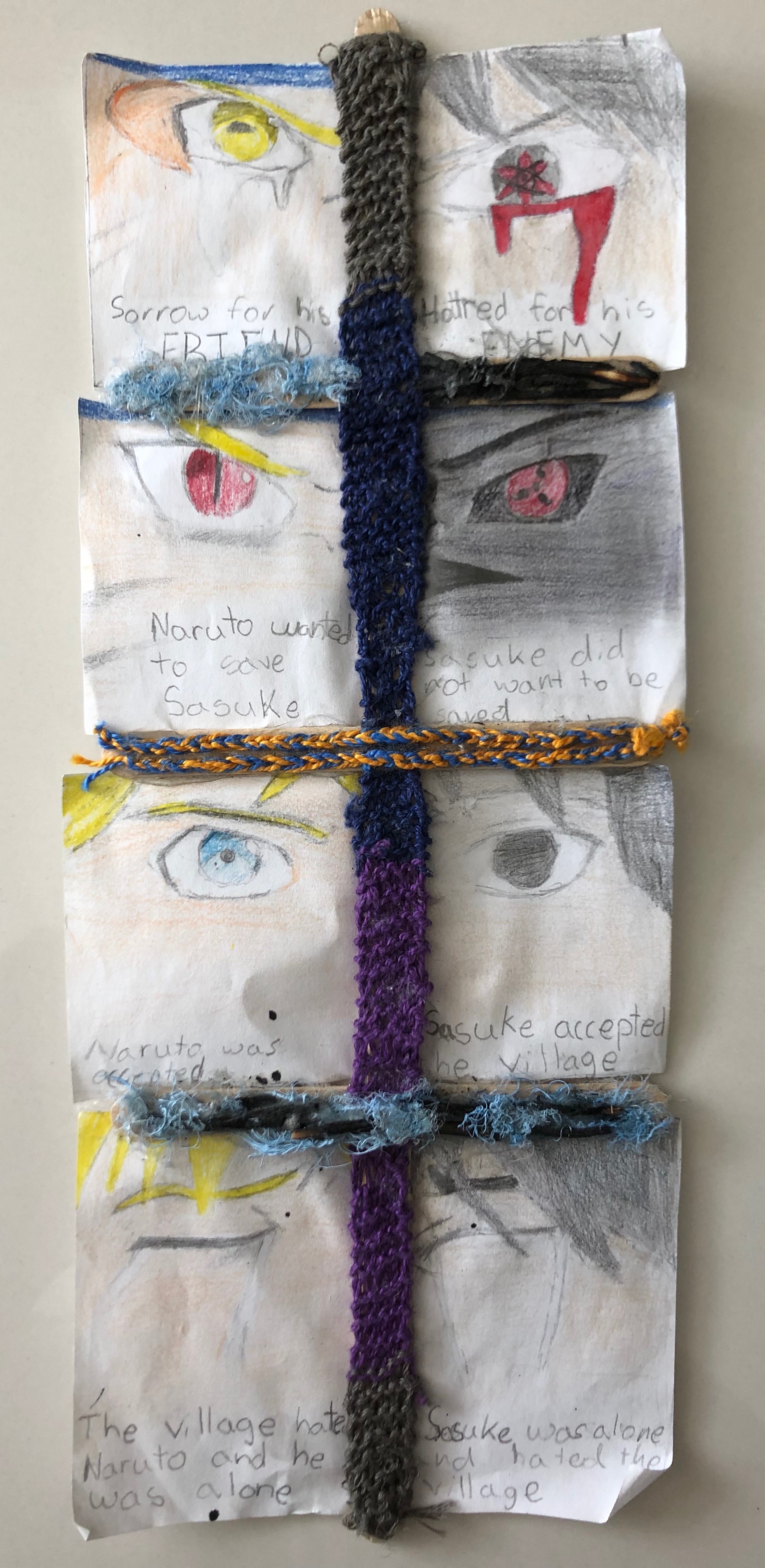 Reading this thing now, we remember how cool and artsy we thought it was. *m a x i m u m c r i n g e*
But we also remember how fun it was to make this type of mixed media craft project! Knitting, drawing, writing, match burning, hot glue gun string collecting! 
Onwards, we continued scavenging our closet. What do we find? Of course, a scrapbook of Naruto Shippuden Sketches.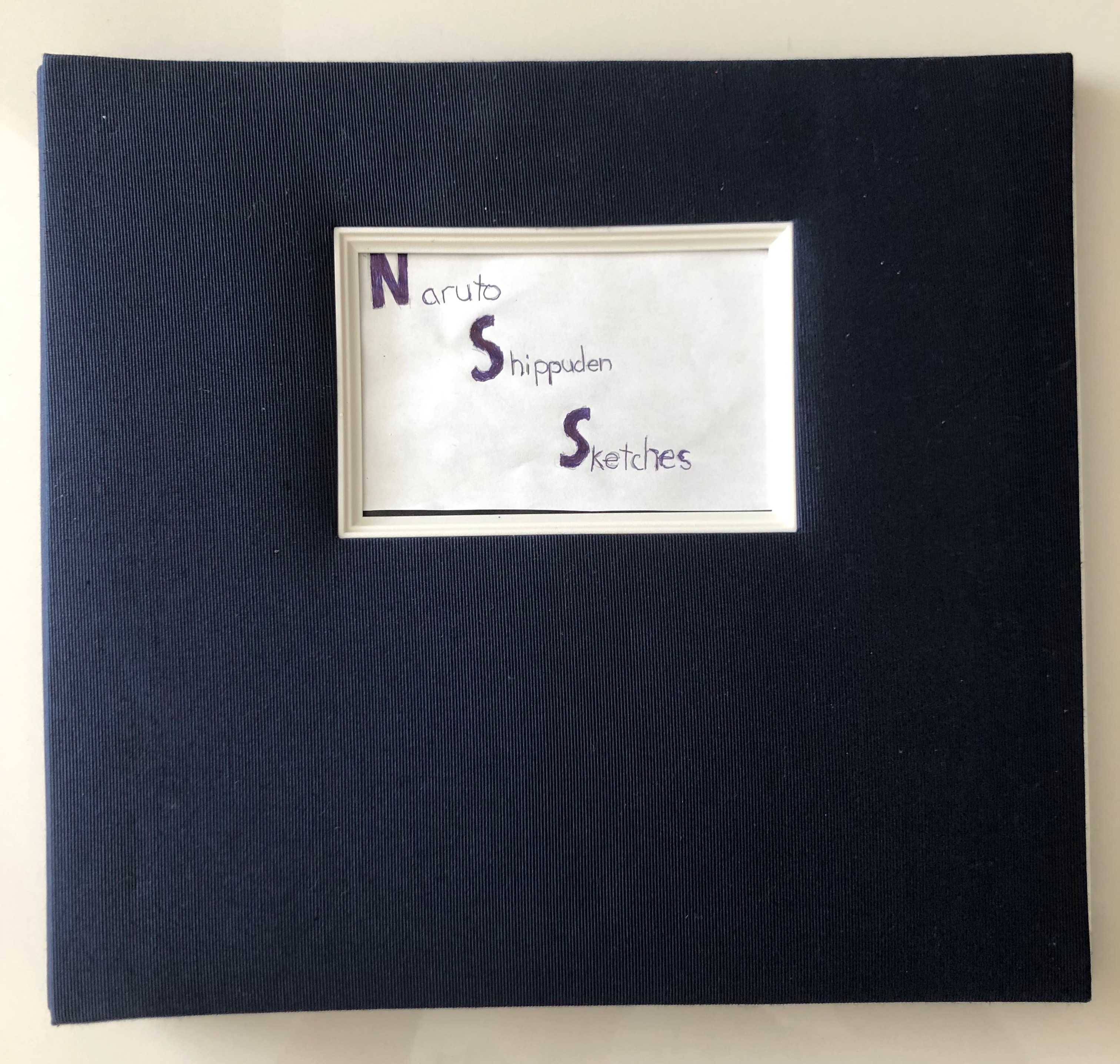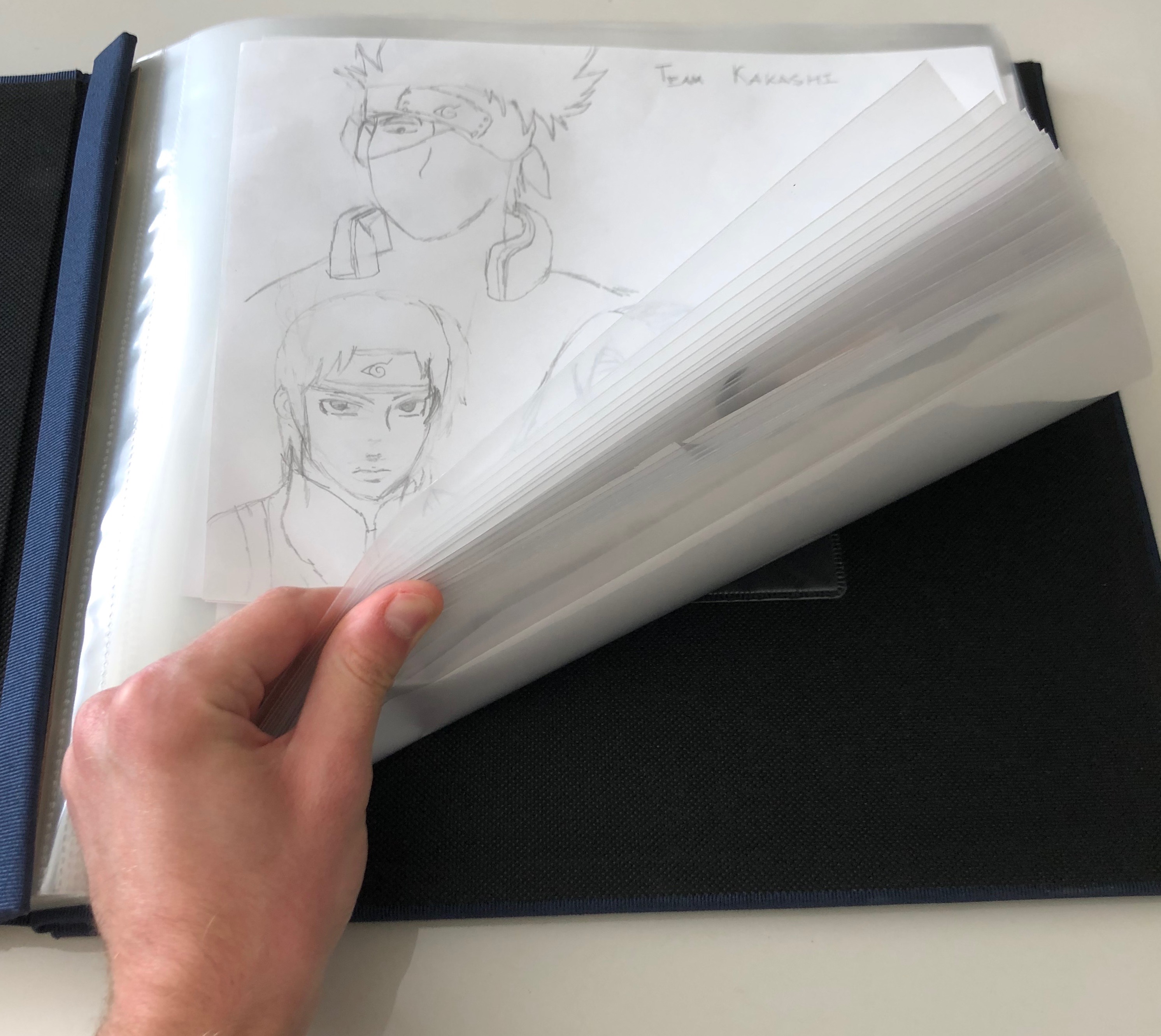 We think everyone who likes drawing and anime will, at one point in their lives, draw anime. But being extra, we went to Michaels to buy a scrapbook, and put all our sketches in the protective sleeves so that we can look back at them for years to come. Need we say more?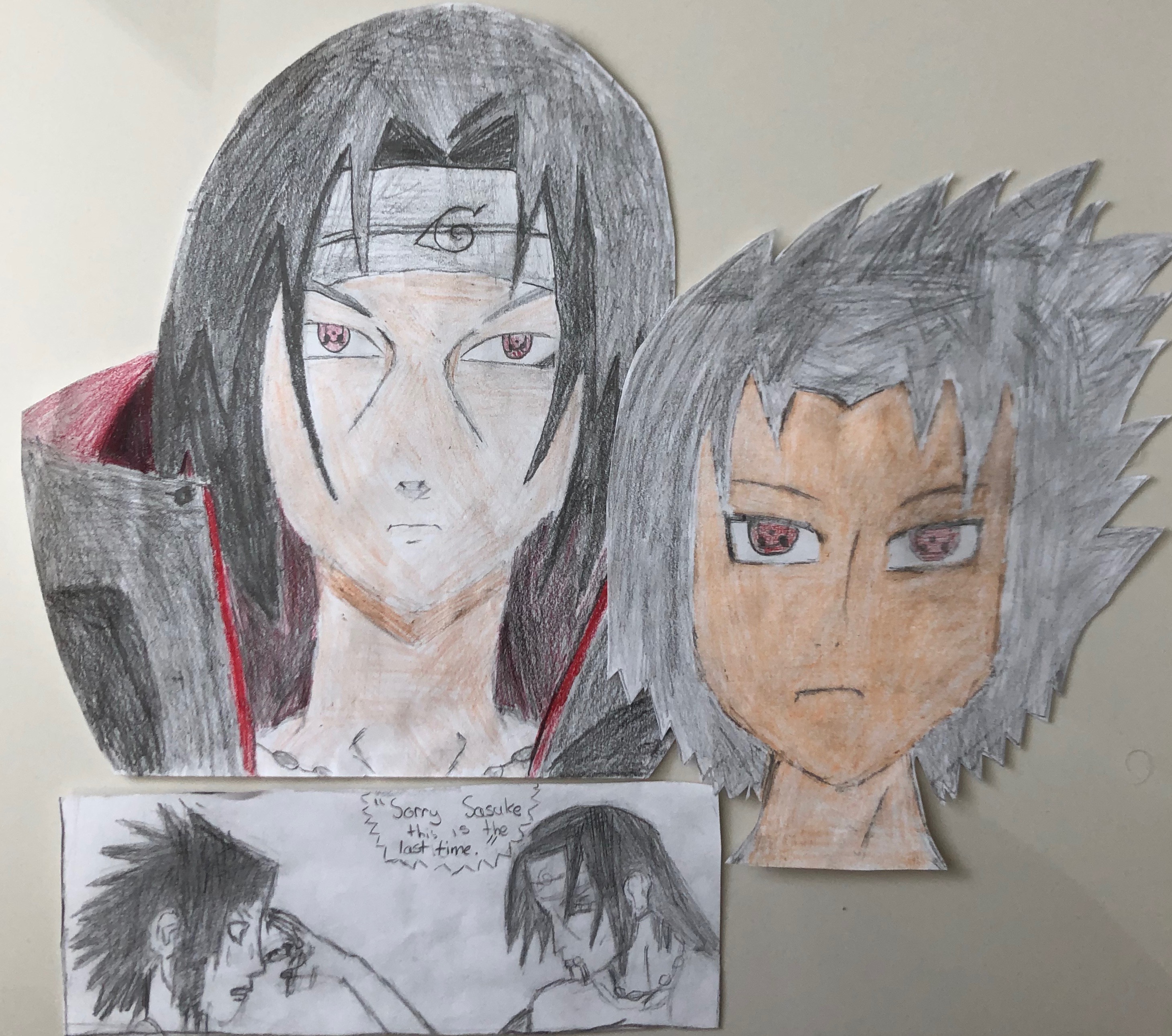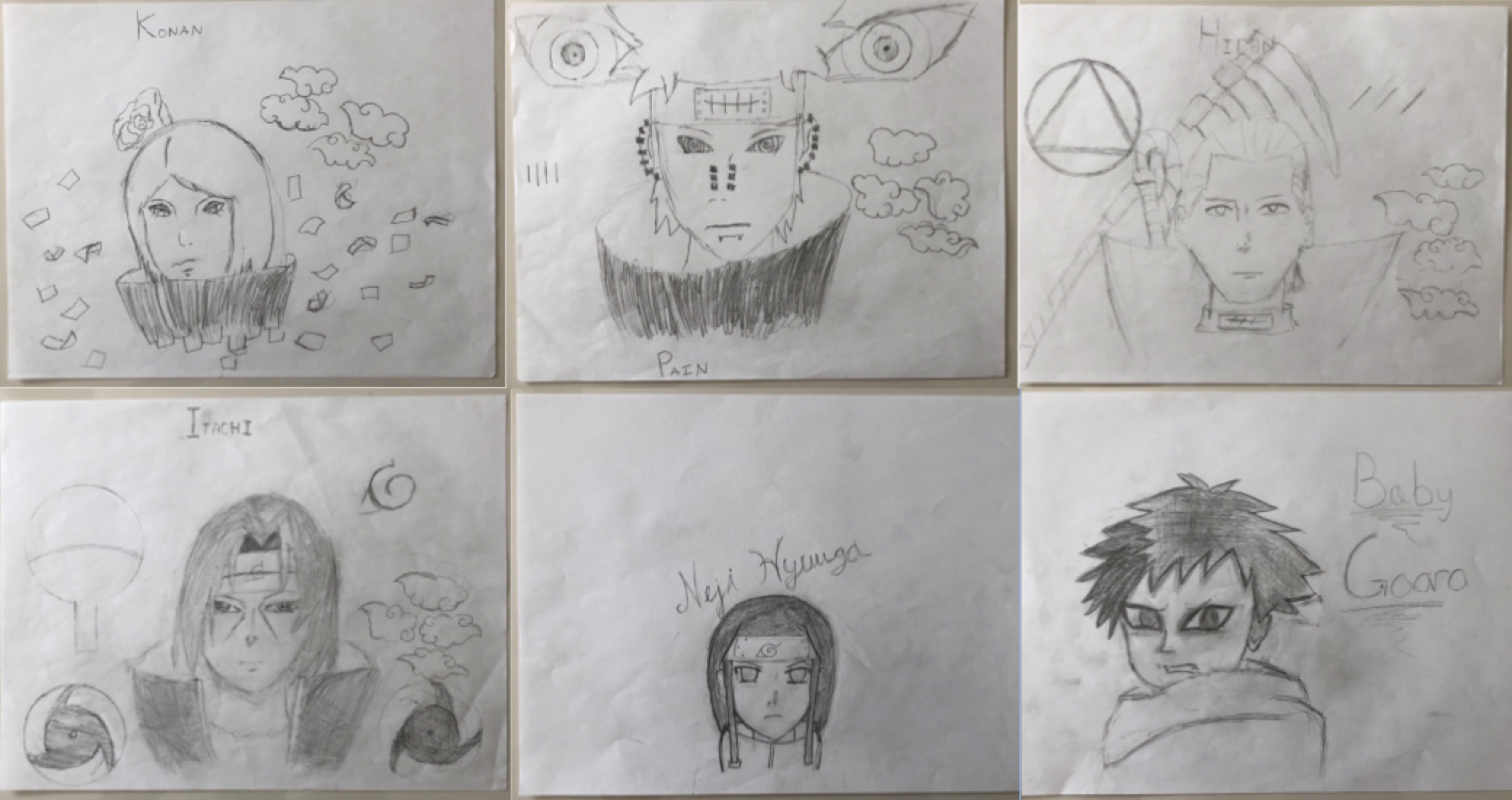 Moving on… 
We found what looked like a misplaced plastic bag of erasers. "Oh let's put them with the school supplies." "Oh wait, why are they covered in ink?"  
Well, see for yourself.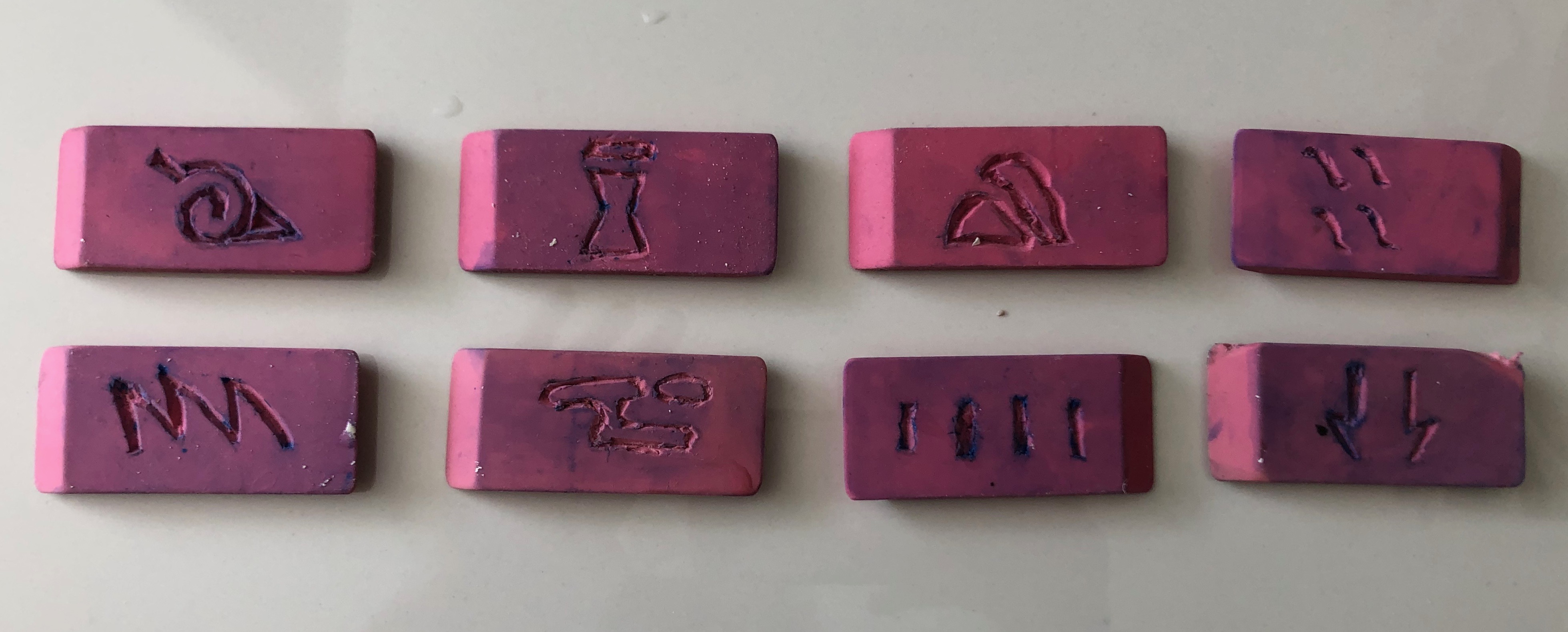 Yes, we did make eraser stamps of all the Naruto village symbols.
At this point, we thought nothing could top this. We were wrong. 
In the deepest, darkest corner of our closet, was another clear plastic container. Its contents you ask? Yes, it did in fact contain hand-crafted finger puppets of all the tailed beasts. 
Heads – paper mached and painted. Bodies – knitted with sewing thread and tiny needles.  And tails – cut from cardstock. All the pieces held together with hot glue. 
We clearly had a lot of free time.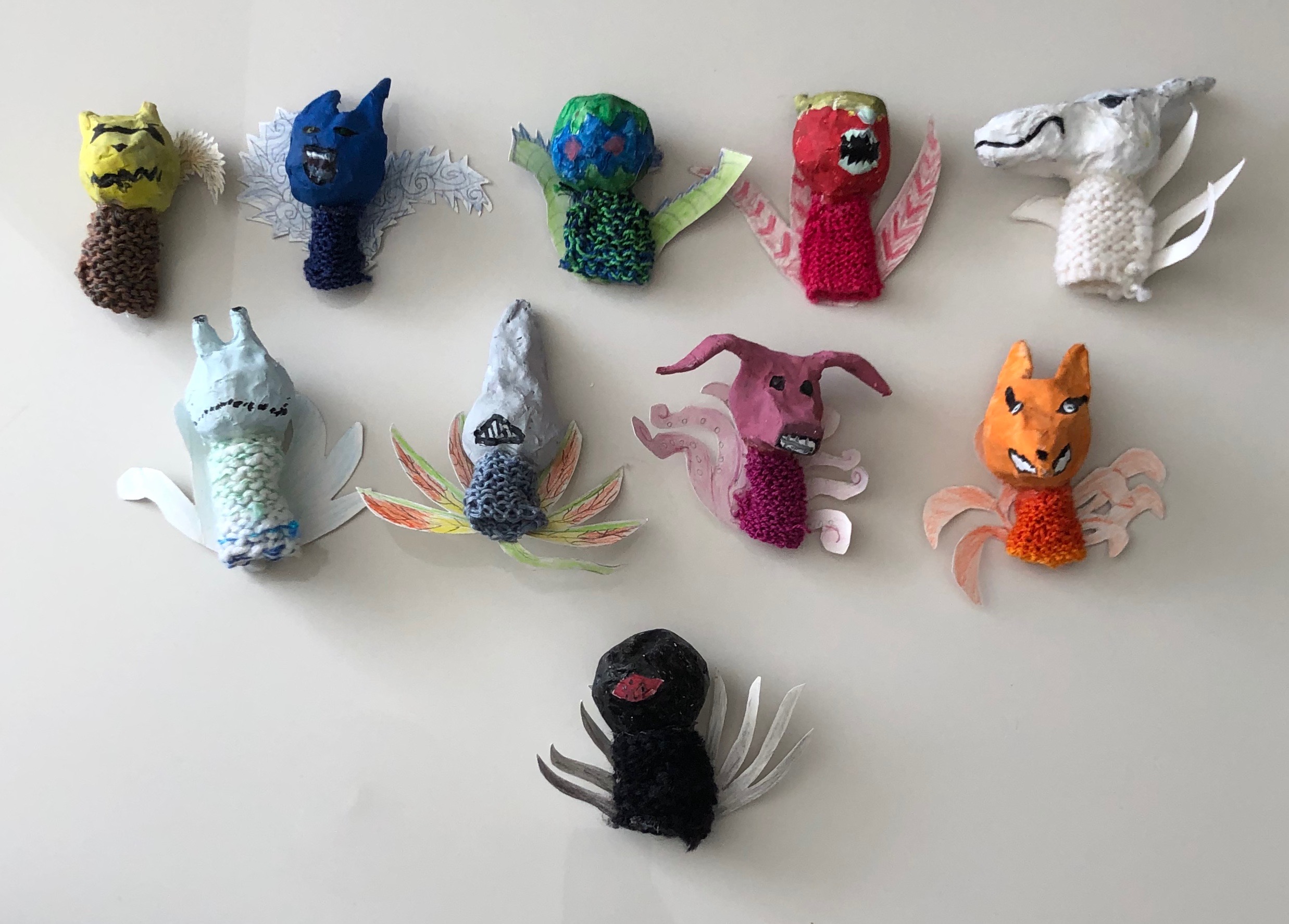 We spent the most time laughing at these lil monsters. Honestly belly laughing. Look at them! They are so weird looking!!!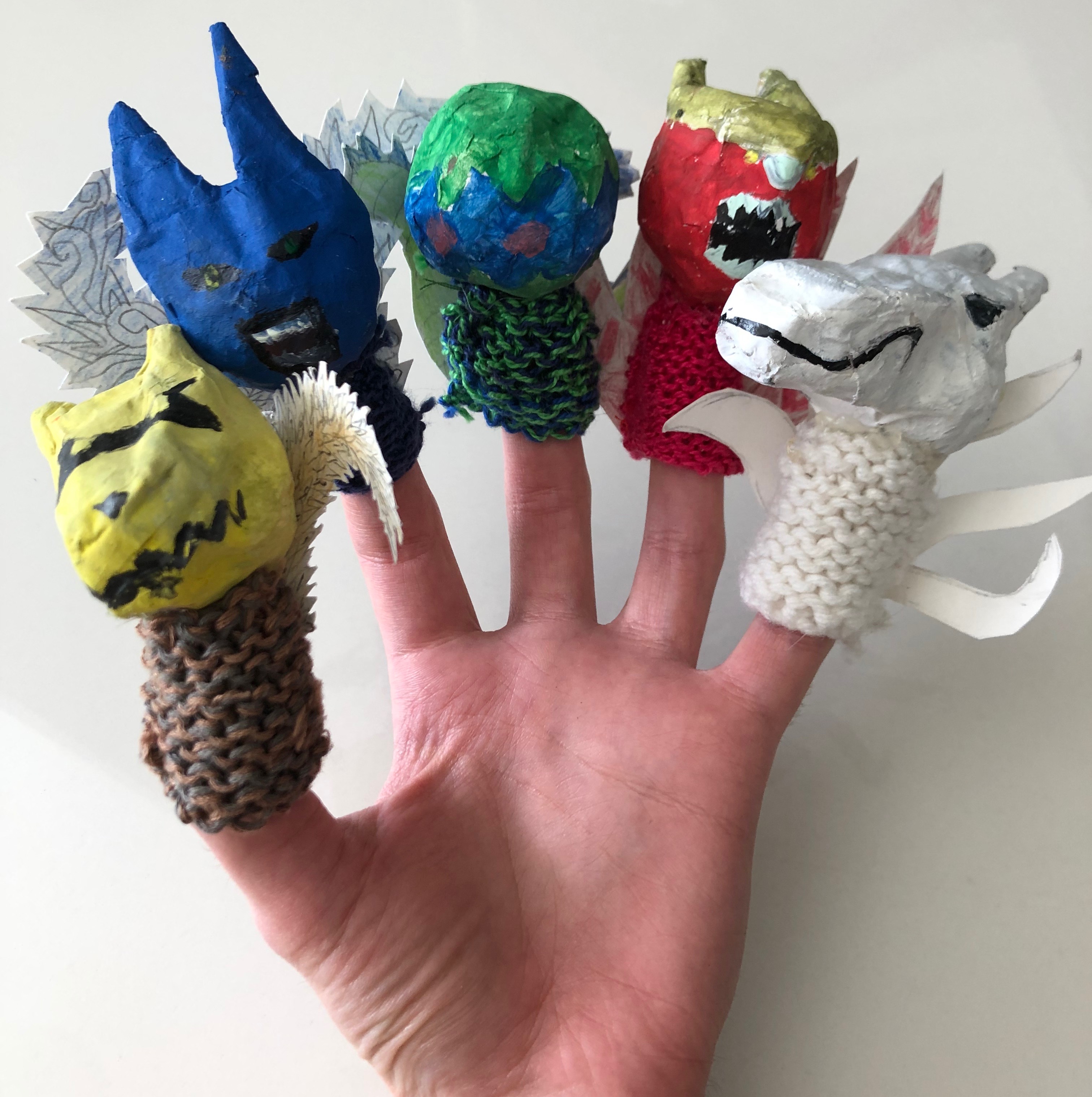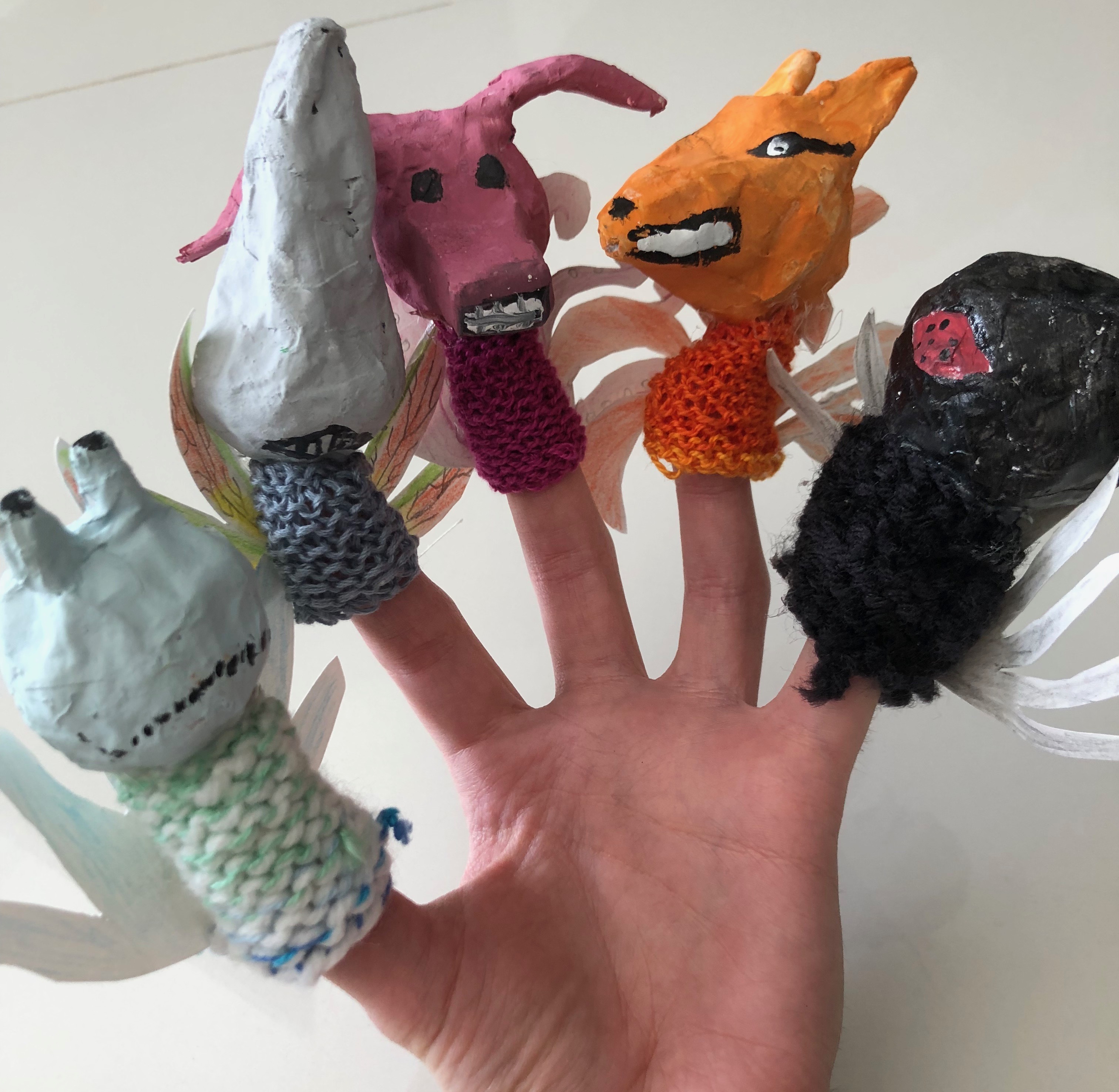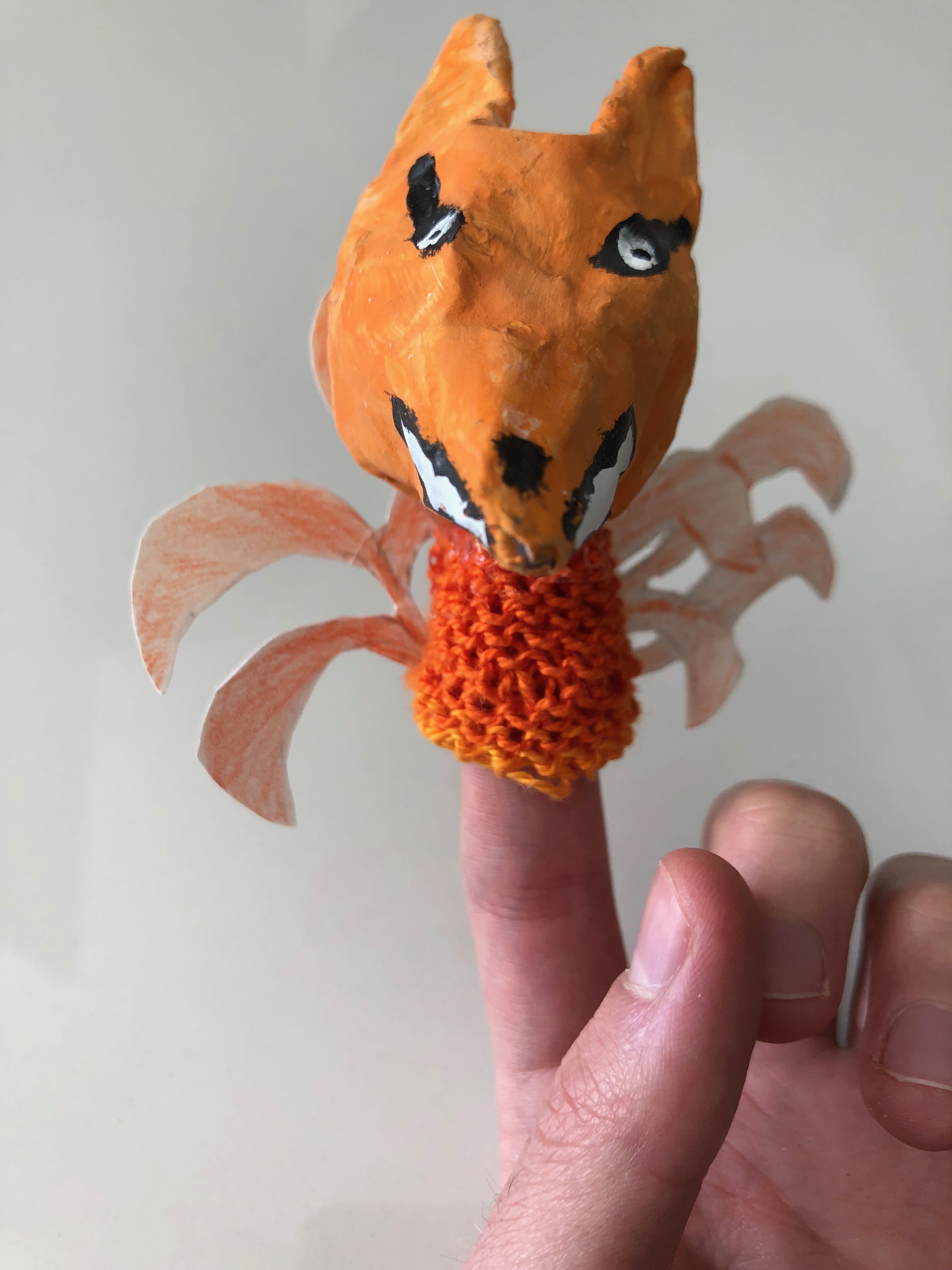 The nine tail's mascara smudged. 
The end.
If you've ever used a hot glue gun before, you know what the hot glue gun strings are. They're like the very thin stray "hairs" that come off the tip of the glue gun when you pull away from the thing you're gluing. We were very fascinated by those stray hairs, so we learned how to harvest them, and then, used them for art.⁠

back to text

↑