I don't have much to say, I would just like to bring this to your attention…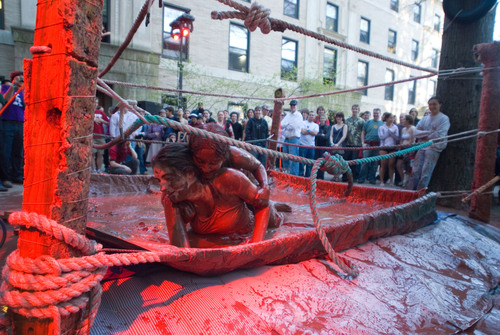 Caption: Former UA Vice President Jessica H. Lowell '07 wrestles current UA Vice President (and Tech Campus Life columnist) Ruth F. Miller '07 in the mud pit at Senior Haus' Steer Roast. The match ended in a narrow victory for Lowell. (Photo credit to Eric Schmiedl '09)
Yes, that's me, in case you somehow didn't figure it out. I still have mud residue in my hair, five showers later.
Steer Roast, the context for this amusing photo, is an annual party, held the first weekend in May every year by Senior Haus. It gets its name because it involves roasting a steer, which people later eat. It has other food, and bands, and two nights of partying. It also has mudwrestling.
In addition to my mudwrestling, I worked a three-hour security shift – party security is student volunteers, backed up by Campus Police. My good friend Erik '09 was the head of security.
What did YOU do this weekend?