Today's tie: See for yourself below!
An eventful day! Today, my subcommittee was Ben and another student, a great team. The three of us worked through the morning until lunch arrived, delicious barbecue from Blue Ribbon Barbecue. At lunch, we had a visitor: Akash, a student admitted to the MIT Class of 2009.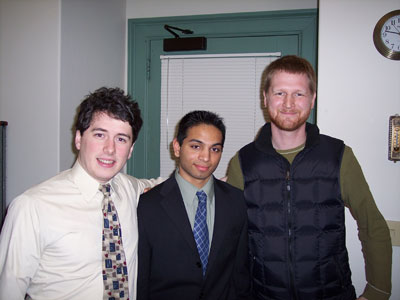 Akash, Ben and I had lunch together, and while we were chatting, Akash got a call on his mobile phone from another MIT '09, Anthony. Ben answered the phone and they chatted for a little while…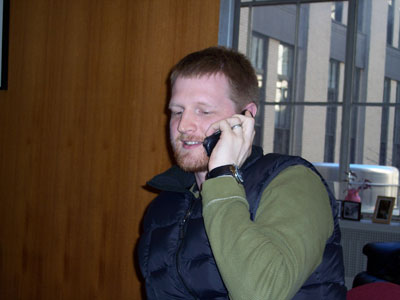 On our way back to the selection room, we ran into Rob (another MIT '09), who, as it turns out, was on campus with most (all?) of the MIT 2009 Early Action admitted students from eastern Massachusetts (I couldn't even fit them in one photo!):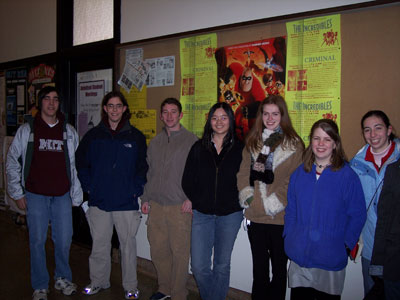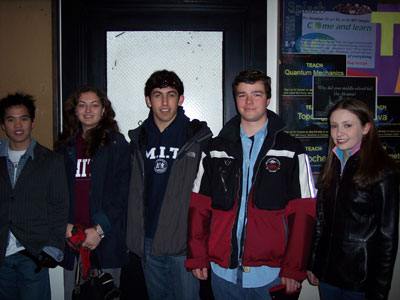 After that random encounter, our subcommittee reconvened and did an afternoon's worth of selection. Ben & I felt pretty good about the afternoon, after having seen and chatted with Akash, Anthony, Rob, and all the other MIT '09s we saw. We were energized to pick them the best classmates we could. All said, a great day of selection.
Tonight, I took a break from the work I'm continuing to do with the international applications to check out PULSE: One Beat. One World, an African cultural show put together by one of my favorite students (okay, I have many favorite students), Alia Whitney-Johnson.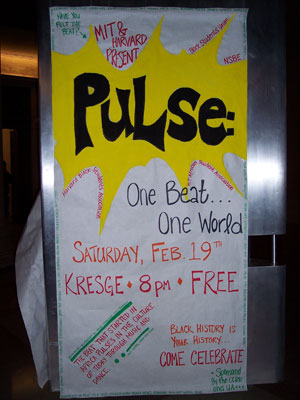 The show included some awesome jazz, step dancing, Senagalese drumming, and much more…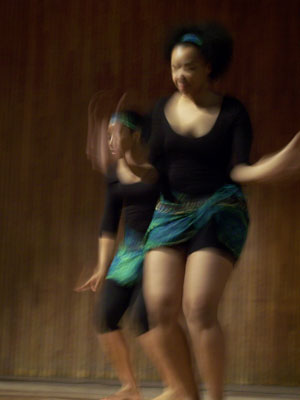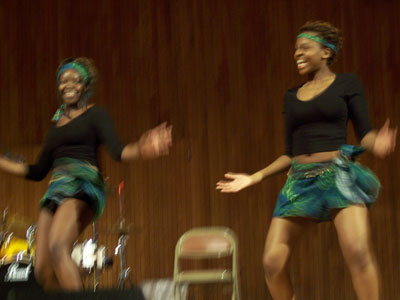 There was lots going on at MIT today/tonight… check it out!