Yesterday's tie was red, and my subcommittee was McGregor (also MIT '00) and a current student (from the Middle East). Aside from some fantastic applications, the highlight of the day (for me) was my making mango lassis for the staff, to go along with the Indian food we had from India Castle (one of 13 Indian restaurants within a mile of MIT, according to Yahoo Yellow Pages).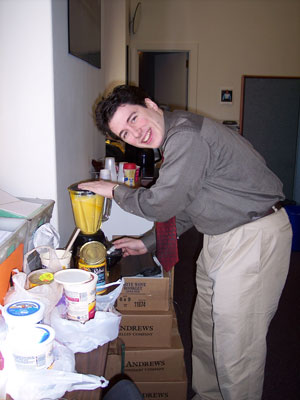 Today, Marilee gave us a day off to rest and catch up on chores, etc. It was nice to have a day at home, though I used the day to continue reviewing international applications so that we're all set to go for international selection, less than two weeks from now.
Tonight, I'm going to a screening of the Oscar-nominated short films at the Coolidge Corner Theater, a really terrific independent theater in Brookline, a part of Boston with great food as well as large populations of Russian and Jewish folks. Tomorrow will be Selection Day 6; I also hope to answer the questions that are piling up in my comments section =)
Happy Presidents' Day!